The Sandman Will Keep You Awake - The Loop
Play Sound
         This is a Japanese name; the family name is Honma.

Associated pages
Honma Himawari (本間ひまわり) is a female Japanese Virtual YouTuber and a member of NIJISANJI. She debuted as a second batch member of now-dissolved group, NIJISANJI Gamers, along with Sasaki Saku and Yamiyono Moruru.
Introduction Video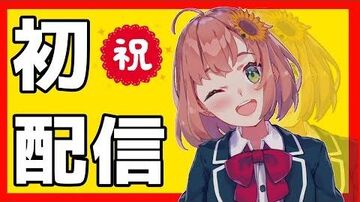 Profile
A high school sophomore who loves games and cats.
Personality
Himawari is bright, cheerful, and full of energy. She loves to have fun and always has a bright outlook and loves being a VTuber. Before becoming a VTuber however, she seemed to have serious self-esteem issues and trouble at school, leading to her missing a semester. Himawari admitted that becoming a VTuber turned her life around and that meeting everyone in NIJISANJI was one of the best things that ever happened to her and encourages people not to give up.[1]
Himawari is part of the group known as the どくずほんしゃ(Dokuzuhonsha) with Kuzuha, Dola and Yashiro Kizuku, which roleplays as a family during collab streams with her being the elder sister. However, even outside the Dokuzuhonsha collab streams, Himawari is very close to Dola, often staying at her house and doing streams of just the two of them talking or playing games. Dola even lent her some of her pajamas when Himawari stayed overnight. She's also very close to Yashiro as well, who she refers to as 'Papa' and who helps her study.
Honma Himawari is famously air-headed and 'lacking in certain academic fields' (to put it kindly). In her earlier streams she would point at the screen, forgetting her audience couldn't actually see her, answered the door in nothing but a towel once, and thought the sun and the moon were the same thing (something that one of the COO's of the company that manages the NIJISANJI project, Iwanaga, commented on).
History
Background
Her Twitter account was opened on 25 June 2018 while her YouTube channel was created on 2 July although she did not start her activities on YouTube until her first stream which was live on 11 July 2018.[2]
2019
On 4 April, she announced that she would get her 3D model.[3]
On 25 April, Himawari debuted her 3D model during a stream.[4]
2021
On 28 August, Himawari was tested positive for COVID-19. This was followed up by a video upload the following day where she announced that she had to recuperate at home.[5]
On 9 September, Himawari returned to streaming after recovering from COVID-19.[6]
Events
On 5 March 2020, she made an appearance in NIJISANJI's collaboration with Dawn of the Breakers as one of the characters along with Kuzuha, Dola and Yashiro Kizuku the members of Dokuzuhonsha.[7]
On 30 September 2020, she participated in "VTuber Fall Guys Party" alongside Kuzuha, Suzuhara Lulu & Fuwa Minato with the team named "Kurumiwari" claimed 1st place, 37 points & won her 2 crowns in their final ranking.
On 27 February 2022, Himawari participated in the NIJISANJI VALORANT Custom event organized by Lauren Iroas and Naraka as team "Okuchi Pokan da" along with Makaino Ririmu, Kanda Shoichi, Nishizono Chigusa and Axia Krone.
On 18 March 2022, it was announced that she would team up with Makaino Ririmu and Yashiro Kizuku in Season 4 of (VTuber最協決定戦 Vtuber Saikyou Ketteisen) Apex Legend Tournament hosted by Shibuya HAL.[8]
Relationships
"JuvveL" (read: Jewel)

- Himawari (Citrine[9]), Tsukino Mito (Pink Diamond[10]), Yuuhi Riri (Aquamarine[11]), Rindou Mikoto (Amethyst[12]), and Naraka (Garnet[13]).

The five of them started the plan for the unit since 2020 but it was on hold until 14 July 2021 when they held their first stream together.[14] They are the second NIJISANJI unit that has its own YouTube channel after ChroNoiR.
Tagline: "To become sparkling Idols like Jewel" (宝石のように輝くアイドルに)
Media: YouTube
Hashtags:
#JuvveL - General tag
Discography:
"'DoKuzuHonSha" 「ド葛本社」- A NIJISANJI family consisting of - Himawari (older sister), Kuzuha (younger brother), Dola (mother) and Yashiro Kizuku (Father)
Trivia
Color:

#FBE340

[15]
She has a pet cat that she as referenced a few times on stream.
Her weight has slowly increased throughout the years, first starting at 48 kg and is now currently at 55.1 kg. A joke popped up on 23 August 2019 suggesting that she was the Pokémon Ludicolo due to her similar weight and height. Upon discovering this theory, she was confused, but four days later ended a stream of Pokémon Platinum by putting a picture of Ludicolo where she would normally stand.[16]
Himawari was the one that made the NIJISANJI ARK Server.
External Links
Media
Further readings
References