The Sandman Will Keep You Awake - The Loop
Play Sound
         This is a Japanese name; the family name is Hoshikawa.

Associated pages
Hoshikawa Sara (星川サラ) is a female Japanese Virtual YouTuber affiliated with NIJISANJI. She debuted in 2019 as part of the trio "Orihimeboshi" (織姫星) alongside Fumi and Yamagami Karuta.
Introduction Video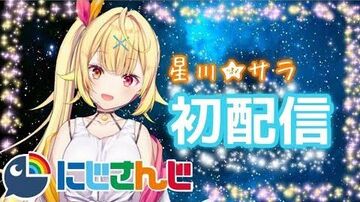 Personality
Profile
A half-Japanese, half-British girl, Sara lived in Virtual England when she was a child, but has been living in Virtual Japan for much longer, so she is fluent in Japanese. The type of person to get carried away as soon as she is flattered.[1]
History
Background
Sara made her YouTube debut on 19 October.
2019
On 22 December, Sara released her first singing video, a cover of "Booo!"
2020
On 28 March, she debuted her second outfit: British-themed casual clothes.
On 28 June, it was announced during the ASOBINOTES ONLINE FES, Sara will take part in Bandai Namco Entertainment's new dance music project, DEN-ON-BU, as the voice actress for the character Taiga Lucia (大賀ルキア).[2]
In early October, Sara had a minor controversy in which she had claimed in a stream that she cheated in a bubble tea shop's stamp card, which was met with a backlash. She later clarified that it was just a joke. ANYCOLOR Inc. (then known as Ichikara Inc.), parent the company of NIJISANJI, had issued a warning against her for this incident.
On 12 December, Sara announced that she would have her 3D Model debut on 19 December.[3]
2021
On 16 May, Sara was credited for NIJISANJI EN first wave "LazuLight" debut song "Diamond City Lights" as the lyric story writer.
On 7 September, it was announced that Sara, Fuwa Minato, and Yashiro Kizuku were releasing time-limited perfumes on U.Health&Beauty ONLINE.[4]
2022
On 2 January, Sara announced on her Twitter that she was going to receive a new outfit and asked her fan to send in fan art of what people might believe her new outfit to appear like using the hashtag #星川新衣装 before she revealed it officially on the following day.[5][6]
On 16 May, in celebration of the 1st anniversary of LazuLight, she covered their debut song, "Diamond City Lights", which she credited for in the original MV.
On 23 July, Sara reached 800,000 subscribers on her YouTube channel.[7]
Events
Sara participated in a free online music event "ASOBINOTES ONLINE FES" on 28 June 2020 along with Sukoya Kana and Sister Cleaire as a special act.[8]
On 15 May 2022, Sara participated in NIJI Melody Time, a NIJISANJI singing relay collaboration.[9]
Fans
Sara's fans are called "Hoshikuzu" (星くず, Stardust).
Relationships
"Orihimeboshi" (織姫星, Vega star) - Sara, Fumi, and Yamagami Karuta. They are debut-mates.
"Kanaeboshi" (かなえぼし) - Sara and Kanae
"Yumehoshi-ie" (夢星家, Dream Star Family) - Sara and Yumeoi Kakeru
Trivia
Color:

#FAB80D

[10]
She refers to herself in the third-person (also known as Illeism), most often with her family name instead of her given name.
Her father is British and her mother is Japanese. This makes Sara the third member in NIJISANJI to be of mixed Japanese and British descent after Mononobe Alice and Uzuki Kou.
Outside of NIJISANJI, she has a good relationship with hololive VTuber Natsuiro Matsuri who absolutely adores her and even went as far as sending a ¥12,000 superchat (~$110 USD) in Sara's March 2020 new outfit stream, but unfortunately not all of her love has been reciprocated, but she likes to tease Matsuri in response as she finds her very cute too.
She is very close with hololive's Akai Haato with whom she shares many similar interests. Both girls revealed that they had watched each other's debut streams in real time. Sara also revealed that she had considered auditioning for the role of Akai Haato when she saw the recruitment ad (she never actually applied) and that she watched Haato's debut stream to see who ended up getting the role.[11] Both are also partially British, with Haato being 1/4. She even appeared in Haato's 3D birthday live on 18th November 2021[12] in which they sang "Turing Love" together. They also both revealed that they cried backstage as they dreamed to do a 3D stream together and be on the same stage and that outside of her genmates, Haachama is her closest friend.[13]
Sara shares the same character illustrator with Himemiya Rie of Phase-Connect.
External Links
Media
Further readings
References