This is a Japanese name; the family name is Hoshikawa.
Associated pages
Hoshikawa Sara (星川サラ) is a female Japanese Virtual YouTuber and member of Nijisanji.
Introduction Video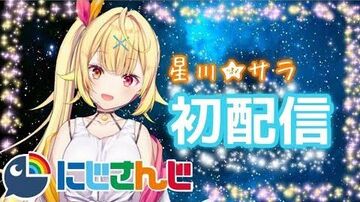 Personality
Profile
A half-Japanese, half-British girl, Sara lived in Virtual England when she was a child, but has been living in Virtual Japan for much longer, so she is fluent in Japanese. The type of person to get carried away as soon as she is flattered.[1]
History
Background
Sara made her YouTube debut on 19 October.
2019
On 22 December, Sara released her first singing video, a cover of "Booo!"
2020
On 28 March, she debuted her second outfit: British-themed casual clothes.
On 28 June, announced during the ASOBINOTES ONLINE FES, Sara will take part in Bandai Namco Entertainment's new dance music project, DEN-ON-BU, as the voice actress for the character Taiga Lucia (大賀ルキア).[2]
On 12 December, Hoshikawa announces that she would make her 3D Model debut on 19 December.[3]
Events
Sara participated in a free online music event "ASOBINOTES ONLINE FES" on 28 June 2020 along with Sukoya Kana and Sister Cleaire as a special act.[4]
Fans
Sara fans are called "Hoshikuzu"「星くず」(Stardust).
Trivia
Notable units within Nijisanji:

"織姫星" (Orihimeboshi, Vega star) - Sara, Fumi, and Yamagami Karuta (These three debuted together)
"かなえぼし" (Kanaeboshi) - Sara and Kanae
"夢星家" (Yumehoshi-ie, Dream Star Family) - Sara and Yumeoi Kakeru

Color:

#FAB80D

[5]
Her father is British and her mother is Japanese. This makes Sara the third member in Nijisanji to be of mixed Japanese and British descent after Mononobe Alice and Uzuki Kou.
Outside of Nijisanji, she has a good relationship with hololive VTuber Natsuiro Matsuri who absolutely adores her and even went as far as sending a ¥12,000 superchat (~$110 USD) in Sara's March 2020 new outfit stream, but unfortunately not all of her love has been reciprocated, but she likes to tease Matsuri in response as she finds her very cute too.
She is very close with hololive's Akai Haato with whom she shares many similar interests. Both girls revealed that they had watched each other's debut streams in real time. Sara also revealed that she had considered auditioning for the role of Akai Haato when she saw the recruitment ad and that she watched Haato's debut stream to see who ended up getting the role.[6] Both are also partially British, with Haato being 1/4.
External Links
References