Hoshimachi Suisei (星街すいせい) is a female Japanese Virtual YouTuber associated with hololive.
Introduction Video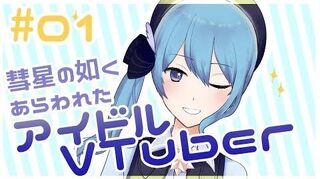 Suisei's introduction.

Personality
Suisei is a modest, multitalented singer and aspiring idol who is among the more level-headed members of hololive, though she also has a childish streak. After her unexpectedly compelling performance as a traitor in a game of Project Winter, she gained a reputation for remorseless sociopathy behind a facade of polite sweetness.[5] No one seems to know how much of the "Psychopath Suisei" persona is real or not, but Suisei herself acknowledges that it is extremely funny and has referred to the incident on multiple occasions.
History
Background
Her Twitter account and YouTube channel were created on 18 March 2018. Her introduction video was uploaded four days later on 22 March.[6]
2018
On 21 June, she debuted her second 2D costume. Like her first one, her movements and animations were limited.[7] However, this costume was later updated to have much more movement, which included her hair and hat.
On 1 July she became a member of a VTuber group called S:gnal. On 4 August, a month later, she announced on Twitter that she graduated from the group and resumed her activities as a solo idol a week later.[8]
2019
On 11 January, she revealed a third 2D costume.[9]
On 19 May during AZKi's first live, she appeared as a surprise guest performer where she performed her second original song "天球、彗星は夜を跨いで" (Tenkyuu, Suisei wa Yoru wo Mataide). It was afterwards announced that AZKi and Suisei would be affiliated with Inonaka Music (INNK MUSIC), a music label under hololive.
On 27 July she along with AZKi participated in INNK EXHiBiTiON, a label event hosted by INNK MUSIC. It was held at Entas in Akihabara.[10]
On 29 November, she published on Twitter that she would be transferred from Inonaka Music to hololive's main branch.[11]
On 1 December, she announced on her Twitter account that she would get a brand new 2D model,[12] this model was later revealed the same day during a stream on YouTube.[13] With this stream her transfer to hololive became official.[14]
2020
On 2 January, she published on Twitter that she would get a new 2D costume. This was revealed to be a kimono in celebration of the new year, the same day as her YouTube channel.[15][16]
On 19 January hololive's Twitter account published a tweet mentioning that Houshou Marine, Hoshimachi Suisei and Shiranui Flare would participate in a stream prior to hololive's 1st fest Nonstop Story.[17][18] The next day, in the same stream, it was revealed that the three of them would get their 3D model debut in said event, but that they would have a YouTube debut later. In Suisei's case, her stream was scheduled for March.[19]
On 24 January, she appeared in her 3D model for the first time at hololive's 1st fest Nonstop Story, with both her new standard and idol outfits.[20][21]
On 25 February, she announced on her Twitter account the date for her 3D model debut on YouTube, which was scheduled for 1 March.[22][23]
On 1 March, she appeared in her 3D model for the first time on YouTube during a stream.[24]
Fans
Her fanbase is officially called "Stargazers", while in Japanese they are called "Hoshiyomi" (星詠み)
Trivia
Considerably multi-talented as she is capable of drawing (her original image was drawn by herself), edit videos, sing, cook and is also a skilled gamer.
Suisei lives with her older sister, who is referred to by fans as "Anemachi". Anemachi is extremely attached to Suisei and appears to be dependent on her for her cooking skills.
She is notably good at playing competitive Tetris.
The hashtag #星街すいせい3D (#HoshimachiSuisei3D) became a trending topic worldwide on Twitter when she debuted her 3D model on YouTube.
Her birthday and her debut date are the same.
External Links
References
↑ _17meisai23 (2019, December 1) と言うことで…星街すいせいちゃんの新デザイン担当させていただきました…!!!☄️ どうぞ宜しくお願い致します🙇‍♂️

ほしまちぎゃらりー [Tweet] Retrieved from https://twitter.com/_17meisai23/status/1201109953211064325
Community content is available under
CC-BY-SA
unless otherwise noted.