This is a Japanese name; the family name is Hoshimachi.
Associated pages
Hoshimachi Suisei (星街すいせい) is a female Japanese Virtual YouTuber associated with hololive. While originally an independent VTuber who eventually was recruited into hololive, she is currently part of "hololive 0th gen" alongside fellow solo debutants: Tokino Sora, Roboco, Sakura Miko and AZKi.
Introduction Video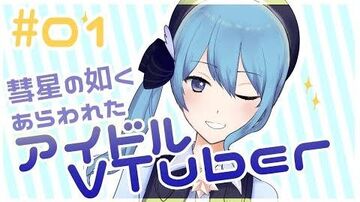 Suisei's introduction.

Personality
Suisei is a modest, multitalented singer and aspiring idol who is among the more level-headed members of hololive, though she also has a childish streak. After her unexpectedly compelling performance as a traitor in a game of Project Winter, she gained a reputation for remorseless sociopathy behind a facade of polite sweetness.[5] No one seems to know how much of the "Psychopath Suisei" persona is real or not, but Suisei herself acknowledges that it is extremely funny and has referred to the incident on multiple occasions.
Profile
"It's your shooting star, your diamond in the rough, idol VTuber Hoshimachi Suisei!"
A forever 18 VTuber who deeply loves singing and idols.
Her dream is to one day hold a live concert in Tokyo Budokan.[6]
History
Background
Her Twitter account and YouTube channel were created on 18 March 2018. Her introduction video was uploaded four days later on 22 March.[7]
2018
On 21 June, she debuted her second 2D costume. Like her first one, her movements and animations were limited.[8] However, this costume was later updated to have much more movement, which included her hair and hat.
On 1 July she became a member of a VTuber group called S:gnal. On 4 August, a month later, she announced on Twitter that she graduated from the group and resumed her activities as a solo idol a week later.[9]
2019
On 11 January, she revealed a third 2D costume.[10]
On 19 May during AZKi's first live, she appeared as a surprise guest performer where she performed her second original song "天球、彗星は夜を跨いで" (Tenkyuu, Suisei wa Yoru wo Mataide). It was afterwards announced that AZKi and Suisei would be affiliated with INoNaKa Music (INNK MUSIC), a music label under hololive.
On 27 July she along with AZKi participated in INNK EXHiBiTiON, a label event hosted by INNK MUSIC. It was held at Entas in Akihabara.[11]
On 29 November, she published on Twitter that she would be transferred from Inonaka Music to hololive's main branch.[12]
On 1 December, she announced on her Twitter account that she would get a brand new 2D model,[13] this model was later revealed the same day during a stream on YouTube.[14] With this stream her transfer to hololive became official.[15]
2020
On 2 January, she published on Twitter that she would get her second 2D costume (based on her new model). This was revealed to be a kimono in celebration of the new year, the same day as her YouTube channel.[16][17]
On 19 January hololive's Twitter account published a tweet mentioning that Houshou Marine, Hoshimachi Suisei and Shiranui Flare would participate in a stream prior to hololive's 1st fes. Nonstop Story.[18][19] The next day, in the same stream, it was revealed that the three of them would get their 3D model debut in said event, but that they would have a YouTube debut later. In Suisei's case, her stream was scheduled for March.[20]
On 24 January, she appeared in her 3D model for the first time at hololive's 1st fes. Nonstop Story, with both her new standard and idol outfits.[21][22]
On 25 February, she announced on her Twitter account the date for her 3D model debut on YouTube, which was scheduled for 1 March.[23][24]
On 1 March, she appeared in her 3D model for the first time on YouTube during a stream.[25]
On 10 November, hololive's official Twitter account announced that she and Shiranui Flare would get new 2D costumes.[26]
On 12 November, she debuted her third 2D model, in this costume she wears a black dress with a blue jacket, both the dress and the jacket are decorated with blue ribbons and laces, she wears a black belt with the words: "Sphere" and "Comet", she uses orange socks and black and short black boots.[27]
2021
On 16 January, she reached 700,000 YouTube subscribers during an endurance singing stream.[28]
On 29 January, her YouTube channel was demonetized for unknown reasons, as a result of this she made a redebut stream on 31 January, as part of "hololive Space gen 00" even using her original 2D model before her redesign.[29]
On 26 February, Suisei announced on her Twitter account that her YouTube channel was available for monetization again.[30]
On 16 March, she reached 800,000 YouTube subscribers.
On 13 April, she debuted her fourth original song "GHOST", after revealing it on her live concert "Space for Virtual GHOST".
Discography
Main page: Hoshimachi Suisei/Discography
Fans
Her fanbase is officially called "Stargazers", while in Japanese they are called "Hoshiyomi" (星詠み)
Trivia
Considerably multi-talented as she is capable of drawing (her original image was drawn by herself), edit videos, sing, cook and is also a skilled gamer.
Suisei lives with her older sister, who is referred to by fans as "Anemachi". Anemachi is extremely attached to Suisei and appears to be dependent on her for her cooking skills.
She is notably good at playing competitive Tetris.
The hashtag #星街すいせい3D (#HoshimachiSuisei3D) became a trending topic worldwide on Twitter when she debuted her 3D model on YouTube.
Her birthday and her debut date are the same.
A few years before considering being a VTuber, Suisei participated in several auditions for real-life idol agencies, but was rejected due to the "Jack of all trades, Master of none" trait, according to her. This led to her becoming a Virtual Idol, as a way of not giving up on her dream. However, she was already tired of trying by the beginning of 2019 as an indie Virtual Idol (since she worked in an izakaya [japanese pub], and also had to do the editing of her own videos and other VTubers). Suisei almost gave up, but decided to make one last try. She went to COVER Corp to audition for hololive, but was also rejected, apparently for the same reason as the real-life agencies, since COVER Corp considered that she had many skills (speaking, singing, dancing, drawing and as a gamer) that could let to failing trying to do everything due to an overload of work. She claims that after receiving rejection e-mail, she e-mailed back seeking for a second chance and is open for suggestion. As a result, hololive replied back to have a second talk; then they told her that she could join, but on the condition of joining INoNaKa Music and focus on music. After more difficulty in INoNaKa Music mostly due to company policy that nearly broke Suisei's heart, she was finally transferred to hololive officially. [31][32][33]
On 11 January 2021, Suisei won the 2nd hololive Mario Kart 8 Deluxe Tournament, with 43 points.[34]
Suisei's surname, while officially written in English as "Hoshimachi", is often alternatively romanized as "Hoshimati" or "Hosimati" in her videos and account names.
External Links
Media
Further readings
References
Community content is available under
CC-BY-SA
unless otherwise noted.