We're Getting Mutants in the MCU - The Loop
Play Sound
         This is a Japanese name; the family name is Houshou.

Associated pages
Houshou Marine (宝鐘マリン) is a female Japanese Virtual YouTuber associated with hololive, debuting as part of its third generation of VTubers under the name of "hololive Fantasy" (ホロライブファンタジー) alongside Usada Pekora, Uruha Rushia, Shiranui Flare and Shirogane Noel.
Introduction Video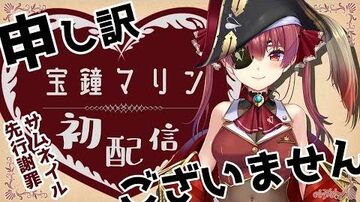 Profile
hololive.hololivepro.com
"Ahoy! Captain of the Houshou Pirates, Houshou Marine here!" "Keep 'er steady!"

Loves jewels, treasure, and money. Her dream is to become a pirate and go treasure hunting. In order to get a pirate ship, she is now stacking up money as a VTuber on the great lands, just like how the other land-lovers do (which also means she is currently just a girl cosplayer).

She acts like a big sis and sometimes seduces people like a succubus does. A sensual, femme fatale boss, and a young one, at that! (Around 17)

Her pirate outfit is just cosplay, and quite lewd when you see it that way.[4]
hololive.tv
"Ahoy! Houshou Pirate Captain, Houshou Marine here!"
Loves jewels, treasure, and money. Her dream is to become a pirate and go treasure hunting. In order to get a pirate ship, she is now stacking up money as a VTuber on the great lands, just like how the other land-lovers do (which also means she is currently just a girl cosplayer).
She acts like a big sis and sometimes seduces people like a succubus does.[5]
Personality
Marine is a bold, fast-talking girl who often throws caution to the wind, making obscene jokes and playfully mocking both her higher-ups and her viewers. Marine describes her way of approaching people is through to talk to them so she may get in their circle, as described when talking about the differences between herself and Nakiri Ayame.
She often struggles to keep her lewdness in check, with her openly lusting after fictional female characters, reading BL and claiming to be a former shotacon (despite still showing some attraction in fiction). This has lead her to describe herself as extremely horny, with the phrase "I'm Hornyyyy!~♪" being a fan favorite since her 3D stream with Kiryu Coco. At times she even tries charming and seducing her way out of sticky situations, which has backfired on her at times.
Though she claims to be 17 years old, her self-described "auntie" voice, lack of physical stamina, and extensive knowledge of 2000-2010 Internet culture indicate that she is almost certainly older than she claims she is. This is supported by other hololive members' habits of teasing her about her age. Her age has become a recurring joke on her channel; for example, on 30 July 2020 (Marine's birthday), she claimed to be turning 17 again for a "second season," to which Himemori Luna states, via a drawing, that she is 27.
Yet in spite of the antics Marine is popular for, Marine typically shows herself to be cultured with the variety topics she brings up in her streams, ranging from popular to niche, and regularly talks about the happenings behind the scenes at hololive on her own accord. She is also extremely sensitive to her surroundings especially when it comes to social environment, as she was able to instinctively pick up Usada Pekora's discomfort with others in her space and even spoke up about how she managed to avoid trouble in a previous office job such as avoiding getting yelled at by her ex-boss. As such she is marked as having "the highest stats" in social insight out of every idol in hololive by her fans.
She greets her viewers with "Ahoy!", a typical pirate greeting.
Appearance
Marine cosplays as a pirate. She has crimson red hair, tied into twintails with laced ribbons, topped with a removable pirate hat. She has heterochromia, with her left iris being golden, and her right iris is red.
History
Background
Marine was one of the five hololive VTubers first announced on 13 June 2019 as part of the third generation.
On 1 August, through a press release, her name, along with social media accounts, was officially announced alongside Shirogane Noel and Shiranui Flare,[6] also making her first tweet on the same day. Her Twitter account and YouTube channel was created on 22 July 2019. She debuted with her introduction stream on 11 August.
2020
On 1 January, she announced on Twitter that she would get a new costume,[7] that was revealed the next day on 2 January, being her 2D new year kimono costume, being her second costume overall.[8]
On 19 January, hololive's Twitter account published a tweet mentioning that Houshou Marine, Hoshimachi Suisei and Shiranui Flare would participe in a stream previous to hololive's 1st fes. Nonstop Story.[9][10] The next day, in this stream it was revealed that the three of them would get their 3D model debut in said event, but that they would have a YouTube debut later. In Marine's case, her stream was scheduled for February.[11]
On 24 January, she appeared in her 3D model for the first time at hololive's 1st fes. Nonstop Story with both her standard and idol outfits.[12][13]
On 11 February, she teased a special announcement during her stream, this was revealed to be the date of her 3D model debut for YouTube programed for 15 February.[14][15]
On 15 February, she appeared in her 3D model for the first time in YouTube during a stream.[16] [17]
On 13 March, she announced on her Twitter account the demonetization of her channel, apparently for sexual content. She also stated that for the last 4 months every video had the yellow monetization symbol, which means monetization coming for advertisement on her channel was already limited.[18]
On 27 March, she announced at the end of an Animal Crossing New Horizons stream the remonetization of her channel which was later also announced on Twitter.[19][20] Later that day, she held a remonetization stream.[21]
On 5 August, Marine reached 500,000 subscribers on her YouTube channel, making her the 6th hololive member to reach this milestone and the second of her generation.
On 16 October, hololive's Twitter account announced that Marine, Shirogane Noel, Murasaki Shion and Yuzuki Choco would get new 2D costumes.[22]
On 18 October Marine debuted her third 2D costume during a stream, named by her artist as "Captain Marine- Gothic Fashion" her new clothes maintain her classic color scheme as she wears a red dress with a black corset, she wears a black ribbon with archors and a blue jewel in the center, her dress is decorated with various hearts like the one present in her eye patch, she also has a golden pocket watch, her longer twintails are now decorated by black ribbons instead of red, and she wears a dark blue hat with red roses.[23] In addition to this, she also revealed that her base 2D model got updated to the 2.0 version, among her updates her face can turn better in different angles and her handkerchief was given movement.[24]
On 27 December, she reached 900,000 subscribers on YouTube.[25]
2021
On 18 January, she reached 1,000,000 subscribers on YouTube, making her the 6th hololive member to reach that milestone and the 5th member of the Japanese branch to do so, She is also the second member of the third generation to reach it.[26]
On 8 July, Marine's channel was terminated without warning, however it was later restored the same day.[27]
On 18 July, Marine announced during a short stream that she would go on a hiatus from streaming to heal her throat.[28] Despite this, she continued her streaming activities as normal, though she had to speak less in an effort to recover her throat's condition.
On 28 July, hololive's Japanese Twitter account announced that Marine would receive her fourth 2D costume.[29]
On 29 July, Marine debuted her fourth 2D costume during a stream, Marine got ponytail and straight hairstyles, her clothes include a black and white cap decorated with heart-shaped shades, with a golden anchor connecting the lenses. Marine wears heart shaped golden earrings both of which are decorated with a small jewel that oppose Marine's eye colors (her right earring has a red jewel while her left earring has a golden jewel) and a golden necklace. Her clothes consist of a black hoodie, decorated with white anchors on the sleeves and some pins. The hoodie's zipper is a golden shaped anchor that mostly covers her red bikini. Marine also wears white shorts with black decorations. In this costume, she can remove the hat and open the hoodie's zipper to reveal more of her cleavage and make the golden string of her bikini visible. Marine can also remove her shorts to show the lower half of her bikini. She also has the option to cover her bikini with a white cropped shirt with a black line along the waist hem and neckline with a black eyepatch-wearing skull design on the left breast while indoors.[30]
It is worth noting that this outfit design dates back to 9 July 2020 first seen as an official art from Marine's designer Akasa Ai, this design was also previously used in Marine's dakimakura from her 1,000,000 subscribers merchandize celebration.
On 31 July, she reached 1,500,000 subsribers on YouTube during a stream. This makes her the 6th member of hololive to achieve this milestone, as well as the 4th member of hololive JP. She is also the second member of hololive JP's 3rd Gen to achieve it.[31]
On 14 September, during a Super Mario Party collab stream hosted by Gawr Gura, it was announced that Marine, Minato Aqua, Gura and Ninomae Ina'nis would form a new unit "UMISEA," in which all four members sharing the theme of ocean. Several videos and streams featuring the unit is set to release throughout mid-September.[32][33]
On 21 September, Marine announced on her Twitter account that she would go on a hiatus from streaming for a month due to the worsening of her throat's condition that make her vocal cords bleeding internally.[34][35]
On 30 October, Marine returned her activities with a talking stream.[36]
2022
On 19 March, Marine debuted a new original song "Marine Set Sail!!" during "hololive 3rd fes. Link Your Wish" day 1.[37]
On 11 April, Cover Corp. announced that Marine was tested positive for COVID-19, thus her streaming activities were put on a temporary hiatus. She returned to streaming on 24 April.
On 30 July, during Marine's birthday live, she debuted a new 3D costume named "Captain Marine 3D Misoji Edition" by her illustrator. In this costume Marine has a new hairstyle using loose hair with a bun on her left side and a ponytail on the right, the inner side of her hair and one of her locks are pinkish gray instead of her usual red. In this costume Marine wears a black hat similar to a drummer hat with a golden anchor decoration on the front and other ornaments. Marine wears a shoulderless black bodysuit that goes from her neck to her legs, on top of it she wears a bunny girl suit. Her outfit is complemented with a white neck piece which is decorated like in her original costume with a gold and blue jewel and a red ribbon, however the jewel is diamond shaped instead of oval. Under her chest Marine wears a black and white piece of cloth similar to a corset that falls from the sides and the back. Similar to her original outfit Marine still wears a pirate jacket falling from her shoulders however the design is different. She uses black gloves and high boots with a red edge.[38]
On 1 August, Marine reached 2,000,000 YouTube subscribers. This makes her the third hololive member to reach this milestone and the first of the Japanese branch to do so.[39]
On 9 August, as part of the "hololive Summer 2022" event, Marine debuted her 3D swimsuit in a stream held on hololive's official fanclub page in a segment alongside Aki, Choco and Noel. Unlike the original swimsuits from 2019 that had individual designs, these swimsuits are meant to be matching outfits similar to the 3D idol costumes. The swimsuits come in two types one with thin straps for the top and a diagonal cut mini skirt and the other one has ruffled straps in the top and an even mini skirt. Both version are white with varios patterns including hololive's and Holoearth's logos, hearts and sparks. The swimsuits are personalized by including different colors to match each talent. Additionally they have the option to wear a hoodie.[40]
Discography
Main page: Houshou Marine/Discography
#GENSOKYOholoism
Touhou Project arrange album with COOL&CREATE

10 July 2020

   

[Episode 0] "A must-listen for the seniors - Old Touhou songs karaoke stream"
"Hoi Hoi☆Genso Holoism"
feat. hololive Fantasy
"Captain Marine no Ketsu Anchor"
[Episode 1] "#LostMarine Can I break free from this bamboo forest...!?"
feat. Usada Pekora and Sakura Miko
"Shiawase Usagi PekoMikoMarine"
feat. Usada Pekora and Sakura Miko
[Episode 2] "The usual meeting place of the 3 magicians is here"
feat. Sakura Miko, Murasaki Shion, Shirakami Fubuki, Uruha Rushia
"Earphone Romance"
[Episode 3] "Gensokyo's disappointing sightseeing spot!!"
feat. Natsuiro Matsuri, Uruha Rushia, Minato Aqua, Shirakami Fubuki
[Episode 4] "Celebration. First livestream from Gensokyo's special streaming studio!"
feat. Shirogane Noel, Shiranui Flare, Shirakami Fubuki
"Over the Border"
feat. Shiranui Flare
[Episode 5] "Thank you, Gensokyo"
"Help me, ERINNNNNN!! #GENSOKYOholoism ver."
feat. Houshou Marine's Merry Band of Friends

External links
Digital Release • YouTube • Official Website
Ahoy!! Warera Houshou Kaizoku-dan☆

12 August 2020

   

"Ahoy!! Warera Houshou Kaizoku-dan☆" (Ahoy!! 我ら宝鐘海賊団☆)
"Ahoy!! Warera Houshou Kaizoku-dan☆ (instrumental)

External links
Digital Release • Music Video • YouTube
Events
Fans
Her fanbase is called "Houshou no Ichimi"「宝鐘の一味」. Marine also sometimes calls her non-Japanese fans "overseas sexy guys/girls."
When Marine ends the stream, she says farewell by saying "Sailing time!"「出航」, then fans reply with "Keep 'er steady!" 「ヨーソロー!」.
Trivia
Marine's familial name 「宝鐘」 can be broken down as thus.

The first kanji 「宝」 can be read as Hou/Takara and means "treasure."
The second 「鐘」 can be read as Shou/Kane and means "bell" or "chime."

According to Marine's backstory, she loves money, jewels and treasure, and decided to become a VTuber to get money to buy her own ship. As such, she is officially a cosplayer and not a real pirate.
Marine watched her first porno when she was only 5 years old while rummaging through her father's movies. She marks this incident as the origin story of the uncontrollable horniness she experiences in the present day.
Marine is notably good at drawing as shown by these tweets, where she has drawn Shirakami Fubuki, Minato Aqua, and Natsuiro Matsuri in their swimsuits, just to name a few.[48][49]
Though Marine constantly insists she is 17 years old, she has admitted that when she visited a doctor, she was told her "body age" was 45, which was "a little higher than her actual age," and she expressed genuine shock upon hearing this. She also revealed that her "mental age" during mental training is 72.[50]
Like Amane Kanata, Marine has a wide vocal range, with her cover of BLOODY STREAM being sung one octave lower than the original.[53] She once put on a very high-pitched cute voice in a guest appearance with Ryushen, claiming it to be her real voice.[54] Marine also has a very convincing Pikachu impression.[55]

Marine's "normal" voice is noted to strongly resemble that of Angie's from Resident Evil Village.[56]

Marine's spoken English skills are somewhat poor, but that doesn't stop her from trying. The broken mess that results when she attempts to communicate in English is affectionately referred to by fans as "Maringlish." She has started taking English classes.
The hashtag #宝鐘マリン3D (#HoushouMarine3D) became trending number one worldwide on Twitter when Marine debuted her 3D model on YouTube.[57]
Marine is a big fan of Touhou Project (a franchise mostly known for its "Bullet-Hell" Windows games), as evident by her game-play of Touhou Spell Bubble and her excited reactions. Additionally, Marine appeared along with Shirakami Fubuki on the 12 April 2020 episode of Super Touhou Station where they were able to personally meet ZUN (Touhou Project's creator and chief artist and programmer), resulting in Marine going into what fans have described as a "fan-girl panic-attack."

Following previous point, it's even thought that since her character design is very "Touhou-esque" (way too bizarre or outlandish), Marine's character design was purposely made to be confused as a Touhou character. This image even worsened things making many Touhou fans confused the image with an leaked beta screenshots for Touhou 18 (one year before even announced)
That image was for Marine X COOL&Create "#Gensokyo Holoism" CD. This music CD tales Marine's story in Gensokyo, as she ended there by "Truck-kun"'s fault.
In one stream, Marine said that she bought Touhou 6 in its release date (during Comiket 62, almost 20 years ago), confirming that she knows Touhou Project even before was mainstream (Touhou 5 and earlier games were not even for Windows-based PCs, and they were released before 1999, and Touhou didn't got worldwide spread until late-2002), it seems that she keeps that CD to this very day.
In another stream, she confirmed that, before being VTuber, she made Touhou fanmade doujinshi (is not clear if she made SFW or NSFW manga, but is suspected to be NSFW, and she did not reveal her artist pseudonym).

Marine is allergic to cats as mentioned by Aqua.[58]
Marine is the eleventh hololive member to join the official Hololive Subreddit as a moderator.
External Links
Media
Further readings
References