This is a Japanese name; the family name is Houshou.
Associated pages
Houshou Marine (宝鐘マリン) is a female Japanese Virtual YouTuber associated with hololive, as part of its third generation of VTubers under the name of "hololive Fantasy" (ホロライブファンタジー) alongside Usada Pekora, Uruha Rushia, Shiranui Flare, and Shirogane Noel.
Introduction Video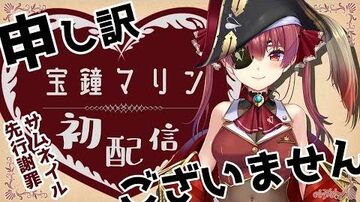 Marine's introduction.

Personality
Marine is a bold, fast-talking girl who often throws caution to the wind, making obscene jokes and playfully mocking both her higher-ups and her viewers. She often struggles to keep her lewdness in check, and openly lusts after fictional female characters. According to her backstory, she loves money, jewels and treasure, and decided to become a VTuber to get money to buy her own ship. As such, Marine is officially a cosplayer and not a real pirate.
Though she claims to be 17 years old, her self-described "auntie" voice, lack of physical stamina, and extensive knowledge of 2000-2010 Internet culture indicate that she is almost certainly older than she claims she is. This is supported by other hololive members' habits of teasing her about her age. Her age has become a recurring joke on her channel; for example, on 30 July 2020 (Marine's birthday), she claimed to be turning 17 again for a "second season", to which Himemori Luna states, via a drawing, that she is 27.
She greets her viewers with "Ahoy!", a typical pirate greeting.
Appearance
Marine cosplays as a pirate. She has crimson red hair, tied into twintails with laced ribbons, topped with a removable pirate hat. She has heterochromia, with her left iris being golden, and her right iris is red.
On 18 October 2020, Marine debuted with a new outfit. Her twintails remain, but extended and loosely curled, spiraling neatly towards the end at her ankles. Instead of her pirate hat, she now adorns a tophat.
History
Background
Her Twitter account and YouTube channel was created on 22 July 2019. She debuted with her introduction stream on 11 August.
2020
On 1 January, she announced on Twitter that she would get a new costume,[3] that was revealed the next day on 2 January, being her 2D new year kimono costume, being her second costume overall.[4]
On 19 January, hololive's Twitter account published a tweet mentioning that Houshou Marine, Hoshimachi Suisei and Shiranui Flare would participe in a stream previous to hololive's 1st fes. Nonstop Story.[5][6] The next day, in this stream it was revealed that the three of them would get their 3D model debut in said event, but that they would have a YouTube debut later. In Marine's case, her stream was scheduled for February.[7]
On 24 January, she appeared in her 3D model for the first time at hololive's 1st fes. Nonstop Story with both her standard and idol outfits.[8][9]
On 11 February, she teased a special announcement during her stream, this was revealed to be the date of her 3D model debut for YouTube programed for 15 February.[10][11]
On 15 February, she appeared in her 3D model for the first time in YouTube during a stream.[12][13]
On 13 March, she announced on her Twitter account the demonetization of her channel, apparently for sexual content. She also stated that for the last 4 months every video had the yellow monetization symbol, which means monetization coming for advertisement on her channel was already limited.[14]
On 27 March, she announced at the end of an Animal Crossing New Horizons stream the remonetization of her channel which was later also announced on Twitter.[15][16] Later that day, she held a remonenization stream.[17]
On 16 October, hololive's Twitter account announced that Marine, Shirogane Noel, Murasaki Shion and Yuzuki Choco would get new 2D costumes.[18]
On 18 October Marine debuted her third 2D costume during a stream, named by her artist as "Captain Marine- Gothic Fashion" her new clothes maintain her classic color scheme as she wears a red dress with a black corset, she wears a black ribbon with archors and a blue jewel in the center, her dress is decorated with various hearts like the one present in her eye patch, she also has a golden pocket watch, her longer twintails are now decorated by black ribbons instead of red, and she wears a dark blue hat with red roses.[19] In addition to this, she also revealed that her base 2D model got updated to the 2.0 version, among her updates her face can turn better in different angles and her handkerchief was given movement.[20]
Events
Fans
Her fanbase is called "Houshou no Ichimi" (宝鐘の一味).
Trivia
Marine is notably good at drawing[23][24] as shown by these tweets, where she has drawn Shirakami Fubuki,[25] Minato Aqua[26], and Natsuiro Matsuri[27] in their swimsuits.
Her English skills are somewhat poor, but that doesn't stop her from trying. The broken mess that results when she attempts to communicate in English is affectionately referred to by fans as "Maringlish".
She has Heterochromia (the colour of the iris is different than the other), though it is usually not visible due to her eyepatch.
The hashtag #宝鐘マリン3D (#HoushouMarine3D) became trending number one worldwide on Twitter when she debuted her 3D model on YouTube.[28]
She's a big fan of Touhou Project, as evident by her game-play of Touhou Spell Bubble and her excited reactions. Additionally, Marine appeared along with Shirakami Fubuki on the 12 April 2020 episode of Super Touhou Station where they were able to personally meet ZUN (Touhou Project's creator and chief artist and programmer), resulting in Marine going into what fans have described as a "fan-girl panic-attack".
She's allergic to cats as mentioned by Aqua.[29]
She is the eleventh hololive member to join the official Hololive Subreddit as a moderator.
External Links
Media
Further readings
References
Community content is available under
CC-BY-SA
unless otherwise noted.