This is a Japanese name; the family name is Inari.
Associated pages
Inari Kuromu (稲荷くろむ) was a female Japanese Virtual YouTuber, associated with 774 inc. as part of the company's branch group AniMare (あにまーれ). She debuted as part of the first wave of VTubers of the group alongside Inaba Haneru, Souya Ichika, Hinokuma Ran, and Umori Hinako.
Introduction Video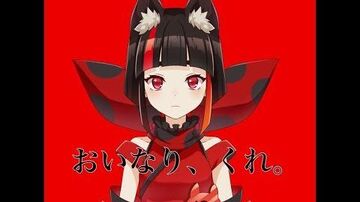 Personality
History
2018
On 4 October, during her birthday she debuted another costume.
2019
Retirement
She suddenly retired on 29 December 2018 after doing a final video with the rest of AniMare. She explained that the reason for her retirement is due to her parents finding out about her Virtual YouTuber activities.
As of March 2019, all her content on YouTube has been removed. There are a few of her videos spread about on NicoNico and other sites, including many here, but unfortunately it does not appear that there is a full archive of all her videos.
External Links
稲荷くろむ - upd8 profile page