This is a Japanese name; the family name is Inugami.

Associated pages
Inugami Korone (戌神ころね) is a female Japanese Virtual YouTuber associated with hololive, debuting as part of the group "hololive Gamers" (ホロライブゲーマーズ) alongside Shirakami Fubuki, Ookami Mio and Nekomata Okayu.
Introduction Video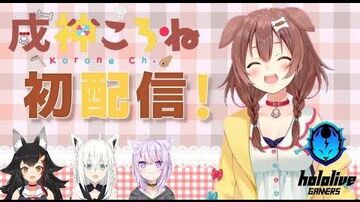 Profile
hololive.hololivepro.com
"'Ello! Fingers! Give me your fingers!"


A dog from a bakery in the city. She likes to play games during her free time while watchdogging.[5]
hololive.tv
"G'morning! Fingers! Give me your fingers!!"


The dog from a random bakery. She likes to play games when she has free time while watchdogging.[6]
Personality
Korone has a sweet and goofy personality comparable to that of an actual dog. She often kisses other hololive members for no reason, and has a high-pitched laugh that resembles the cry of a screeching seagull.
Like most dogs, Korone is fiercely loyal, specifically to Nekomata Okayu with whom she forms a pair known as "OkaKoro." In fact, the two are so close that Okayu didn't mind Korone grabbing and massaging her breasts during their sleepover after Korone had a exhaustive day of dance practice and concert work, which can be seen in a more maternal light. They also often casually kiss each other on the lips.
Korone has a fondness for retro games, especially those that are more niche (or even poorly-made). She gets a lot of amusement from the strangeness in these games, often laughing at how absurd they can be.
While her activities usually look playful and sugary, Korone can also be nonchalantly terrifying at times; for example, she accidentally revealed that she had searched for torture/execution methods in her mobile browser history, laughed joyfully while using the chainsaw in Doom, and was completely unfazed by a scene in Heavy Rain where the protagonist (under Korone's control) was forced to cut off his own finger. Many holoGirls, A-chan included, have gone out of their way to say Korone is flat out crazy. Unlike the axe-crazed Suisei, Korone has a childish style of psychopathy that suggests that she does not appreciate the severity of the physical pain she inflicts on others.
Korone is a fan of splatterhouse styled horror, referencing movies like Human Centipede and Saw as her preferences, while voicing traditional ghost stories as her least preferred genre. This was further cemented in her two playthroughs of "Tsugu no Hi" games with her screaming at everything on screen, including parts where nothing scary was actually happening. This was even more ironic when she played Evil God Korone, the "Tsugu no Hi" spin-off based on her. Her habit of being easily startled during horror games carries into other games. For example, during her INFLICTION playthrough where she was playing with bathroom soap, she got startled after she accidentally brought up an inspection menu.
She has also gone on the record to abuse her fans, represented by Listener-kun, usually seen at the end of her streams where she forgets to give her fans' fingers back until they rot, or even having comical backdoor tragedies happen like giving back Listener-kun's finger only to swipe her fans money to gamble with in Dragon Quest, and is quick to jump on her viewers like a jealous housewife when she sees traces of other women around them. The fact that she is both cute and scary at the same time has only increased her appeal amongst her fanbase.
In a more dry and serious light, however, Korone has shared confidence issues during her Roomania 203 playthrough due to measuring her worth to other's actions causing her to criticize herself unneededly. Though her time in hololive seems to be helping in this aspect.
Korone originally greeted viewers with "Yubi! Yubi!," which originated from her desire to have her own unique greeting. During her first stream with the other members of hololive Gamers, Korone noticed that she was the only one out of the group that didn't have her own greeting. She joked about possibly greeting her viewers by asking for their fingers, after which they would reply "Yubi! Yubi!" in return, "Yubi" being the Japanese word for finger.
While she's well known for the "yubi yubi" greeting, she's gradually stopped using it in favor of starting the streams without any specific set greeting. During collaborations, she usually introduces herself by name and sometimes with her Hololive Gamers affiliation, but often says unexpected things or quickly speeds through her intro in a way that's hard for people to understand. This often confuses other Hololive members that collaborate with her. While she doesn't use her regular greeting often, she has fun with playing with other Holomember greetings and catchphrases. For example, when she did a Splatoon collaboration with holoX member Kazama Iroha, who says "de gozaru" at the end of her sentences, she went along with Iroha's archaic samurai speak. This included referring to viewers with the respectful honorific "-dono".
Her battle cry when playing games is "Orayo!", a trait that has remained consistent over the years.
History
Background
She was first announced on 22 March 2019 in Shirakami Fubuki's stream during which Fubuki debuted her new 3D model. Fubuki announced that she alongside with Nekomata Okayu would join hololive Gamers in April [7] This was followed up by an announcement on hololive's Twitter account on 25 March.[8] She was officially introduced on 1 April.[9]
Her Twitter account was opened on 24 March 2019 while her YouTube channel was created on 25 March. She made her debut on 13 April[10] although she had appeared on the streams of other members before her debut, the first being on Oozora Subaru's channel on 7 April.[11]
2019
On 10 September she announced on her Twitter that she would be getting her 3D model,[12] later on 14 September she debuted her 3D model during a stream.[13]
On 26 December she published on Twitter that she would get her second 2D costume. This costume was later revealed that day during a stream, and features a mostly brown dress with a ribbon and a hat.[14][15][16]
2020
On 1 January, she debuted her third 2D costume, a kimono in celebration of the new year.[17] The outfit also comes with a ridiculous kadomatsu-shaped hat, with three bamboo stems that can bob up and down.
On 24 January, along with the other hololive girls up to the third generation, she debuted her 3D idol outfit at hololive's 1st fes. Nonstop Story.[18]
On 3 July, Korone reached 500,000 subscribers on her YouTube channel, making her the 3rd hololive member to reach this milestone.
On 1 November, Korone became the second hololive member to reach 1,000,000 YouTube subscribers and the first one of the Japanese branch to do so. She is also the first member of hololive GAMERS to reach it.
2021
On 13 April, Korone debuted her first original song "SAIKYO TENSAI WANDERFUL WORLD of KORONE."[19]
On 10 May, she reached 1,500,000 YouTube subscribers. This makes her the 2nd member of hololive to achieve this milestone, as well as the first member of hololive JP. She is also the first member of hololive Gamers to achieve it.[20]
On 12 July, Korone announced on her Twitter account that she would get her fourth 2D costume.[21]
On 14 July, she revealed her fourth 2D costume along with Okayu. In this costume Korone got a new hairstyle, featuring an almost clear forehead thanks to the use of a pink diadem, her clothes consist of a pink jacket with a white hat shaped like a dog drawn in Korone's style that she can wear optionally, a shocker with a decorative finger, a black t-shirt decorated with illustrations of fingers (Yubi), her mascot Hosoinu among others, in this costume she wears denim shorts and a pair of slippers with Okayu's symbol.[22]
On 30 September, Korone received a new accessory as part of her birthday celebration, similar to her kadomatsu hat, she wears a strawberry birthday cake, decorated with pink and blue ribbons, a heart that reads "Korone" in hiragana, the cake hat has three candles. The hat was supposed to debut during a stream this day and Korone is even shown wearing it in the miniature, however she forgot to use it, showing the cake later on her Twitter account instead.[23]
On 1 October, her birthday 3D live stream, she revealed her third 3D costume. This costume was first featured in the artwork of her original song SAIKYO TENSAI WANDERFUL WORLD of KORONE. In this costume Korone wears a golden crown to the right of her head with two hairpins: a red heart and a blue star, on her neck she wears a white and yellow shocker with her signature red and blue crossed bones, a white and yellow dress with various accessories in red and blue included in ribbons, buttons and more, a yellow corset, her skirt has a yellow piece to the left side with blue stars, the end of this piece is blue and has white fingers as a motif, Korone uses a white high sock on her right leg and a red one in her left leg, finally the whole outfit is complemented with a big gift like ribbon that goes from her left shoulder to her right leg featuring Hosoinu at its center and another ribbon on the back.[24]
On 9 November, Korone announced that she would be taking a break from streaming until December due to stress related symptoms, including sleep paralysis, shaky hands, and problems speaking. Misinformation was spread from poor translations that Korone had Autonomic Nervous System Disorder or heart disease. In reality, she was stressed from balancing too much work with taking care of her mom, but her symptoms would recover with proper rest.[25][26] Initially planned as a two week break, she returned in full on 16 December.
On 24 December, Korone debuted a new hat, similar to her kadomatsu hat, she wears a Christmas Tree that has some variants, Korone can wear the tree with or without decorations, in addition the tree includes the its own face turning it into a mask.[27]
2022
On 13 April, Korone debuted a new Live2D model: her "furball" dog form, based off of a popular fan design made by Sabaku. She also revealed the ability to have her jacket off on her base outfit. She also revealed a short straight bang haircut with her hoodie outfit, similar to a bangs update that Okayu received, with classic Japanese "nerd" style glasses.[2][28]
Additionally, she debuted her second original song "Doggy god's street."[29]
Discography
Main page: Inugami Korone/Discography
SAIKYO TENSAI WANDERFUL WORLD of KORONE

1st single

13 April 2021

   

SAIKYO TENSAI WANDERFUL WORLD of KORONE (ころねの最凶天災わんだふぉーわーるど)
SAIKYO TENSAI WANDERFUL WORLD of KORONE (Instrumental)

External links
Digital Release • Music Video • YouTube
Events
Mascot and Fans

Her fanbase is officially called "Koronesuki" (ころねすきー) and is represented on screen as Listener-kun (リスナーくん), a bald person with a permanently open mouth. In Japanese streamer fandom terminology, viewers are referred to as "[listeners]," derived from listeners of radio programs. Additionally, "listeners" is seen as a more appropriate term than the Japanese word for viewers (視聴者) when streams are more focused on speaking, singing, or game commentary than what's on screen.
Her fanbase is also occasionally represented by her dog mascots: Hosoinu ("thin dog," a white dog drawn with thin lines) and Futoinu ("chunky dog"), a Snoopy-like white dog with black ears and tail drawn with thick lines.
Japanese fans often donate 563 yen. This is goroawase, or a number-based pun, read as "Koro-san." Although Korone didn't pick up on the pun until April 2021 when she was reading super chats after a Dragon Quest stream.
Quotes
"Ohayo~"
"Wowowowow!"
"X-Potato!"
"I am Volkswagen."
"I am Mercedes Benz."
"I am BMW."
"I am everyone's wife, okay?"
"Water in the fire, why? Water in the fire, WHY?!"
"No no no!! Three brothers!!!"
"Have confidence! ... No confidence!"
"I'm die. Thank you forever."
"Secret money, heh heh heh. Thank you."
"Pi-pe!"
"I am justice!"
"I am God Dog."
(reads comment) "Why is she angry? Oh sorry! (quickly smiles) Happy Face! (giggles) Happy Dog!"
Trivia
"Korone" resembles the Japanese word for "chocolate cornet," a type of sweet bread from Japan, which plays with the fact that she works in a bakery.

Korone's surname "Inugami," roughly translated as "Dog God" or "Dog Spirit," is a spiritual possession by the spirit of a dog, widely known about in western Japan.

She has cited on several occasions that her specific breed is the Cavalier King Charles Spaniel. This was also backed with her original song "SAIKYO TENSAI WANDERFUL WORLD of KORONE" where she mentions her breed type.

Korone's designs, both regular and in her anthro "furball" model, don't show obvious resemblances to her breed in real life. However, the non-canon story in the video for "Doggy god's street" directly depicts her as a normal Cavalier King Charles Spaniel that transforms into her regular animal-eared human form thanks to her mysterious owner's rings.

During her introduction, her height was incorrectly listed as 156 m instead of 156 cm. This has caused her fans to joke about her being a giantess whenever her image is portrayed especially bigger compared to other VTubers in the same video.
Korone has some knowledge of English (as seen in one of her tweets). Korone is also noted by fans as one of the Japanese-speaking VTubers who's made the most effort to reach out to their English speaking audience, using Google Translate whenever she's at a loss for vocabulary or pronunciation. She treats these interactions as a fun way to gradually learn more English.
Korone has inspired the term "Bonking" within the hololive community. This came after she was playing around with her PNG props and used her mouse cursor, holding a mallet, to bonk Listener-kun and the chat for fun.
Occasionally during Korone's streams, the screen mirroring software she uses to do live streams (named "AirServer") glitches or times out, causing her model to turn into a giant AirServer icon.
She has mentioned on stream that her accent comes from a combination of her grandmother's Kansai dialect and an unknown dialect of her parents that has not been revealed. She is working on changing it into a more common one.

Her accent seems to differ most notably from the inflections of syllables. For example, she pronounces 皆 as MIIN-na rather than the more typical min-NAA.

Korone is trained in martial arts, specifically boxing. This has led many fans to joke that they should never get on Korone's bad side, especially after she punched her chat (Listener-kun) in the face for obnoxious backseating during one of her Super Mario World streams. Korone has a habit of providing tongue-in-cheek "beatings" of her fans for bad behavior. For Example, she released a short video of Listener-kun being battered and bruised by her while pretending to be a sweetheart. This was in response to the Koronesukis voting her as the one who gave them the hardest time for tossing a dirty rag on their face in a S.M.O.K. collab.
Korone designed monsters for the Rakugaki Kingdom × hololive event. In said event, she made a monster version of Hosoinu. She created the monster for the game in secret due to a collab ban surrounding hololive at the time.
Fans have noted that Korone's personality has changed noticeably over time. In many of her earlier streams, and especially in collaborations, she was quieter and more reserved. However, as time passed, she developed more of the open, friendly and energetic personality she is now known for. Korone herself has acknowledged this, and credits hololive's helpful and friendly atmosphere, in particular her close friendship with Okayu.
According to Kiryu Coco, her daily schedule suggests that she only sleeps about 2-3 hours a day in between working at the bakery and streaming. Fans have expressed concern over her health.
She shares the same character designer with Civia of hololive China and Shellin Burgundy from Nijisanji.
Korone has a notable interest in American popular culture. She is a fan of South Park, Steven Spielberg movies (especially Jurassic Park), Phineas & Ferb, Gravity Falls, Michael Jackson's music, and SpongeBob SquarePants.

When her background was updated to feel like "her room," other bits of Americana were shown, such as a oversized baseball and a Blue-ray shelf filled with movies, with Child's Play and The Mask being displayed on stands as collector's items.

There was an Easter egg in Doom Eternal's DLC "The Ancient Gods: Part 1" that referenced Korone: pressing the dedicated Chainsaw button four times while on the rune slot screen would make a "DOOG Eternal" logo pop-up, a nod to Korone's avid use of the Chainsaw while playing Doom 64 and Doom 2016. Unfortunately, it was removed by id Software in the 3.1 Patch Update, likely due to the "DooG" logo being copyrighted by Cover corp. and hololive Production, thus presenting a legal risk.[35]
Amane Kanata and her are avid baseball fans and have attended games together. Korone also has baseball games on her tablet, as seen when her game crashed and revealed the menu. In another situation where her phone leaked her app history, she is shown to have a baseball app for the upcoming baseball games.
During the credit-scroll of Korone's stream of Blasphemous, the topic of conversation turned to Expósito; one of the game's most memorable bosses. Wanting to know how to properly pronounce the name using Google Translate, Korone mistakenly pronounced it as "X-Potato". This instance took off and became a widely repeated meme among her fanbase, with the term "X-Potato" sometimes used as a stand-in label for Korone's viewers.
Due to the COVID-19 pandemic, the YouTube AI began automatically placing the "Get the latest information from the CDC about COVID-19" tab on all of Korone's videos, regardless of their topic or context. This even extended to edited and translated clips from her streams uploaded by other YouTubers. It has been speculated to be due to an error in YouTube's AI resulting from Korone's name being similar to the spelling of "Corona" in several different languages.

Also because of the pandemic, YouTube began pushing more of its moderation work onto AI instead. The YouTube AI began abruptly ending and deleting streams of many VTubers (even without violation of YouTube's Community Guidelines). Korone began posting many positive comments about her love for YouTube in her stream descriptions in an attempt to prevent this for happening. She stopped doing this after her Plug & Play stream.
Because of the "Korone Virus" incident, some fans have started to adopt this into their usernames for other VTubers to show their support or who their favorite is by replacing Korone's name with another.

She was the most frequent target of "Eating Mike Tyson's Ass," a user who donates to various English-illiterate VTubers to prank them into reading his name. Korone has since smartened up to his antics by twisting his name to her own liking on stream, leading to many permutations like "Eating Mike Tyson's Biohazard."
On 28 August 2020, YouTuber 2ManySnacks posted Eekum Bokum, an animation of Korone saying the phrase of the same name,[36] which eventually led to the phrase becoming a meme. She said this phrase in a livestream from 25 August 2020, in which she, seemingly amused by the phrase, would repeat it whenever it played in Banjo-Kazooie, a 1998 video game originally released for the Nintendo 64, which she was playing in the livestream. The sound is played upon collecting a Mumbo Token.

On 19 September 2020, 2ManySnacks posted NomNomNom, another animation of Korone, this time featuring various voice clips from her second Banjo-Kazooie livestream. This animation also features the phrase "Eekum Bokum." The animation has also seen a sizable amount of edits, and could be considered a meme in its own right. In spite of the phrase's massive popularity, when she continued her Banjo-Kazooie playthroughs, she had already forgotten how to say "Eekum bokum," leading her to try to say it but in very different ways.

She likely has an intense fear of worms, or certain types of bugs, as suggested in a part of her Metal Slug 3 stream.
Her search history was leaked accidentally but Korone got permission to stream it later, it contained: Pentatonix, The Rocky Horror Show, top 16 torture methods, slow execution methods and Cut Wound Ouch.
As of 1 November 2020, Inugami Korone is the second hololive VTuber to reach 1 million subscribers, the first being Gawr Gura.
Korone once broke her ring finger while gaming. The doctor refused to believe that she could have broken just from gaming.[37]
She has a big collection of retro consoles and games. For her streams, she prefers to play retro games on the platform that they were originally released on instead of modern ports. For example, after deciding to re-play the first Yakuza game after realizing she didn't remember the story, she played the original on the PS2 instead of the Yakuza Kiwami remake.

This can change depending on external factors. For example, while her playthroughs of Sonic 1-3 & Knuckles were on the Mega Drive and Sonic Adventure 1-2 were on the Dreamcast, she played Sonic Colors Ultimate instead of the original Wii version of Sonic Colors due to it being a sponsored stream.
Due to the nature of playing on retro consoles, there are occasionally technical issues on start-up when making sure viewers can see what's on screen. Generally, Korone is good at troubleshooting these issues on her own.

Korone is very skilled in improvising in Open Broadcaster Software when display issues happen with her overlays or technical issues keep her from streaming. One particular incident lead to the creation of a "opposite" version of Korone called "Dark Side Korone."
It took two years after her debut to admit that she normally plays game audio from her speakers instead of using headphones or earphones.
While Korone has kept various running bits over the years ("orayo" as a gaming battlecry and the stream "ending making time" where Koronesukis meet strange and often untimely ends), she's also dropped ones, even when they've become representative of her to Hololive fandom. (The Japanese Study Time segment where she tries teaching Japanese words to overseas fans, saying "hey guys" to summon overseas fans, "yubi yubi" as a catchphrase).
External Links
Media
Further Readings
References