Associated pages
Ironmouse is a female Puerto Rican[1] Virtual YouTuber and Streamer who has been streaming since August 2017.[2] She is known for her singing, her crazy personality, and her high-pitched voice. While originally an independent streamer, she is now part of the agency VShojo.
Introduction video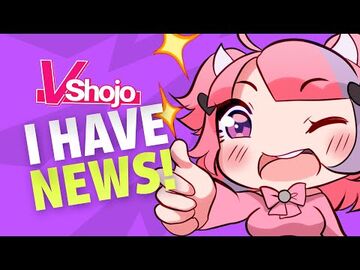 Profile
A demon queen who goes by several names… but has also been rumored to be Satan herself. She is a friendly, fun loving demon who ran from her duties and escaped the confines of Hell/the underworld in order to make new friends, learn new things and live life to the fullest. She has an obsession with the internet, music, lewd, nerdy and all things cute. She wears special magical bells on her body to contain and control her power in order to better blend into the human world. If her bells ever get removed only pure chaos will ensue. It has been said that once the bells are off her true demon queen form will be revealed. All she ever wants to do is have fun and see what the human world is all about and… make as many souls friends as she can.[3]
Personality
Ironmouse is very chaotic by nature, she asks the strangest questions or talks about the strangest topics out of the blue and often leaves collaboration partners speechless with her uncensored words, but her behavior is so light-hearted and funny that there is no stream in which she doesn't make her chat or collaborative partners laugh. Her suggestive language sometimes causes her to delete her own VODs for fear of possible TOS penalties. She cares a lot about her friends and gets sad when she hears someone being mean to them, even more so than when they are being mean to herself. While she is very confident when she is streaming on her own, she is very shy when it comes to connecting with other people and usually gets nervous when anyone other than her closest long-term friends are around.
Her abundant charisma is easily recognized by the way she makes people smile, feel comfortable, or get emotional. She is generally very friendly to everyone except when she roasts people who are mean in chat or when she occasionally behaves "Tsundere". It is a Japanese term for a character who is caring but has difficulty expressing positive feelings for someone and instead acts temperamental and hot-headed. There were also rare instances when she acted "Yandere", laughing maniacally saying "I love you so much that you have to die", which occurred in games where she had to kill collaboration partners.
She is very hardworking as she puts in effort every day to stream and provide content for her viewers despite her circumstances. The name she has chosen for her community reflects her loving heart, for "precious family" reflects how grateful she is for everything, even for your mere presence during her streams. She gets very emotional when she talks about how far she has come against all adversity.
She is known to be easily scared and likes to stall before and while playing horror games, but at the same time she loves the feeling of being scared, which is why she likes playing scary games.
History
Background
Ironmouse debuted in 2017 on a smaller streaming platform. In late 2019, she switched to Twitch as her main streaming platform.
2020
On 15 May, Ironmouse became a Twitch partner[4].
On 01 July, she became YouTube partner[5].
On 24 November, she announced her membership in the new VTuber agency VShojo as one of its first members, along with Projekt Melody, Silvervale, Zentreya, Nyatasha Nyanners, Froot and Hime Hajime. Her introductory video was drawn by Froot, and featured a brief cameo by Hime Hajime, who appeared on the cover of a book which Ironmouse reads. She introduced an updated version of her model. Ironmouse promised that "Nothing will change. Jack shit will change. You know why? Because VShojo is talent-first. We're all fuckin' free to do what ever the fuck we want!"
2021
On 15 January, she revealed longer hair as an update to her "Season 1" 2D model, which was adopted from her 2020 Christmas costume.
On 11 February, she revealed a new 2D model along with the "Seasons" concept, explaining that each model has its own backstory in a different universe and has its own designated season[6].
On 09 March, Ironmouse was featured on REACT, a popular YouTube channel, in an episode titled "Teens React To VTubers."[7]
On 12 March, she unveiled a new 3D model on Twitch, made by TheArtGun, before it was to debut the next day.
On 13 March, she hosted a special 300k YouTube subscriber celebration stream on her YouTube channel, where she also officially debuted her new 3D model. Before unveiling the model, she used an unfinished version as a joke, which was mostly bald[8].
On 31 March, Anthony Padilla released his YouTube video "I spent a day with VTUBERS", in which he interviews Ironmouse along with Nyatasha Nyanners and Zentreya[9].
On 13 April, VShojo members Ironmouse, Froot, Silvervale, Veibae and Nyatasha Nyanners played with prominent japanese VTubers Kizuna Ai, Higuchi Kaede and Dennou Shojo Siro in a collab called #VAmongEarth.[10]
On 06 May, she revealed her "full demon form" ahead of her scheduled debut on 11 May. The reveal took place during a collaboration with Anthony Padilla[11], during which he used his VTuber model to stream for the first time.
On 12 May, she debuted her "OVA Universe 666" demon form.
On 14 May, she reached 500,000 Twitch followers[12]. On the same day, Caleb Hyles released the collaborative cover song "Omae Wa Mou" on YouTube.
On 03 June, she debuted her summer outfit, a version of her 3D model created by TheArtGun[13].
On 19 June, she collaborated with Mori Calliope in the second ever hololive x VShojo collab.[14] The event was streamed on Ironmouse's Twitch channel and attracted around 25,000 viewers at its peak.
Events
On 22 May 2021, VShojo members Ironmouse, Silvervale, Veibae, and Nyatasha Nyanners attended the DigiKomi convention, where they played a game called "Otaku Exposed!".[15]
On 04 July 2021, she appeared at Anime Expo Lite along with other VShojo members. [16]
Mascots and Fans
She has a demon familiar/mascot named Bubi.
Bubi has his own lore:

Bubi is an archdemon, has three eyes and can switch between a mascot and humanoid form. In his humanoid form, he is a regal Tsundere, but has a tendency to be sweet at times. He has a deep, calm voice that can be gentle from time to time, but is usually commanding, friendly, and stern.
Bubi must always play the straight man. His job is to be strict and keep Ironmouse out of trouble. He has a habit of becoming very crass and outspoken when he is drunk. He often drinks heavily with Goro (Nyanner's familiar).
When he is in his mascot form, he is a chaotic monster. When his third eye is open, he can be very difficult to control and his character traits change to very loud, evil and bad mannered.

Her fanbase is officially called "Precious Family".
Her Patreon members have four tiers: Precious Family, Flancito, Senpai, and Hentai Senpai.
Quotes
"We're not a cult, we are family."
"Glitter is nature's herpes!"
"It doesn't matter what you do when you stream. As long as you have fun, and as long as you express to everyone that you're having a great time, and they can genuinely see that you're enjoying yourself, they'll enjoy themselves too, and enjoy you enjoying yourself, and everyone will have a good time."
"Beauty fades, but dumb is forever."
Trivia
Lore
Ironmouse is a demon queen from the depths of the underworld ("not underwear. Underworld") who came to the human world after becoming obsessed with human culture. However, her power weakened as she spent more time away from her home world.
Ironmouse began streaming after becoming obsessed with VTubers. She discovered that she has the ability to absorb human souls, the only energy capable of sustaining her, via the internet. She no longer consumes human souls, but subsists on piece of the soul energy of her viewers.
The two silver bells she wears in her hair constrain her power, allowing her to assume a weaker form. This is necessary to allow her to stay in her beloved human world for as long as possible.
She has the ability to shapeshift into any form, although she cannot use it without consuming too much of her power. She can appear anywhere in the world at any time, and "You'll never find me in space!"
Ironmouse has brainwashed a family into believing that she is their daughter, so that she can live on Earth.
"Seasons"
Each universe has its own version of Ironmouse. To distinguish the stories of each version, they are separated by "seasons" and in each universe she has a different appearance (model).[6] All versions of Ironmouse will still exist when a new season comes out, and we may see older seasons resurface occasionally.
Lost Season: Universe 000 is where "Baby Mouse" lives. In this world, Ironmouse lost her memories and was trapped in another person's body. She was able to jump from body to body, but could never take an original form.
Season 1: Universe 111 is where she came into the human world, but her unstable power kept causing problems with her original form. In this world she never went back to hell and Bubi (her demon attendand) remains back in hell. In this world she found VShojo and lives out her life as a VTuber.
Season 2: Universe 222 is where she has lived in the human world for a long time, but periodically goes back to hell (Which resulted in the wifi being much more stable down there). In this world, Bubi has come from hell to our world to watch over Ironmouse, protect her and have fun with her. Through Bubi's help, she found VShojo and became a VTuber to supply herself with soul energy.
OVA (Demon form) Season: Universe 666 is where she did not live in the human world until she found VShojo with the help of Bubi. VShojo took over the world and each queen (member) has her own territory to rule. She brainwashed a family on Earth to believe she was their daughter and became one of VShojos queens to help rule the human world, bring chaos and consume souls. She also loves the eldrich being Nyanners and wants to take over the world with her. Her special powers include being able to travel to other universes. She has no bells which would seal her power in demon form.
Appearances
She appeared in episode 40 of "Getting to Know" by heyitsjoe
She has been featured several times on the Rant Café Anime Podcast[17], where she also embodied the voice of "Truck-chan", one of the characters in the light novel "That Time I Got Isekai'd To Another World With My Truck!!!"[18].
She has participated several times in the "Weeb Wars"[20] game show on the Twitch channel of Lost Pause.
She participated in VShojo's own game show "VShowdown". She won in the pilot episode "Do VTubers really know anime?" when she competed against Silvervale, Zentreya and Nyatasha Nyanners.
On 29 January 2021, she participated in a Twitch Rivals tournament and finished in fourth place, the game played was Among Us.[21]
On 21 July 2021, she participated in the Twitch game show "Hivemind"[22], where she reached the second place.
Likes and hobbies
Her hobbies include art and watching anime.
She enjoys anime, hentai, singing, humans, cute things, music, weird stuff, games, chaos, learning new languages, and living life.
Her favorite flower is the orchid. She appreciates its ability to survive in difficult environments.
Her favorite color is pink.
Her weaknesses are humans, space, math, reverse harems, and birds ("You can't trust a bird. You don't know what they're thinking.").
Her favorite games are Black Desert, Minecraft, the Final Fantasy series, and the Kingdom Hearts series. She enjoys visual novels, survival, horror, simulation, and weeb games.
Her favorite anime are Gintama, One Piece, JoJo's Bizarre Adventure, Sailor Moon, Log Horizon, Shaman King, Fairy Tail, Kekkai Sensen, Tenchi Muyo, and Key the Metal Idol. She enjoys magical girl anime, reverse harem shows, 90s/2000s anime, and shonen anime.
She also enjoys Tokusatsu. Super Sentai, Kamen Rider, and Garo are among her favorites.[23] She is such a huge Sentai fan that to call her an "absolute nerd" would almost be an understatement. She has watched all the Sentai-related series, sung all 45 Super Sentai openings live while streaming[24], and talked about the subject for several hours on stream on various occasions. One of the things in her possession is the "Transformation Gun Geartlinger"[25]. When she received the toy, she recorded herself playing with it and posted it on Twitter[26], something she repeated after she eventually received the "World Thief Transformation Gun Geardalinger" toy[27].
Her favorite food and drink are pink Starbursts and geriatric milk.
Her fetish is people with bodies. "You got a body? You're good."
She loves to watch amusement park rides, especially roller coasters. Her favorite Disney World ride is Carousel of Progress.
She loves to watch musicals and sing musical songs. One of her favorite musicals is Hamilton.
Ironmouse loves fanart and art in general. This is one of the reasons why she likes to have many models. She loves to get new models and compares it to a change of clothes and likes to show them to honor the artist.
Other
Her goals are to release a cover album and original music, learn more languages, become fluent in Japanese, live life to the fullest, make many memories, have fun collabs ("playdates") with her friends, to do full body 3D with her friends, have a virtual concert, and voice a character in an anime dub. She hopes one day to be healthy enough to wrestle Nyanners.
Her streams are very diverse and often include chatting, watching videos, singing, occasional voice acting, gaming and much more.
Due to her health condition, her streaming times are very restricted. Ironmouse has [Common Variable Immune Deficiency] (CVID), a disorder that impairs the immune system. People with CVID are highly susceptible to infection from foreign invaders such as bacteria and viruses and often develop recurrent infections. It is because of this that Mouse has no option but to remain indoors and bedridden.
Before Mouse became really ill, she attended a performance arts high school, where she studied musical theater. She used to be a coloratura soprano and the years of training before she became bedridden have proven to be very useful when she sings.
Her first 3D model was hardly ever used because all the equipment required was very physically demanding for her. Her second 3D model is much easier to use, requiring much less equipment and also providing very detailed eye and mouth tracking.
Mouse speaks fluent English and Spanish. She also speaks some Japanese and is working on learning Korean. While she speaks and sings mostly in English and Japanese, she occasionally speaks Spanish or sings songs in Spanish, Japanese, or Korean.
Ironmouse is Hispanic, Puerto Rican.
Origin of her name: Ironmouse has always been small. When she was in school, she was called "Mouse" because of this. One of Mouse's favorite characters is Sailor Iron Mouse. When Ironmouse started breakdancing and became a B-Gril, she got the name IronMouse because of her favorite character and because of her size.
The name Ironmouse is in part a pun on "Maou", demon lord.
She hosts Lewdcast, a "Weekly Variety VTuber Podcast", along with Projekt Melody and Silvervale.
She refers to collabs as "play dates".
She often collaborates with CDawgVA (better known by his real name Connor), one of the biggest AniTubers on YouTube and one of the hosts of the Trash Taste podcast. Although they are good friends, they also like to bicker a lot.
One of her popular songs is Mousey in the Bathroom, a parody of "Michael in the Bathroom" from the musical Be More Chill.

On 26 February 2021, she unveiled a new Twitch channel intro titled "Mad Mouse", which is based on the music track "Marble Zone" from the Sonic games.
In 2017 during the "Lost Season", she began trying out various pre-made models, mainly using a model of the character "Tohoku Kiritan" created by Ketama (seen in the "Mad Mouse" video) to see if she liked the streaming, until she finally decided to commission her first 2D model of her own, which she unveiled in December 2019. The 2019 model is designated as "Season 1" and was also created by Ketama.
For 2021 April Fools' Day she used two models, a yellow version of her 2D model and a model hand drawn by Nyatasha Nyanners.
She joked that she has 5 hearts. 1 in her head, 1 in her chest, 1 in each foot and 1 in her butt. This is normal demon anatomy and she has a twin sister with orange hair named Aluminum Giraffe.
On at least one occasion she fell asleep briefly during a stream.
She has a long Furby that was handmade for her and she named it Azeatec (A reference to a character from Arcadum's DND campaign). It is also bigger than her with a length of about 5 feet (1.5 meters).
While she expressed her interested for a collaborations with Belmond Banderas on stream she was too shy to message him directly. Her fans eventually started sending him clips, and Belmond expressed that he was interested in a collaboration as well.[28] Sometime in May 2021, they started messaging each other and made plans to work together.
On very rare occasions (because physically very stressful due to her state of health) Ironmouse sings with her "operatic voice"[29][30]. A famous Ave Maria cover song often leaves listeners stunned, and they can hardly believe it's the same person.
She forgot to install scheduled games so often that it has become a meme in her community.
She has a heart-shaped birthmark on her thigh in real life, which she said is like a "Cutie Mark", a My Little Pony reference.

Tungsten Cat meme

: Due to her non-indicative name she often has to explain that she is not a mouse but a demon. In frustration over the misunderstanding, she joked that she should have used a different name like "Aluminum Giraffe", which quickly became a meme in her community. During a collaboration stream with CDawgVA, he joked that after Mouse retired, she would reappear with a deeper voice and under the new VTuber name "Tungsten Cat"[31]. Finally, during a stream with Nyanners, Silvervale, and Zentreya, she used her stream mixer to deepen her voice and jokingly said "My VTuber name is Tungsten Cat"[32]. Thereafter, the name was used on several other occasions by her and her community, sometimes with variants such as "Tungsten Rat".
The Mad Loli: In early 2020, when Ironmouse was not very well known and had only a handful of viewers, she had a collaboration with Project Melody, during which they played Animal Crossing. When viewers heard Mouseys swearing in her high-pitched voice, they started asking, "Who is this Mad Loli?"[33], which earned her one of her first nicknames, although it is hardly used anymore. For many spectators it was also the first time they met Ironmouse.
On 24 July 2021, she learned to whistle during a live stream. She couldn't do it before and finally did it with a lot of practice.[34]
External links
Media
Statistics
References