Associated pages
Ironmouse is a female American Virtual YouTuber and Streamer based in Puerto Rico,[4] who has been streaming since August 2017.[5] She is known for her singing, her crazy personality, and her high-pitched voice. While originally an independent streamer, she is now part of the agency VShojo.
Introduction video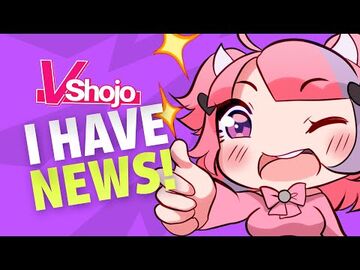 Profile
A demon queen who goes by several names… but has also been rumored to be Satan herself. She is a friendly, fun loving demon who ran from her duties and escaped the confines of Hell/the underworld in order to make new friends, learn new things and live life to the fullest. She has an obsession with the internet, music, lewd stuff, nerd shit, and all things cute. She wears special magical bells on her body to contain and control her power in order to better blend into the human world. If her bells ever get removed, pure chaos would ensue. It has been said that once the bells are off, her true demon queen form will be revealed. All she wants to do is to have fun and see what the human world is all about and… make as many souls friends as she can.[6]
Personality
Ironmouse's behavior is so lighthearted and funny that there isn't a stream where she doesn't make her chat or streaming partners laugh.
In early 2020, she was very shy and only showed confidence when streaming alone or with close friends. She was very nervous around others, but over the next two years she developed more and more confidence.
Her chaotic nature was more pronounced in her early streaming years, as she tended to ask odd questions out of the blue or talk about the strangest topics, often leaving her conversation partners speechless because she had no filter. Over time, she learned to control herself better, but she doesn't always succeed, especially when she's around like-minded friends. In her early streaming days, she used a lot of suggestive language, but as she developed more confidence, this behavior decreased. If not completely gone, at least she no longer deletes VODs for fear of possible ToS bans.
She cares a lot about her friends and gets sad when she hears someone being mean to them, even more so than when they are being mean to herself.
Her abundant charisma is easily recognized by the way she makes people smile, feel comfortable, or get emotional. She is generally very friendly to everyone except when she roasts people who are mean in chat or when she occasionally behaves in a "tsundere"-type fashion. Tsundere is a Japanese term for a character who is caring but has difficulty expressing positive feelings for someone and instead acts temperamental and hot-headed. There were also rare instances when she acted in a "Yandere"-type fashion, laughing maniacally and saying things like "I love you so much that you have to die", these flashes of yandere appearing in games where she had to kill off her collaboration partners.
She is very hardworking, as she puts in effort every day to stream and provide content for her viewers despite her circumstances. Even the name "precious family" that she chose for her community shows how much she loves what she does and how grateful she is for the love that the community gives her. She gets very emotional when she talks about how far she has come against all adversity.
She is known to be easily scared and likes to stall before and while playing horror games, but at the same time she loves the feeling of being scared, which is why she likes playing scary games.
History
Background
Ironmouse debuted in 2017 on a smaller streaming platform called YouNow. From the outset, she streamed using a copy of Facerig which a friend bought her on sale for $5.99, and a free avatar from the Steam Workshop (Tohoku Kiritan by Ketama). Her streaming setup was rudimentary, and she used a pair of iPhone headphones as a microphone.[7]
Ironmouse's Twitch account was created on 28 September 2017. Her YouTube account was created one day later on 29 September 2017. Her earliest known Twitch stream occurred on 15 August 2018. Ironmouse's goal was not money or popularity, but to make friends and have fun talking to people. She was initially nervous about joining Twitch, but soon found the community welcoming.[7]
She did not use the term "VTuber" to describe herself at first, as the term "Virtual YouTuber" had only been coined in late 2016 by Kizuna Ai, and had yet to be popularized; Ironmouse did not consider herself a "real" VTuber until 2020, when she saw a rise in popularity.[7] For example, a Valentine's day stream on 12 February 2020, in which she used her Ironmouse 2D model and collected donations for "Ironmouse 3.0", used the title "Dear internet am I real V-Tuber yet?"
2019
In late 2019, she switched to Twitch as her main streaming platform, although she would continue to stream on YouNow in early 2020.[8]
In December 2019, Ironmouse unveiled her original Live2D model by Ketama. Designed by Mousey herself, it would become known as the Season 1 model.
2020
The oldest recorded appearance of Mousey's "Season 1" model is in the 12 February 2020 Valentine's stream, which reached a peak of 69 viewers.[9] She would continue to use this model throughout 2020 (see Official Models).
On 15 May, Ironmouse became a Twitch partner.[10]
In June, she revealed her 3D model, modeled by jjnomu.
On 1 July, she became a YouTube partner.[11]
On 24 November, she announced her membership in the new VTuber agency VShojo as one of its first generation of members, along with Projekt Melody, Silvervale, Zentreya, Nyatasha Nyanners, Froot and Hime Hajime. Her introductory video was drawn by Froot, and featured a brief cameo by Hime Hajime, who appeared on the cover of a book which Ironmouse reads. She introduced an updated version of her model. Ironmouse promised that "Nothing will change. Jack shit will change. You know why? Because VShojo is talent-first. We're all fuckin' free to do what ever the fuck we want!"
2021
On 15 January, she revealed longer hair as an update to her "Season 1" 2D model, which was adopted from her 2020 Christmas costume.
On 11 February, she revealed a new 2D model along with the "Seasons" concept, explaining that each model has its own backstory in a different universe and has its own designated season.[12] This new model, designated "Season 2", was illustrated by Nia, who had designed the original model for Nyatasha Nyanners, and rigged by etctr.
On 9 March, Ironmouse was featured on REACT, a popular YouTube channel, in an episode titled "Teens React To VTubers".[13]
On 13 March, she hosted a special 300k YouTube subscriber celebration stream on her YouTube channel, where she also officially debuted her new 3D model. The new model was modeled by TheArtGun and based on the Season 2 model. Before unveiling the model, she used an unfinished version as a joke, which was mostly bald.[14]
On 31 March, Anthony Padilla released his YouTube video "I spent a day with VTUBERS", in which he interviews Ironmouse along with Nyatasha Nyanners and Zentreya.[15]
On 13 April, VShojo members Ironmouse, Froot, Silvervale, Veibae and Nyatasha Nyanners played with prominent japanese VTubers Kizuna Ai, Higuchi Kaede and Dennou Shojo Siro in a collab called #VAmongEarth.[16]
On 6 May, she revealed her "full demon form" ahead of its scheduled debut on 11 May. The reveal took place during a collaboration with Anthony Padilla[17], during which he used his VTuber model to stream for the first time. This new 2D model was illustrated by VTuber Rosuuri and modeled by etctr, and designated OVA Universe 666.
On 12 May, she debuted her "OVA Universe 666" demon form.
On 14 May, she reached 500,000 Twitch followers.[18] On the same day, Caleb Hyles released the collaborative cover song "Omae Wa Mou" on YouTube.
On 3 June, she debuted her summer outfit, a version of her 3D model created by TheArtGun.[19]
On 19 June, she collaborated with Mori Calliope in the second ever hololive x VShojo collab.[20] The event was streamed on Ironmouse's Twitch channel and attracted around 25,000 viewers at its peak.
On 5 August, she celebrated her 4th anniversary and held a 11 hour charity fundraiser stream. She unveiled her new idol outfit, illustrated by Nia and based on the Season 2 2D model. She promoted the plasma donation website plasmahero.org, which was temporarily unavailable due to the large number of users, and raised over $101,000 for the Immune Deficiency Foundation.[21] She also premiered a new intro video titled "Gremlin's Den".
On 12 August, she premiered the first episode of her talk show "Speak of the Devil". Her first guest was Sykkuno, a famous YouTuber and Twitch streamer.[22]
On 30 August, she reached 500,000 YouTube subscribers.[23]
On 2 November, Streams Charts announced the most-watched female Twitch streamers for October 2021, with Ironmouse in 6th place with one million hours watched.[24]
On 5 November, she debuted her 3D Demon form. Modeled by jjnomu and with facial tracking by TheArtGun, this 3D model was based on the OVA Season 666 2D model designed by Rosuuri.
On 18 December, Ironmouse participated in VILLS vol. 3, one of the biggest VTuber events in Japan. She enchanted the audience with her vocal performance and the new VShojo VILLS idol costume.[25] Her VILLS concert model was designed by epebe and modeled by Yoolie.
2022
On 11 January, Ironmouse debuted a new angel form Live2D model, designed by hen-tie. She also celebrated her 6,669th birthday for the third year in a row, during which she received a Sentai style 3D model and a Sentai-style BGM as gifts. Over 23,000 viewers attended her birthday stream.
On 4 February at 7PM EST, Ironmouse began a subathon, during which each sub, gift sub, and every 500 bits or $5 donated would extend the stream duration by 15 seconds. This resulted in Ironmouse streaming continuously for days, with guest appearances and highlight reels filling in while she was asleep. Ironmouse actually continued to track her model while she was asleep, meaning that she was indeed on stream for the entire duration, sans breaks and technical disruptions.
On 15 February, during the subathon, Ironmouse reached 1 million Twitch followers. Just over one hour later, she became the most subscribed ever female streamer on Twitch, surpassing the previous record of 73,623 held by kkatamina. On 19 February, Ironmouse became the #1 currently subscribed streamer on Twitch, also making her the #9 most subscribed Twitch streamer of all time.
On 21 February, she reached 100,000 Twitch subscribers and 500,000 Twitter followers. Hours later on 22 February, she became the 6th all-time most subscribed Twitch user. On 24 February, during an interview with Luca Kaneshiro, Ironmouse became 5th all-time most subscribed Twitch user, and on 25 February she reached all-time 4th most subscribed. On 28 February, on Day 24 of the subathon, Ironmouse overtook Critical Role as the #3 all-time most subscribed Twitch channel.
Ironmouse's subathon lasted 31 days and ended on 7 March at 6am EST. She had 171,690 subscribers at the end of the subathon.
On 20 April, an interview between the Ironmouse and The Washington Post was published.
Events
On 8 April 2020, she participated in a show called "Ultimate EGirl 2020".[26]
On 29 January 2021, she participated in a Twitch Rivals tournament and finished in fourth place. The game played was Among Us.[27]
On 3 April 2021, she participated in VShojo's own game show "VShowdown". She won in the pilot episode "Do VTubers really know anime?" when she competed against Silvervale, Zentreya and Nyatasha Nyanners.[28]
On 22 May 2021, VShojo members Ironmouse, Silvervale, Veibae, and Nyatasha Nyanners attended the DigiKomi convention, where they played a game called "Otaku Exposed!".[29]
On 4 July 2021, she appeared at Anime Expo Lite along with other VShojo members.[30]
On 21 July 2021, she participated in the Twitch game show "Hivemind"[31], where she reached the second place.
On 30 July 2021, she participated in a Twitch Rivals charity tournament and took first place, raising $3250 for charity. The game played was UNO.[27]
On 27 October 2021, her team took second place in a Twitch Rivals team tournament. The game played was "Fall Guys" and was hosted by the well-known Twitch streamer Ludwig Ahgren.[27]
On 21 December 2021, she was a guest in Parasocial Episode 6, where she won with her team. Her team consisted of Snuffy, Nyatasha Nyanners and Veibae.
On 28 December 2021, Ludwig Ahgren challenged Ironmouse to a gaming contest and lost, if only because of a coin toss. The price for his defeat was that he would have to become a VTuber for a day.[32]
Mascots and Fans
She has a demon familiar/mascot named Bubi. He debuted as a VTuber on his own on 26 February 2022.
Her fanbase is officially called "Precious Family," while she also uses the nickname "Flancitos" for her fans.
Her Patreon members have four tiers: Precious Family, Flancito, Senpai, and Hentai Senpai.
Quotes
"We're not a cult, we are family."
"Glitter is nature's herpes!"
"It doesn't matter what you do when you stream. As long as you have fun, and as long as you express to everyone that you're having a great time, and they can genuinely see that you're enjoying yourself, they'll enjoy themselves too, and enjoy you enjoying yourself, and everyone will have a good time."
"Beauty fades, but dumb is forever."
"Even if one day things end, I'm just happy that we got to spend time together."
"I just want to say. I know it sounds cliché. But don't ever give up. Try to believe in yourself. Shit might be bad. It might be scary. It might be painful. But all that will be tools in your magical bookbag to help you while you climb that fucking mountain. Fuck that mountain."[33]
"I hope one day there's no more [plasma] shortage, and I hope science catches up so that maybe one day I could go out and meet all the friends that I've made."[34]
Relationships
CDawgVA (shipped quite often as the two interact quite a lot and have fun)
Mori Calliope from Hololive (Best Friends within the Underworld)
Trivia
Lore
Ironmouse is a demon queen from the depths of the underworld ("not underwear. Underworld") who came to the human world after becoming obsessed with human culture. However, her power weakened as she spent more time away from her home world.
Ironmouse began streaming after becoming obsessed with VTubers. She discovered that she has the ability to absorb human souls, the only energy capable of sustaining her, via the internet. She no longer consumes human souls, but subsists on pieces of the soul energy of her viewers.
The silver bells she usually wears on her neck, ankles, and sometimes in her hair, limit her strength and allow her to take on a weaker form. This is necessary so that she can stay in her beloved human world as long as possible.
Her angelic form is a representation of her appearance before she descended into hell. In this form, the "power limiters" are large rings on her legs instead of bells and her hair buns conceal her horns.[35]
She has the ability to shapeshift into any form, although she cannot use it without consuming too much of her power. She can appear anywhere in the world at any time, but "You'll never find me in space!"
Ironmouse has brainwashed a family into believing that she is their daughter, so that she can live on Earth.
At the beginning of 2022, she announced that she was 6,669 years old. However, she is self-conscious about being in her 6,670s, and decided for her birthday in 2022 to 6,669th birthday again for at least the third time.
Dinosaurs aren't real. Ironmouse buried dinosaur bones around the world in ancient times as a prank.
"Seasons"
Each universe has its own version of Ironmouse. To distinguish the stories of each version, they are separated by "seasons" and in each universe she has a different appearance (model).[12] All versions of Ironmouse will still exist when a new season comes out, and we may see older seasons resurface occasionally.
Lost Season: Universe 000 is where "Baby Mouse" lives. In this world, Ironmouse lost her memories and was trapped in another person's body. She was able to jump from body to body, but could never take an original form.
Season 1: Universe 111 is where she came into the human world, but her unstable power kept causing problems with her original form. In this world she never went back to hell and Bubi (her demon attendant) remains back in hell. In this world she found VShojo and lives out her life as a VTuber.
Season 2: Universe 222 is where she has lived in the human world for a long time, but periodically goes back to hell (which resulted in the wifi being much more stable down there). In this world, Bubi has come from hell to our world to watch over Ironmouse, protect her and have fun with her. Through Bubi's help, she found VShojo and became a VTuber to supply herself with soul energy.
OVA (Demon form) Season: Universe 666 is where she did not live in the human world until she found VShojo with the help of Bubi. VShojo took over the world and each queen (member) has her own territory to rule. She brainwashed a family on Earth to believe she was their daughter and became one of VShojo's queens to help rule the human world, bring chaos and consume souls. She also loves the eldritch being Nyanners and wants to take over the world with her. Her special powers include being able to travel to other universes. She has no bells which would seal her power in demon form.
Content
Her streams are varied and often include chats, videos, singing, occasional voice acting, games, fan art showcases, and more. Most of her content is streamed on Twitch, and the majority of it falls into the "Just Chatting" category.
Patreon rewards include Discord roles and channels, monthly VR chat meetups, community movie nights, and occasional streams for Patreon members only.
For Twitch subscribers, she hosts occasional Discord-based movie nights.
Her YouTube content consists mainly of edited highlights from her streams.
She hosts her own talk show called "Speak of the Devil" on Twitch. The episodes are later uploaded to her YouTube channel.[36]
List of SotD episodes
Guest appearances
She appeared in episode 40 of "Getting to Know" by heyitsjoe.[37]
She has been featured several times on the Rant Café Anime Podcast[38] where she also embodied the voice of "Truck-chan", one of the characters in the light novel "That Time I Got Isekai'd To Another World With My Truck!!!".[39]
She participated as a mermaid bard named Umi in a weekly Dungeons and Dragons game streamed on Twitch.
She has participated several times in the "Weeb Wars" game show on the Twitch channel of Lost Pause.[40]
Likes and hobbies
Her hobbies include art and watching anime.
She enjoys anime, hentai, singing, humans, cute things, music, weird stuff, games, chaos, learning new languages, and living life.
Her favorite flower is the orchid. She appreciates its ability to survive in difficult environments.
Her favorite color is pink.
Her favorite perfume is "Angel" from the brand Mugler.[41]
Her weaknesses are humans, space, math, reverse harems, and birds. "You can't trust a bird. You don't know what they're thinking."
Her favorite games are Black Desert, Minecraft, the Final Fantasy series, and the Kingdom Hearts series. She enjoys visual novels, survival, horror, gacha, simulation (especially dating), and weeb games.
Her favorite anime are Gintama, One Piece, JoJo's Bizarre Adventure, Sailor Moon, Log Horizon, Shaman King, Fairy Tail, Kekkai Sensen, Tenchi Muyo, and Key the Metal Idol. She enjoys magical girl anime, reverse harem shows, 90s/2000s anime, and shonen anime.
She also enjoys Tokusatsu. Super Sentai, Kamen Rider, and Garo are among her favorites.[42] She is such a huge Sentai fan that to call her an "absolute nerd" would almost be an understatement. She has watched all the Sentai-related series, sung all 45 Super Sentai openings live while streaming,[43] and talked about the subject for several hours on stream on various occasions. One of the things in her possession is the "Transformation Gun Geartlinger".[44] When she received the toy, she recorded herself playing with it and posted it on Twitter,[45] something she repeated after she eventually received the "World Thief Transformation Gun Geardalinger" toy.[46] While on one of CDawgVA's streams, she recorded herself opening and demonstrating the DX Revice Driver 50th Anniversary Special Set.
Her favorite food and drink are pink Starbursts and geriatric milk.
She really likes "flan," a custard dessert, which is why she uses "flancitos" as the name for her Twitch channel points and as a nickname for her followers.
Her fetish is people with bodies. "You got a body? You're good".
She loves to watch amusement park rides, especially roller coasters. Her favorite Disney World ride is Carousel of Progress.
She loves to watch musicals and sing musical songs. Her favorite musical is "Wicked", but "Be More Chill" and "Hamilton" are also at the top of her list.
Her favorite movie of all time is The Fifth Element and because of the opera singing blue alien in the movie she wanted to be an opera singer.[47]
Ironmouse loves fanart and art in general. This is one of the reasons why she likes to have many models. She loves to get new models and compares it to a change of clothes and likes to show them to honor the artist.
Memes
She forgets to install scheduled games so often that it has become a meme in her community.
During a stream, she sang the song "Kulikitaka",[48] after which her performance spread like wildfire on social media. Clips, edits, and cosplays featuring the audio clip popped up on Twitter, TikTok, YouTube, and Reddit. There was even a model created in VRchat that played the clip.[49]

Tungsten Cat (Also known as Miguel) meme

: Due to her non-indicative name she often has to explain that she is not a mouse but a demon. In frustration over the misunderstanding, she joked that she should have used a different name like "Aluminum Giraffe", which quickly became a meme in her community. During a collaboration stream with CDawgVA, he joked that after Mouse retired, she would reappear with a deeper voice and under the new VTuber name "Tungsten Cat".[50] Finally, during a stream with Nyanners, Silvervale, and Zentreya, she used her stream mixer to deepen her voice and jokingly said "My VTuber name is Tungsten Cat".[51] Tungsten Cat is also known as "Miguel".[52] Subsequently, the name was used by her and her community on various occasions, sometimes with variations, with "Tungsten Rat" becoming the predominant one.
During a playthrough of Resident Evil 7, an NPC says: "That shit you're carrying? get rid of it." Mouse triggered this phrase over and over, after which she said it repeatedly herself. This eventually developed into a meme in which she and her community used the phrase on various occasions, with people even creating fanart.[53]
Angry Milk Drinker: During one stream, she lost her internet connection 4 times. She got so angry that she decided to drink a bottle of Ensure nutrition milk in one go, which she usually does for a long period of time during the day because she feels bad when she drinks too fast. This happened, and much of the stream consisted of her just sitting there saying, "I drank too much milk" and occasionally burping.[54] The viewers felt sorry for her, but it was also very funny to watch. Even Nyanners told days later how much she laughed when she saw the stream.

On other occasions something similar happened, and on one notable occasion she flavored her water, used too much peppermint flavoring, and then complained for several minutes that everything smelled and tasted like peppermint.[55] She mentioned that she expects to sweat peppermint oil and then turn into a peppermint stick.

Ironmouse's real face: While her real face is not publicly known, CDawgVA (also known as Connor) has made a cosplay of Ironmouse, which is jokingly referred to as her real face.
Iron Bird: Before introducing her angel model, she showed a silhouette and asked people to guess. People started drawing her as a bird because of the wings, which was very ironic since Ironmouse doesn't like birds. She brought this up during the debut stream of the new model, which further encouraged people to call her "Iron Bird".
Ironmouse pronounces some words unusually. These include "pizza" as "peekza", "sandwich" as "sangwedge", "family" as "famoly", and "gremlin" as "gremolin".
Models
Go to: Ironmouse/Gallery for a complete list of models
Her first 3D model was hardly ever used because all the equipment required was very physically demanding for her. Her second 3D model was much easier to use thanks to the implementation of iPhone tracking methods, which also allowed for very detailed eye and mouth tracking.
In 2017 during the "Lost Season", she began trying out various pre-made models, mainly using a model of the character "Tohoku Kiritan" created by Ketama (seen in the "Mad Mouse" video) to see if she liked the streaming, until she finally decided to commission her first 2D model of her own, which she unveiled in December 2019. The 2019 model is designated as "Season 1" and was also created by Ketama.
For 2021 April Fools' Day she used two models, a yellow version of her 2D model and a model hand drawn by Nyatasha Nyanners.
Ironmouse is bad at hiding her own surprises. She likes to leak parts or even entire models before her scheduled debut date. One of the reasons, she says, is that she gets so excited and nervous that she just has to let it out.[56] She admitted that it has reached a point where some artists don't want to give her updates, so she can't post them early.
She loves to get new models. When she introduces a new model, she usually mentions that several others are already in the works. By her own admission, she has no intention of ever stopping. She wants to be a "living art museum" and set up a website listing all her models along with all the artists involved.
She usually complains about not being a mouse when people call her that, but her Halloween costume from 2021 ironically had mouse ears and a mouse tail.
She likes asymmetrical design. Almost all of her models show some degree of asymmetry on the legs, hair, small details like ornaments and some models have it on the arms as well.
Both her blue winter costume and the red version come with a little Bubi doll that she can hold in her arms. The models are also equipped with switchable capes.
The VILLS concert model was created with the first VShojo Idol costume design. It has the same design as the corresponding model of Silvervale and Nyatasha Nyanners, except for the different colors and the corresponding emoji on the belt. While it is also used in live Twitch streams and in VRChat, the models ultimate purpose is to be used during a live concert.[1]
The angel form has some special features, including the ability to turn off her halo and wings, as well as a "dark mode" with glowing tattoos. While in other forms her horns wiggle, in this form her hair buns wiggle.
She received a Super Sentai costume (also called Super Satan) as a gift from fans for her birthday in 2022, and the commission was officially approved by Ironmouse in June 2021, although she had no idea what it would be at the time. It is based on her 3D model from Season 2 and has some special features, including a naginata weapon, a special microphone that acts as a Sentai transformation device, and a full-fledged transformation animation in Sentai style. The model also has visor that can be switched to semi-transparency if desired.
Other
Her goals are to release a cover album and original music, learn more languages, become fluent in Japanese, live life to the fullest, make many memories, have fun collabs ("playdates") with her friends, to do full body 3D with her friends, have a virtual concert, and voice a character in an anime dub. She hopes one day to be healthy enough to wrestle Nyanners.
Due to her health condition, her streaming times are very restricted. Ironmouse has [Common Variable Immune Deficiency] (CVID), a disorder that impairs the immune system. People with CVID are highly susceptible to infection from foreign invaders such as bacteria and viruses and often develop recurrent infections. It is because of this that Mouse has no option but to remain indoors and bedridden. However, thanks to her efforts, improved medication, and a positive trend in her health, the number of hours streamed has steadily increased, reaching a record 121 hours for the month in July 2021.
Before Mouse became really ill, she attended a performance arts high school, where she studied musical theater. She used to be a coloratura soprano and the years of training before she became bedridden have proven to be very useful when she sings.
Mouse speaks fluent English and Spanish. She also speaks some Japanese and is working on learning Korean. While she speaks and sings mostly in English and Japanese, she occasionally speaks Spanish or sings songs in Spanish, Japanese, or Korean.
Ironmouse is Hispanic, Puerto Rican.
Origin of her name: Ironmouse has always been small. When she was in school, she was called "Mouse" because of this. One of Mouse's favorite characters is Sailor Iron Mouse. When Ironmouse started breakdancing and became a B-Girl, she got the name IronMouse because of her favorite character and because of her size.
The name Ironmouse is in part a pun on "Maou", demon lord.
She hosted Lewdcast, a "Weekly Variety VTuber Podcast", along with Projekt Melody and Silvervale. The show is currently paused with no known time when it will resume.
She refers to collabs as "play dates".
She often collaborates with CDawgVA (better known by his real name Connor), one of the biggest AniTubers on YouTube and one of the hosts of the Trash Taste podcast. Although they are good friends, they also like to bicker, which helps make them such a good comedy duo. During her 4th anniversary stream, he cosplayed as Ironmouse.[57]
One of her popular songs is Mousey in the Bathroom, a parody of "Michael in the Bathroom" from the musical Be More Chill.
On 26 February 2021, she unveiled a Twitch channel intro titled "Mad Mouse", which is based on the music track "Marble Zone" from the Sonic games.
On at least one occasion she fell asleep briefly during a stream.[58]
She has a long Furby that was handmade for her and she named it Azeatec, a reference to a character from a Dungeons and Dragons campaign in which she participated. It is also bigger than her with a length of about 5 feet (1.5 meters).
While she expressed her interested for a collaborations with Belmond Banderas on stream she was too shy to message him directly. Her fans eventually started sending him clips, and Belmond expressed that he was interested in a collaboration as well.[59]
On very rare occasions (because physically very stressful due to her state of health) Ironmouse sings with her "operatic voice".[60][61] A famous Ave Maria cover song often leaves listeners stunned, and they can hardly believe it's the same person.
She has a heart-shaped birthmark on her thigh in real life, which she said is like a "Cutie Mark", a My Little Pony reference.
The Mad Loli: In early 2020, when Ironmouse was not very well known and had only a handful of viewers, she had a collaboration with Project Melody, during which they played Animal Crossing. When viewers heard Mouseys swearing in her high-pitched voice, they started asking, "Who is this Mad Loli?",[62] which earned her one of her first nicknames, although it is hardly used anymore. For many spectators it was also the first time they met Ironmouse.
On 24 July 2021, she learned to whistle during a live stream. She couldn't do it before and finally did it with a lot of practice.[63]
VShojo has its own webtoon featuring Ironmouse. A list of all episodes can be found at: VShojo. There is also a well done fanfic webtoon with Ironmouse and CDawgVA (also known as Connor) called "My Roommate is a Gremlin" by Merelymeeka.
External links
Media
Merchandise
Statistics
References
↑ 1.0 1.1 epebe [@epebe_]. (2021, November 27). Concept art of the first VShojo idol outfit! [Tweet]. Twitter.
↑ etctr [@etctr_]. (2021, May 12). All hail the demon queen [Tweet]. Twitter.
↑ Yoolie [@Yoolies]. (2021, November 30). I was given the absolutely incredible opportunity to make the 3D models and outfits for VShojo's VILLS Concert! [Tweet]. Twitter.
↑ Nux Taku. (2020, September 20). I Accidentally Caught an International Criminal LIVE ON STREAM... [Video File]. YouTube.
↑

Discord FAQ.

↑ Official profile on https://www.vshojo.com/
↑ 7.0 7.1 7.2 Ironmouse VODs. (Feb 8, 2022). Speak of the Devil Episode 12 [Video]. YouTube.
↑ Ironmouse [@ironmouse]. (Feb 3, 2020). Hanging out on @Twitch now and then @YouNow later tonight. Hope to see you guys there. [Tweet]. Twitter.
↑ ironmouse - Stream Feb 12, 2020, TwitchTracker.
↑ Ironmouse [@Ironmouse]. (2020, May 15). I am shaking I am in tears Words [Tweet]. Twitter.
↑ Ironmouse [@Ironmouse]. (2020, July 01). WE FINALLY MADE YOUTUBE PARTNER! [Tweet]. Twitter.
↑ 12.0 12.1 Ironmouse [Ironmouse]. (2021, February 14). Ironmouse 2.0 [Video File]. YouTube.
↑ REACT. (2021, March 09). Teens React To VTubers [Video File]. YouTube.
↑ Ironmouse [@Ironmouse]. (2021, March 14). Please accept my new form. [Tweet]. Twitter.
↑ Anthony Padilla [AnthonyPadilla]. (2021, March 31). I spent a day with VTUBERS [Video File]. YouTube.
↑ VShojo [@VShojoOfficial]. (2021, April 14). We're 🔴LIVE with the #VAmongEarth collab! [Tweet]. Twitter.
↑ Ironmouse [@Ironmouse]. (2021, May 07). Thank you @anthonypadilla [Tweet]. Twitter.
↑ Ironmouse [@Ironmouse]. (2021, May 15). I can't believe today happened [Tweet]. Twitter.
↑ Ironmouse [@Ironmouse]. (2021, June 04). Thank you so much for making this debut special [Tweet]. Twitter.
↑ Mori Calliope [@Moricalliope]. (2021, June 19). Hanging out in the Underworld with @ironmouse [Tweet]. Twitter.
↑ Ironmouse [@Ironmouse]. (2021, August 06). Best 4 year anniversary ever! [Tweet]. Twitter.
↑ Ironmouse [@Ironmouse]. (2021, August 08). This Thursday is the 1st episode of SotD... @Sykkuno is our first guest. [Tweet]. Twitter.
↑ Ironmouse [@Ironmouse]. (2021, August 30). AHHHHHH THANK YOU ALL SO MUCH I CAN'T BELIEVE THISSSSS. (500,000 YouTube subscribers) [Tweet]. Twitter.
↑ Streams Charts [@StreamsCharts]. (2021, November 02). Most watched female @Twitch streamers in October 2021 [Tweet]. Twitter.
↑ VILLS [@VILLS0321]. (2021, December 18). ~VILLS vol.3実況中~ [Tweet]. Twitter.
↑ JustDanish [JustDanishTTV]. (2020, September 25). Ultimate EGirl Competition $1000 first prize! [Video File]. YouTube.
↑ 27.0 27.1 27.2 Twitch Rivals Ironmouse profile [Ranking]. (2021, January 29). TwitchRivals.
↑ VShojo. (2021, April 04). VShowdown Pilot: Do VTubers really know anime? [Video File]. YouTube.
↑ VShojo [@VShojoOfficial]. (2021, May 22). 🔶Event🔶 Will someone be exposed as an otaku? [Tweet]. Twitter.
↑ VShojo [@VShojoOfficial]. (2021, July 04). VShojo will be appearing on AX [Tweet]. Twitter.
↑ Ludwig [Ludwig VODs]. (2021, July 25). Jeff Bezos' space skittles HIVEMIND s2e6 [Video File]. YouTube.
↑ Ironmouse [@Ironmouse]. (2021, December 28). HOLY CRAP I CAN'T BELIEVE I WON!!!! GOOD GAME @LudwigAhgren CAN'T WAIT FOR YOUR VTUBER DEBUT! [Tweet]. Twitter.
↑ Ironmouse [@ironmouse]. (2020, Oct 24). I just want to say. I know it sounds cliché. But don't ever give up. Try to believe in yourself. Shit might be bad. It might be scary. It might be painful. But all that will be tools in your magical bookbag to help you while you climb that fucking mountain. Fuck that mountain. [Tweet]. Twitter.
↑ Best of Ironmouse [Best of Ironmouse]. (2022, February 23). Ironmouse Talks About Meeting Her Friends IRL [Video]. YouTube.
↑ Ironmouse [@Ironmouse]. (2022, January 19). my horns are inside of my buns... now you know... [Tweet]. Twitter.
↑ Ironmouse [@Ironmouse]. (2021, August 11). This Thursday is the 1st episode of SotD [Tweet]. Twitter.
↑ Joe [heyitsjoe]. (2020, June 21). Ironmouse's "SPECIAL Friends" Getting to Know Ironmouse [Video File]. YouTube.,
↑ Rant Cafe [Rant Cafe]. (2020, October). Roasting Nux Taku's Top 16 Animations of All Time! [Audio File]. Spotify.
↑ Rant Cafe Anime Podcast [Rant Cafe Anime Podcast]. (2020, May 04). Debating The Best Non-Isekai... ISEKAI [Video File]. YouTube.
↑ Lost Pause [Lost Pause]. (2020, May 08). IRON MOUSE vs ALL DAY ANIME BATTLE WITH JOJO MEMES! - Weeb Wars Game Show [Video File]. YouTube.
↑ Ironmouse [@Ironmouse]. (2021, July 13). This is my favorite perfume. [Tweet]. Twitter.
↑ Ironmouse [@Ironmouse]. (2021, June 21). YES I love Tokusatsu [Tweet]. Twitter.
↑ Filia Luvs Squigly [Filia Luvs Squigly]. (2021, June 06). Ironmouse sings all 45 super sentai opening [Video File]. YouTube.
↑ Ironmouse [@Ironmouse]. (2021, June 05). ITS FINALLY HOME!!! :D [Tweet]. Twitter.
↑ Ironmouse [@Ironmouse]. (2021 June 05). More Sentai asmr [Tweet]. Twitter.
↑ Ironmouse [@Ironmouse]. (2021, July 11). More super sentai asmr 🥰🥰🥰 [Tweet]. Twitter.
↑ Ironmouse [@Ironmouse]. (2021, August 10). Yes The 5th Element is my favorite movie of all time. Yes I wanted to sing opera because of the blue alien. [Tweet]. Twitter.
↑ Ironmouse [Ironmouse]. (2020, July 20). KULIKITAKA TI ME [Video File]. YouTube.
↑ Unie VRChat. (2020, May 02). VRChat Animation: Mexi-Kon! [Video File]. YouTube.
↑ Grim [Grim]. (2021, May 14). "Tungsten Cat" - CDawgVA, Ironmouse [Video File]. YouTube.
↑ Nyanners [Nyanners VODs]. (2021, May 26). Nyanners Plays Pummel Party with friends [Video File]. YouTube.
↑ Ironmouse [@Ironmouse]. (2021, June 15). Miguel keeps bragging about how he got a hug today. [Tweet]. Twitter.
↑ Matt. Estrela [@MattEstrela2]. (2021, July 04). Thanks Satan, thats good wisdom [Tweet]. Twitter.
↑ Winterfalke [@Winterfalke]. (2021, July 30). When you are so angry you drink too much milk. [Tweet]. Twitter.
↑ Ironmouse [Ironmouse]. (2021, December 08). I drank too much peppermint mocha water... [Tweet]. Twitter.
↑ Ironmouse [@Ironmouse]. (2021, May 10). My leaking my demon form is the 3rd time I leaked a debut ahead of time. [Tweet]. Twitter.
↑ Winterfalke [@Winterfalke]. (2021, August 06). CDawgVA Ironmouse cosplay [Tweet]. Twitter.
↑ Ironmouse [@Ironmouse]. (2021, May 14). Ahh I swear I thought not one noticed... [Tweet]. Twitter.
↑ Ironmouse [@Ironmouse]. (2021, April 28). Yesterday I attempted to sing Misterioso on stream [Tweet]. Twitter.
↑ Ironmouse [@Ironmouse]. (2021, July 15). I am happy I can finally sing this on stream [Tweet]. Twitter.
↑ Project Melody [Project Melody]. (2020, March 28). I got MURDERED by spiders (Silvervale and Ironmouse Animal Crossing Stream) [Video File]. YouTube.
↑ Ironmouse [@Ironmouse]. (2021, July 24). I FINALLY LEARNED HOW TO WHISTLE OMG [Tweet]. Twitter.