Itlogirl (たまごガール, 卵女, Babaegg) was a Female Filipino Virtual YouTuber. She debuted on September 2019 vstreamer on Twitch and uploaded Twitch livestream on YouTube.
Introduction Video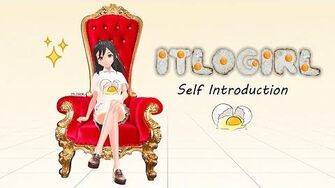 Itlogirl's self-introduction.

Personality
Itlogirl loves eggs. Her name is derived from the word "itlog" in Filipino. She has a dual personality called "Itlogirl X" which is her alter version. You can call her IG or IGX for short.
Her dream is to contribute something for her country by supporting local artists that soon to feature on her channel and website. And own a game as a long term goal.
She wants to be remembered as a vtuber that supports local talent and interests. Also as an influencer who enjoys life and not chained on rules.
Appearance
Itlogirl has long black hair with 2 leaves sided bangs, black colored eyes with yellow as reflection of egg yolk. She wears white polo with printed cracked egg and mini skirt with white long socks partnered with brown loafers.
In her alter version, the changes were black polo with printed cracked egg and black long socks partnered with black loafers.
Fans
She called her fans or her fanbase as "itlogers" and also address "ka-itlog."
Trivia
She started as digital artist at January 2019.
Her name comes from the word "itlog" in Filipino means egg.
She is the persona of the creator.
She is a weeb and a fujoshi.
She only loves 2D boys.
In her spare time, she usually sleep if not creating art, reading new inventions, tinkering some apps, animating, binge watching, streaming, playing games...
Achievement
Come up with an idea to become a vtuber/vstreamer when she wants to stream her games.
She achieved to become a budget friendly vtuber with minimum movements.