Associated pages
Jashin-Channel

(You are here)

Gallery
Jashin-Channel (邪神ちゃんねる) is the official YouTube Channel for the seriesJashin-chan Dropkick (邪神ちゃんドロップキック Jashin-chan Doroppukikku). The channel initially featured its two main characters, Jashin-chan (邪神ちゃん) and Hanazono Yurine (花園ゆりね), as Virtual YouTubers, who also promote the franchise in all their forms, like the anime episodes or the manga.
Introduction Video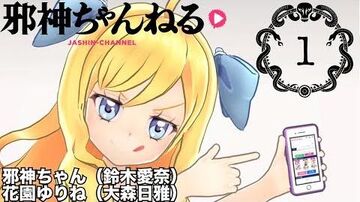 Jashin-chan and Yurine's introduction.

Members
| Name | Japanese | Voiced by | Portrait |
| --- | --- | --- | --- |
| Jashin-chan | 邪神ちゃん | Aina Suzuki (鈴木愛奈) | |
| Hanazono Yurine | 花園ゆりね | Nichika Ōmori (大森日雅) | |
| Pekola | ぺこら | Yurie Kozakai (小坂井祐莉絵) | |
Premise
The young witch Hanazono Yurine summoned the serpent woman Jashin-chan from Hell. Unable to return by her own means, the only way to get back for Jashin-chan is to kill her summoner, but because of her egoism and amoral attitude, her daily attempts to assassinate Yurine are thwarted by the human witch (who always get revenge on Jashin-chan in a very violent and gruesome ways). In their VTuber incarnation, Jashin-chan and Yurine are engaged in a series of random and hilarious situations.
Personality
While in the manga and anime Jashin-chan is selfish, evil, patronizing, and always plotting ways to get rid of Yurine, in the VTuber series she's more like a mischievous and playful jerk. In the case of Yurine, who is more serious and cruel towards Jashin-chan in other media, in the Jashin-channel videos she is more like a friend to Jashin-chan and she enjoys to compete with the female serpent in the several games they play together.
Trivia
The videos of the Jashin-Channel rely more on improv and ad-lib jokes (such as pointing out the limitations of the tracking movement), rather than following the plot of the series in a strict way.
Another character from the series, the fallen Angel Pekola (ぺこら) did a special livestream on Nico Nico Douga. (YouTube archive)
On 3 October 2018, they broadcasted a special episode of the anime involving their VTuber personnas which was archived on their channel .
External Links
@jashinchan_PJ - Jashin-chan Dropkick Official Twitter Account (Anime)
@jashincyan - Jashin-chan Dropkick Official Twitter Account (Manga)