Kageyama Shien (影山シエン) is a male Japanese Virtual YouTuber endorsed by hololive's branch Holostars. He is a member of its third generation alongside Aragami Oga, which was previously known as "TriNero" (トライネロ) prior to Tsukishita Kaoru's retirement. Shien and Oga then became known as "MaFia" (魔フィア).[2]
Introduction Video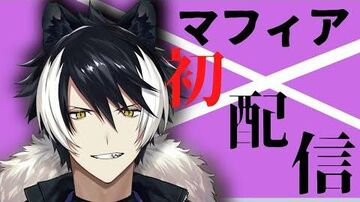 Shien's introduction.

Personality
Shien is a jackal mafia boss from the land of beastmen and is described as someone who acts tougher than he really is, but doesn't have the talent to be truly evil. In fact, he's more of a fun-loving and goofy person who makes people laugh.
Sometimes, he can be quite dumb and naive, baby-like, even. Fellow TriNero member Tsukishita Kaoru describes him as a man that misuses his handsome voice, and "if a bat maker gave him the world's best baseball bat, he'd use it for soccer".[3] Additionally, Aragami Oga, another member of TriNero, states that despite him being a mafia boss, he can't do anything without his subordinates. He further states that despite having good ears, he doesn't seem to listen to anyone.[4]
History
Background
His Twitter account was created in 10 April 2020; he made his first tweet on 27 April, his YouTube channel was created on 8 April, and his debut stream was performed on 30 April.
2020
Shortly after his debut, his Twitter account was suspended because of his birth year being set to 2020. On 2 June, the Twitter suspension was lifted.
Fans
His fanbase is officially called "Shien-gumi" (シエン組).
Trivia
Likes Anmitsu and Omurice
Dislikes Oysters
Favorite Animal: Kuroshiba
Units and groups aside from MaFia he is part of are:
In the process of creating TriNero's Twitter accounts, they were cautioned seriously by Daidou Shinove, Holostars' manager, and mentioned that they had to be careful with the birthday settings, as your account would get locked if you were underage. Aragami Oga joked that because they debut in 2020, that would also be their birth year, which may have caused Shien to set 2020 as his birth year, thus causing his Twitter suspension.[4]

Shien's Twitter suspension has caused jokes between fans, saying that he was baby, as if he was born in 2020. Notable examples of the joke was when Shirakami Fubuki drew Shien as a baby, Aragami Oga displaying Shien with a pacifier in his mouth, as well as calling him a "babbling baby" in his debut stream, and Tsukishita Kaoru making Shien's drink a baby bottle in the first TriNero collab.
Along with that, because his Twitter was suspended, he couldn't set up his official fan mark, but the official Holostars Twitter confirmed that "🟣", a purple circle, was his fan mark, shown in schedules. However, fans used "🍼", a baby bottle, as an unofficial fan mark as part of the joke.

Fans have stated how Shien's voice is very similar to that of voice actor Takahiro Sakurai's. Shien has even done some impressions of characters Sakurai has voiced, for example, Lucio from Granblue Fantasy[5].
His fetish is asses without thigh gaps, as when the legs are closed, it jiggles due to the "fleshiness".[6]
He shares the same character designer with Shirayuki Tomoe of Nijisanji.
External Links
References
↑ 1.0 1.1 1.2 Kageyama, S. [Shien Ch.影山シエン] (2020, April 30)【初配信】初めましてだ、影山シエン初陣!【ホロスターズ3期生/新人Vtuber】[Video File] Retrieved from https://youtu.be/IfnEAo8fezQ?t=1320
↑ aragamioga (2020, August 14) 23:00からはシエンとアソビ大全だ! ハッシュタグは #魔フィア で行くぜ!よろしくな! https://youtu.be/Pb2MOhiAdbQ [Tweet] Retrieved from: https://twitter.com/aragamioga/status/1293961334644645888
↑ Tsukishita, K. [Kaoru Ch.月下カオル] (2020, April 29) 【#月下カオル初配信】どっかーーーん!月下カオルです。【ホロスターズ3期生/新人Vtuber】 [Video File] Retrieved from: https://youtu.be/4mGKa04JHQk?t=3369
↑ 4.0 4.1 Aragami, O. [Oga Ch.荒咬オウガ] (2020, May 1) 「#荒咬オウガ初配信」~俺とオマエの出会い~(ホロスターズ) [Video File] Retrieved from: https://youtu.be/LgdOlZ6N138?t=2294
↑ Kageyama, S. [Shien Ch.影山シエン] (2020, May 18)【雑談】月曜お疲れ様!今日も生きててえらい!【ホロスターズ/影山シエン】[Video File] Retrieved from: https://www.youtube.com/watch?v=ZwHWTppwU3g&t=5430s
↑ Aragami, O. [Oga Ch.荒咬オウガ] 【飲んで雑談】~俺達とらい危族で飲んでます~【TriNero/ホロスターズ】 (2020, May 14) [Video File] Retrieved from: https://youtu.be/rE1Rw4Hq7yY?t=1302
Community content is available under
CC-BY-SA
unless otherwise noted.