This is a Japanese name; the family name is Kageyama.
Associated pages
Kageyama Shien (影山シエン) is a male Japanese Virtual YouTuber endorsed by hololive's branch Holostars. He is a member of its third generation alongside Aragami Oga, which was previously known as "TriNero" (トライネロ) prior to Tsukishita Kaoru's retirement. Shien and Oga then became known as "MaFia" (魔フィア).[2]
Introduction Video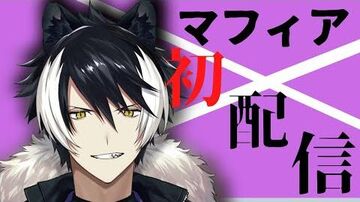 Shien's introduction.

Personality
Shien is a jackal that sometimes can be quite dumb and naive, baby-like, even. Former TriNero member Tsukishita Kaoru described him as a man that misuses his handsome voice, and "if a bat maker gave him the world's best baseball bat, he'd use it for soccer".[3] Additionally, Aragami Oga, another member of TriNero, states that despite him being a mafia boss, he can't do anything without his subordinates. He further states that despite having good ears, he doesn't seem to listen to anyone.[4]
Profile
A mafia boss from the land of beastmen.
Came to our world in search of his missing best friend.
Was scouted by Shinove after coming to a standstill in his search.
Acts tougher than he really is but doesn't have the talent to be truly evil.[5]
History
Background
His Twitter account was created in 10 April 2020; he made his first tweet on 27 April, his YouTube channel was created on 8 April, and his debut stream was performed on 30 April.
2020
Shortly after his debut, his Twitter account was suspended because of his birth year being set to 2020. On 2 June, the Twitter suspension was lifted.
On 16 August, he released a cover of Fire◎Flower by halyosy, in which he sang with Rikka, Kanade Izuru and Astel Leda, making it his first cover song.[6]
On 27 September, he released his first solo cover song, KING by Kanaria.[7]
On 25 December, it was announced that all the Holostars members would receive new costumes on 3 January, 2021, commemorating New Year's.[8]
2021
On January 3, he revealed his new year's costume,[9] which was modelled by Klaeia.[10]
On 9 January, he opened his membership feature.[11]
On March 20, Shien reached 100.000 subscribers, being the third Holostars to reach this milestone.[12]
Events
On 10 October, 2020, Shien was a part of Waku Waku! VTuber Hiroba Online Vol. 2 (わくわく!VTuberひろば おんらいん Vol.2) along with Aragami Oga, Syukusei Batumaru and Boyacky from Yatterman Channel.[13] Fellow Holostars member Rikka and, as well as Nanase Taku, Akiyama Rentarou from Himashokudo and Hanagasa Ilya were also part of the event.
On 26 October, 2020, it was announced that Holostars goods would be sold at Animate Girls Festival Aozora Marche, held on November 7-8, 2020,[14] and on 29 October, 2020, it was announced that Holostars would be participating in the event as guests.[15] Shien is part of the "Virtual Clerk" (バーチャル店員) exhibition, the "Anibako" (アニバコ) program and the "Chatting Fes" (おしゃべりフェス) exhibition in the event.[16]
On 28 January, 2021, it was announced that "Net Talking Festival", an Holostars exclusive event, will be held on 14 February where fans can have a one-on-one chat with any of the Holostars members for 3 minutes, talking about their daily feelings of gratitude to an important person.[17]
Mascot and Fans
Shien's mascot is a cat named "Nekoyama Shien" (猫山シエン), which was drawn by Aragami Oga.[18]
His fanbase is officially called "Shiengumi" (シエン組).
After Shien says his opening greeting (お前たち,任務開始だ!), fans reply with "yes boss!" (イエスボス!).
When Shien ends the stream, fans say farewell by saying "good luck!" (グッドラック!).
Relationships
Units and groups aside from TriNero and MaFia he is part of are:

"Star☆Sweeper" (スター☆スウィーパー), along with Hanasaki Miyabi and Rikka.
"Babudon" (ばぶどん), along with Yukoku Roberu.
"Shadowgear" (シャドウギア), along with Rikka.
"TsukiKageRiTem" (月影律天), along with Tsukishita Kaoru, Rikka and Kishido Temma.
Trivia
He likes anmitsu, as well as omurice.
He dislikes oysters.
His favorite animal is the kuroshiba.
In the process of creating TriNero's Twitter accounts, they were cautioned seriously by Daidou Shinove, Holostars' manager, and mentioned that they had to be careful with the birthday settings, as your account would get locked if you were underage. Aragami Oga joked that because they debut in 2020, that would also be their birth year, which may have caused Shien to set 2020 as his birth year, thus causing his Twitter suspension.[4]

Shien's Twitter suspension has caused jokes between fans, saying that he was baby, as if he was born in 2020. Notable examples of the joke was when Shirakami Fubuki drew Shien as a baby, Aragami Oga displaying Shien with a pacifier in his mouth, as well as calling him a "babbling baby" in his debut stream, and Tsukishita Kaoru making Shien's drink a baby bottle in the first TriNero collab.
Along with that, because his Twitter was suspended, he couldn't set up his official fan mark, but the official Holostars Twitter confirmed that "🟣", a purple circle, was his fan mark, shown in schedules. However, fans used "🍼", a baby bottle, as an unofficial fan mark as part of the joke.
Ironically, he is lactose intolerant.[19]

Fans have stated how Shien's voice is very similar to that of voice actor Takahiro Sakurai's. Shien has even done some impressions of characters Sakurai has voiced, for example, Lucio from Granblue Fantasy[20].
His fetish is asses without thigh gaps, as when the legs are closed, it jiggles due to the "fleshiness".[21]
He shares the same character designer with Shirayuki Tomoe of Nijisanji.
He owns a toy sword called DX Kageyama Blade (DX影山刀) that comes with various voice lines, voiced by himself. Some of the voice lines include his stream greeting and ending lines as well as original special attack names.[22]
External Links
Media
Further readings
Solo Debutants
(hololive 0th Gen)
First Generation
Second Generation
hololive GAMERS
Third Generation
(hololive Fantasy)
Fourth Generation
Fifth Generation
(NePoLaBo)
INoNaKa MUSIC
Retired
References
Community content is available under
CC-BY-SA
unless otherwise noted.