This is a Japanese name; the family name is Kanade.
Associated pages
Kanade Izuru (奏手イヅル) is a male Japanese Virtual YouTuber endorsed by hololive's branch Holostars. He is a member of its first generation, alongside Hanasaki Miyabi, (formerly) Kagami Kira, Arurandeisu, (formerly) Yakushiji Suzaku and Rikka.
Introduction Video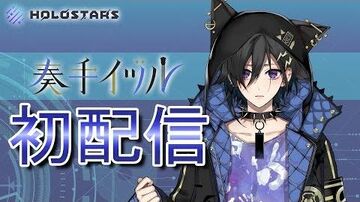 Izuru's introduction.

Profile
A dude trying to live his life with little money. As he has nothing to do, he treats housework as a hobby. He is kind of strange, but is definitely a good man. Though he is cool, he never forgets to thank people. He loves to sing and clean his guitar.[2]
History
Background
His Twitter account was created in 27 May 2019; his YouTube channel was created on 3 June 2019, and his debut stream was performed on 22 June 2019.
2019
On 9 September, he released his first cover song, Dramaturgy by Eve.[3] It is the first cover released in Holostars.
2020
On 15 March, he revealed his White Day costume.[4]
On 6 July, he reached 20,000 subscribers.[5]
On 4 August, he revealed his summer costume.[6]
On 1 September, he reached 30,000 subscribers.[7]
On 13 October, he reached 40,000 subscribers.[8]
On 21 November, he reached 50,000 subscribers.[9]
On 25 December, it was announced that all the Holostars members would receive new costumes on 3 January, 2021, commemorating New Year's.[10] On the same day, he reached 60,000 subscribers.[11]
2021
On 3 January, he revealed his new year's costume,[12] which was modelled by 深海潮.[13]
On 19 January, he reached 70,000 subscribers.[14]
On 13 February, he reached 80,000 subscribers.[15]
On 14 March, he reached 90,000 subscribers.[16]
On 8 April, he reached 100,000 subscribers, being the fourth Holostars to reach this milestone. [17]
Events
On 26 October, 2020, it was announced that Holostars goods would be sold at Animate Girls Festival Aozora Marche, held on November 7-8, 2020,[18] and on 29 October, 2020, it was announced that Holostars would be participating in the event as guests.[19] Izuru is part of the "Virtual Clerk" (バーチャル店員) exhibition, the "Anibako" (アニバコ) program and the "Chatting Fes" (おしゃべりフェス) exhibition in the event.[20]
On 28 January, 2021, it was announced that "Net Talking Festival", an Holostars exclusive event, will be held on 14 February where fans can have a one-on-one chat with any of the Holostars members for 3 minutes, talking about their daily feelings of gratitude to an important person.[21]
Fans
Relationships
Trivia
External Links
Media
Further readings
Solo Debutants
(hololive 0th Gen)
First Generation
Second Generation
hololive GAMERS
Third Generation
(hololive Fantasy)
Fourth Generation
Fifth Generation
(NePoLaBo)
INoNaKa MUSIC
Retired
References
Community content is available under
CC-BY-SA
unless otherwise noted.