The Sandman Will Keep You Awake - The Loop
Play Sound
Associated pages
Kanae (叶) is a male Japanese Virtual YouTuber affiliated with NIJISANJI, formerly a founding member of the now-dissolved group NIJISANJI Gamers along with Akabane Youko. Kanae debuted on the 2nd of May, 2018.
Introduction Video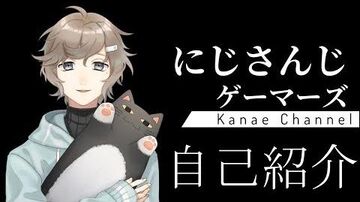 Profile
A young man with a healing presence and a fluffy, sweet way of speaking that can wash you away. He suddenly descended like an angel as he holds a cat cushion in his arms.[1]
Personality
Kanae is a self-assured, charming individual who is one of the most popular members of NIJISANJI.
His popularity can be owed to his sociable personality. He is particularly good at improv and can create witty responses to conversations often. His easy-going and friendly nature allows him to hold conversations effortlessly with others, giving him a wide social circle where he often collaborates with professional gamers, Utaites, mangakas, seiyuus and NIJISANJI International members (despite the language barrier). Because of this, Kanae has been described to have 'Predator'-level communication skills (a reference to the highest rank in the game APEX Legends, means to have amazing communication skills). He is very transparent with his thoughts and feelings, and often opens up to his viewers. He rarely loses his cool demeanor or raises his voice.
On the other hand, he is also known as mischievous individual, often purposefully aggravating his fellow streamers with sarcastic jokes and actions. The saying "Kanae lies as he breathes" is a statement thrown out a lot in Kanae's fandom, for he's well known for lying very nonchalantly .[2][3][4] Other livers even said that Kanae is a mysterious individual, a person who they can not be read very easily. Despite this, Kanae is truthfully a very caring person who speaks highly of his friends at any chance and tries to improve himself as much as possible. He once comforted Yuuki Chihiro, calmly explaining and consoling her when she cried on stream.[5][6]
Appearance
Kanae has flowy ash-brown hair that has differing lengths on different avatars. He has very light tower-gray droopy eyes with a small mole under his left eye and has worn multiple differently styled clothes.
In his original outfit, his indoor pajama outfit, Kanae has his hair styled in a fluffy bob cut with bangs and a white hairpin on his left side-bangs. He wears a black turtle-neck sweater under his mint-blue hoodie paired with brown and white striped sweatpants. He wears all of this with his orange and white slippers that have animal paw designs on the soles.
In his second regular outfit, his street wear outfit, Kanae has his hair styled in either a fluffy short bob cut with bangs and a black hairpin on his left side-bangs or a longer low-ponytail hairstyle with his left side-bangs tucked behind his left ear that has two black ear-cuffs on the helix and a black stud on his lobe. He wears an over-sized dark-gray cardigan with white pocket linings atop a light-gray knitted turtle-neck sweater. He accessorizes it with a silver necklace and puts two hairpins on his jacket. He wears wide-legged harem pants with ribbons on the side and leggings underneath. All of this is paired with black combat boots.
In his third regular outfit, his white casual outfit, Kanae has short hair with a wavy parted fringe showing a bit of his hairline and his left ear which has a silver dangling earring. He wears a long white bishop sleeved button-up shirt below an off-white sweater vest paired with black skinny trousers and a pair of black oxford dress shoes. Roto would also sometimes appear on top of his head.
History
Background
Before joining NIJISANJI, Kanae originally wasn't interested in becoming a VTuber, but after he heard that his friend was going to audition for NIJISANJI, he decided to try it as well.[7][8] Kanae had auditioned for the second wave but didn't make it. He was contacted again on a later date that he can choose between joining NIJISANJI SEEDS or NIJISANJI Gamers, in the end he chose Gamers because it would debuted earlier and ended up debuting as NIJISANJI Gamer's first generation with Akabane Youko. Although Kanae has been called a natural at any game he plays, he particularly excels at FPS games such as Apex Legends and VALORANT. Before he debuted, he had received an invitation to join a PUBG gaming team but accepted an offer to join NIJISANJI Gamers instead.[9]
Debut
Kanae created both his YouTube and Twitch channels on 1 May 2018, and his Twitter account in the same month, while his first tweet was on 2 May 2018.
He made his YouTube debut on 2 May 2018 and made a history for holding the title of the longest debut stream in the history on NIJISANJI with 9 hours 4 minutes and 56 seconds of video footage.
2018
On 16 November, Kanae announced his first new costume reveal and later revealed his new Winter 2018 Suit Outfit during an ASMR livestream followed by a tweet with selfies and a bonus tweet with him standing with Joe Rikiichi. The original stream has now been privated and is no longer accessible to the public.[10]
On 21 November, Kanae announced a new costume reveal with Akabane Youko through a tweet with a photo of their silhouettes and on 23 November 2018, he revealed his new Game Day Military Outfit through a livestream on Youko's YouTube channel while they were commemorating their half year debut.[11][12]
On 21 December, Kanae announced a new costume reveal through a tweet and on 23 December 2018, he revealed his new 50,000 Subscriber Commemorative Outfit on his costume unveiling livestream.[13][14]
On 26 December, NIJISANJI Official announced through a tweet, multiple new year's costumes would be revealed with a photo reading "coming soon", and their silhouettes.
2019
On 2 January 2019, Kanae revealed his New Year 2019 kimono outfit during a livestream.
On 17 April, Kanae and Kuzuha unveiled their first ChroNoiR matching outfits on their official ChroNoiR channel on OpenRec.
On the 2 October, Kanae's 3D model was first seen at the "NIJISANJI Music Festival" but did not hold his official 3D model YouTube livestream until the 11th of November 2019.
On 25 November, Kanae announced his new 2D regular outfit and was later revealed on the same day through a commemorative reveal livestream, followed by a tweet with selfies.[15][16]
2020
On 12 October, Kanae announced that he is now officially sponsored by the world leading company Logitech (also known as Logicool in Japan) and is now a "Logitech G Official Supporter". He expressed his joy in a subsequent Apex livestream.[17]
On 7 December, Kanae announced that he would release a new outfit before New Year's Eve.[18] On 29 December 2020, Kanae reveals his new white casual outfit on his outfit unveiling livestream.[19]
2021
On 19 March, Kanae and Kuzuha both revealed their White Day Night Party outfits in a reveal stream where they also revealed a new header and logo design for ChroNoiR.[20]
On 8 June, Kanae opened his Instagram account. He started his account with the help of nqrse and his viewers.
On 1 August, Kanae unveiled his 2nd 3D model featuring his black and gray sweater cardigan outfit in the NIJISANJI AR Stage "Light Up Tones" performance.
On 13 October, Kanae revealed his new 2D outfit and hairstyle, featuring a black long-sleeve turtleneck, white trouser, black shoes, and grey hooded-parka with Roto's ears and cat tail that both can be taken off.[21] He kept the moe-sode (moe sleeve) style in this outfit too.
On 26 December, Kanae reached 900,000 subscribers on his YouTube channel.[22]
On 30 December, Kanae held his first 'totsu-machi' (call-ins) stream. Originally he planned for about 15 people who RSVPed and additional 5 people whom he invited only, and continued the stream with chatting about things to look back to in 2021. Unexpectedly, 47 people came by and it took 9 hours stream in total for call-ins only that he had to move the chatting stream to the next day.
The guests are: Lain Paterson, Suzuki Masaru, Kenmochi Touya, Shirayuki Tomoe, Ibrahim, Elira Pendora, Reimu Endou, Kuzuha, Mayuzumi Kai, Kitakoji Hisui, Elu, Gundou Mirei, Shibuya Hajime, Seffyna, Sasaki Saku, Fushimi Gaku, Akira Ray, Min Suha, Ichinose Uruha, Shirayuki Reid (merise), Sister Claire, Takamiya Rion, Ban Hada, Ha Yun, Kagami Hayato, Hoshikawa Sara, Saegusa Akina. Odanobu, Nekomugi Tororo, Amamiya Kokoro, Fuwa Minato, Debidebi Debiru, Yorumi Rena, Dola, Ryushen, Lauren Iroas, Ratna Petit, Shibuya HAL, Shirayuri Lily, Kurose Kousuke (mangaka), Soraru, Yuuki Chihiro, Kaga Sumire, Mosurameso, Utai Makea, and Akabane Youko.[23]
2022
On 20 April, Kanae reached 200,000 followers on his Twitch channel.[24]
On 1 May midnight, approaching his 4th debut anniversary on 2 May, Kanae announced through a livestream that he was going to have major debut under Lantis (Bandai Namco Music) record label, the same label that look after Higuchi Kaede, and going to launch his first mini album "flores" (フローレス) on 27 July 2022.[25][26] Along with the announcement, on 2 May 2022, he also released a song titled "Broadcast Parade" (ブロードキャストパレード) that going to be included in the mini album.[27] The song teaser was released on Lantis official YouTube channel on the same date.
The mini album title "flores" was chosen by Kanae personally. Initially, he wanted something that has flowery image, but after further thinking, "flores" also has the same Japanese pronunciation with the English word "flawless", which also a VALORANT's status when a match ended perfectly, something that he also think this mini album all about.[28]
On 14 May, Kanae reached 1 Million subscribers on his YouTube channel, making him the second NIJISANJI Liver and male VTuber worldwide to reach the milestone after Kuzuha.[29][30][31][32] For the celebration, he is using Twitter hashtag #叶100万人パレード.
On 19 May, Kanae reached 900,000 followers on his Twitter account.
On 3 June, Lantis announced the sales for Kanae's debut album "flores" commemoration merchandises.[33][34]
On 20 June, Kanae's first mini album, "flores", went on sale.[35][36]
On 26 June, Kanae revealed his new outfit inspired by ChroNoiR's HoneyWorks Medley MV designed by mikkun.[37][38]
On 7 July, Kanae revealed his new outfit and hairstyle for his birthday and 1 million subscribers commemorations.[39] He also released a new original song titled "Hanataba no Yukue" (花束の行方, Where Abouts of the Bouquet *).
On 8 July, Kanae was featured on PASH! Magazine #8.[40][41]
Events
2018
2019
On 2 October, Kanae made his first unofficial appearance in his 3D Model at the NIJISANJI Music Festival - Powered by DMM Music.[48]
On 2 October 2019, Kanae participated in the concert event NIJISANJI Music Festival - Powered by DMM Music.[48]
On 4 December, Kenmochi Touya announces that he will be hosting the 2nd Mario Kart NIJISANJI Cup on Twitter with 67 participating Livers. The Cup is divided in to two parts, one qualifying match, and the main tournament.[52]

On 21 December 2019, the match Qualifiers was held within 6 different leagues. Kanae competed within the D league with other 10 livers where he placed 2nd Place behind Fuwa Minato at 1st. Placing 2nd meant that Kanae is going to be advancing into the Main Tournament.[53]
On 28 December 2019, the main tournament (Semi Finals and Finals) has begun with 3 leagues playing in the Semi Finals. Kanae fell into the B League where he get 1st Place. [54]
After taking D Leagues 1st Place, Kanae advances through the Final round of the tournament that lasted for 6 rounds where he takes 2nd Place just 4pts behind Kuzuha at 1st Place with 68 pts.[54]
2020
On 13 February, Kanae performed in the Zepp concert tour NIJISANJI JAPAN TOUR 2020 Shout in the Rainbow! at the Zepp Fukuoka venue.[56]
On 29 March, Kanae appeared in the PUBG Legion Doujou Cup VTuber Edition with fellow Liver Kuzuha as Guest Players for the tournament.[57]
On 7 August, Kanae appeared in the Official Nijsanji booth for the BiliBili World 2020 Shanghai in Shanghai National Exhibition and Convention Center along with other NIJISANJI VTubers. The event lasted for 3 days and celebrated the event's end on the 9th of August 2020.[63]
On 9 August, Kanae participated in the The 1st Super Smash Bros. SP NIJISANJI Cup also called as the NIJISANJI Brawl where he was eliminated in the first round against Sasaki Saku. [64]
On 29 August, Kanae participated in the Apex Legends Crazy Raccoon Cup as a member of KanaMinTo (team consisting of Kanae, Admin, and Kamito). The team won and ranked 3rd.
On 7 September, Kanae participated in the NIJISANJI APEX 2434 Kill Relay as a member of KanaChiiKuzu.[66]
On 18 September, Kanae performed on the first day of the Kyo to Aki no NIJISANJI live event at the annual Kyoto International Manga Anime Fair (also known as KyoMafu), alongside Kenmochi Toya and Kuzuha as part of the "MochiNoir men's travel performace". Kanae and Kuzuha also served as the "Kyo Mafu 2020 Welcome Ambassadors".[67]
On 1 November, Kanae participated in the 2nd Apex Legends Crazy Raccoon Cup as a member of KanaChiiKuzu.[69] They placed 13th and won the Oji-san(Uncle) Award with prize money that's worth around $3000.[70]
On 26 December, Kanae participated on the 3rd Mario Kart NIJISANJI Cup as a Seed Player.[71]

Kanae participated on the 3rd Mario Kart NIJISANJI Cup Quarter Finals. He won through the C League Qualifiers in 3rd Place right after Nagao Kei and Genzuki Tojiro tied at 1st Place.[72]
After placing 3rd Place on the Quarter Finals, Kanae advances to the Semi Finals where he won 4th Place after Fuwa Minato at first place, Honma Himawari at second, and Harusaki Air at 3rd Place.[73]
At the Tournament Finals, Kanae takes 4th Place after Naruse Naru at first, Fuwa Minato at 2nd, and Yashiro Kizuku at 3rd Place. During the tournament, Kanae also reached the 500,000 subscriber milestone.[74]
On 27 December, Kanae participated in the 3rd Apex Legends Crazy Raccoon Cup as a member of Dark Inferno Dragon/ DID (team consisting of Kanae, Soraru, and Kuzuha). After 5 rounds, first 3 matches in World's Edge and Last 2 in Olympus, Dark Inferno Dragon takes 16th place in the overall rankings.[75]
On 31 December, Kanae along with Kuzuha and Nobunaga Shimazaki hosted NIJISANJI's Second TV Program and New Year's Eve Special "NIJISANJI across the year".[76] While the broadcast was airing, Kanae held a watch party on his own channel reacting to the event.[77]
2021
On 4 January, Kanae participated on the Fukubukuro Contest! Akeome Momotaro 2021 with 11 other Livers split into 4 groups. Kanae was part of the team "ななかな" (Nanakana) with Saegusa Akina and Yorumi Rena. After 3 rounds, Nanakana placed 4th Overall.[78]
On 9 January, Kanae participated on the New Year! NIJISANJI Mahjong Cup 2021, an event organized by Maimoto Keisuke and sponsored by Yostar Limited. with 64 Livers in total participating. He was part of the B group, playing against Lize Helesta, Hakase Fuyuki, and Furen E Lustario and placed 3rd in the B group.[79]
On 24 January, Kanae participated in the 2nd Season of the VTuber Apex Legends Tournament as the leader of team 16, "Deep Kissing Club" (Team consisted of Kanae, Odanobu, and Saki Masaki).[80] The team ranked 4th overall with Kanae being 2nd in most kills (tied with 3 other participants) and 5th in most damage in the whole tournament.[81]
On 28 February, Kanae appeared and performed in the third and last day of the NIJISANJI 3rd Anniversary Festival 2021 or NijiFes2021 as a performer in the VACHSS (Vampire, Angel, CEO, Host, Student, Singer/Songwriter) stage along with Kuzuha, Kagami Hayato, Fuwa Minato, Kenmochi Toya, and Yumeoi Kakeru. After the performance, Kanae also participated in the stage's speedy post-performance talk with Ibrahim as the backstage MC. The event was held in the venue, Tokyo Big Sight Aomi Exhibition Building.[84]
On 14 March, Kanae participated in the 4th Apex Legends Crazy Raccoon Cup as team KanaChiKuzu along with Yuuki Chihiro and Kuzuha.[85] After 5 matches, 3 in World's Edge and 2 in Olympus, the team placed 6th in the overall ranking with 34 points, and Kanae ranked 8th in most damage with KanaChiKuzu ranked 5th in overall damage. The team also won the Oji-san Award with Kanae receiving a fireworks set worth of 100,000 yen.[86]
On 3 April, Kanae participated in Shinobism Gaming's Shinobi Apex Legends Customs pre-tournament as team "KanNanShinKu" (かんなんしんく) along with Kuzuha and Inui Shinichiro.[87] With 6 matches, 2 in Olympus, 2 in World's Edge and the last two in King's Canyon the tournament ended with the team placed 2nd in overall ranking; Kanae ranked 2nd in most damage and 3rd in most kills.[88]
On 10 April, Kanae participated in the Large Scale Casual Tournament for APEXFes as the leader of team "Akatsuki no Yaiba -Inishie-" (赤月の刃-イニシエ-) along with Ibrahim and Kuzuha.[89] The tournament spanned through 4 matches, all in World's Edge with the team placed 17th in overall ranking.[90]
On 24 April 2021, Kanae appeared on the variety and talk show "Ohayo Japan!", an event behind a paywall in Niconico douga, along with Kuzuha and voice actor Nobunaga Shimazaki, as part of the much larger event Super Seiyuu Festival 2021.
On 15 May, Kanae participated in the 5th Apex Legends Crazy Raccoon Cup as team "BajiSayFuu" (馬耳say風) along with Kanae, Kuzuha, and Vodka.[91] The tournament lasted for 5 matches, 3 in World's Edge, and the last 2 in Olympus. The team placed 17th in overall ranking with 15 points.[92] After the tournament, CR Cup's official theme song was released featuring multiple VTubers, pro-gamers, utaites, and other internet personalities, including Kanae.
On 6 June, Kanae, along with Yuki Chihiro and Kuzuha, appeared in the APEX Legends Global Series APAC North Finals as guest MCs for the pre-tournament event, and as well as players for the Arena Battle Twitter campaign. After the Arena Battle, they were able to amass around ¥651,000 worth of amazon gift cards that will be given to 21 random viewers who applied for the campaign.
On 12 June, Kanae participated in the first ever NIJISANJI Apex Party with DeToNator (commonly referred to as NijiPEX) as the leader of team 13, Dark Inferno Dragon/DID (team consisting of Kanae, Kuzuha, and Soraru). After 5 matches, 3 in World's Edge and 2 in Olympus, the team ranked 4th overall with 30 kills (with 24 kills coming from a single round, Round 3).[93]
On 1 August 2021, Kanae performs in the second day of the NIJISANJI AR Stage "Light Up Tones" performance along with other NIJISANJI Livers.
On 5 September, Kanae participated in REE APEX CUP as Team Shiromanta along with Shiromanta (mangaka) and Mondo (Crazy Raccoon). The team placed 13th in overall ranking.[97]
Discography
Main page: Kanae/Discography
Broadcast Parade (ブロードキャストパレード)

2 May 2022

   

"Broadcast Parade" (ブロードキャストパレード)

External links
Digital Release • YouTube
Mascot and Fans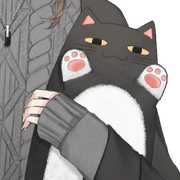 Kanae is usually seen carrying around a cushion cat that is named "ロト" (Roto). Roto's name came about when viewers noticed that when Kanae's name (叶) is broken down, you will get two characters that look like "ロ" and "ト".[101] Kanae apparently can't settle down if he isn't holding the cushion cat. Roto is a cat youkai that has possessed the body of a stuffed cat but he can also freely transform into other forms. Roto speaks sparingly, in an extremely low voice, this paired with his cryptic personality, makes other NIJISANJI mascots afraid of him.[102]

Roto can also be read as 6 (ro) 10 (to), that is why often viewers send ¥610 superchats to him instead of usual round numbers.
June 10th (6/10) is the cushion cat's birthday and celebrated by fans as Roto's Day (ロトの日 Roto no Hi).
Roto's favorite food is peoples' happiness.[102]
Everyone who has heard Roto's voice always seem to die.
There has been speculation that Roto is the one who erased Kanae's memories of the past.
Roto is almost always featured as a part of Kanae's different outfits. You can see Roto on Kanae's Military Outfit's Arm band and coat collar, as a pin on his 2018 Winter Outfit, and more.

In Kanae's most recent outfit, his white casual clothes, Roto can be seen on top of his head because he was upset he wasn't with Kanae most of the time in his latest streams of December 2020.

On 8 January 2021, Kanae announces the release of the "Roto Goods" on NIJISANJI's Official Channel. The release included a ceramic mug with Roto as its design, a Roto plushie, and a Roto Kigurumi Pajamas. All of the products are made to order and will be available until the 27th of January 2021.[103]

Because of the large demand, Roto is apparently very busy at the moment as the merchandise supervisor.

Quotes:

"ロトダヨ…" (Roto dayo..., I'm Roto...)
"ズット ミテルカラネ…" (Zutto mitekara..., I'm always watching...)
"ダメダヨ..." (Dame dayo..., That's no good...) | (Reply to Kanae's "Ugh, my head hurts")

Kanae's fans are called "叶え隊" (Kanae-tai Kanae-squad)

Kanaetai (叶えたい) also means "wanting to fulfill (a wish)".
More passionate fans and channel members are called "彼氏" (Kareshi, Boyfriend).
Whenever Kanae steps away from his stream, when he makes a mistake, or the viewers are waiting for the upcoming stream, members would spam "叶愛chu♡" to show support. Utako Suzuka even mentioned, "コメント欄が天国." (This chat is heaven).
Relationships
"ChroNoiR" 「くろのわ」 - Kanae and Kuzuha

Unitized on 17 July 2018, ChroNoir is a general and vocal unit within NIJISANJI that consists of Kanae and Kuzuha. ChroNoiR was foreshadowed as a unit even before Kuzuha's debut in NIJISANJI. They are the first NIJISANJI unit that has its own dedicated Youtube Channel.
The unit's name was a fan suggestion among many with the idea that both Kanae and Kuzuha like the color black, and from there, their name was made from the Japanese word "黒" (Kuro, Black) and the French word "Noir" (Black), making "KuroNoir" and later, "ChroNoiR". The name would also mean "黒黒" (Kuro Kuro, Black Black) in Japanese and its initials would be "KK" for Kanae and Kuzuha's name.
Channels: Youtube | OPENRec.tv
Emoji: 🖤
"KanaChiiKuzu" 「かなちーくず」 - Kanae, Yuuki Chihiro, and Kuzuha. These three have competed together as a team in multiple APEX Legends tournaments.

Hashtags: #かなちーくず - general hashtag

"Kanaeboshi" 「かなえぼし」 - Kanae and Hoshikawa Sara

Hashtags: #かなえぼし - general hashtag
Quotes
"~めう" (Meu~)
"んにゃあ" (Nnyaa)
"I am baby"
"バブバブ" (babu-babu, goo goo gaa gaa — baby sounds)
"うっ…頭が…!" (utsu..atama ga...!, ugh...my head hurts!)
"~で草" (~de kusa, lol)
"なんこれぇ?" (Nan kore ~e?, What is this?)
"の儀" (no gi, Kanae's way of saying good evening)
"...糞" (...kuso, shit)
"I am Japanese ninja"
"I like sushi"
"ちゅ~" (chu~, kiss~)
"ありがとね、ベイビー〜" (arigato ne, baby~, thanks baby~)
Trivia
He shares his character designer with Izumo Kasumi of NIJISANJI and Minase of Neo-Porte.
Kanae's combined streaming time is the highest amongst NIJISANJI members. He streams every single day without break since his debut - often multiple times a day - for extended periods of time.
Kanae is featured on the Mahjong-focused magazine Kindai Mahjong's December 2020 magazine issue.[105]
Kanae's female version, Kanako, was first seen in a stream from 2018. Kanako was a 24-year-old who performs in a musical as a living. Kanako looks the same as Kanae's original character, but unlike Kanae, Kanako has longer hair tied to a ponytail and wears shorts instead of pajamas. Kanako also has a smaller face with bigger eyes.[106]
Content:

Kanae streams very frequently, streaming every single day and often multiple times in a single day with varying lengths of time usually late into the night. This was a part of a promise he made to himself in his earlier days that he will stream every single day, being sick or tired was not an exception.
He usually streams FPS and battle royal type of games like APEX Legends, Escape from Tarkov, and more, but he also usually streams other types of games like Genshin Impact, Mahjong Soul, some RPG's and many, many more. Kanae would also stream newly released games from time to time.
Once streamed for 22 hours straight while playing Jump King the day before his birthday.[108]
As of March 2021, Kanae has the 2nd highest super chat earning of any male VTuber after fellow liver Kuzuha.[109]
Kanae's first channel logo was made by 柊椋 (Hiiragi Muku) a professional designer and artist that happened to be watching Kanae's stream when Kanae asked, "Are there any talented viewers (in logo making) watching?". Hiiragi Muku responded to the question and after an hour, Kanae's logo was finished. The same Hiiragi Muku was responsible for ChroNoiR's first official logo design[110]
The previous overlay you would usually under Kanae's avatar in his streams, as well as his old channel banner is created by the freelance graphic designer, "えんでば~" (Endeavor). He has also done works for other VTubers such as Nikuhen-cyan and Akairo Raincoat.[111]
On 2 May 2021, Kanae updated his new logo with a logo designed by BALCOLONY who was also in charge of designing Kuzuha's and ChroNoiR's 2nd Logo. The same BALCOLONY also designed the posters and logos for Your Name, A Silent Voice, Weathering with You, Fireworks among many others.
On 7 July 2021, on his birthday stream, Kanae unveils new stream graphics, all designed by Renen. The stream featured an all new custom stream intro, super chat and member alerts, overlay, comment, transition, and outro.
Preferences

Favourite anime: GANGSTA, 91days, and more
Favourite meal: Omurice
Ideal type: Someone who loves him
Favourite sushi ingredient: Salmon
Favourite colours: Black and Gray
Dislikes: Horror, liars, overly sweet things, coffee, cheaters, mushrooms and being called "papa"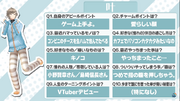 Kanae's profile from Yashiro Kizuku and Sasaki Saku's LeverGacha Daipan Episode 7:

Appeal point?: "I'm good at playing games"
Charm point?: "My adorable face"
Something you've been into lately?: "Prosciutto-wrapped cheese from the convenience store"
How would you like to spend a day-off?: "I'd like to go to a cafe and work on my computer"
What do you like/dislike?: "Mushrooms"
Most recent mistake?: "I've made a mistake..."
Someone you look up to?: "Kensho Ono and Nobunaga Shimazaki"
A habit/thing you tend to do?: "I tend to press my fingers with my nails"
What's the turning point in your life?: "Debuting as a VTuber"
A Secret you haven't told anyone?: "(none in particular)"

Youtube Series:

"叶ノ夜噺" (Kanae's late night stories)
"ぷちっとくろのわーる" (Petite ChroNoir, PuchiChro)
"原神攻略動画" (Genshin tips and strategies)

Tsukino Mito ranked Kanae as the person with the highest communication skills in NIJISANJI in one of her livestreams.[114]
Other NIJISANJI members (and Kanae's own viewers) have noted that Kanae has what they call a "madman side". This is because he has moments of breaking his normal gentle demeanor and turning into a completely different person, then calming down and pretending like it never happened. Tsukino Mito also recounted a tale from New Years' where Kanae convincingly lied about something "that had no benefit to him" whatsoever besides seeing the reaction when he revealed he was lying[115].
Widely considered by other NIJISANJI livers as one of the best video game players of NIJISANJI.
On NIJISANJI's ARK server, Kanae was regarded as one of their "Four Emperors" because he was one of the most highly civilized tribes(despite being the only one in his tribe) and the strongest tribe on the server. Kanae also used the chance of using Elemental Dust which was something the other NIJISANJI livers didn't see as a useful resource. With it, he had a large number of weapons to sell and he is able to make hamburgers with custom recipes. He also earned the nickname "死の商人" (shi no shonin, merchant of death) and owned a store called "Rotoria" where he sold his hamburgers.
Kanae has mentioned before that either he or his mother is half Japanese, which in either case would make him part Japanese.[116]
Kanae is said to have a beautiful sleeping face. At one time, Saegusa Akina was tempted to kiss a sleeping Kanae while he was staying in his house and so in order to stop himself, he just bid him farewell and left.[117]
Kanae owns an acoustic guitar at home, but he can't play it. But apparently, he says that the instruments he can play are firearms and the trombone.
Kanae has a weird habit of dozing off while talking to someone during a call.
Kanae has mentioned that he used to work part-time at a virtual M*ster Donuts shop.
Kanae is the type to flinch and freeze in silence when he gets scared.
Kanae loves ego-surfing and he also religiously searches his own Twitter hashtag whenever he can. So much so, that he ego-surfs even during a PUBG match on a live-stream. Because of this, he earned the nickname "戦場エゴサ芸人" or "battlefield ego-surfer" in English. He says he does this because he suffers from a medical condition that requires regular ego-surfing and that he suffers withdrawal symptoms if he stops. He mentioned that he regularly does this 100 times a day.
According to him, the reason why he enjoys playing video games was that his father was a gamer himself and because of this Kanae has extensive knowledge of older games.
Kanae has a lot of knowledge and experience with playing Minecraft. Because of this, many Livers would get surprised whenever they see his builds. However, due to his vast knowledge, he prefers to play with efficiency in mind which led to him starting a villager farm where he rents out and sells the villagers to other Livers earning him the nickname, "にじさんじの闇" (Niji sanji no yami, The Dark Side of NIJISANJI) or "奴隷商人" (Dorei Shonin, The Slave Merchant).
In his 170k subscriber celebration chatting stream, Kanae talked about how he's been coughing a lot at the time and while he has visited 6 doctors already, they still cannot pinpoint the exact cause of the coughing to which Kanae said, "If it's a new type of sickness, can it be named after me?". Thus, after talking with the chat, the term "Kanaway Syndrome" was made.[119]
Character and Lore
Kanae has amnesia and doesn't remember his childhood very well. Though one thing he is sure about is that in the earliest memories he could recall, he was already holding his cushion cat named Roto. Because of this, Kanae can't settle down without Roto near him.

Kanae has talked about his past, such as his school days and even his childhood, in streams, despite this being part of his lore.
Products/ Equipment
Some of the products and equipment listed may not be up to date.*
Gaming PC
Livestreaming PC
Peripherals
He mentioned during his first call-ins stream that he has 5 computers in total. 2 PCs for streaming, 1 PC for when he is using VR, 1 PC on his living room for when he does cooking stream, and a MacBook Pro for when he has to go out travelling.[122]
iPad Pro - for work and stream purposes
iPad Mini - for personal use, like watching Netflix
Kanae has been described to be quite feminine. He takes good care of his skin and hair and even mentions this in one collab with Hoshikawa.[123] The products he uses are the following:
Live Chat Etiquette
VTuber chat etiquette is cleanly summarized here: "VTuber Chat Etiquette"
Use Kanae's Free Chatroom for communicating with other fans on Youtube.
Additional rules in Kanae's Live Chat (from stream description):

Please be careful when sending Superchats, try to avoid giving Superchats during a collaboration.
If you're curious about something or you have some questions in mind, don't hesitate to ask! When someone is in trouble during a stream, don't make fun of them. Instead, it is appreciated that people that know the same language as them, to assist them.
Please avoid using profanity or inappropriate expressions.
Please avoid pigeoning (chatting along the lines of: "XX said this!" "XX is finished streaming!" "XX is like this!") or referencing other people in the chat. Similarly, please don't do these to other streamer's chats.
Please avoid from mentioning or chatting inside jokes during a collaboration.
External Links
Media
叶 - Kanae's Lantis Official Website
Further Readings
References