We're Getting Mutants in the MCU - The Loop
Play Sound
         This is a Japanese name; the family name is Kazama.

Associated pages
Kazama Iroha (風真いろは) is a female Japanese Virtual YouTuber associated with hololive, debuting as part of its sixth generation under the name of "Secret Society holoX" alongside La+ Darknesss, Takane Lui, Hakui Koyori and Sakamata Chloe.
Introduction Video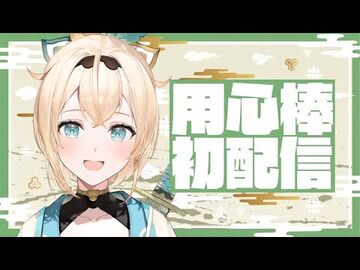 Profile
Secret Society holoX's insurance policy.
Hailing from a remote mountainous area, she left her home behind and, along with her companion, set off on a journey to achieve her dream of seeing and learning more about the outside world.
Nowadays, she handles security detail and bodyguard missions for holoX, making enough money to get by.
Personality
Iroha is a soft-spoken and playful, but somewhat clumsy person. Many fans describe her as the most "seiso" member of her generation and one of the most "seiso" in hololive overall besides members like Tokino Sora, though Iroha doesn't think of herself as such. She is also sometimes described as a muscle brain person; in the first holoX meeting collab, she was the only one who didn't describe herself as the smartest member among her genmates.
History
Background
Kazama Iroha's YouTube channel was created on 12 September 2021. Her Twitter account was also created in September 2021. She was first revealed as part of holoX, the sixth generation of the Japanese branch of hololive, in an introductory video[3] posted on 26 November 2021 at noon JST. She made her first tweet at the same time, saying "gozaru," a Japanese language copula associated with samurai.[4]
She made her debut stream on 30 November 2021 at 9pm JST, the fifth and final -holoX- member to debut.
2021
On 5 December, Iroha reached 300,000 subscribers on YouTube.
On 8 December, Iroha's channel got approved for monetization.[5]
On 19 December, Iroha reached 400,000 subscribers on YouTube.[6]
on 26 December, Iroha opened her channel membership feature.[7]
On 28 December, hololive's Twitter account announced that Nene and the sixth gen members would get "new year" costumes.[8]
2022
On 1 January Iroha debuted her second 2D costume, a kimono to celebrate the new year. In this costume Iroha got a new hairstyle using small twintails with various decorations. The upper section of her kimono is goes from light orange to white, the long sleeves are tied up to her elbows. The skirt is a darker shade of orange decorated with a sakura flower pattern, her furisode is decorated with a small obi tied together in the front. Iroha uses black boots. Adittionally Iroha has the option to wear tanuki ears, and a bow with arrows on her back.[9]
On 15 February, Iroha reached 500,000 subscribers on YouTube, making her the 49th hololive member to reach this milestone, as well as the 4th member of holoX to do so.[10]
On 3 June, Iroha announced on her Twitter account that she would get her 3D model.[11]
On 9 June, Iroha debuted her 3D model during a stream with more than 100,000 live viewers.[12]
On 17 June, Iroha revealed an updated for her main 2D costume as she can now remove her coat.[13]
On 18 June, during her birthday stream, Iroha revealed some updates for her 2D model, a new effect for her eyes, microphone accessory, and some movements for her mascot "Pokobee" also added.[14][15]
On 5 July, she released her first solo cover song "Color of Drops" by 40mP.
On 29 July, she reached 600,000 subscribers on YouTube during a karaoke endurance stream.[16]
Mascot and Fans
Iroha's fans are known as the Kazama-tai, 「かざま隊」, meaning "Kazama Squad."
Her mascot is a tanuki named Pokobee, 「ぽこべぇ」.
Relationships
Quotes
"Not nin nin! Yes jakin jakin!"
"Kaigai-niki, okay? I'm samurai. Not ninja! Do you understand?"
Trivia
Name
Her surname "Kazama" is written using the kanji "wind" and "truth." In her debut, she described that the "ma" in "Kazama" is as in "makoto," meaning "truth."
The kanji for her surname could also be read as "Fuuma," the name of a famous clan of ninja. This is likely why she often writes her surname in hiragana.
Her given name "Iroha" is written in hiragana, and consists of the first three letters in the Japanese syllabary in traditional order.
Likes and dislikes
Her favorite things include singing, cats, and udon.
Her favorite anime and manga are Cardcaptor Sakura, Sword Art Online, Shaman King, Naruto, Demon Slayer, Attack on Titan, Gakuen Alice, and Fruits Basket.
Her favorite games include Final Fantasy XIV, Phantasy Star Online 2, Minecraft, Splatoon, Ring Fit Adventure, and D4DJ.
She dislikes horror games, bugs, and unagi.
Miscellaneous
According to genmate La+ Darknesss, Iroha is a samurai.
Iroha uses the sentence ending "de gozaru," often associated with samurai.
Her fans often refer to her as Iroha-dono. Dono is a somewhat archaic honorific which was common in the feudal times and when attached to a name, roughly translates as "lord" or "master" and was typically used between samurai.
Her katana's name is Chakimaru.[17]
Iroha shares her designer with Yumesaki Mia from Propro Production.
holoX appears on the cover of the 8th volume of "VTuber Style" (VTuberスタイル) magazine which would be released on 28 July 2022.[18]
External Links
Media
Further readings
References