This is a Japanese name; the family name is Kenmochi.
Associated pages
Kenmochi Toya (剣持刀也) is a male Japanese Virtual YouTuber and a member of the Nijisanji group.
Introduction Video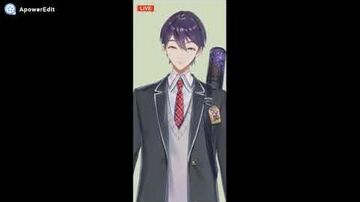 Profile
A sixteen-year-old high school student and a member of the kendo club. He is a low-key, serious person. He enjoys watching live streams and was thus inspired to start streaming as well. Since he often gets injured from practicing too hard during training, he always carries around a first aid kit.[1]
Personality
He is particularly known to have a sharp tongue and a hidden unhinged side which comes out when he is playing horror games or teasing other members.
History
Background
Toya made his YouTube debut on 14 March 2018. He was inspired to audition for Nijisanji after watching Tsukino Mito's livestreams.[2]
2018
On 15 October Toya unveiled his first official 3D model via YouTube livestream.
2019
On 12 August Toya received an update to his 3D model and showcased it on YouTube livestream.
2020
Events
On 2 October 2019 Toya participated in the concert event Nijisanji Music Festival - Powered by DMMM Music.
On 8 December 2019 Toya participated in the concert event Virtual to LIVE in 両国国技館 2019 (Ryogoku Kokugikan).
On 13 February 2020 Toya performed in the Zepp concert tour Nijisanji JAPAN TOUR 2020 Shout in the Rainbow! at the Zepp Fukuoka venue.
On 18 September 2020, Toya performed on the first day of the Kyo to Aki no Nijisanji live event at the annual Kyoto International Manga Anime Fair, alongside Kanae and Kuzuha.
On 9 December 2020, Toya performed on his first solo event 虚空集会 (Kokuu Misa) with Kuzuha, Tsukino Mito, Fushimi Gaku, and Peanuts-kun as guests.
Trivia
Color:

#A590AF

[3]
He is a self-proclaimed lolicon... There is even a "loli qualification" whose standard is "superchat from Toya" for Virtual YouTuber doing loli stream.
"Kenmochi Toko" is the name of Toya's genderbent (female) form created by Morinaka Kazaki. After he won his Tetris 99 competition against independent VTuber/illustrator Shigure Ui, Ui posted fanart of Toko on Twitter and fanart of loli Toko on Twitter as a counterattack to her punishment game (having to stream twice in her loli form).
Other Virtual YouTubers often refer to him as "Kenmochi Rikiya" due to the similarities between the kanji 刀 (tou) and 力 (riki) in his name.
The sharp chin on his official art is often the butt of many jokes. He has mentioned being sent sharpening stones as fan-gifts, held a talk radio show called "Sharpness Radio", and named his team "St. Sharpness Academy" during the 2020 Nijisanji Baseball Tournament. Fan artists often draw his face as a triangle.
Toya is known for being a big fan of fellow Nijisanji Liver Suzuya Aki. He finds Aki very cute and has proclaimed his love for him many times.
His viewers are often seen acting tsundere to him. They call him names on stream, but in clip or other livers' video, they will praise him and followed by "...but I won't say it in front of him".
Toya has basic English proficiency after spending time living with a host family in Australia.
He has a Twitter hashtag where viewers can post thumbnails for him to use. However, it has become something of a running joke how many of the posts found in the hashtag are shitposts. Kenmochi tells his viewers that the hashtag is meant for thumbnails and shouldn't be used for shitposting but despite this, he reviews the shitposts found on the hashtag on a regular basis.
External Links
Media
Further readings
References