This is a Japanese name; the family name is Kimino.
Kimino Miya (キミノミヤ) is a female Japanese / English Virtual YouTuber, part of Japanese Hanjo! Bilingual Vtuber Project by Chukyo TV Broadcasting Co and iDEACLOUD Inc.
She is often joined by Kokon, who is a fox-like animal on a flying cloud, and Ootsuta Eru, her younger sister VTuber.
Introduction Video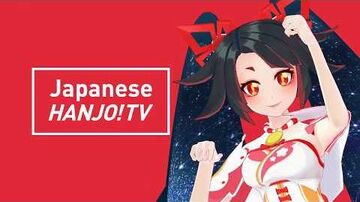 Miya's introduction.

Personality
History
Background
2019
On 19 March 2019 it was announced that she would become the 1st Aichi Tourism Virtual Supporter.
Trivia
Her catch phrase is "Hanjo hanjo." The Japanese word hanjou (繁盛) means prosperity and is a term associated with beckoning cats. They are the origin of her design.
Because her English is so fluent, she is often mistaken for a native speaker and gets complimented for her Japanese skills. In her first live stream, she confirmed that she is in fact Japanese.
Many of her subscribers confuse her catch phrase with her name and call her "Hanjo."
External Links
Community content is available under
CC-BY-SA
unless otherwise noted.