This is a Japanese name; the family name is Kiryu.

Associated pages
Kiryu Coco (桐生ココ) was a female Japanese Virtual YouTuber associated with hololive, debuting as part of its fourth generation of VTubers alongside Tsunomaki Watame, Tokoyami Towa, Amane Kanata and Himemori Luna.
Coco retired in July 2021 with a record-breaking graduation ceremony. She was known for her fluency in Japanese and English, her AsaCoco Live News and Reddit Meme Review shows, and for being the #1 superchat donation earner in the world.
Introduction Video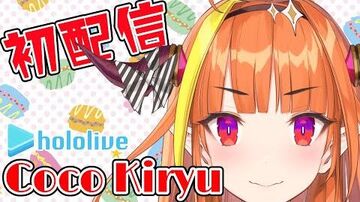 Profile
hololive.hololivepro.com
"Good morning, everyone! Wake up, wake up, wake up!"
A kid dragon who came to Japan from another world as a language exchange student. Holds a deep interest in human culture.
She is a dragon with a strict code of honor, and keeps her human form through sheer force of willpower.[6]
hololive.tv
A child dragon (3,500 years old is young in dragon years) who is fond of human culture. She traveled from another universe to ours, just to study Japanese in a random language school. Also an honorable and heroic dragon who is filled with justice. She tries really hard to keep her human form.[7]
Personality
Coco was an outspoken, irreverent dragon who often employed crude humor and swear words, although she lacked the direct lewdness of members like Natsuiro Matsuri. She enjoyed teasing other members in her streams, making fun of their failures on her morning show or poking fun during collaborations.
She was famous for pushing the boundaries of what VTubers can get away with on YouTube, that Houshou Marine named these boundaries the "Kiryu Coco line". Examples including thumbnails flipping the bird and references to drug use, among other questionable content.
Despite this, Coco was one of the biggest hearted members of hololive. During a now famous live stream of The Raft when Minato Aqua shared her feelings about how difficult the life of a virtual idol could be, Coco gave some truly kind words of encouragement that nearly brought Aqua to tears.[8] She often came to the aid of the other players when they experience technical problems. She proposed the construction of a 'hololive house' for all the hololive streamers to live together and help take care of each other.
She's also playful and fun-loving. She started the hololive "ARK Addiction" because she wanted members to play the game together, going as far as to buy Roboco-san her copy of ARK: Aberration when she discovered that she'd purchased ARK: Extinction instead. This is further showed by the fact that, unlike the NIJISANJI ARK server, which is PvP, Coco's is PvE.
Coco loved the Yakuza video game series and streamed it often. Her love for Yakuza goes as far that she is called kaichou, 「会長」, "chairman," a title used by yakuza leaders which is shared by her favorite character, Kiryu Kazuma.
She sometimes used English and Japanese interchangeably. She often began streams with her catchphrase phrase "Goooood MORNING MOTHERF@$#ERS!", in reference to her morning show AsaCoco Live News, in which it is followed by "OKITE, OKITE! OKITE KU-DA-SA-I!" (Wake up, Wake up! WAKE UP PL-EA-SE!) in Japanese.
History
Background
Coco originally applied to hololive as management, but by coincidence the 4th generation auditions were happening at the same time and she was recommended to join.[9] Coco wanted to work part-time in management and part-time as a VTuber, but was told that she had to do one or the other.
Coco's design originally more closely resembled an office lady. Coco requested small changes, including that the breasts be made as large as possible.
Coco was introduced along with the rest of hololive fourth generation on 25 December, 2019.[10] Coco's Twitter account was created on 29 November 2019, while her first tweet was made on 25 December,[11] and her YouTube channel was created on 4 December.
Debut
Coco's debut stream took place on 28 December 2019. Her introductory video, set to Part of Your World from Disney's The Little Mermaid, told the story that after hatching from a dragon egg, she left her original world long ago and came to Earth, befriending many people. One day while flying, she crashed into the hololive headquarters by accident, injuring Yagoo, who asked her to join hololive. Later lore would retcon that Watson Amelia was responsible for the crash.
2020
On 7 February, her channel became monetizable.[12] YouTube required hololive fourth generation to stream for around a month before their channels could be monetized. Later generations would not have such a delay.
On 14 February, less than two months after her debut, she published on Twitter that she reached 200,000 subscribers.[13]
On 18 April, she lost her ability to stream on YouTube,[14] during which time AsaCoco was not live. Less than a week later, on the 23 April, she regained the ability to stream.[15]
On 22 June, Coco announced on Twitter that she would receive 3D model.[16] She debuted her 3D model on 27 June, being the first of her generation to do so.[17]
On 3 August, Coco reached 500,000 subscribers on her YouTube channel, making her the 5th hololive member to reach this milestone and the first of her generation.
On 27 September, she and Akai Haato were suspended for 3 weeks, preventing them from doing streaming and Twitter activities, due to a controversy when both displayed "Taiwan" in "Top Countries" when divulging through their confidential YouTube channel's analytics, sparking anger from some people in the Chinese audience.[18]
On 19 October, she returned to her YouTube activities with a new episode of AsaCoco Live News, in which she announced that she had reached 700,000 YouTube subscribers in her absence.[19]
On 27 November, she announced in a tweet that she would go on a hiatus to protect herself.[20]
On 14 December, Coco returned to her activities on YouTube.[21]
On 29 December, hololive's Twitter accounts announced that eight members including Kiryu Coco would receive "New Year" costumes.[22]
2021
On 1 January, she debuted her second 2D costume, a new year kimono.[23]
On 11 January, she reached 900,000 YouTube subscribers.
On 7 February, Coco debuted the 2.0 version of her 2D model during a stream, showing a great improvement in the mobility of her model which previously had very limited movement compared to her fellow gen partners. The new model finally included a nose, which was missing from her original model.[24]
On 15 February, hololive's Twitter account announced that the members of the 4th generation would receive their 3D idol costumes.[25] Later the same day Coco debuted her 3D idol costume.[26]
On 17 February, Coco reached 1,000,000 subscribers, making her the 10th member of hololive to reach this milestone, the 7th member of hololive JP to do so, and the first member of hololive JP's 4th Gen to do so.[27]
On 8 April, Coco received a small update allowing her to wear glasses with her main costume.[28][29]
On 21 April, hololive's Twitter account announced that Coco would receive her third 2D costume.[30]
On 23 April, she debuted her third 2D costume. Her new clothes included a red jacket, accompanied with a white strapless blouse underneath, a necklace with a jewel similar to the one she wears in her standard outfit, and high black socks. Her hair is styled in twintails with black ribbons. Coco acknowledged the similarity of this costume to the design of her original joke character Coco Kaine, especially when she wears the jacket below the shoulders and using an alternate hairstyle featuring Kaine-style shorter twintails.[31]
On 9 June, Coco announced that she would be leaving hololive on 1 July, with her final livestream scheduled for the day of her graduation. Like previous graduate Kagami Kira, the archives of her past streams would not be deleted after graduating, although the closure of her channel's monetization would make members-only content unavailable.[32] Shortly after Cover Corp's website released a statement where the company clarifies that it was Coco's decision to retire and they would honor her wishes, with Shirakami Fubuki trying her best to cheer up the saddened hololive community.[33] While the reasons for her graduation were not explicitly stated, Coco announced "I'm gonna be a superstar in another world!," interpreted by many to mean she was moving on to a new stage in her personal career. The decision to leave hololive was made by Coco herself around three months prior to the announcement. She denied rumors that she was moving to hololive management.[34]
On 16 through 17 June, Coco held a midnight countdown stream celebrating her 3,502nd birthday, which was attended by around 35,000 viewers. On a following birthday stream on 17 June, Coco brought back AsaCoco Live News show for a one-off event, and made the her debut live performance on the hololive idol stage, where she debuted her original song "Weather Hackers."[35]
On 22 June, hololive's official Twitter account announced that Coco would get her fourth 2D costume, as part of the celebration of one million subscribers on YouTube.[36]
The following day, on 23 June, Coco revealed her fourth 2D costume, a full-body purple dragon hoodie based on her dragon form (as seen in her introductory video). Her hair is tied into twin braids to the front.[37]
On 27 June, the original MV for her song "Weather Hackers☆" was released.[38]
On 28 June, Coco debuted her first cover of the song "Fansa" by HoneyWorks.[39]
Retirement
On 1 July, Coco graduated with a final YouTube live stream, in which every single active hololive member shared their first impressions and some of their best memories together with Coco. They all wished Coco the best and stated all the things she did to make hololive what it is today.
Coco left her gen mates, holoForce, for last. Each member read out loud handwritten letters and gave them to Coco.
Watame told Coco, "Thanks to you, Coco, I can stand here-- well, I'm sitting but-- I can stand here without faltering. (Coco and Watame stand up from their seats) I can say this with full confidence!"
Luna endearingly drew a picture for Coco that said "大スキココちゃ" (I love you, Cococha/Wuv you, Cococha). Luna also drew Coco's face, Kanata's star shaped-metallic halo, Towa's hat "Bibi", Watame's ram horn, and Luna's princess crown.
Towa reminisced, "The 4th Generation may look like it has four members from now on, but there will always be five of us, and I will continue to work hard as one of them," while easily losing control over her tears and emotionally silencing everyone in the room as a result, including Coco.
Kanata compared the two's relationship to that of an old couple who'd have been married forever before stating, "I've seen you putting on a brave face and pretending everything was fine during the hard times, when in reality you were worrying about it alone. I've seen you bring prosperity to hololive. And I'll never forget any of that! You did a really, really good job! I love you more than anyone! KanaCoco is forever! Let's keep it going!"
The stream concluded with a live 3D stage performance in which all fourth generation members sung and danced to "Shiny Smily Story," fourth generation's first original song "Kiseki Musubi," and Coco's personal song "Weather Hackers." The stream peaked at 491,342 concurrent viewers, making it the live stream with the largest simultaneous viewer count in hololive and VTuber history.[40][41]
The chat in her final stream moved too fast for YouTube to show it in real time, requiring freeze-frame to be readable.
Coco's final livestream set an all-time Superchat revenue record with over $300K+ USD in final revenues. Considering rumored hololive's rule about giving all revenues from final livestreams to its respective retiring talents (after YouTube's ~30% tax), it could be said Coco got a final revenue about $200K USD net earnings, setting also an all-time record for a VTuber.
The hashtags #GoodbyeCoco and #桐生ココ卒業LIVE became trending worldwide on Twitter on the date of her retirement.
Shortly thereafter, Coco posted her final tweet saying good bye for the last time, and changed her title on her Twitter username from 「ホロライブ4期生」 (hololive Generation 4) to 「ホロライブ卒業生」 (A hololive graduate).[42] Her profile section on hololive Production's official website was also updated to include the title of "OG Alumnus" while remaining accessible, unlike the case of previously retired members, all of whose profiles were removed entirely from the site. Sometime in early July, her YouTube channel description was also updated to include the phrase "Graduated on July 1, 2021 (Thu.)" at the beginning as well, similar to Kagami Kira.
As with her stream archives as stated in her graduation announcement, she has also left all of her posts on Twitter and Reddit accessible.
On 2 July, the version of "Weather Hackers☆" performed on her farewell stream was uploaded to her YouTube channel as a stand alone video. The video was uploaded because "a portion of the "Kiryu Coco Graduation LIVE" stream displayed glitches caused by YouTube streaming issues."[43]
Legacy
A "Free Chat" scheduled stream was established for midnight JST on 30 September 2021 to allow fans to use the pre-stream chat until that date, although of course no stream was intended. Over 118,000 viewers attended regardless, with many renewing their Kiryu Coco memberships or leaving messages of thanks.
Coco is the first graduate of hololive:
To announce one's graduation by themselves first, rather than announcing through Cover Corporation.
To be explicitly mentioned as such on the official website, as an "OG."
Allowed to be mentioned and referred to without restrictions of Japanese cultural reservations.
Potentially allowed to guest star in future hololive events.
After Coco's graduation, Haachama took over as the host of Reddit Shitpost Review with Coco's blessing. Haachama has also turned Coco's old intro music into the Shitpost Review theme and the intro now ends with an animation of Coco giving Haachama a high-five.
During the 2021 hololive Sports Tournament event in Minecraft, there was an image of a dragon flying in the sky that was made as an homage to Coco, with horns resembling hers.
Coco asked Gura during her graduation stream to promise to play ARK with other members. On 23 January 2022, Gura played ARK with Nanashi Mumei.[44]
Coco is said to still frequently interacting with other hololive members off-stream; for example, when Akai Haato returned from hiatus in late July 2021, she cited that a conversation with Coco and Kanata during a meal motivated her to return to streaming.[45]
Coco and Kanata still live together. However, Kanata often refers to Coco as "C-chan" or "Yuujin-C" (friend C) and sometimes pretends she's a completely different person when on stream, despite it being very obvious who she refers to.
Discography
Main page: Kiryu Coco/Discography
Kiseki Musubi

as hololive 4th Generation

25 June 2021

   

"Kiseki Musubi" (キセキ結び, Kiseki knot)
"Kiseki Musubi" (instrumental)

External links
Digital Release • Music Video
Fans
Her fanbase is officially called "Tatsunoko" 「たつのこ」, meaning both "seahorse" and "dragon's children."
Relationships
She currently lives with fellow hololive member Amane Kanata. The two have been described interchangeably as best friends and a "bickering married couple." Despite this, both have expressed great love and appreciation for one another, and often cameo in one another's streams as either intentional guests or as background distractions. Kanata has even stated on a stream that she and Coco had bought "couple-rings." She announced her intent to continue living with Kanata after her graduation from hololive.
Coco has helped other hololive members on numerous documented occasions. She comforted Watame and Aqua when they were having difficulty, helped Rushia when she got stuck in Ark due to a bug, taught Rushia how to screenshot, taught Rushia how to loop BGMs, gifted Roboco Ark: Aberration when she accidentally bought the wrong game, and helped to promote Kanata's poorly-selling t-shirt. She also encouraged hololive to play Ark and paid for the hololive Ark server, despite not earning any money yet.[9] Watame described her as kind-hearted, influential, and hard-working.[46]
She proposed the construction of Holohouse, a place where hololive members could live together and receive support. While Holohouse never got past the planning stage, they managed to settle in a building near the hololive office where Coco, Kanata, and Suisei live, and other members can stay over during collabs at the offices. Coco's goal was to create a living space where members could avoid issues they often faced; e.g. thin walls, located too far from hololive HQ, family members making noise, poor internet, becoming lonely living alone, or having difficulty renting while working as a streamer.[9]
Coco encouraged the creation of hololive English and made a trailer to promote the auditions. Her ability to speak both English and Japanese allowed her to connect with hololive English, although she ultimately did not make any collaborations with them until June 2021, shortly before her graduation.
Coco used to talk about doing a collaboration with VShojo's Projekt Melody some day. Coco and Mel describe each other as friends. However, in a Q&A stream, when someone brought up a potential Melody collab, she revealed the higher ups told her she should never bring up or talk about Melody in her streams again. VShojo's Nyatasha Nyanners also describes Coco as a big inspiration. Eventually, the relationship between hololive and VShojo softened, allowing Nyanners to collab with Takanashi Kiara, and Ironmouse to collab with Mori Calliope shortly after.
Units and groups
Units and groups aside from holoForce Coco was a part of are:
"Doukyo's" (同居ーず), along with Amane Kanata and Hoshimachi Suisei.
"Shiryuu-Gumi" (紫龍組), along with Murasaki Shion.
"hololive English Generation 0" or "holoMeth," along with Akai Haato.
"KanaCocoShishiLamy" (かなココししラミ), along with Amane Kanata, Shishiro Botan and Yukihana Lamy.

Their unit name was initially called "KanaLamyShiCoShiCo" (かなラミしコしコ), but it quickly gained notoriety due to the "ShiCoShiCo" part resembling Japanese onomatopoeia of masturbation (i.e. "fap fap").

"PekoCoco" (ぺこココ), along with Usada Pekora.
"MariCoco" (マリココ), along with Houshou Marine.
"MikoCoco" (みこここ), along with Sakura Miko.
"Orange Women," along with Takanashi Kiara.
"Ahoge-min" (アホ毛民), along with Yukihana Lamy.
"HoloTall," along with Pavolia Reine.
Quotes
"Nobody can dampen the fighting spirit in my heart. There's no stopping Kiryu Coco."[34]
"The thing with hard work is, even if you work hard, you may never be recognized. But I was very lucky. You guys recognize me for my hard work. I'm really blessed. I was a really lucky gebokawa dragon."[34]
"You only live once, those who can laugh till the end wins."
"Goooood morning motherf***ers!"
Trivia
Name
Her surname "Kiryu"「桐生」is written with the same kanji as her favorite character from the Yakuza video game series, Kiryu Kazuma,「桐生 一馬」.

Coco also shares her birthday with Kiryu Kazuma.
Houshou Marine referred to Coco by the name "Kiryu-chan," a nickname also used by Kiryu Kazuma's nutty rival, Majima Goro.
The same kanji are used in the name of the city of Kiryuu, Gunma, as well as in the surname of Japanese athlete Yoshihide Kiryuu.
"Ryuu," as in "Kiryuu," means "dragon." The Japanese name of the Yakuza game series is Ryuu ga Gotoku, meaning "like a dragon." Kiryu Kazuma is also nicknamed "the Dragon of Dojima".

Coco is written 「ココ」, in katakana, usually used for foreign loanwords and foreign names.

Coco is also a female name. Famous women named Coco include fashion designer Coco Chanel and Japanese voice actress Coco Hayashi.
Lore
Coco's natural form is that of a dragon, in which she is purple and 7 meters (23 feet) long. She is only 3,502 years old, which is still considered a child by her species.
After hatching from an egg, Coco decided her world was boring, and came to the human world because it seemed much more interesting.
Coco joined hololive in 2019 when she crashed into the hololive headquarters while flying in dragon form and sent YAGOO to the hospital. In order to pay them back for the damages, she was forced to work for the company and become a VTuber.
According to Meme Review with Watson Amelia, Ame was responsible for Coco crashing into hololive HQ. At Yagoo's request, Ame used her time travel ability to go back to December 29, 2019, and shoot Coco with a massive tranquilizer dart full of Watson Concoction, which hit Coco in the neck and caused the crash. The events were detailed in Secret Ame Coco Lore by MMMaellon, which Ame declared is canon. On learning that Ame shot her in the neck, Coco asked, "Is that why I sound like a drugged Mickey Mouse?"
At 180 cm (5'11") in height, Coco is the tallest hololive member to date. However, some of the male Holostars are taller: Yukoku Roberu at 181 cm, Arurandeisu at 186 cm, and Aragami Oga at 192 cm.
Coco's bowless horn has a yellow scar. In an episode of AsaCoco Live News, Coco explained that this was a scratch which probably occurred when she accidentally bumped into a light pole or door frame, as she is somewhat clumsy due to lack of familiarity with her human form. Her bust-size has caused similar mishaps.
AsaCoco
Coco presented a 20-minute-long satirical Morning News Digest called AsaCoco Live News 「あさココLIVEニュース」. Parodying a news anchor, Coco presented news related to her, her fourth generation colleagues, and hololive in a humorous way. AsaCoco Live News was livestreamed on her channel on weekdays at 6:00 AM JST. AsaCoco Live News ran from her debut on 29 December 29 2019, until 9 November 2020.

Each Asacoco episode took around eight hours to produce, and originally seven days week, despite Coco also working as a corporate employee outside of hololive at first. The series was hugely popular, and helped to promote other hololive members.[9] Later it was scaled back to five days a week, then three.[34]
Coco cited the amount of effort needed to produce each episode as one reason why the series was eventually discontinued. "Honestly, if you told me to do it again, I'd say no. I'd die!"[34]
Watame credited AsaCoco Live News with bringing many new viewers into hololive, and believes Coco brought in many English-speaking viewers in particular.[46] This was aided with Coco's addition of English subtitles to episodes.
During an episode of AsaCoco, Coco proposed the creation of hololive USA (something which would later come true as hololive English). As a joke, she showcased the first "idol," an overweight, middle-aged smoker named "Coco Kaine" (a play on the drug "cocaine"). Kiryu Coco's designer subsequently drew a young version of Coco Kaine, which received more likes than the original. Following the announcement of hololive EN, English viewers asked for the debut of Coco Kaine. While this did not happen, Kaine appeared in an episode of Reddit Meme Review, with Coco using Google Translate text-to-speech for her lines.
After AsaCoco's conclusion, the hashtag #asacoco became an unofficial tag for spreading news about hololive, much like AsaCoco itself.

AsaCoco is also the name of a (fictional) mind-altering drug that Coco sometimes advertised during her show. According to Coco, it is the AsaCoco Live News show itself, in chemical form. It has come in many, many varieties over the run of AsaCoco Live News, including:

"Plug-type Asacoco," a makeshift version of her tail that is meant to be inserted anally.
Drinks, gas canisters, and injections, lotions, anti-smoking patches, germ-killing disinfectants, muscle drinks that instantly buff people up.
Pills meant to be slipped into drinks of people yet to watch AsaCoco.
Eyedrops that actually contain a blade in the dropper to kill people that don't like Asacoco.

Symptoms of an AsaCoco overdose have included: Ahegao (O-face), incoherent babbling, repeating of the word ochinchin (only in the case of improper usage), addiction, dilated pupils, and in the case of 'Calorie Burning AsaCoco,' instantly growing muscles and increased bust and butt size. Some of the symptoms seem to reflect what is typically seen out of an dark eroge series, Taimanin for example, especially with the heavy use of mind breaking drugs.
In addition to AsaCoco Live News, Coco also hosts a regular series called Reddit Shitpost Review, in which she reviews memes. Numerous other hololives have appeared as guests on this show.

In light of Coco retiring from hololive, she entrusted Kanata to keep her legacy content going during her last month with the agency.
In Meme Review with Amelia, Coco declared Ame her successor and gave her the Asacoco recipe. Ame recommended against using Asacoco and Watson Concoction at the same time.
Other
She is fluent in both English and Japanese, and only the second English-speaking hololive member after Akai Haato. She uses American English pronunciation for English words (e.g. VTuber rather than bui-chuubaa, 「ブイチューバー」), suggesting she is native English speaker.

She often uses the phrase nanto (なんと, meaning "somehow" or "how..." in exasperation). She also uses "kusa," 「草」, Japanese slang equivalent to "LOL." This originated from the Japanese "warau" for laughter, abbreviated to "wwwwww" in Japanese internet slang, which visually resembles grass, hence "kusa." Some English-speaking Coco fans subsequently wrote the English word "grass."
As she continued to stream, Coco's accent on her Japanese has gradually become less noticeable, to the point that sounding almost no different from the standard Japanese accent as of late 2020. A similar situation has also occurred with Momosuzu Nene by late 2020.

Coco refers to her senior members of hololive with the "paisen" 「パイセン」honorific, a slang term for "senpai"「先輩」.
She claims to currently hold the RTA world record in using the bathroom. She once made a bathroom break in only 20.466 seconds.
She didn't own a Nintendo Switch for so long, and got many donations during streams to buy her own, but she refused to do so, even describing it as a "normie" thing to do when making excuses. Eventually, Kanata had to step in and gift her a complete starter set on top of a Animal Crossing themed Nintendo Switch for her 1,000,000 subscriber celebration.
She is the first hololive main branch and second overall to be a moderator in official hololive Subreddit.
Coco's growth in popularity after joining hololive was notably rapid. Within two weeks of her debut she already had more than 100,000 subscribers on YouTube. Less than four months after that, she had more than 300,000 subscribers. Coco's channel maintained an average of 1,500 to 2,000 new subscribers per day since her debut.

Despite debuting at the end of 2019, she surpassed many veteran members with a numerous amount of subscribers. This growth is speculated by fans to be due a number of factors, including her consistency to produce new episodes of AsaCoco Live News as a short but entertaining program for VTuber fans, and her ability to appeal to both Japanese and English-speakers even before Asacoco started to get subtitles. Many fans have cited her clever use of the other members, featuring them and giving them special segments on the show to spread their appeal around.
Following her graduation announcement in June 2021, Coco's YouTube subscriber count grew dramatically, going from 1.17 million to 1.25 million in five days, allowing her to beat Amelia Watson to that milestone by a matter of hours.

Coco has referenced her father several times on AsaCoco Live News, including reading letters he sent to her in the human world to show his support for her Vtuber career. During these instances Coco displayed a picture of what her father supposedly looked like with pixelization over his eye-line in order to protect his identity. Despite this, Coco's supposed father can be seen by viewers to very clearly be Shenron from the Dragon Ball franchise.
As of August 2020, Kiryu Coco was the #1 earner of super chat donations out of any streamer on YouTube worldwide since records began on 10 January 2020.[47] By 13 June 2021, her channel had received 384,837 superchats totaling US$2,295,770, closely followed by Uruha Rushia with $2,279,525. By the time Coco's donations closed, she had received 432,399 superchats totalling $2,954,720.

Following her retirement, Coco was eventually overtaken by Uruha Rushia as the #1 superchatted YouTube channel. At Rushia's retirement in February 2022, she had reached $3,285,003 across 273,923 donations. At this time, Coco was still #2 despite her channel being closed for several months, and eight of the top 10 superchatted channels worldwide were hololive members.
Superchats were not enabled for her first month after debut, as they needed to wait for approval. Once they were enabled, it led to a flood of superchats that lasted 14 minutes and 55 seconds straight.[9]
Her fans are credited with inventing the "flush", where a flood of blue superchats represent a toilet flushing when she takes a bathroom break.[9]
Coco was also been credited with popularizing the superchat in Japan in general.[48]

She has a famous dislike of "Japanglish," words and sentences combining English and Japanese words of the same meaning, such as "arigathanks gozaimuch" and "yametekudastop." This only encouraged /r/hololive to include it in memes, leading her to complain of hetakuso Nihongo, or "shitty Japanese!" Much to her chagrin, fellow VTubers such as Natsuiro Matsuri, Aki Rosenthal, Tsunomaki Watame, Ninomae Ina'nis and Momosuzu Nene tend to like it.

Despite this, she has also gone on record to say that "shitty Japanese" is the best thing ever, and once pronounced "Oshita Bridge" as "Oh shit, a bridge" like a foreigner might.

When asked about whether she has eaten humans before and how they taste, she was ready to answer but then jumped to the next topic instead after quick pondering.
She often fake-ends her stream so her fans would stop watching her to do other things or go to sleep when she recognizes there are many viewers watching her stream very late at night. This considerate nature of hers can be seen towards her oversea fans, like using dual language by the time a stream starts and so on.
She loves studying.
Her tail is allegedly fake, and is plugged onto her butt.[49]

Coco's mouse cursor becomes a tail butt plug during her Reddit meme reviews.
A piece of merchandise was sold featuring a stuffed toy version of the Kiryu Coco tail plug. The original prototype had a rubber tip, but Coco insisted that it be made of soft material, for fear that some fans would actually insert it.

Coco's backstory as a thousands of year old mythic creature who journeyed to Earth from another world is similar to hololive EN's Takanashi Kiara, an ancient phoenix who in the past moved between worlds when she was reborn, and Gawr Gura, a 9,000+ year old shark who came to land from Atlantis because it was boring.
She shares the same character artist as Rikudou Yura from PRISM Project.
Houshou Marine coined the term "Kiryu Coco line," which refers to the limit of misbehaving that a hololive member can get away with before YouTube bonks them.[9] The Kiryu Coco line far exceeds the distance of the "Natsuiro Matsuri line."
Coco famously bought a $9,000 bed. When fans heard that she slept on a futon, and had difficulty sleeping, they donated a huge mount of money, allowing her to buy her expensive bed.[9]

Once, when Coco took sleeping pills before bed, they appeared to be ineffective, so she decided to stream instead. The pills kicked in while she was playing 7 Days to Die, and she ended up zoning out and behaving bizarrely during the stream, after which she went to bed with the stream still running for several hours. She later made a video reacting to herself in this stream.[50]

Coco's catchphrase, originating from her AsaCoco Live News, is "Good morning motherf***ers!" Coco is infamous for teaching this and other English swearwords to other hololive members.

In Can You Do the hololive?, Coco claims not to have a catchphrase. This may be to avoid swearing.
A bowdlerized version of Coco's catchphrase is referenced in her original song Weather Hackers☆, which contains the line "Good morning Weather Hackers☆". In her live performance, it was bleeped out to "Good morning **ther **ckers". Coco was unaware that they were going to bleep the line.[51] The ending result due to the stylistic censorship is that the song sounds far more in line with Coco's personality, with the verse being mistaken for something far more crude.
External Links
Media
Further reading
References