This is a Japanese name; the family name is Kiryu.
Associated pages
Kiryu Coco (桐生ココ) is a female Japanese Virtual YouTuber associated with hololive, as part of its fourth generation of VTubers alongside Tsunomaki Watame, Tokoyami Towa, Amane Kanata and Himemori Luna.
Introduction Video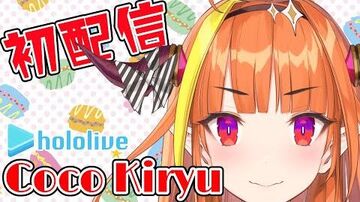 Coco's introduction.

Personality
Coco is an outspoken, irreverent individual who often employs crude humor, foul speech (using "ass" instead of "butt" or "shit" instead of "crap") and swearing, but she isn't as outright lewd as some members like Matsuri in spite of her dominantly intense femininity when on stage. She also enjoys teasing other members and most segments of her morning news show consists of teasing other hololive members over technical difficulties of failings on stream.
She often pushes the boundaries of what Vtubers can do on YouTube by using thumbnails of her flipping the bird or her questionable content. Despite that, Coco is probably one of the biggest hearted members of hololive. During a live stream of The Raft with Aqua, Aqua shared her feelings about how difficult the life of a virtual Idol could be and Coco gave some truly kind words of encouragement that nearly brought Aqua to tears.[5]
She's also playful and fun-loving. She started the hololive "ARK Addiction" because she wanted them all to play the game together (going as far as to buy Roboco her copy of ARK: Aberration when she discovered that she'd purchased ARK: Extinction instead) and usually comes to the aid of the other players when the experience technical problems. This is further showed by the fact that, unlike the Nijisanji ARK server, which is PvP, Coco's is PvE. She proposed the construction of a 'hololive house' for all the hololive streamers to live together and help take care of each other.
Coco loves the Yakuza video game series and streams it often. Her love for Yakuza goes as far that she is called "Kaichou/ 会長" (chairman), which is a title associated with the yakuza and shared by her favorite character, Kazuma Kiryu.
Profile
A child dragon (3,500 years old is young in dragon years) who is fond of human culture. She traveled from another universe to ours, just to study Japanese in a random language school. Also an honorable and heroic dragon who is filled with justice. She tries really hard to keep her human form.[6]
History
Background
Her Twitter account was created on November 2019, while her first tweet was made on 25 December,[7] her YouTube channel was created on 4 December and her debut stream was on 28 December.
2020
On 7 February after being rejected for monetization from the start, her channel became monetizable.[8]
On 14 February, less than two months after her debut, she published on Twitter that she reached two hundred thousand subscribers.[9]
On 18 April, she lost her ability to stream on YouTube,[10] during this time AsaCoco was not live. Less than a week later, on the 23 April, she regained the ability to stream.[11]
On 22 June, she announced on her Twitter account that she would get her 3D model.[12]
On 27 June, she debuted her 3D model during a stream, being the first of her generation to do so.[13]
On 27 September, she and Akai Haato were suspended for 3 weeks, preventing them from doing streaming and Twitter activities following the controversy when she and Haato displayed "Taiwan" in "Top Countries" when divulging through their confidential YouTube channel's analytics, which sparked anger from some people in the Chinese audience.[14]
On 19 October, she returned to her YouTube activities with a new entry of Asacoco.[15]
On 27 November, she announced in a tweet that she would go on a hiatus to protect herself.[16]
On 14 December, Coco returned to her activities on YouTube.[17]
On 29 December, hololive's Twitter accounts announced that eight of their members would get "New year" costumes, Coco being one of them.[18]
2021
On 1 January, she debuted her second 2D costume, a new year kimono during a stream.[19]
On 11 January, she reached 900,000 YouTube subscribers.
On 7 February, Coco debuted the 2.0 version of her 2D model during a stream, showing a great improvement in the mobility of her model which previously had very limited movement compared to her fellow gen partners.[20]
On 15 February, hololive's Twitter account announced that the members of the 4th generation would get their 3D idol costumes.[21] Later the same day Coco debuted her 3D idol costume.[22]
On 17 February, Coco reached 1,000,000 subscribers, making her the 10th member of hololive to reach this milestone and the 7th member of hololive JP to do so. She is also the first member of hololive JP's 4th Gen to reach it.[23]
Fans
Her fanbase is officially called "Tatsunoko" (たつのこ), meaning both "seahorse" and "dragon's children".
Trivia
Her surname "Kiryu" (桐生 ) is written with the exact same kanji as her favorite character from Yakuza, Kiryu Kazuma (桐生 一馬).
She is the presenter of a 20-minute-long satirical Morning News Digest called AsaCoco Live News (あさココLIVEニュース). Parodying a news anchor, Coco presents news related to her, her fourth generation colleagues and hololive in a humorous way. AsaCoco Live News is livestreamed on her channel on weekdays at 6:00 AM JST.

AsaCoco is also the name of a (fictional) mind-altering drug that Coco sometimes advertises during her show. According to Coco, it is the AsaCoco Live News show itself, in chemical form.

It has come in many, many varieties over the run of AsaCoco Live News, including:

A makeshift version of her tail that is meant to be inserted anally.
Drinks, gas canisters, and injections, lotions, anti-smoking patches, germ-killing disinfectants, muscle drinks that instantly buff people up.
Pills meant to be slipped into drinks of people yet to watch AsaCoco.
Eyedrops that actually contain a blade in the dropper to kill people that don't like Asacoco.

So far, symptoms of an AsaCoco overdose have included: Ahegao (O-face), incoherent babbling, repeating of the word Ochinchin (only in the case of improper usage), addiction, dilated pupils, and in the case of 'Calorie Burning AsaCoco,' instantly growing muscles and increased bust and butt size.

Asa (朝) means morning in japanese. So Asacoco can be read as "morning coco/hot chocolate" but can also be read as "morning insanity" with an English context.

Like Akai Haato, Civia and Artia, she is proficient in English, and she uses American English pronunciation for English words rather than the Japanese pronunciation (e.g. "V-tuber" as opposed to "bi-chuubaa ブイチューバー"), which makes some fans think that she is an English native speaker with Japanese being her second language.
Her Japanese is slightly accented, and she frequently uses the phrase nanto (なんと, meaning "somehow" or "how..." in exasperation) and the jargon expression kusa ( 草 / the Japanese version of the word LOL). This has evolved to her encouraging English speaking viewers to say 'grass' when something funny happens, as kusa means grass.

For reference to how it got to grass, the Japanese word for laughter or smiling is 笑い (Warai) or 笑う (Warau). Thus, Japanese users would type "wwwwwww" for short. But doing so makes it look like grass filling the screen, thus 草 (Kusa) is used as well. Western fans now also like to use this as a way to laugh.

Coco refers to her senior members of hololive with the "paisen" (パイセン) honorific, a slang term for "senpai" (先輩).
At 180 cm (5'11") in height, Coco is the tallest among the hololive members.
She claims to currently hold the RTA world record in using the bathroom.
Coco's right dragon-horn bares a distinct bright yellow surface that joins with her usual brown horn-texture in a scratchy-looking pattern, making her horns somewhat asymmetrical. Coco addressed this in an episode of AsaCoco Live News, explaining that her right horn was indeed scratched and it likely happened when she accidentally bumped into a light-pole or a door-frame. Apparently Coco suffers from a bit of clumsiness and endures mishaps like this often as a result of her still getting used to having a body that is in human-form. Coco also stated that her bust-size has caused her similar painful mishaps.
She didn't own a Nintendo Switch for so long, and got many donations during streams to buy her own, but she refused to do so, even describing it as a "normie" thing to do when making excuses. Eventually, Kanata had to step in and gift her a complete starter set on top of a Animal Crossing themed Nintendo Switch for her 1,000,000 subscriber celebration.
She is the first hololive main branch and second overall to be a moderator in official hololive Subreddit.
Coco's growth in popularity after joining hololive has been notably rapid. Within two weeks of her debut she already had more than 100,000 subscribers on YouTube. Less than four months after that, she had more than 300,000 subscribers. Coco's channel has maintained an average of 1,500 to 2,000 new subscribers per day since her debut.
Despite only debuting at the end of 2019, she surpassed many veteran members with a numerous amount of subscribers. This growth is speculated by fans to be due a number of factors, including her consistency to produce new episodes of AsaCoco Live News as a short but entertaining program for Vtuber fans, and her ability to appeal to both Japanese and English-speakers even before Asacoco started to get subtitles. Many fans have cited her clever use of the other members, featuring them and giving them special segments on the show to spread their appeal around.
Coco has referenced her father several times on AsaCoco Live News, including reading letters he sent to her in the human world to show his support for her Vtuber career. During these instances Coco displayed a picture of what her father supposedly looked like with pixelization over his eye-line in order to protect his identity. Despite this, Coco's supposed father can be seen by viewers to very clearly be Shenron from the Dragon Ball franchise.
Coco proposed the creation of hololive USA on Asacoco and showcased the first "idol", an overweight, middle-age smoker named "Coco Kaine" (a play on the drug "cocaine"), at first meant to be a joke, became real when her designer drew a young version of Coco Kaine which, ironically, got more likes than Coco's art (something she was quite jealous of). Now there are English viewers asking for the debut of young Coco Kaine ever since the announcement of auditions for hololive EN. And although this never happened, she did "co-star" in Coco's reddit meme review with Coco using Google Translate for her lines to interact with her.
Coco currently has earned the most money from super chat messages out of any streamer on YouTube worldwide (at least since super chats started being tracked).[24]
Coco used to talk about doing a collaboration with Projekt Melody someday. However, in a Q&A stream, when someone brought up a potential Melody collab, she revealed the higher ups told her she should never bring up or talk about Melody in her streams again.
She currently lives with fellow hololive member Amane Kanata. The two have been described interchangeably as best friends and a "bickering married couple." Despite this, both have expressed great love and appreciation for one another, and often cameo in one another's streams as either intentional guests or as background distractions. Kanata has even stated on a stream that she and Coco had bought "couple-rings."
She is very much not fond of "Japanglish", words and sentences combining English and Japanese words of the same meaning, such as "arigathanks gozaimuch" and "yametekudastop". Much to her chagrin, fellow VTubers such as Natsuiro Matsuri, Aki Rosenthal, Tsunomaki Watame, Ninomae Ina'nis and Momosuzu Nene tend to like it and r/hololive likes to tease her about it.
When asked about whether she has eaten humans before and how they taste, she was ready to answer but then jumped to the next topic instead after quick pondering.
Her tail is allegedly fake, and is plugged onto her butt.

But another theory, based on her form shown in the hololive alternative PV, is that her tail was ripped off in her dragon form thus becoming a corpse of its former self. However, it's still buttplugged into her.
Coco's mouse cursor becomes a tail buttplug during her Reddit meme reviews.
External Links
Media
Further readings
References
Community content is available under
CC-BY-SA
unless otherwise noted.