This is a Japanese name; the family name is Kishido.
Associated pages
Kishido Temma (岸堂天真) is a male Japanese Virtual YouTuber endorsed by hololive's branch Holostars. He is a member of its second generation, also known as "SunTempo" alongside Astel Leda and Yukoku Roberu.
Introduction Video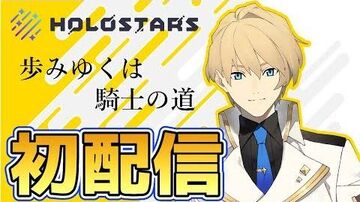 Temma's introduction.

Personality
Temma also can act "psychopathic" and "evil" during games such as Dead By Daylight and Among Us, and will exhibit behaviors such as wanting to kill and blissfully laughing and showing no remorse whenever he successfully kills someone. This has lead fans and fellow Holostars to call him "Dark Knight".
Profile
A cheerful and energetic knight apprentice from the Schools of Knights. He has neverending smiles. Chivalrous spirit has meant everything to him since he was born. After graduation, in order to know more around the world, he managed to challenge lots of different things. He had his first ramen recently and he was amazed by it.[2]
History
Background
His Twitter account was created on 13 November 2019; his YouTube channel was created on 25 November, and his debut stream was performed on 14 December.
2020
On 29 February, during his 3000 subscriber celebration stream, he introduced his pet, Hiyamaru.[3]
On Holostars' first anniversary, 3 June, 2020, Holostars' cover of Blessing by halyosy was released, making it Temma's first cover song.[4]
On 12 July, he released his first solo cover song, Heroine Ikusei Keikaku (Heroine Development Plan) by HoneyWorks.[5]
On 5 August, he debuted his summer costume.[6]
On 25 December, it was announced that all the Holostars members would receive new costumes on 3 January, 2021, commemorating New Year's.[7]
2021
On January 3, he revealed his new year's costume,[8] which was modelled by vivi.[9]
On February 21, as part of his 50,000-subscriber celebration, he opened his channel's membership feature.[10]
On 26 March, he reached 60,000 subscribers.[11]
Events
On 1 May, 2020, Temma, as well as Yukoku Roberu and Astel Leda appeared on on Holocomi (ホロコミ), an online convention/event hosted by Shirakami Fubuki.[12]
On 26 October, 2020, it was announced that Holostars goods would be sold at Animate Girls Festival Aozora Marche, held on November 7-8, 2020,[13] and on 29 October, 2020, it was announced that Holostars would be participating in the event as guests.[14] Temma is part of the "Virtual Clerk" (バーチャル店員) exhibition in the event.[15]
On 28 January, 2021, it was announced that "Net Talking Festival", an Holostars exclusive event, will be held on 14 February where fans can have a one-on-one chat with any of the Holostars members for 3 minutes, talking about their daily feelings of gratitude to an important person.[16]
Mascot & Fans
His mascot is his grey ferret, Hiyamaru (ひや丸). Hiyamaru is a 2-year-old female ferret born on 10 August and likes to stay around his neck.
His fanbase is officially called "Kishi-men" (岸メン).
When fans are waiting for Temma to start a stream, they say "taikishi" (待騎士), a portmanteau of "taiki" (待機, lit. "waiting") and "kishi" (騎士, lit. "knight").
Occasionally, when Temma ends the stream, fans say farewell by saying "otsukishi" (おつきし).
Relationships
Units and groups aside from SunTempo he is a part of are:
Trivia
Most people do not realize this but Temma is actually an isekai (from another world) knight. Landing in Japan, ramen was the first thing he tasted and fell in love with it.
His illustrator is someone who has done character designs for Tales of Zestiria, Touken Ranbu and the Fate franchise.
Temma has stated through multiple streams that he is a forever 20 year old who doesn't age.
Temma is one of the members of Holostars whose English comprehension skill is on par to be able read and speak on a simply level as he has shown in his "ENG ONLY" streams as well as answering English comments in chat that he comes across.
When the 2021 Holosters New Year Costume Acrylic Stand became available to be ordered, Temma's was the first to be sold out domestically and internationally. [18]
Temma's three favorites killers in Dead By Daylight are the Nurse, Spirit and Nightmare.
The greatsword he wields when wearing his new year's outfit is named Tenken:Yozora (天剣:夜空)[19]
External Links
Media
Further readings
Solo Debutants
(hololive 0th Gen)
First Generation
Second Generation
hololive GAMERS
Third Generation
(hololive Fantasy)
Fourth Generation
Fifth Generation
(NePoLaBo)
INoNaKa MUSIC
Retired
References
Community content is available under
CC-BY-SA
unless otherwise noted.