This is a Japanese name; the family name is Kishido.
Associated pages
Kishido Temma (岸堂天真) is a male Japanese Virtual YouTuber endorsed by hololive's branch holostars. He is a member of its second generation, also known as "SunTempo" alongside Astel Leda and Yukoku Roberu.
Introduction Video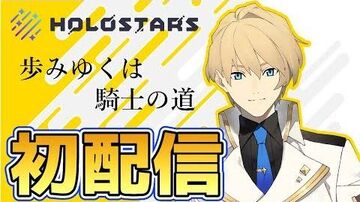 Profile
holostars.hololivepro.com
A cheerful and energetic knight's apprentice from the School of Knighthood. He is always smiling.


He has followed the path of chivalry ever since he was born. Upon graduation, he went out to experience the world.

He was amazed when he ate ramen for the first time.[2]
hololive.tv
A cheerful and energetic knight apprentice from the Schools of Knights. He has neverending smiles. Chivalrous spirit has meant everything to him since he was born. After graduation, in order to know more around the world, he managed to challenge lots of different things. He had his first ramen recently and he was amazed by it.[3]
Personality
Temma also can act "psychopathic" and "evil" during games such as Dead By Daylight and Among Us, and will exhibit behaviors such as wanting to kill and blissfully laughing and showing no remorse whenever he successfully kills someone. This has lead fans and fellow holostars to call him "Dark Knight".
Temma has shown that when he isn't chaotic, he has a realistic and positive mindset. Such as telling fans that while their support is appreciated but most importantly to take care of themselves.[4] In a study stream, he consoled his viewers that exercising can help you to become more happy.[5] During another stream, Temma made it clear that he's not worried about numbers and that when it came to streaming, he streams what he likes understanding viewers may or may not like it.[6]
History
Background
His Twitter account was created on 13 November 2019; his YouTube channel was created on 25 November, and his debut stream was performed on 14 December.
2020
On 29 February, during his 3000 subscriber celebration stream, he introduced his pet, Hiyamaru.[7]
On 3 June, in commemorating holostars' first anniversary, holostars' cover of Blessing by halyosy was released, making it Temma's first cover song.[8]
On 12 July, he released his first solo cover song, Heroine Ikusei Keikaku (Heroine Development Plan) by HoneyWorks.[9]
On 5 August, he debuted his summer costume.[10]
On 25 December, it was announced that all the holostars members would receive new costumes on 3 January, 2021, commemorating New Year's.[11]
2021
On 3 January, he revealed his new year's costume,[12] which was modelled by vivi.[13]
On 21 February, as part of his 50,000-subscriber celebration, he opened his channel's membership feature.[14]
On 26 March, he reached 60,000 subscribers.[15]
On 13 May, he reached 70,000 subscribers.[16]
On 12 June, he reached 80,000 subscribers. [17]
On 2 July, he reached 90,000 subscribers.[18]
On 13 July, hololive's Japanese Twitter account announced that every holostars member would get 2.0 version of their 2D model.[19]
On 15 August, he reached 100,000 subscribers, being the eighth holostars to reach this milestone.[20]
On 16 September, Temma announced during a stream that he would receive his 3D model.[21]
On 23 September, Temma debuted his 3D model. It was also announced that Temma would debut his first original song "Shooting Star."
Discography
Main page: Kishido Temma/Discography
ShootingStar
1st single
15 December 2021    

"ShootingStar" (シューティングスター)
"ShootingStar" (instrumental)

External links
Digital Release • YouTube
Magic Word Orchestra
as HOLOSTARS
21 December 2021    

"Magic Word Orchestra"
"Magic Word Orchestra" (instrumental)

External links
Digital Release • YouTube
Events
2020
On 2 May, Temma, along with Yukoku Roberu and Astel Leda appeared on Holocomi (ホロコミ), an online convention/event hosted by Shirakami Fubuki.[22]
On 26 October, it was announced that holostars goods would be sold at Animate Girls Festival Aozora Marche, held on November 7-8, 2020,[23] and on 28 October, 2020, it was announced that holostars would be participating in the event as guests.[24] Temma is part of the "Virtual Clerk" (バーチャル店員) exhibition in the event.[25]
2021
On 28 January, it was announced that "Net Talking Festival", a holostars exclusive event, will be held on 14 February; where fans could have a one-on-one chat with any chosen holostars members for 3 minutes, from talking about their daily gratitudes to about their important persons.[26]
From 25 until 27 June, all holostars members were participating in their 2nd anniversary event "Our Rally 2021". Across the three-day event, 3 holostars members would be featured each day, Temma participated on the 2nd day.[27] On the final day of the event, an original song Just Follow Stars was released on the official Holostars channel featuring all members singing.
On 24 July, Temma participated on the Apex Legends tournament Cypher Cup Festival as the team "holostars" along with Astel Leda and Kanade Izuru. The team placed 7th in overall ranking and did not advance to the main tournament's Grand Final.
On 22 August, Temma participated on Apex Legends VTuber Most Cooperatitive Tournament Season 3 as team "ReTIcle" with fellow holostars members Kanade Izuru and Rikka. The team placed 17th in overall ranking.[28]
On 15 October, holostars' Twitter account announced that holostars would participate in "Animate Girls Festival 2021."[29]
Mascot & Fans
His mascot is a grey ferret called Hiyamaru (ひや丸). Hiyamaru is a 2-year-old female ferret born on 10 August and likes to stay around his neck.
His fanbase is officially called "Kishi-men" (岸メン).
When fans are waiting for Temma to start a stream, they will say "taikishi" (待騎士), a portmanteau of "taiki" (待機, lit. "waiting") and "kishi" (騎士, lit. "knight").
Occasionally, when Temma ends the stream, fans will say "otsukishi" (おつきし) as farewell.
Relationships
Units and groups aside from SunTempo he is a part of are:
Trivia
Most people do not realize this but Temma is actually an isekai (from another world) knight. Landing in Japan, ramen was the first thing he tasted and fell in love with.
His illustrator has done character designs for Tales of Zestiria, Touken Ranbu and the Fate franchise.
Temma has stated through multiple streams that he is a forever 20 year old who doesn't age.
In a stream, Temma said that he has a white horse which costs a lot to maintain and has yet to reveal its name. In fact, it is actually a bicycle he owns but fans jokingly played along that the bicycle is a horse since it is befitting of his knight image.[31]

During a stream, he decided that his horse's name is Umazou (ウマ蔵).[32]

During a slang stream with Arurandeisu, they came up with new nicknames for themselves. Temma's was CGK (Charming Genius Knight).[33]
Temma is one of holostars members whose English comprehension skill is good enough to be able to read and speak with simple sentences as he has shown in his "ENG ONLY" streams as well as answering English comments in chat that he comes across.

Temma has showcased his English skills before in his "ENG ONLY" streams for Dead by Daylight[34] and Fall Guys.[35]
Since started a series of "Studying English" streams, Temma had been able to show more of his English skills. He even wrote down notes in real time during the stream in which he shared on a twitter post after ended the stream. He kept it all on one twitter post and made replies showing future notes he took to keep it organized.[36]

Temma has revealed for few times on his streams that he practiced piano for 10 years when he was younger before he stopped playing.
When the 2021 holostars New Year Costume Acrylic Stand became available to be ordered, Temma's was the first to be sold out domestically and internationally.[39]
Temma's three favorites killers in Dead By Daylight game are the Nurse, Spirit and Nightmare.
The greatsword he wields when wearing his new year's outfit is named Tenken:Yozora (天剣:夜空).[40]
Temma was celebrating his 1st anniversary on YouTube when Google's servers crashed worldwide. Despite this, his stream was still live and he continued on with the celebration.[41]

Astel made a joke about the server crash on Twitter, by showing his point of view on Temma's stream.[42]

Temma revealed that he practiced karate for 10 years from the age of 5 to 15 and has a black belt. He hopes to be able to show his karate skills in a 3D stream one day.[43]

As promised, Temma did a section during his 3D debut where he showed his karate moves.[44]

Temma has revealed through multiple streams that he is an only child and because of having no siblings he was very active as a child growing up. Even more so, he's shared that if he was to have a little brother, he'd want someone like Izuru.
Temma can actually cook (aside from ramen) but there are just days where either he cooks or just goes out to eat or buy food.
Temma's first original song was composed by his favorite composer Natsushiro Takaaki.[45]
External Links
Media
Further readings
References