Kizuna AI (キズナアイ, 絆愛, lit. Bonded Love) is a Female Japanese Virtual YouTuber who debuted on 29 November 2016.
Introduction Video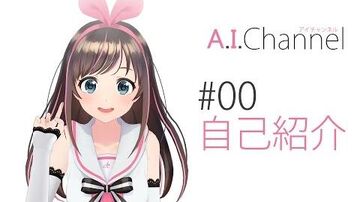 Kizuna Ai's self-introduction.

Personality
Kizuna Ai loves to talk about what she does wisely and intelligently can sometimes be spoiled. She also likes to explain about the subject she talks about. She loves to dance and sometimes is very happy with other topics. She is quite funny. Although she's not really good at English, she communicates with her foreign fans positively.
Her dream is to appear in a commercial on TV.
Appearance
Kizuna AI has long brown streaked hair with pink highlights and bangs, aquamarine colored eyes and her classic clothes are white sailor suit and short pants with pink.
In her A.I. Games outfit, AI has her hair styled in a bob haircut with bangs, she wears a blue jacket, a white with pink top and black leather shorts. She also has a set of black headphones around her neck and a choker.
In both attires, AI wears her signature heart-shaped pink headband which she refers as the Pyoko-Pyoko (ぴょこぴょこ).
Invitations and Appearances
She was invited to a game called Alien Egg
She was invited to a game called Mitra Sphere
She was invited to be on TV
She appears in the game Cinderella 9
She made her anime debut in the 2018's Mahou Shoujo Site. She voiced one of the main villains, the Administrator Hachi (捌).
She was a guest on TV show Sunday Japon Weekly News.
She was featured in US JNTO (Japan National Tourism Organization)'s Come to Japan campaign.
She was featured in an NHK special on the 2018 Nobel Prize, which attracted criticism for reasons that can be summed up as her being too cute and not a scientist.
On 1 March 2019 she debuted her collaboration with the Dutch DJ duo W&W, the song called "The Light"[1]. AI teased the collaboration on 26 August 2018[2]. A demo of the song informally called as "Together", was debuted on W&W's live setlists and AI's Hello World concerts.
AI is the face of an ongoing campaign for the rice cracker with cheese called Cheese Okaki (チーズおかき) produced by Bourbon [3] [4]. She dedicated two videos on her channel advertising the snack [5] [6].
AI also have her own signature model of wireless headphones, produced by Japanese audio brand AVIOT [7], the TE-D01d-kzn. Ai's ads advertising the headphones are parodies of Neon Genesis Evangelion [8][9]
Since March 2019, AI is the image for Nissin's instant cup noodle ramen Cup Noodles (カップヌードル)[10][11]. In the advertising campaign, AI has variations on her color scheme to match the new released flavors: Miso (Orange), Smokey & Spicy Chicken (Turquoise) and Cheese Curry Beef (Yellow)[12]. The Japanese website of Cup Noodles was revamped as well with AI as the main feature[13]. AI is the second VTuber who promotes Nissin products as Kaguya Luna has done advertising campaigns for Donbei Kitsune Udon (どん兵衛) and the instant Sosu Yakisoba U.F.O.
Phrases
"Fuck You"
"OH MY GOD"
"But i'm technically senpai"
"I am the boss"
"Really cute"
"Daaa Yaaa"
"Fuck you no fuck you"
Profile
Birthday: June 30th
Height: 156cm
Weight: 43kg
BWH: B85 W59 H83
Work: YouTuber
Appearance Age: 16 years old
Events
Her 2nd birthday was on 30 June 2018, for the celebration AI had an "in-person" event where a few hundred fans attended to watch her on multiple large screens. Other virtual YouTubers such as Kaguya Luna, Siro, Mirai Akari, Tokino Sora, Fuji Aoi, Baacharu, Nekomasu, Osanai Mei and the Omega Sisters were invited as well. AI debuted her first single "Hello, Morning" and revealed multiple new outfits. The event was livestreamed on NicoNico and YouTube, although the latter had multiple technical problems, and the archive that was put up was based on the Nico Nico Douga stream.
AI held her first live concerts on the last weekend of 2018 (29 and 30 December). The brief tour was named "hello, world" with two sold out shows on Tokyo and Osaka respectively. The concerts featured all the DJs and musical producers that collaborated with AI in the production of her songs: DÉ DÉ MOUSE, sasakure.UK, Nor, Yunomi, ☆Taku Takahashi, MATZ, TeddyLoid, Yunomi, Avec Avec and Pa's Lam System. AI performed for the first time all her singles live along with the debut of Virtual-san wa Miteiru opening theme "AIAIAI" and a demo version of the song that eventually become the song "The Light" (a collaboration with W&W). The second concert at the Zepp Osaka Bayside was broadcast live on Nico Nico Douga.
Trivia
She is one of the pioneers of the Virtual YouTubers fad, while not the first one ever (that's the Japanese-English Ami Yamato), AI was the one who originated the myriad of VTubers that exist today as she proved her style of videos to be successful and popular.
Her junior, Kaguya Luna calls her "Oyabun" (親分; Big Boss).
Many of her fans in Japan compare her with Mirai Akari but in other places they compare her with Kaguya Luna.
She is known to be comically bad at video games, often to the entertainment of her viewers.
She often remarks that she is poor and can't afford a lot of video games even though she would like to play them.
She considers her "clothes" to be a part of her body, as she is a virtual entity. Because of this, she considers herself to be naked all the time.
She was the first VTuber to have a verified Twitter account.
Viewers have noted the strong resemblance of her voice to Kasuga Nozomi.
Since 2018 Kizuna AI is the host of a TV show for the Japanese Network Nippon TV. She hosted the show Kizuna AI no BEAT Scramble and now she is the face of the show Nobangumi.
AI will sing the main theme of the animated movie Laidbackers, the song Precious Piece. Laidbackers will be released on April 5 2019 [14][15]
AI will debut her first album called "Hello World" on 15 May 2019. The album will include her singles (sans her collaboration song with W&W The Light) and the DVD version will include the recording of her live show at the Zepp Osaka Bayside. Also her singles will be released separately on CD [16][17]
External Links
References