We're Getting Mutants in the MCU - The Loop
Play Sound
         This is a Japanese name; the family name is Kurono.

Associated pages
N-ko Mei Kurono (N子・メイ・黒野) is a female corporate bilingual (Japanese and English) Virtual YouTuber. She is the Official VTuber and Ambassador for Netflix Anime.
Introduction Video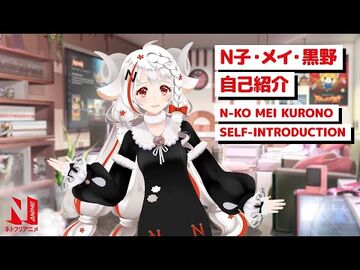 Personality
N-ko is a friendly sheep-human lifeform who is enthusiastic about anime. She loves singing, dancing, and getting a massage, but she doesn't like kanji or anything with horror elements. On her days off, she enjoys hanging out with her friends. She was born and raised in California and is fluent in Japanese and English.[1] Her videos are primarily in Japanese, but she switches to English as appropriate. Her videos feature subtitles in English, Chinese, Indonesian, Korean, Portuguese, Spanish, Thai, and Vietnamese. She can speak a little bit of Spanish and has done short videos in simple Spanish, Portuguese, Mandarin Chinese.[2]
Her content revolves around promotion and recommendations of anime from Netflix's catalog through her weekly program, "The N-ko Show" and her anime showcase videos, called N-ko Presents. She also covers anime-like Netflix Originals and promotes non-Japanese animation and live action shows to Japanese audiences.[3] The N-ko Show often features a "Highlight" intro, "Weekly Favorites" that cover recommendations based on the video topic, "Please tell N-ko", N-ko's Question and Answer Corner, and N-ko Japanese. At the start of her videos, she often covers aspects of American culture, Japanese culture, and her own life experiences. Some of her videos cover aspects of anime culture in Japan like the ubiquity of merchandise and touring Akihabara for overseas fans, but she also does the same for aspects of anime culture overseas that Japanese fans might not be aware of, like showing how to use MyAnimeList.[4][5]
In her self-introduction, she planned on doing song covers and game commentary, and collabs with other VTubers.[1][6] She also expressed a desire to do livestreaming and play APEX Legends, although she felt she wasn't skilled at the game.[7] She also makes comedic clips as YouTube Shorts.
She introduces her videos by drawing the letter N with her arms and saying "Ta-da!", mimicking Netflix's intro logo animation and noise. She usually greets viewers with a variation on "Hi, it's N-ko!" (N-ko dayo! N子だよ!) She signs off with "See ya!" (matane! またね!)
History
Background
2021
N-ko made her official debut on 27 April with her self-introduction video.[1] A short preview video leading up to her debut was released on 24 April.[8]
On 11 August, N-ko had her first YouTuber collaboration with the Anituber Gigguk, covering the anime Dorohedoro.[9]
On 28 August, N-ko posted a YouTube short to celebrate her and Netflix's birthday on 29 August.[10]
On 10 September, N-ko posted a video touring Netflix Anime Creators' Base at Netflix Tokyo. This video was featured in various news articles about the Creators' Base opening.[11][12][13]
On 25 September, N-ko was the "Netflix Anime Navigator" for TUDUM: Anime Spotlight, the YouTube only pre-show for Netflix's global fan event, TUDUM. Unlike her usual channel output, she hosted the event in English.[14][15]
On 8 October, she celebrated six months of activity by reacting to user comments from various N-ko videos.[16]
Trivia
N-ko's name is pronounced "E-nu-ko".[6]
Her hometown is Los Gatos, California, Netflix's headquarters. Her birthdate is also shared with Netflix's founding date.
Her gateway into working with Netflix was Devilman Crybaby.[1]
In her self-introduction she admits to being portrayed by an unknown Netflix employee. The specifics of the employee's role are unknown, but she has meetings with Netflix offices around the world and makes adjustments at work to make the anime even more appealing.[1]
Her favorite animals are cheetahs because female cheetahs are representative of her ideal woman. She appreciates them aesthetically and finds it impressive that they can hunt and raise children while still being the fastest animal.[17]
She has a yam allergy. When she goes to Osaka and asks if a dish has yam in it, she has yakisoba as her substitute food.[17]
Her 2D illustrator is Fubuki, known for their character design work for Dead or Alive 6. This lead to a case of mistaken identity for some who mistook the illustrator Fubuki for Shirakami Fubuki from Hololive.[18]
In one video, N-ko responded to a tweet made by Hololive staffer A-chan about N-ko's debut. N-ko said that she looked up to A-chan as a senpai and expressed her desire to have an "office-ladies girls' party" with her. She recommended having lunch in Omotesando, the district where Netflix's Tokyo office was before it moved to Roppongi. [19]
N-ko described fellow sheep VTuber Tsunomaki Watame as "the great senpai" and that she'd do her best as the younger sheep.[19]
Her favorite character type is tsundere and her least favorite type is "the type that is straightforward and honest throughout"[16]
She often describes herself or is described in her videos as the "manager" of Netflix Anime Club. The Netflix Anime Club is a separate series of videos on Netflix Anime featuring various Anitubers playing anime themed games.
Her ears are capable of wiggling.[20]
N-ko adored wikipedia:Full_Moon_o_Sagashite so much that she knows all the lyrics to the insert songs.[5]
When N-ko was little, since she lived in the United States then, she grew up with Digimon, Pokemon, Yu-Gi-Oh!, Sailor Moon, Ojamajo Doremi (Magical DoReMi), and other shows, as well as anime provided to her by her grandma in Japan and a Japanese neighbor on VHS.[5]
Her first anime merch item was a handheld fan with Toshiro Hitsugaya from Bleach printed on it.[5]
Her first anime event was a "Digimon festival" held on August 1st. In the original Digimon Adventure, August 1st, 1999 is the day that the seven chosen children (DigiDestined in the dub) went to camp and were transported to the Digital World. The day is celebrated in Digimon fandom as Odaiba Memorial Day. While N-ko doesn't specify if the event was fan-run or official, a 15th anniversary event for Digimon Adventure was held in Odaiba on 1 August, 2014.[5]
While competent in English and Japanese, due to the bilingual nature of Netflix meetings N-ko does as part of her job, she sometimes gets confused afterwards.[21]
External Links
N_ko - General
N_ko_art - Fanart
References