The Sandman Will Keep You Awake - The Loop
Play Sound
Associated pages
Kuzuha (葛葉) is a male Japanese Virtual YouTuber affiliated with NIJISANJI, formerly a third-batch member of the now-dissolved NIJISANJI Gamers along with Makaino Ririmu, Shiina Yuika and Setsuna. Kuzuha debuted as an independent VTuber on 8 March 2018, and later debuted as part of NIJISANJI on 30 July of the same year. He is currently the most subscribed male VTuber worldwide, with over 1.3 million subscribers on YouTube.
Introduction Video
Profile
He is an extravagant NEET vampire gamer and has now been living with a pet pig that takes care of his belongings.[4] He is a whimsical and carefree vampire that has a habit of getting carried away. He is a cash-strapped vampire with a strong love for money.
Personality
Despite initially debuting as a reserved and suave vampire, the current Kuzuha is a loud-mouth and entertaining individual. He is very expressive when playing games, often shouting or boasting his own genius. He has a characteristic drawl and casual way of speaking which is often parodied by other livers. He is quick to become jokingly aggressive and confrontational to fellow livers, and often says or tweets off-beat things.
However when collabing with other livers he is known to be infamously shy and awkward. His first collaboration with Sakura Ritsuki sparked the birth of what is known as his "Weather Deck", where he attempts to start a conversation by asking about the weather. Though after some time, these collaborations would get more chaotic and less awkward as he gets closer to them. Kuzuha would also sometimes give valuable life advice to his viewers.[5][6] Truthfully, he seems to be a hesitant and modest individual; He often talks about his uncertainty in his own skills and working towards improving himself [7][8] Kuzuha is perceptive to the feelings of others and can easily read the room. He once comforted Yuuki Chihiro in his own way when she cried on stream.
Despite being a vampire, he easily gets scared when playing horror games and would always try to stall for as much as possible if given the chance.
Appearance
Kuzuha has striking white hair of differing lengths across his different avatars. He has pale skin, wide upturned scarlet-red eyes paired with dark eye-bags, and a small mole under his left eye. Though rarely seen and not quite visible in his current outfits, Kuzuha also has a small mole on his right collarbone, and another one on his right arm. Being a vampire, Kuzuha has a pair of sharp pointed fangs, very long claw like fingernails, and pointed ears that have multiple piercings. Kuzuha has been seen wearing multiple differently-styled clothes.
In his current outfit, Kuzuha has his not particularly styled mid-length white hair with a right-sweeping fringe. He wears a black zip-up turtleneck tracksuit with his signature red bat logo on the right side and a white stripe lining from his shoulders to his sleeves. The tracksuit has slits on the back near the waist so that his wings can open freely. Under it is a dark wine red sleeve length V-neck with a cross design on the neckline. He wears this ensemble either bare-foot or with lounge slippers, and with white wide-leg lounge pants that are slightly longer than his legs.
History
Background
Kuzuha made his YouTube debut as an independent VTuber on 8 March 2018. After being personally scouted by ANYCOLOR Inc. (formerly Ichikara Inc.), he officially joined the 3rd batch of NIJISANJI Gamers (formerly) and received a new Live2D character model on 30 July 2018.[9][10] Before joining, Kuzuha was planning to join NIJISANJI as a trainee but after he saw Kanae and Akabane Youko passed the audition, he decided that he will also join NIJISANJI Gamers.
2018
On 5 July, Kuzuha revealed his summer outfit, in a chatting stream making it his second outfit in his old Live2D model as an independent VTuber. After he debuted in NIJISANJI, the video was privated and is no longer viewable.
On 30 July, Kuzuha officially joined NIJISANJI as a part of the 3rd generation of NIJISANJI Gamers, and at the same time received his current Live2D model.
On 11 October 11, he became an official partner of PUBG JAPAN.[11]
On 26 November, Kuzuha unveils his second outfit, his Games Day Outfit which features his noble's clothing from the demon world, in an outfit unveiling chat stream.
2019
On 17 April, Kuzuha and Kanae both reveal their ChroNoir matching outfits on ChroNoir.tv at their official ChroNoir channel on Openrec.
On 2 July, Kuzuha reveals his FPS outfit during his 100,000 subscribers commemoration chat stream.
On 26 November, Kuzuha debuted his 3D model during a stream.[12]
2020
On 28 January, Kuzuha reveals his 2019 Winter casual outing outfit in his outfit unveiling stream, and on twitter along with his new key visual.
On 28 April, Kuzuha reveals his April 2020 casual outfit (black mountain parka, and black harem joggers) which was a different draft of his 2019 Winter outing outfit during a outfit unveiling chatting stream.
On 6 June, Kuzuha reveals another different draft of his 2019 Winter outing outfit, his June 2020 casual outfit (black turtleneck, and long red cardigan) in an outfit revealing stream.
On 26 July, in commemoration of reaching 200,000 subscribers on his YouTube channel, Kuzuha released Devil's Manner cover song.
2021
On 3 February, Kuzuha's cover of "KING" surpassed 10 million playbacks making it the the first video from NIJISANJI to reach 10 million ever, as well as the only cover of King reaching the milestone. It is also the most viewed cover of the song, reaching 10 million views in just 2 months, which is faster than the original which did it in 5 months.
On 8 March, Kuzuha briefly showed his 4th casual outfit (black knitted turtleneck sweater, and long violet overcoat) during his 3rd Anniversary Commemorative stream along with two new header and logo designs. Since there were two designs to choose from, Kuzuha posted a poll on Twitter to let the viewers choose which design they preferred. After the poll closed, the second design was chosen as the new channel header.[13]
On 19 March, Kuzuha and Kanae both reveal their white White Day Night Party outfits in a reveal stream where they also revealed a new header and logo design for ChroNoiR.[14]
On 9 June 2021, Kuzuha's cover of "KING" surpassed 20 million playbacks. A day before this, a viewer once mentioned that Kuzuha's KING cover was apparently used in one of their classes at school.
On 2 September, Kuzuha reached 1 million subscribers. He is the first liver in NIJISANJI and first male VTuber worldwide who reached the milestone.[15] Despite being really happy for reaching a huge milestone in his career, and getting a lot of congratulatory messages and fanarts, he confessed that he did not prepare anything to celebrate it.[16][17][18]
On 25 September, Kuzuha debuted his fifth 2D costume. The new costume has a semi-formal look with navy-blue suit jacket as the outer with brown knitted long-sleeved v-neck sweater on top of a black and grey checkered collared-shirt, coupled with black trouser and black shoes. He asked to use #くずはの布 hastag for sharing about his new look.[19][20]
On the same stream he announced that he will have an announcement stream on 28 September 2021 at 21.00 JST.
He also announced the release of his first original single to be launched on 28 September 2021 at 00.00 JST. The song will be released on iTunes Store and many other digital music stores. It will be also available on Apple Music and Spotify.
He asked listeners to use #葛葉の日 (Kuzuha's Day, Kuzuha no Hi) hashtag on 28 September, hopefully it will get into Twitter trending.
He mentioned that he will join 7th Crazy Raccoon Cup on 9 October 2021, the members for his team are to be announced on later date.
On 26 September, Kuzuha announced his participation in 7th Apex Legends Crazy Raccoon Cup along with Fuwa Minato and Ras (Crazy Raccoon).[21][22]
On 28 September, Kuzuha's Day (9/28 can be read as ku-zu-ha) and the Twitter hashtag #葛葉の日 went trending #1 in Japan. Kuzuha's first original single "Contrail" was released and reached #1 spot on iTunes Japan chart[23] and #1 most downloaded song according to Billboard Japan.[24] The original MV was also released on the same day.
On his stream, he announced for an illustration contest running from 29 September to 20 October with the theme "Clothes you want Kuzuha to wear" (葛葉に着せたい服).
He also announced his first solo concert "Scarlet Invitation" will be held on his birthday, 10 November 2021.[25] The concert will be available both offline and online. Kuzuha requested for attendees to wear something red as the dress code.
On 31 October, to commemorate his belated 400,000 subscribers celebration and Halloween, Kuzuha revealed his genderbend form ー Sanya Live2D model with gothic lolita fashion style outfit, following the release of song cover "Vampire" which showing Sanya as the artwork.[26]
On 10 November, Kuzuha revealed his 2nd 3D model with the same design as his "Contrail" illustration during his first solo birthday live concert "Scarlet Invitation". He also announced that he was going to have major debut under Virgin Music (Universal Music Japan) record label and launched his first mini album "Sweet Bite" on 9 March 2022.[27]
2022
On 17 February, Kuzuha came out as one of the winners of Streamer Award on Game Streamers Awards 2021 along with Jasper, SPYGEA, Shibuya HAL, StylishNoob, SHAKA, and Kato Jun'ichi. Streamer Awards were rewarded to those whose viewing-hour were more than 1 billion minutes.[28]
On 26 February, Kuzuha reached 1,200,000 subscribers on his YouTube channel.[29]
On 31 March, Kuzuha reached 1 million followers on his Twitter account.[30]
On 9 April, Kuzuha debuted his sixth 2D costume, a school uniform consisting of a black blazer over a red jacket with a white shirt and tie underneath, as well as black check-patterned pants. The costume also came with two new hairstyles, one messy and the other neat and choppy, both black. Additionally, his eyes can change color to a natural brown tone, and his ears and nails can become more human-like.[31] This costume was designed by Inutsuki Kemuri rather than Honda Loalo.[1]
On 22 April, VALORANT Japan announced that Kuzuha gained the right to do watch party holder for "2022 VALORANT Champions Tour Stage 1 Masters: Reykjavík" along with StylishNoob, SHAKA, SPYGEA, Jasper, k4sen, and Shibuya HAL.[32]
On 19 June, Kuzuha was featured on YouTube Japan's 15th anniversary video.[33]
Events
2018
2019
On 14 April, Kuzuha appeared in Vtuber PUBG Tournament as a member of Shirinsou (Kanae, Honma Himawari, Akabane Youko and Kuzuha). The team ranked 5th.
On 26 October, Kuzuha performed with Kanae as ChroNoir on the last day of NIJISANJI Week in the VtuberLand event in Yomiuri Land. The performance took place at the Nittele Ranran Hall.[34]
On 3 November, Kuzuha appeared with Kanae as ChroNoir in the Hareza Hall Opening Commemorative Event.[35] along with other very famous people like Nobuhiko Okamoto and Nobunaga Shimazaki.[35]
On 4 December, Kenmochi Toya announces that he will be hosting the 2nd Mario Kart NIJISANJI Cup on Twitter with 67 participating Livers. Kuzuha was among them. The winner will be decided after 3 matches, the first one being a qualifying match while the second and third will be the main tournament.[36]

On 21 December, the match Qualifiers was held within 6 different leagues. Kuzuha fell into the C League with 10 other Livers where he won and placed 1st Place with 46pts which meant he will enter the main tournament.[37][38]
On 28 December, the main tournament (Semi Finals and Finals) has begun with 3 leagues playing in the Semi Finals. Kuzuha is placed in the C league with 9 other Livers. After 4 races, Kuzuha takes 1st place once again and will be advancing to the Finals.[39][40]
After placing 1st Place in both the Qualifying and Semi-Finals, Kuzuha plays for the finals and after 6 races, Kuzuha finishes as 1st Place with 68 pts.[39]
2020
On 13 February, Kuzuha performed in the Zepp concert tour NIJISANJI JAPAN TOUR 2020 Shout in the Rainbow! at the Zepp Fukuoka venue.[41]
On 29 March, Kuzuha appeared in the PUBG Legion Doujou Cup Vtuber Edition with fellow Liver Kanae as Guest Players for the tournament.[42]
On 24 July, Kuzuha participated in the Apex Rage x Legion Doujou Cup as a member of KanaChiiKuzu.[43]
On 2 August 2020, Kuzuha participated in the Apex Legends VTuber Most Cooperatitive Tournament as team KanaChiiKuzu. The team took 3rd place in overall ranking with Kuzuha placed 5th in top overall damage.[44][45]
On 7 August, Kuzuha appeared in the Official Nijsanji booth for the BiliBili World 2020 Shanghai in Shanghai National Exhibition and Convention Center along with other NIJISANJI Vtubers. The event lasted for 3 days and celebrated the event's end on the 9th of August 2020.[46]
On 7 September, Kuzuha participated in the NIJISANJI APEX 2434 Kill Relay as a member of KanaChiiKuzu.
On 18 September, Kuzuha performed on the first day of the Kyo to Aki no NIJISANJI live event at the annual Kyoto International Manga Anime Fair (also known as KyoMafu), alongside Kenmochi Toya and Kanae. Kuzuha and Kanae also served as the "Kyo Mafu 2020 Welcome Ambassadors".[47]
On 1 November, Kuzuha participated in the 2nd Apex Legends Crazy Raccoon Cup as a member of KanaChiiKuzu.[48][49] They placed 13th and won the Ojiji (Crazy Raccoon's owner) Award with prize money that's worth around $3000.[50][51]
On 9 December, Kuzuha appeared as a guest performer in Kenmochi Toya's first solo live event, 虚空集会 (Kokuu Misa), along with three other guests, Tsukino Mito, Peanuts-kun and Fushimi Gaku at the KT Zepp Yokohama hall.[52]
On 12 December, Kuzuha participated in the NIJISANJI's King of Rock, Paper Scissors Tournament where he was promptly eliminated in the first round against Hakase Fuyuki.
On 26 December 2020, Kuzuha participated on the 3rd Mario Kart NIJISANJI Cup as a seeded player.[53]

Kuzuha participated on the 3rd Mario Kart NIJISANJI Cup Quarter Finals as a Seed Player. He won through the B League Qualifiers in 2nd Place right after Kanda Shoichi and will be participating on the Semi Finals.[54]
Kuzuha participated on the 3rd Mario Kart NIJISANJI Cup Semi Finals. After three tracks, he was eliminated at 8th place. [55]

On 27 December, Kuzuha participated in the Apex Legends Crazy Raccoon Cup as team Dark Inferno Dragon (DID) along with Soraru and Kanae. After 5 rounds, first 3 matches in World's Edge and Last 2 in Olympus, Dark Inferno Dragon took 16th place in the overall rankings.[56][57]
On 29 December, Kuzuha performed in the 2020 NIJISANJI Unit Music Festival, an event held and organized by Rindou Mikoto, along with Kagami Hayato and Kenmochi Toya. The event lasted for 2 hours and ended with all of the performers singing the NIJISANJI original, Virtual to Live.[58][59]
On 31 December, Kuzuha along with Kanae and Shimazaki Nobunaga hosted NIJISANJI's Second TV Program and New Year's Eve Special "NIJISANJI across the year".[60][61]
2021
On 4 January, Kuzuha participated on the Fukubukuro Contest! Akeome Momotaro 2021 with 11 other Livers split into 4 groups. Kuzuha was part of the team "HDMI" with Shiina Yuika and Ibrahim After 3 rounds, HDMI placed 2nd Overall.
On 9 January, Kuzuha participated on the New Year! NIJISANJI Mahjong Cup 2021, an event organized by Maimoto Keisuke and sponsored by Yostar Ltd. with 64 livers in total participating. He was part of group H, playing against Sorahoshi Kirame, Hayase Sou, and Ibrahim, and placed 4th in the H group.[62][63][64][65]
On 24 January, Kuzuha participated in Apex Legends VTuber Most Cooperatitive Tournament Season 2 as the leader of team "Ei Kyuu Fumetsu" (英吸不滅, Heroes of Bloodsuck and Immortal), also known as AQF, along with Fuwa Minato and Ex Albio.[66] After 5 matches in the Olympus Map, the team ranked 12th overall.[67][68][69]
On 28 February, Kuzuha appeared and performed in the third and last day of the NIJISANJI 3rd Anniversary Festival 2021 or NijiFes2021, as a performer in the VACHSS (Vampire, Angel, CEO, Host, Student, Singer/Songwriter) stage along with Kanae, Kagami Hayato, Fuwa Minato, Kenmochi Toya and Yumeoi Kakeru and as well as the Dokuzuhonsha stage along with Dola, Honma Himawari and Yashiro Kizuku. After both of the performances, Kuzuha also participated in both of the stages' speedy post-performance talk with Dokuzuhonsha's talk MC'ed by Kenmochi Toya and VACHSS's talk MC'ed by Ibrahim. The event was held in the venue, Tokyo Big Sight Aomi Exhibition Building.[70]
On 14 March, Kuzuha participated in the 4th Apex Legends Crazy Raccoon Cup as Team KanaChiiKuzu.[71] After 5 matches, 3 in World's Edge and 2 in Olympus, the team placed 6th overall with 34 points and also won the Oji-san Award with Kanae receiving a fireworks set worth 100,000 yen.[72][73]
On 20 March, Kuzuha appeared as a guest commentator on Sony Interactive Entertainment's (SIE) PLAY ALIVE 2021 : Apex Legends Season 08 Special Program.[74][75]
On 3 April, Kuzuha participated in Shinobism Gaming's Shinobi Apex Legends Customs pre-tournament as a member of team "KanNanShinKu" (かんなんしんく) along with Kanae and Inui Shinichiro. With 6 matches, 2 in Olympus, 2 in World's Edge and the last two in King's Canyon the tournament ended with the team took 2nd place in overall ranking and Kuzuha ranked 2nd in most kills and 5th in most damage.[76][77]
On 10 April, Kuzuha participated in the Large Scale Casual Tournament for APEXFes as team "Akatsuki no Yaiba -Inishie-" (赤月の刃-イニシエ-) along with Ibrahim and Kanae[78] The tournament consisted of 4 matches, all in World's Edge map with the team placed 17th in overall ranking.[79][80]
On 24 April, Kuzuha appears on the variety and talk show "Ohayo Japan!", an event behind a paywall in Niconico douga, along with Kanae and voice actor, Shimazaki Nobunaga as part of the much larger event, Super Seiyuu Festival 2021.
On 5 May, Kuzuha participates as part of the YouTube Gaming Crosszone event in the Official Apex Legends: Legacy Launch Party, held to commemorate the release of Apex's new season update, Legacy. The event was a duos event hosted by Shibuya Hal. Kuzuha was paired with the event's guest, Akagami no Tomo.[81]
On 15 May, Kuzuha participated in the 5th Apex Legends Crazy Raccoon Cup as team "BajiSayFuu" (馬耳say風) along with Kanae and Vodka (Riddle).[82] The tournament lasted for 5 matches, 3 in World's Edge map, and the last 2 in Olympus map. The team placed 17th in overall ranking with 15 points.[83][84] After the tournament, CR Cup's official theme song was released featuring multiple VTubers, pro-gamers, utaites, and other internet personalities, including Kuzuha.
On 5-6 June, Kuzuha participated in the 1st VALORANT Crazy Raccoon Cup as team C "Asparanoia" (アスパラノイア) along with Shirayuki Reid, Fisker (FAV Gaming), SPYGEA (DeToNator), and Tenmilia; with Retloff (FAV Gaming) as their coach. The team placed 10th in overall ranking.[85]
On 6 June, Kuzuha, along with Yuuki Chihiro and Kanae, appeared in the APEX Legends Global Series APAC North Finals as guest MCs for the pre-tournament event, and as well as players for the Arena Battle Twitter campaign. After the Arena Battle, they were able to amass around ¥651,000 worth of amazon gift cards that will be given to 21 random viewers who applied for the campaign.
On 12 June, Kuzuha participated in the first ever NIJISANJI Apex Party with DeToNator (commonly referred to as NijiPEX) as the leader of team 13, Dark Inferno Dragon/DID along with Kanae and Soraru. After 5 matches, 3 in World's Edge and 2 in Olympus, the team placed 4th in overall ranking with 30 kills (with 24 kills coming from a single round, round 3).[86][87]
On 22 August, Kuzuha participated in Apex Legends VTuber Most Cooperatitive Tournament Season 3 as team "Ikemen San-ba Garasu" (イケメン三羽烏, Three Good-looking Crows) along with Kanae and Kaida Haru; with Ras (Crazy Raccoon) and Vodka (Riddle) as their coaches. They took 5th place in overall ranking.[88]
On 28 August, Kuzuha participated in Apex Festival Summer Campaign (えぺまつり夏の陣, Apex Matsuri Natsu no Jin) as team "Virtual Host Club" (バーチャルホストクラブ) along with Shibuya Hal and Hikakin. The team ranked 8th in overall ranking.[89]
On 4 September, Kuzuha participated in ABEMA presents VALORANT VICTORY CHALLENGE as Team B along with Sasatikk, StylishNoob (ZETA Division), SPYGEA (DeToNator), and Kanae.[90] The team won 1st place.[91]
On 10 September, Kuzuha participated in Rainbow Six Siege R6 Royal Flush as team "Lier Panda" (Lierパンダ) along with Ibrahim (leader), Kanae, Ex Albio, and Uruca (Crazy Raccoon); with Kenki (Father's Back) as their coach.[92] The team took 2nd place in overall ranking.[93]
On 12 September, Kuzuha participated in NIJISANJI Pokemon Unite Tournament (にじさんじポケユナ大会) as leader of team "Kani Yarimasu Ne" (カニやりますね) along with Maimoto Keisuke (sub-leader), Ars Almal, Naruse Naru, and Fumi. The team won 1st place.
On 18 September, Kuzuha participated in Autumn Minecraft Premium Stage ~Big Gathering of Game Streamers~ (秋のマイクラ プレミアム ステージ 〜ゲームストリーマー大集合!〜) as Team C along with Kanae, Mayuzumi Kai, Fuwa Minato, Ibrahim, and Ex Albio. The team won 1st place on 1st stage.[94]
On 24 September, Kuzuha participated in Lever Gacha Daipan Cup: NIJISANJI Autumn Smash Bros Day 2021 as part of the Red Group with Sasaki Saku as their leader. The team won 1st place.[95]
On 09 October, Kuzuha participated in the 7th Apex Legends Crazy Raccoon Cup as Team "Maou To Deshi" along with Fuwa Minato, and Ras (Crazy Raccoon). The team placed 5th overall with 41 points, and also won the champion on the third match of the tournament.[96][97][98]
On 16 October, Kuzuha participated in the NIJI Kaizokuou Ketteisen (NIJISANJI Blazing Sails Tournament) organised by Debidebi Debiru as Team "Tenka Musou" along with Ibrahim (Leader), Uzuki Kou, and Kenmochi Toya. The team won 1st place.[99][100]
On 21 November, Kuzuha participated in the 3rd NIJI Splatoon Tournament as team "Sekai Tori ni Kimashita" along with Ex Albio (Leader), Debidebi Debiru, and Sorahoshi Kirame. The team won 1st place.[101][102]
Discography
Main page: Kuzuha/Discography
Sweet Bite

1st Mini Album

9 March 2022

   

"Introduction"
"Wonder Wanderers"
"Amagami" 甘噛み, Sweet Bite
"End Game" エンドゲーム
"Owl Night"
"Debauchery"
"Wonder Wanderers" (Instrumental)
"Bad Bitter" (Instrumental)
"Amagami" (Instrumental)
"End Game" (Instrumental)
"Owl Night" (Instrumental)
"Debauchery" (Instrumental)

External links
Digital Release • YouTube
Mascot and Fans
Kuzuha fans are called "Kachiku" (火畜, Livestock).

Whenever someone sends a superchat during a stream, he winks and would say "supachatto arigato gozaimasu!" (スーパーチャットありがとうございます!, thank you for the superchat). This happens multiple times in a stream and in some cases when there are numerous superchats, he would start to sound like a robot.
A lot of Kuzuha's fans (and some other Livers) sometimes call him "Tenki no Ko" (Child of Weather) because his frequent use of the weather deck (talk about the weather) for small chat with his collaboration partners. Kuzuha has also been called as "youjo" (幼女, young girl) and "pome" (ポメ, pomeranian) by the Japanese fans often on multiple occasions.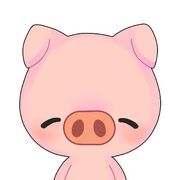 He has a mascot called "Buta" (ブタ), a pink pig which he says is a pet of the Lagusa family. Buta was present even when Kuzuha was an independent Vtuber and assisted him in video editing and other streaming tasks.

Buta is Kuzuha's pet pig. Buta was a pig from Kuzuha's family garden. Kuzuha took Buta as an emergency source of food. Because of this, in order to avoid get eaten, Buta has strived to be useful to Kuzuha in many ways. Buta learned human language and even how to do housework, but now is currently studying Illustration, Video Editing, and Modeling.[103]
Buta is a male pig that celebrates his birthday on the 14th of July. He is currently 8 years old, has a height of 38cm and weighs at 9kg. His favorite food are sweet potatoes[103]
Buta is now able to take human form and seems to be working in the human world and is not seen with Kuzuha as much. Buta's human form has pink long hair complimenting his indigo doe eyes. He has a small mole near his mouth and seems to be taller than Kuzuha.
Buta's full body used to be seen in Kuzuha's corporate profile on the official NIJISANJI website, but is now no longer available.
Buta can be seen wearing matching clothes with Kuzuha in ChroNoiR's first matching idol outfit.
Relationships
"ChroNoiR" (くろのわ) - Kuzuha and Kanae

Unitised on 17 July 2018, ChroNoiR is a general and vocal unit within NIJISANJI that consists of Kanae and Kuzuha. ChroNoiR was foreshadowed as a unit even before Kuzuha's debut in NIJISANJI. They are the first NIJISANJI unit that has its own dedicated YouTube Channel.
The unit's name was a fan suggestion among many, with the idea that both Kanae and Kuzuha like the color black, and from there, their name was made from the Japanese word "黒" (Kuro, Black) and the French word "Noir" (Black), making "KuroNoir" and later, "ChroNoiR". The name would also mean "黒黒" (Kuro Kuro, Black Black) in Japanese and it's initials would be "KK" for Kanae and Kuzuha's name.
Channels: YouTube | OPENRec.tv
Emoji: 🖤
"KanaChiiKuzu" 「かなちーくず」 - Kanae, Yuuki Chihiro and Kuzuha. These three have competed together as a team in multiple Apex Legends tournaments.
"'DoKuzuHonSha" 「ド葛本社」- A NIJISANJI family consisting of - Kuzuha (younger brother), Honma Himawari (older sister), Dola (mother) and Yashiro Kizuku (Father)
Quotes
"Kyuuketsuki Vtuber no Kuzuha" (吸血鬼Vtuberの葛葉, The vampire VTuber, Kuzuha)
"Superchatto arigatogozaimasu!" (スーパーチャットありがとうございます!, Thank you for the superchat)
"Ssu~... Tenki issu ne" (ッスゥー...天気いいっすね, tss... the weather is nice, isn't it?; Also known as the weather deck).
"Taiari" (対あり, Thanks for the game/GG)
"yowai nee~" (弱いね〜, so weak~)
"koroshichau yo~n" (殺しちゃうよ~ん, I'll kill you~)
"Ichido demo ii kara shujinkou ni naritai" (一度でいいから主人公になりたい, I want to be a protagonist for once)
"L.I.P" (Abbreviation of "Life is Pien"; meaning is similar to R.I.P)
"daisu!" (ダイスゥ!, "dice")
"Yatten nee!" (やってんねぇ!, you're doing it! / doing great! / now you've done it!)
"poya/poyasumi" (ぽや / ぽややすみ, goodnight)
"mopa/mopayou" (もぱ / もぱよう, goodmorning)
Trivia
Kuzuha was the first instance of ANYCOLOR Inc. (formerly Ichikara Inc.) recruiting an independent VTuber to join NIJISANJI.
Kuzuha is currently the biggest male VTuber in subscriber count as well as NIJISANJI's most subscribed YouTube channel. He is also the top male VTuber superchat earner, peaking at 3rd place and is now currently ranked 8th place worldwide among all YouTube channels, and also ranks as NIJISANJI's biggest Superchat earner in total revenue, with $1,052,961 in career Superchat earnings, as of July 9, 2021.[105]
Kuzuha claims he can freely morph into a female genderbend form called Sanya (サーニャ),[106] but when asked in a later date why he doesn't morph into Sanya as much, he says that morphing into Sanya takes alot of mana and that doing it will only tire him out.

On 2021's April fools day, he suddenly tweeted a trailer seemingly teasing the debut of a new NIJISANJI unit consisting of Sanya, and Gilzaren III's genderbend, Gilko. The unit was named "Vampish" and is set to debut within this century.[107] Unfortunately, after 20 hours, on the same day, Gilzaren III uploaded the unit's disbandment notice. The reason for the disbandment was apparently because of the many disagreements both members had. After several centuries of discussion, Vampish had disbanded the same day it was announced and before they debuted.[108]
Kuzuha streams very frequently and almost every single day with streams usually lasting from 2-4 hours and sometimes going for 9-11 hours without break. He has an irregular streaming schedule but he usually streams from late at night until the very next morning, turning on notifications for his channel is suggested.
Kuzuha's profile from Yashiro Kizuku and Sasaki Saku's LeverGacha Daipan Episode 23:

Appeal point?: "none in particular"
Charm point?: "none in particular"
Something you've been into lately?: "Games"
How would you like to spend a day-off?: "A whole day of gaming with no real plans for the next day."
What do you like/dislike?: "Likes: Ice Cream, Dislikes: Green Peppers"
Most recent mistake?: "I opened my door while I was still in my underwear while the Uber eats guy was still setting up my food, which was awkward."
Someone you look up to?: "DAIGO 界隈" (Daigo Naito, Daigo the Mentalist, Daigo from the Chidori Duo, and Daigo Umehara)
A habit/thing you tend to do?: "Forgetting to tightly twist bottle caps when closing."
What's the turning point in your life?: "Being with NIJISANJI"
A Secret you haven't told anyone?: "I tried opening a glass bottle of Oolong tea using the door hole but after spilling it everywhere, it left a big stain."
When Kuzuha was a young child, he owned a pet hamster that disliked him quite a lot. The hamster would frequently nip and bite on his finger until it bled, but despite this, he would still spend time with it and play. He even went out of his way and worked hard to buy a hamster wheel for it himself.
Kuzuha has two older brothers. He would usually call them "兄貴" (aniki, elder brother), but sometimes he would accidentally call them "お兄ちゃん" (onii-chan, big brother) — a much more endearing way to call an older brother, and would stop midway through the word to correct himself and would sometimes end up saying "お兄貴" (o-aniki).[112]
Kuzuha can't handle strong aromas and odours to the point that when he is in a car that has quite a strong smell, he would cover his nose with his sleeves so that he doesn't get dizzy during the car ride. Kuzuha prefers not to wear perfumes because of this, but is currently improving on handling the smells. Despite this, Kuzuha has his own perfume in NIJISANJI's 3rd official perfume collection along with Kanae and Mayuzumi Kai's perfumes.
During a stream, a fan asked "What is Kuzuha's thoughts on studying?". Kuzuha mentions that someone's educational background and intelligence won't decide their lives but he believes that it will increase a person's opportunity and choices in life. Despite this, Kuzuha mentioned that he is the type of person who will only do his homework until just before summer vacation starts.[113][114]
Kuzuha is the self-proclaimed brain of NIJISANJI Gamers and even says that he has the academic capabilities of one who graduated nursery school.
Kuzuha and Kanae have a longstanding friendship and call each other casually, but whenever Kanae feels like it, he'll give Kuzuha nicknames. He'll either call him Kuzuha or "omae" (you), "ku -chan", "kuzu-chan", "kuzu-kun", "kuzu-tan", "kuzu-pyon", "ku-tan", "o-kuzu", "sasha", "zuha", "zuha-san", "tanpopo-chan" (dandelion), and "cocoa-chan".
From 3 March 2020 until 2 April 2020, Kuzuha and Honma Himawari were available to be obtained as playable characters in the action RPG game Dawn of the Breakers.[115]
Although Kuzuha entered NIJISANJI through, and only after he was personally scouted, Kuzuha actually already first applied to NIJISANJI before even getting scouted.[116] Kuzuha has also mentioned once before, that while he was receiving scout invitations, among them were the NIJISANJI invitation and one apparently from a modeling agency (the company is speculated to be Twin Planet Entertainment). He rejected the offer from the agency because he said he was already set on joining NIJISANJI even before he was scouted.[117][118]
On 8 March 2021, Kuzuha updated his channel logo with a logo made by BALCOLONY who was also in charge in designing Kanae's 2nd Logo and ChroNoiR's 2nd logo. . The same BALCOLONY also designed the posters and logos for Your Name, A Silent Voice, Weathering with You, Fireworks, and more among many others.
Character and Lore
Kuzuha's "real" name is "Aleksandr Lagusa" (アレクサンドル・ラグーザ) and was born in the demon world.[103]

He is also called "Sasha" (サーシャ) by his family.

Some years ago, the Lagusa family migrated to the human realm because of the love for humans Kuzuha's father had. When they arrived, Kuzuha was quite clueless as to how the Human realm worked. And so, Kuzuha, with the Lagusa clan's power to change appearances from the blood they drink, turned into a young child to start as an elementary student and learn more about Humans.[103]
When Kuzuha first started streaming, he was very active and tried his best all the time in various fields because apparently, in the demon world, "being on top" was a common form of connecting with people, but now, due to various reasons, he has established himself as a weak character who is afraid of being flamed at every turn.
With his very materialistic personality, his plans for the future is to be proposed to and be fed by the oil king.[103]

In an interview, he mentions that he became a VTuber and wanted to become popular to find said oil king.
Preferences
Likes:
Dislikes:

Tomatoes, Peppers, Raisins, Coffee, Flames, Anything Horror and Exerting effort.[103]
Products / Equipment
Some of the products and equipment listed may not be up to date.*
Kuzuha's PC was built by Dr. Personal Computer and provided a graphic to showcase the specs of his build.[119] PC Build:
Peripherals:
Kuzuha has mentioned that he has now been using a double monitor set-up.
Live Chat Etiquette
Vtuber chat etiquette is cleanly summarized here: "VTuber Chat Etiquette"
Use Kuzuha's Free Chatroom for communicating with other fans on YouTube.
Additional Rules on Kuzuha's Live Chat
External Links
Media
葛葉 - Kuzuha's Universal Music Japan Official Website
葛葉スタッフアカウント - Kuzuha's Staff Twitter Account
Further readings
References