Associated pages
La+ Darknesss (ラプラス・ダークネス) also written Laplus is a female Japanese Virtual YouTuber associated with hololive, debuting as part of its sixth generation under the name of "Secret Society holoX" alongside Takane Lui, Hakui Koyori, Sakamata Chloe and Kazama Iroha.
Introduction Video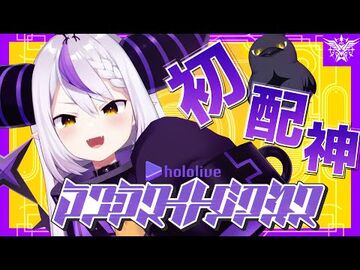 Profile
The one who established Secret Society holoX.
She was originally known for her vast power and intelligence, but most of it is now sealed away.
She is vaguely aware of the debilitating nature of her shackles but does not remember when or how they got there.
The crow by her side is a long-time companion.
Personality
Laplus has the personality of a smug brat like Murasaki Shion and thinks highly of herself with pronouns like "wagahai" when referring to herself and "kisama" when referring to a second person. She can also be very loud like Uruha Rushia, especially when she loses in a game or if she thinks that she is not treated right. The latter can happen quite often as her senpais like to tease her, because she has a very child-like appearance and can also behave like one. Members like Sakura Miko even think that Laplus is part of the holobabies group, something that Laplus denies.
History
Background
La+ Darknesss's YouTube channel was created on 10 September 2021. Her Twitter account was also created in September 2021. She was first revealed as part of holoX, the sixth generation of the Japanese branch of hololive, in an introductory video[2] posted on 26 November 2021 at noon JST. She made her first tweet at the same time, declaring 「吾輩怪しい者でないぞ」 - "I'm not a suspicious person!"[3]
Laplus was the first of her generation to debut, making her first stream on the same day as the announcement, 26 November 2021, at 21:34 JST. She reached over 250,000 YouTube subscribers within three hours of debut, following it with a stream to select her fan name.
2021
On 5 December, Laplus reached 500,000 subscribers on YouTube. She is the 45th hololive member to reach this milestone, as well as the second member of holoX to achieve it.
On 8 December, her channel got approved for monetization.
On 22 December, Laplus opened her YouTube channel's membership feature (at 19:00 JST). On the same day, she held her first official collaboration with another hololive member outside her generation, playing 51 Worldwide Games with Tokoyami Towa (at 22:30 JST).[4][5]
On 24 December, Laplus reached 600,000 subscribers on YouTube during a stream.[6]
On 28 December, hololive's Twitter account announced that Nene and the sixth gen members would get "new year" costumes.[7]
2022
On 1 January Laplus debuted her second 2D costume, a furisode with her image on it to celebrate the new year. In this cosutme Laplus go a new hairstyle as she has two braided twintails that are decorated with giant suzu bells, her furisode has a pattern of blank and white manga pages featuring Laplus, with a colored illustration of herself (in her main costume) as the central feature, near the edge of her furisode the manga pattern is also complemented by flowers in pink and purple.[8]
On 4 January, Laplus's YouTube channel was demonetized.[9]
On 5 January, Laplus's YouTube channel monetization was restored.[10]
Mascot and Fans
Trivia
External Links
Media
Further reading
References