Associated pages
Lorou (로로) was a male Korean Virtual YouTuber part of NIJISANJI's Korean branch, NIJISANJI KR. He was originally from the agency 541 E&C before transferring to NIJISANJI KR.
A former stray cat who specializes in composition and DJing. He started his VTuber career so suddenly, but it might be his calling.[1]
Introduction Video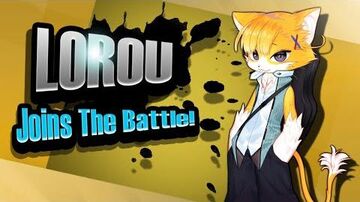 Personality
History
Background
Before Lorou became a Virtual YouTuber, he was working in 541 E&C by mastering the audio in drama CDs, creating BGM for the Virtual YouTubers in the agency and anything related to production or audio processing.[2]
Lorou's YouTube channel was created on 24 July, 2019. His Twitter account was created in July 2019. His first video was uploaded onto his channel on 28 October, 2019.
2020
On 25 January, Lorou, along with Gaon, Kaen, Han Chiho, Hakuren and Moarin, transferred from 541 E&C to NIJISANJI KR.
On 10 July, it was announced that Lorou, along with Kaen, Hakuren and Yu Ruri, would graduate from NIJISANJI KR on 17 July.[3]
Trivia
He has created BGM for fellow 541 E&C-to-NIJISANJI KR VTubers Gaon,

Kaen

, Han Chiho,

Hakuren

, as well as former 541 E&C members

Lucia

,

ENA

and Alice Mana.
His favorite DJs are Ujico/Snail's House, Camellia and Tokyo Machine.
External Links
References