This is a Japanese name; the family name is Mano.
Associated pages
Mano Aloe (魔乃アロエ, Mano Aroe) was a female Japanese Virtual YouTuber associated with hololive, debuting as part of its fifth generation of VTubers alongside Yukihana Lamy, Momosuzu Nene, Shishiro Botan and Omaru Polka.
Introduction Video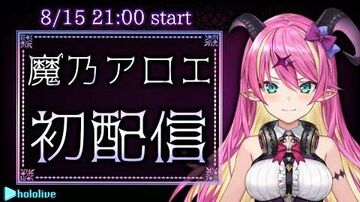 Profile
A headstrong, mischievous succubus-in-training who dreams of becoming the Diva of the Demonic Realm. Can dish it out, but can't take it. After learning of hololive from an acquaintance, she decided to come test out her charms in the human realm.
Personality
History
Background
She was introduced on hololive's YouTube channel in a small introductory video along with the rest of the 5th Gen. On 6 August 2020.[4] Her Twitter account was created in April, 2020, and posted her first tweet on 6 August.[5] Her YouTube channel was created on 13 April, but didn't debut until 15 August. Her channel reached 100,000 subscribers on the first day of her debut stream.[6]
2020
On 17 August, she posted a video apologizing for the unintentional leak of her Live2D model months before the official debut. The leak was in the form of a test stream on Twitcasting consented by her manager. However, after debuting on YouTube, she forgot to delete the test stream. This was considered a breach of contract, and she was given a 2-week suspension merely two days after her official debut. She apologized to her fellow 5th Gen members and management team for her lack of foresight.
After the announcement of her suspension, Aloe stated that she would use that time to reflect on those events and to better herself. She hoped that, even after the sudden unexpected hiatus, viewers would give her a second chance and support her nonetheless.
While taking full responsibility for her actions, Aloe stated that she has been a victim of doxxing; as she was receiving calls from her home phone line. Another person, later identified as her ex-boyfriend, was also contacted. Aloe stated that their relationship ended before she joined hololive and asked that the doxxing and harassment came to an end. In a later apology stream, she also asked viewers that she should be judged based only on facts, and not on lies and rumors. She ended the stream hoping for people to wait for her return.[7][8]
Retirement
On 30 August, hololive's official Twitter announced Mano Aloe's retirement. It was mentioned that she was both mentally and physically unable to continue her career as Mano Aloe, and in accordance to her wishes, Aloe graduated from hololive on 31 August.
Soon after her graduation, both her YouTube channel and Twitter profile were wiped of any remaining content.[9]
Fans
Her fanbase is officially called "Ma no tomo" (魔の友) in Japanese which translates to "Devil's friend".[10]
Trivia
Aloe's name is a reference to "Aloe Vera", A medicinal gel made from plants of the same species known for its various soothing properties on burns, sores. Said plants also produce various forms of latex that are not advised to be eaten.

Combined with the kanji of her familial name, Mano (魔乃, Devil [relation to]), it would have likely made her name echo into the phrase "Devil of Soothing" or "Devil of Healing".
Additionally, the names are likely puns on the words "Mono" (a profile that unifies sound into one audio channel and reference to her love of music) and "Eroi" (the Japanese way to describe something sexy and erotic, alluding to her nature as a succubus)

As such, her pun name would have been akin to "Erotic Voice" or "Sexy Sound".

Aloe is a succubus-in-training.
She likes to cook and prepare bento boxes.
She likes cleaning, but can't clean her own room.
As demonstrated in her introduction, she loves to sing and she wants to make original songs.
In spite of having a very distinct voice, Aloe was fond of using voice modifiers like autotune and "kero kero" voices to physically mimic vocal synthesizers such as Vocaloid when singing. She even went so far to teach Yukihara Lamy how to use them, which encouraged her to buy the exact same one and originally planned to have an oji-san voice collab with her.
Her favorite anime are Charlotte, and Darling in the Franxx.
Aloe claims that her horns are asymmetrical because she is still growing, but both horns will eventually be of the same size.
She dislikes insects, even butterflies, but claims she would not kill them.
She wanted to join hololive after watching them perform at hololive's 1st fes. Nonstop Story.
There is a fan-created website which was dedicated to cheering her up during her 2-week suspension. It was later changed to be dedicated to Aloe's memory as a member of hololive, as well to wish her wellness on whatever path she took.
External Links
References
Community content is available under
CC-BY-SA
unless otherwise noted.