This is a Japanese name; the family name is Mano.
Associated pages
Mano Aloe (魔乃アロエ, Mano Aroe) was a female Japanese Virtual YouTuber associated with hololive, debuting as part of its fifth generation of VTubers alongside Yukihana Lamy, Momosuzu Nene, Shishiro Botan and Omaru Polka.
Introduction Video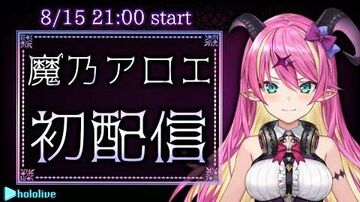 Profile
A headstrong, mischievous succubus-in-training who dreams of becoming the Diva of the Demonic Realm. Can dish it out, but can't take it. After learning of hololive from an acquaintance, she decided to come test out her charms in the human realm.
Personality
Aloe's character is closer to that of a more stereotypical devil compared to similar entities Yuzuki Choco and Tokoyami Towa, in which her expressions and style of talking emits a cheeky aura. She has a distinctive voice tone that can be described as a fusion between Houshou Marine's and Anya Melfissa's; she also uses personal pronoun "吾輩 (wagahai)" similar to Bowser from Super Mario franchise or Morgana from Persona 5, further emphasizing her character.
History
Background
She was introduced on hololive's YouTube channel in a small introductory video along with the rest of the 5th Gen on 6 August 2020.[4] Her Twitter account was created in April 2020. Shortly after her introduction, it was confirmed that Aloe's Twitter account has been restricted for unknown reasons.[5] The restriction was lifted various hours later, and posted her first tweet expressing sadness over sudden restriction.[6] She later denied that the restriction was not because of birth date setting, unlike the issue that Kageyama Shien experienced. Her YouTube channel was created on 13 April, but didn't debut until 15 August. Her channel reached 100,000 subscribers on the first day of her debut stream.[7]
2020
On 17 August, she posted a video apologizing for the unintentional leak of her Live2D model months before the official debut. The leak was in the form of a test stream on Twitcasting consented by her manager. However, after debuting on YouTube, she forgot to delete the test stream. This was considered a breach of contract, and she was given a 2-week suspension merely two days after her official debut. She apologized to her fellow 5th Gen members and management team for her lack of foresight.
After the announcement of her suspension, Aloe stated that she would use that time to reflect on those events and to better herself. She hoped that, even after the sudden unexpected hiatus, viewers would give her a second chance and support her nonetheless.
While taking full responsibility for her actions, Aloe stated that she has been a victim of doxxing; as she was receiving calls from her home phone line. Another person, later identified as her ex-boyfriend, was also contacted. Aloe stated that their relationship ended before she joined hololive and asked that the doxxing and harassment came to an end. In a later apology stream, she also asked viewers that she should be judged based only on facts, and not on lies and rumors. She ended the stream hoping for people to wait for her return.[8][9]
Retirement
On 30 August, hololive's official Twitter announced Mano Aloe's retirement. It was mentioned that she was both mentally and physically unable to continue her career as Mano Aloe, and in accordance to her wishes, Aloe graduated from hololive on 31 August.
Soon after her graduation, both her YouTube channel and Twitter profile were wiped of any remaining content.[10]
Fans
Trivia
External Links
Further readings
References