Melissa Kinrenka (メリッサ・キンレンカ) is a Japanese Virtual YouTuber and member of Nijisanji.
Aiming to be a virtual creator and singer-songwriter, Melissa dreams to become the bridge between real and virtual.[1]
Introduction Video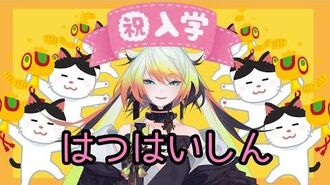 Melissa's introduction.

Personality
History
2020
Melissa made their YouTube debut on 1 February.
On 1 April Melissa released their first original song "haze." The lyrics, composition, and mix were done by Melissa.
Trivia
Melissa debuted alongside Furen E Lustario and Ibrahim, forming the trio known as "メイフ" (Meifu).
In their 21 February 2020 livestream, Melissa revealed that they don't really have a specified gender at all. Since Melissa gender is unspecified, it should be okay to use either female, male, or gender-neutral pronouns when referring to them.
Melissa uses both "boku" and "watashi" first-person pronouns when referring to themself.
Before joining Nijisanji, Melissa worked as a wage-slave and was always too busy to pursue their true passion for singing and writing music. Upon realizing their dissatisfaction with work and their desire to leave a mark on the world, Melissa decided to become a virtual YouTuber to commit themself to creative work and experiencing new things. Melissa's ultimate goal is to perform on a live show.[2]
Notes
"Watashi" and "boku" both mean "I" but are distinct in their usage. "Watashi" is polite and technically gender-neutral, but is generally considered feminine in informal contexts. "Boku" is generally masculine, so it is most often used by boys, young men, and sometimes tomboy girls.
External Links
References
Community content is available under
CC-BY-SA
unless otherwise noted.