This is a Japanese name; the family name is Minato.

Associated pages
Minato Aqua (湊あくあ) is a female Japanese Virtual YouTuber associated with hololive, debuting as part of its second generation of VTubers alongside Murasaki Shion, Nakiri Ayame, Yuzuki Choco and Oozora Subaru.
Introduction Video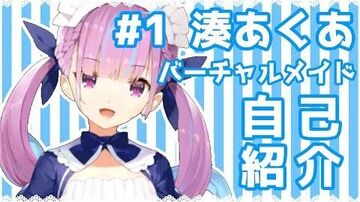 Profile
"A-quality day to one and all! I'm Minato Aqua!"
A marine maid-styled virtual maid. She is trying her very best, yet is still sometimes awkward and clumsy.[6]
Personality
Aqua is a bumbling airhead who somehow manages to become the victim of every joke in which she gets involved. She is also childish and prone to throwing tantrums, smashing her keyboard, and hyperventilating when things don't go as planned (which is most of the time). She enjoys playing pranks and causing mischief, but it almost always backfires because of a combination of poor planning and bad luck. To make matters worse, Aqua makes no attempt to avoid embarrassing situations to the point at which many wonder if she might actually be masochistic. She has asked other hololive members, including Uruha Rushia, to bully her on several occasions.
However, while Aqua appears to be an incompetent crybaby, she is deceptively skilled at highly technical video games like Sekiro, Dark Souls, Apex Legends (Master rank),and League of Legends (Diamond rank). She is also a prolific streamer, with a record of five streams in a single day.
According to other hololive members, Aqua is kind and responsible but extremely introverted while off-camera, only opening up while streaming.
Appearance
She is a virtual maid who wears a marine-themed maid uniform and a white mob cap decorated with an anchor though it has also been described as a "tissue box." Despite her name and appearance, she has nothing to do with water. She has purple hair (resembling a red onion), with twin spiral ponytails decorated with navy-blue ribbons. She also has a few streaks of light-blue hair in her bangs and the inner edge of her ponytails and a light blue ahoge.
On 26 September, Aqua debuted with a new 2D Live costume. She now wears two large braids, with the two small braids on each side of her bangs from her original design, decorated with a light navy blue headband. Her white top resembles a sailor fuku, with a pastel navy blue ribbon bow, and a row of little buttons going down the center. She wears a high-waisted corset pleat skirt that extends to directly beneath her bust, styled with two thinner ribbon bows. She now wears plain white leggings and black loafers instead of leaving her legs bare and wearing kitten heels. Aqua's new costume comes with a removable white coat, a gray stuffed cat which she can carry or attach to her headband, detachable cat ears and a tail, and pink-tinted heart sunglasses. She also has the option to wear this outfit with her old head model.
History
Background
Her Twitter account and YouTube channel were created on 1 August 2018 although she did not start her activities on YouTube until her self-introduction, which was uploaded on 8 August.[7]
2019
On 22 March, she announced that she would receive her 3D model in April.[8] It, alongside a sneak peek of her model, was later announced that she would debut her 3D model on 8 April,[9] with it being slightly delayed from 8:00 PM to 10:00 PM.[10][11] More sneak peeks were posted on 7 April[11][12] before the debut was finally live on the next day.[13]
On 30 April, she starred in the music video and the album cover for AZKi's 7th original song, Fake.Fake.Fake.
2020
On 2 January, she debuted her 2D new year kimono costume during a stream, being her second 2D costume overall.[14]
On 24 January, along with the other hololive girls up to the third generation, she debuted her 3D idol outfit at hololive's 1st fes. Nonstop Story.[15]
On 30 May, she reached the milestone of 500,000 YouTube subscribers, the 2nd hololive member to do so after Shirakami Fubuki.[16]
On 7 July, hololive's Twitter account announced that Aqua would have her own solo concert to commemorate the second anniversary since her debut.[17][18]
On 21 August, she held her solo concert "Minato Aqua Anniversary Live 2020 AQUA IRO SUPER☆DREAM" on Niconico and bilibili streams during said event she debuted a new 3D costume matching the promotional artwork. she also debuted her first original song, "#Aqua Color Palette."[19][20]
On 24 September, hololive's Twitter account announced that Aqua would get her third 2D costume.[21] On 26 September, she debuted this costume using casual clothes while still inspired in a marine motif with a white and blue color palette.[22] She also reached 700,000 YouTube subscribers on the same day.
On 26 October, she released her second original song "For the Win."
On 6 November, she reached 800,000 YouTube subscribers during a singing stream.[23]
On 10 December, she reached 900,000 YouTube subscribers during a singing stream.[24]
2021
On 13 January, Aqua reached 1,000,000 YouTube subscribers during a singing stream. Aqua is the 5th hololive member to reach 1 mil subscribers on YouTube and the 4th member of the Japanese branch to do so. She is also the first member of hololive JP's 2nd Gen to reach it.[25]
On 20 May, Aqua announced during a short stream that she would go on a hiatus from streaming due to the worsening of her throat's condition.[26]
On 7 June, Aqua returned to her activities with a singing stream.[27]
On 9 August, Aqua had a belated 3rd Anniversary Live 3D concert, and during that stream, she released her 4th original song "Kaisou Ressha."[28] However, it is evidenced that she claims the song to be her 3rd original song, dismissing "Youkoso! Sweet Carnival!" she debuted it beforehand on 15 July, as can be seen in the description of later streams.[29]
On 14 September, during a Super Mario Party collab stream hosted by Gawr Gura, it was announced that Aqua, Houshou Marine, Gura and Ninomae Ina'nis would form a new unit "UMISEA," in which all four members sharing the theme of ocean. Several videos and streams featuring the unit is set to release throughout mid-September.[30][31]
On 26 September, Aqua released a full English version of "aqua iro palette."
On 8 November, she announced her second solo live, "Aqua iro in Wonder Land," which would be held on 28 January 2022. And during that same stream, she also debuted her fifth original song, "Kira Kira."[32]
On 1 December, during her birthday celebration Aqua debuted new accessories for her third 2D costume, these accessories include a new white and blue hoodie, a blue hat and a new hairstyle consisting of braided twintails.[33]
2022
On 28 January, Aqua held her second solo live "Aqua iro in Wonder Land," part of the concert was streamed for free on YouTube, while the full concert was available on the SPWN website.
During the live, Aqua debuted a new original song "I wanna", as well as the commemorative EP "♡aquatime select♡" featuring four songs. She also debuted a new 3D costume. As the name of her concert suggests, Aqua wears a dress inspired by "Alice in Wonderland". It is mainly white with two shades of blue, with white frills at the ends, a white lolita-style apron over it, and black and silver ribbons to the sides of the apron and above her chest. The dress also partially covers her arms with white shoulder pads and blue puffy cloth extended from the chest area, and has a diamond-shaped hole above her chest. She wears a blue hairband with a large blue ribbon attached to the top, reminding of rabbit ears, and has additional smaller hair decorations at each end of the hairband. Aqua also wears golden heart-shaped earrings, brown shows adorned with black ribbons, and long white stockings: the right one has a line of black diamonds to the side and a lone black spade above her knee. Aqua also carries a giant spoon, and her fingernails are painted in the same shade of blue as her hair.[34]
On 2 February, Aqua reached 1,500,000 YouTube subscribers, making her the 9th hololive member to reach this milestone, as well as the 6th member of hololive JP. She is also the first member of hololive JP's 2nd Gen to achieve it.
Discography
Main page: Minato Aqua/Discography
♡aquatime select♡

1st EP

29 January 2022

   

"KAISOU RESSHA" (海想列車)
"I wanna" (あいわな)
"uni-birth"
"Kira Kira" (きらきら)

External links
Digital Release • YouTube
Events
Fans
Her fanbase is officially called Aqua Crew 「あくあクルー 」.
Trivia
Whenever she puts all focus on gameplay, she often makes unintelligible battle cries such as "nya," "rua," and "wryy."
She spent half a month grinding PvP in Super Smash Bros. Ultimate after it was released on 7 December 2018, hoping to get to VIP ranking. She mainly played as Cloud, Joker and Lucina.
Her favorite animes are Yosuga no Sora and Lovelive!, but she doesn't know the song 届かない恋 from White Album.
The nickname "Sololive" comes from the fact that she tends to play games alone.
She is a fan of the comic artist Tsukudani Norio as well as Inuyama Tamaki, who was designed (and voiced) by her.
She likes reading light novels, but can barely read them because of most of the texts being not annotated with furigana, and instead spends most of her time reading manga (with annotated furigana).
She uses a lot of exclamation marks in her tweets (!!!). This behavior has spread to other virtual YouTubers.
Aqua is known for faking retirements on multiple occasions, singing sad songs and ending her streams with a black screen. During a Minecraft stream on 2 February 2019, she performed another retirement speech during a stream on hololive's Minecraft server, on which she created a model of herself and blew it up with TNTs, which were supposed to be the fireworks celebrating her retirement.[52]
Aqua has been noted by other members of hololive as being particularly slight, short, and petite in terms of stature. During Aqua's Wii Fit stream, in addition to revealing her height to be 4 feet and 10 inches (148 cm), she accidentally revealed her weight to be a mere 95 pounds (43 kg).[53] When Aqua first met Murasaki Shion in-person, Shion (who is already comparatively short) apparently remarked at how "small" Aqua was and condescendingly patted her on the head, much to Aqua's dismay.[54] Aqua's short and light build is something other hololive members frequently lightly tease her over but simultaneously something they cite as a part of what makes her cute. Aqua's height of 4' 10" is coincidentally the typical length of a mop-handle, which has resulted in an ongoing meme in which fan-art depicts her as a mop among her fans, sometimes as a red onion and a tissue box on top of the handle.
She is really close to Kagura Mea, having done a lot of collaborations with Aqua, with their pairing being known as "Meaqua" (稱めあくあ). She has also gone to Mea's house on multiple occasions to do streams, with her going as far as to call her girlfriend on a tweet from 8 March 2019.
She made a group called the hololive Resistance army Iron Aqua Group. She is the leader and creator of the group in Minecraft, with a large underground base full of TNT. According to her, she is ready to rebel at any moment. She showed the place to Matsuri, and Matsuri became a member of hololive Resistence too. Unfortunately for her, Matsuri betrayed her during Tokino Sora's visit. Aqua's morale remained high while Aqua facing Sora until she called her an enemy, which caused her to stop speaking properly.[55][56]
Her "group" was latter referenced when she appeared on Dawn of the Breakers, on which her unit name is called hololive Resistance.
She likes to say "You are weak; I am strong" (お前、弱い、あてぃし、強い) whenever she faces a boss when playing games like Dark Souls 3 and Sekiro: Shadows Die Twice. She often gets fixed up even before she can finish the whole sentence.
Aqua established her own company, Akukin Kensetsu, on the hololive Minecraft JP server and recruited Houshou Marine as her first employee (eventually 2nd-in-command), before expanding to recruit Ookami Mio (3rd-in-command) to compete with Usada Kensetsu. Akukin Kensetsu later conducted a series of interviews to recruit more employees.[57] From it, 8 employees were added: Yuzuki Choco, Yukihana Lamy, Momosuzu Nene, Aki Rosenthal, Amane Kanata, Airani Iofifteen, Shiranui Flare and Yozora Mel. The company now counts 11 employees.
In 2021, Aqua was chosen, along with Sephiroth from Final Fantasy VII from as a character to be crafted into a bust and placed at the examination site of Kyoto University and have various offerings placed in front of her, as per school tradition. The offerings Aqua received included 1,000 Yen, a bottled water, rice balls and a discounted purple onion.[58]
Aqua revealed that she only have 47 friends on LINE, with half of them being "official" accounts (accounts used by brands and companies to send general information, sales and marketing activities, and special promotions to their customers).[59]
External Links
Media
Further readings
References