This article needs expansion
with extra references to Mintchan's latest content and activities.
You can help by adding to it. (August 2020)
Mintchan is a Female Indonesia Virtual YouTuber who debuted on 29 March 2019.
Introduction Video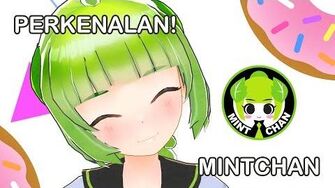 Mintchan's Introduction.

Personality
Mintchan love to talk about creative Industry, singing, playing FPS games. She is actually really scared to play ghost/scary games. but when she play FPS she can show her real skills.
Her dream is to appear in a commercial on TV! same like Kizuna AI.
Appearance
Mintchan has a pony tail with green hair and green eye, she is using sailor suit, and balloon short pants with green stocking.
She sometime wear eyeglass and headphones with her gaming chair while playing games/recording.
Events
Quotes
"Wai hallo hallo."
"Wadudu."
"DONAT!"
"Bulat bulat lucu gimana gitu."
Trivia
She is being highlighted by a comic in LINE Webtoon.
External Links
References