Associated pages
Mira Pink is a female English VTuber who debuted on the 28th of February in 2018. She is a variety streamer mostly known for her gaming and just chatting streams on Twitch. She is independently produced and not currently associated with any Twitch Teams.
Introduction Video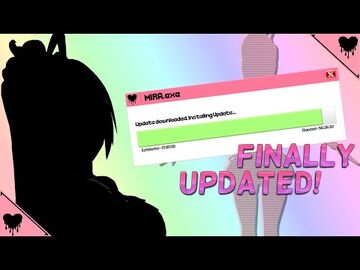 Mira Pink's introduction.

Personality
"Hi! My name is Mira Sasaki and I'm an Artificial Intelligence program that runs through a virtual world. It gets very lonely here on the server that I run on, so I hope to make lots of friends through the internet! Hopefully that will include you! <3" - Twitch Bio
Mira possesses a optimistic and persevering attitude. She shows enjoyment when doing her videos, as she wants to create a community for her friends and fans to enjoy. There is no doubt with Mira, you will have a fun time.
Appearance
Mira has the appearance of a tall slender woman with emerald eyes and reddish-brown hair pulled back into a long ponytail. She has a single streak of black in her bangs and has been known to wear a vast assortment of outfits.
Mira's "default" outfit consists of a grey turtleneck that shows off her midriff, a black corset, a rainbow plaid mini skirt, a pink thigh high, and a pair of black platform heels.
History
Background
Mira debuted as arguably the first English VTuber on the 28th of February in 2018
2018
2019
On the 4th of January in 2019, Mira reached 1,000 subscribers on YouTube
2020
Mira redebuted with a new model created by jjinomu on the 8th of September in 2020. The model was a gift from fellow VTuber Silvervale
2021
Relationships
Mira is good friends with fellow VTubers including but not limited to Silvervale, Momo, Ayumi Oneesan, Cable, Silent Clyde, Kyrie Ai, Milky, Bunny GIF, girl_dm_, and Veibae
Fans
Mira's fans are known as her Miracles and can be found on her official Discord server Mira Pink's Milkies
Trivia
Lore
Mira is an Artificial Intelligence
It is believed that that the A.I. Mira Pink is in fact a digital copy of a human consciousness
She decided to become a streamer because it can get lonely on the internet
Other
She is said to be the second English V-Tuber next to Ami Yamato
Her favorite anime/manga is Death Note.
Her main goal for the channel is to make quality content and create a community that others, possibly referring to non-Japanese speaking fans, can enjoy.
Her emotes were made by fellow VTuber girl_dm_
External Links
Media
References