This is a Japanese name; the family name is Momosuzu.
Associated pages
Momosuzu Nene (桃鈴ねね) is a female Japanese Virtual YouTuber associated with hololive, debuting as part of its fifth generation of VTubers alongside Yukihana Lamy, Shishiro Botan, Mano Aloe and Omaru Polka.
Introduction Video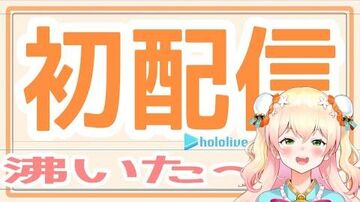 Profile
hololive.hololivepro.com
A girl who came from another world in order to become an idol.

She loves singing and dancing, and drawing.

She is training hard every day to become someone loved by many.[6]
hololive.tv (modified)
A girl who came from another world to chase after her idol dream. She likes singing, dancing, and drawing. She trains hard every day in order to win the hearts of even more people.[7]
YouTube channel (modified)
A girl who came from another world to chase after her idol dream. She likes singing, dancing, and gyoza. She trains hard every day in order to win the hearts of even more people.
hololive.tv, YouTube channel (original) and Reddit press release
A girl in a Chinese dress who came from another world to chase after her idol dream. She likes singing, dancing, and gyoza. She trains hard every day in order to win the hearts of even more people. Her nickname in her hometown is "Taoling".[8]
Personality
Nene is a cheerful girl who loves to talk and sing. She dreams of becoming an idol and having her own anime opening song.[9] She's very clumsy in games but shown impressive luck, displaying good aiming skills in Apex despite being a beginner[10] or having 100% win rate in the first Among Us collaboration stream.[11] She's overconfident about her gaming skills, calling herself Supernenechi. She is also complete beginner at Minecraft, falling a total of 16 times in her first hololive server Minecraft stream and failing Roboco-san's magma test.[12] She was also seen as brute who indiscriminately attacked NPCs, animals and objects in the first 5th gen Craftopia stream in which Lamy scolded her for it.[13] 
She is (in)famously known for "husband-zoning" the audience, particularly non-Japanese viewers (dubbed by her fans as "Nene's husband collection"), a polar opposite of what Shirakami Fubuki is infamous for; as such, she refuses to "divorce" from her viewers[14] or be called "friend."[15]
She also flirts with other members of hololive using her handsome voice (イケボ), calling members such as Lamy as "my Lamy" (俺のラミィ) or sending virtual kiss sound (ちゅ) to girls. She admitted that she has many wives which include Lamy, Suisei, Ina and Kiara.[16]
She also revealed that she applied for hololive four times.[17] She did not get an immediate reply from first three applications so she kept submitting an application until they called her. Polka and Lamy thought that Nene is the toughest 5th gen member and easily bounces back to being optimistic.
She often streams during lunch time (12:00 JST) chatting with fans while eating or drawing pictures. She displayed decent drawing skills and had collaborated with Houshou Marine and her designer, Nishizawa 5mm, for a drawing stream.[18] She has shown closeness with her fellow 5th gen member, Polka, both playing Mario Kart and Clubhouse 51.[19][20]
She often adds -aru at the end of her sentences similar to Kagura of Gin Tama. However, she stopped using it lately (October 2020) because she is not confident about it.[16][21]
History
Background
Nene was introduced on hololive's YouTube channel in a small introductory video along with the rest of the fifth gen on 6 August 2020.[9] Her Twitter account was created in April 2020, she made her first tweet on 6 August.[22] Her YouTube channel was created on 15 April but she debuted until 13 August 2020 during a stream also reaching 100,000 subscribers during that day.[23]
2020
On 14 November, she reached 300,000 subscribers.
On 27 December, hololive's official Twitter account announced that Nene would get a new main costume.[24] Because of this new design, Nene didn't get a New Year costume or a 3D model announcement alongside the other 5th gen members.
2021
On 18 January, Nene reached 400,000 subscribers on her YouTube channel.[25]
On 31 January, Nene revealed her new main costume. Her new main costume is bear themed as she can wear bear ears on her buns and paws on her hands, bear heads silhouettes on her corset and a bear themed bag, her new dress has a peach shaped cleavage, the primary colors of this dress are white, yellow and brown, on top of her dress she can wear a white jacket with a badge that reads "HAAAN" above a peach. Unlike other members that get new looks and costumes this is the first time that a 2D primary appearance is completely replaced by a new one, with the change being made even on her official profile on hololive's page. During the reveal section of her stream, she reached an attendance of over 100,000 viewers.[26]
On 2 March, she reached 500,000 subscribers on her YouTube channel during her birthday celebration stream, making her the 34th hololive member to reach this milestone and the last of her generation.[27]
On 13 April, she announced on her Twitter account that she would receive her 3D model.[28]
On 18 April, Nene debuted her 3D model, Nene also debuted her second original song "Lunch with me."[29]
On 13 August, during her 1st anniversary 3D concert, Nene debuted her third original song "Momonone."[30]
On 8 September, Nene announced on her Twitter account that she would receive her second 2D costume.[31]
On 11 September, Nene debuted her second 2D costume (not counting her original outfit as that outfit has been discontinued), in this costume Nene got two new hairstyles, one a side ponytail and the other twintails that retain some of the small flower decorations present in her main costume. In this costume Nene wears, an oversized green jacket with a big white neck decorated with an orange ribbon, the jacket also has star shaped buttons and what look like oversized heart shaped green pockets. Under it Nene can also use a brown, sailor fuku inspired sweater with a red-plaid ribbon around the sweater's neck and two small white ribbons as decorations. Finally under these two cloth pieces Nene wear a white blouse, with a red-plaid skirt that includes a brown opening to the side, white loose socks and red shoes. This costume can be combined in multiple ways by adding or removing the green jacket and the brown sweater.[32]
Discography
Main page: Momosuzu Nene/Discography
NENENENENENENENE! DAIBAKUSOU
1st single
3 March 2021    

"NENENENENENENENE! DAIBAKUSOU" (ねねねねねねねね!大爆走)
"NENENENENENENENE! DAIBAKUSOU" (instrumental)

External links
Digital Release
Events
On 5 June 2021, CHARON Inc. announced that Nene, along with Sukoya Kana and Fukuya Master, will take part in a horror/romance visual novel game titled, MenheRafflesia Flowering Abyss as the voice actress for the character Nenene Anemone. The game was released on 25 June 2021.
On 13 June 2021, hololive's Japanese Twitter account announced that Nene, Minato Aqua and Oozora Subaru would sing the The Great Jahy Will Not Be Defeated! ending theme, forming the unit name "NEGI☆U."[33] The unit name is an abbreviation for "never give up", which is associated with "Kujikenai" in a part of the anime title, and the reading is "Negiyu".
On 26 June 2021, Village Vanguard Twitter account announced that the members of hololive 5th Gen, would appear in limited edition goods with "Kemonomimi Cafe" as the theme.[34]
Fans
Her fanbase is officially called "Nekko" 「ねっ子」. They are also called 「社員」 (employees) after creating NenePro.
She opened her membership in 11 September 2020. Fans greet her with こんねね, and if the stream is ending, they say おつねね, ばいばい (bye bye) and またねね.

Her membership base is called "MEMBERSHI."
Relationships
Notable units and groups Nene is a part of are:

"Magamaga's," along with Yukihana Lamy.
"O'riends," along with Takanashi Kiara.
Quotes
"Lamy-chan... It's Momosuzu, not Suzumomo, aru!" - Nene's response for Lamy accidentally spreading her second name as "Suzumomo"
Trivia
Her name Nene, is often used in general Japanese to catch someone's attention or to say "hey, listen!"
Nene's surname Momosuzu「桃鈴」can be divided as such,

The first kanji Momo「桃」means "peach."
The second kanji Suzu「鈴」means "bell."

Much like Kiryu Coco, Nene's voice tone has changed drastically as she continued to stream; in her early streams, Nene had lower-pitched, somewhat boyish voice akin to Shiranui Flare. Nene's voice has gradually shifted to the current one from fall 2020 to January 2021, now having more feminine yet still energetic voice that can be described as a fusion between Amane Kanata's and Sakura Miko's.
A day before Nene's debut stream, Yukihana Lamy's stream took place, in which she was introducing her upcoming colleagues, including Nene. During the introduction, she accidentally typed Nene's second name in reverse (鈴桃), resulting in "Suzumomo." Even before Nene's first stream, fans already started calling her Suzumomo.

A similar instance occurred during Ookami Mio's haiku stream on 23 February 2021, in which Nene was a participant, where Mio accidentally typed Nene's second name as "Momotetsu" (桃鉄)[35].

Nene likes theme parks and she wants to open a hololive theme park and include Omaru Polka's circus in it.
Her favorite anime include: Gin Tama, Bleach, The IdolM@ster Cinderella Girls and Baka and Test.
She wants to become an idol and that one of her songs is used as an anime opening.
She has a driver's license but currently does not drive.
She is ambidextrous. Originally left-handed, she had to learn to write with her right hand during a calligraphy class. She can use both hands for drawing or writing.
Nene is clumsy and does typos a lot. For example, she typed in #新人Vtuべr in a tweet before her debut. The tag became #1 top trending in Japan in 7 August 2020. Debuting vtubers also use this tag since then.
When given the option to create a new username, she often types in extreme names like "SUPER NENECHI," "NENEMAX," or "Super Hyper Ultra Ultimate Deluxe Perfect Amazing Shining God 東方不敗 Master Ginga Victory Strong Cute Beautiful Galaxy Baby 無限 無敵 無双 Nenechi."
She is the nineteenth hololive member to join the official Hololive Subreddit as a moderator.
Nene Productions (NenePro)
During the first gameplay stream of Good Job, she revealed that she wanted to create an idol (demolition) company with her being its CEO and sole talent.[39] As a result, fans calls her CEO, or Pres. Nene (ねね社著). She treats her fans as employees and she them promised high (?) salary. The conditions of being an employee include:
Four trillion yen daily wage (equivalent to 300 yen)
No paid vacation
Demolition business but employees are free to change nature of their job
Resignation is prohibited (company building has no exit)
Nene is the eternal CEO of the company
They serve dog food to employees
External Links
Media
Further readings
References