This is a Japanese name; the family name is Momosuzu.
Associated pages
Momosuzu Nene (桃鈴ねね) is a female Japanese Virtual YouTuber associated with hololive, as part of its fifth generation of VTubers alongside Yukihana Lamy, Shishiro Botan, Mano Aloe and Omaru Polka.
Introduction Video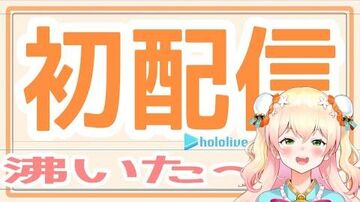 Nene's introduction.

Personality
Nene is a cheerful girl who loves to talk and sing. She dreams of becoming an idol and having her own anime opening song.[5] She's very clumsy in games but shown impressive luck, displaying good aiming skills in Apex despite being a beginner[6] or having 100% win rate in the first Among Us collaboration stream.[7] She's overconfident about her gaming skills, calling herself Supernenechi. She is also complete beginner at Minecraft, falling a total of 16 times in her first hololive server Minecraft stream and failing Roboco's magma test.[8] She was also seen as brute who indiscriminately attacked NPCs, animals and objects in the first 5th gen Craftopia stream in which Lamy scolded her for it.[9] 
She also flirts with other members of hololive using her handsome voice (イケボ), calling members such as Lamy as "my Lamy" (俺のラミィ) or sending virtual kiss sound (ちゅ) to girls. She admitted that she has many wives which include Lamy, Suisei, Ina, and Kiara.[10]
She also revealed that she applied for hololive four times.[11] She did not get an immediate reply from first three applications so she kept submitting an application until they called her. Polka and Lamy thought that Nene is the toughest 5th gen member and easily bounces back to being optimistic.
She often streams during lunch time (12:00 JST) chatting with fans while eating or drawing pictures. She displayed decent drawing skills and had collaborated with Marine and her designer, Nishizawa 5mm, for a drawing stream.[12] She has shown closeness with her fellow 5th gen member, Polka, both playing Mario Kart and Clubhouse 51.[13][14]
She often adds -aru at the end of her sentences similar to Kagura of Gin Tama. However, she stopped using it lately (October 2020) because she is not confident about it.[10][15]
Profile
A girl who came from another world to chase after her idol dream. She likes singing, dancing, and drawing. She trains hard every day in order to win the hearts of even more people.[16]
History
Background
Nene was introduced on hololive's YouTube channel in a small introductory video along with the rest of the fifth gen on 6 August 2020.[5] Her Twitter account was created in April 2020, she made her first tweet on 6 August.[17] Her YouTube channel was created on 15 April but she debuted until 13 August 2020 during a stream also reaching 100,000 subscribers during that day.[18]
2020
On 14 November, she reached 300,000 subscribers.
On 27 December, hololive's official Twitter account announced that Nene would get a new main costume.[19] Because of this new design, Nene didn't get a New Year costume or a 3D model announcement alongside the other 5th gen members.
2021
On 18 January, Nene reached 400,000 subscribers on her YouTube channel.[20]
On 31 January, Nene revealed her new design. Her new main costume is bear themed as she can wear bear ears on her buns and paws on her hands, bear heads silhouettes on her corset and a bear themed bag, her new dress has a peach shaped cleavage, the primary colors of this dress are white, yellow and brown, on top of her dress she can wear a white jacket with a badge that reads "HAAAN" above a peach. Unlike other members that get new looks and costumes this is the first time that a 2D primary appearance is completely replaced by a new one, with the change being made even on her official profile on hololive's page. During the reveal section of her stream, she reached an attendance of over 100,000 viewers.[21]
On 2 March, she reached 500,000 subscribers on her YouTube channel during her birthday celebration stream.[22], making her the 34th hololive member to reach this milestone and the last of her generation.
On 13 April, she announced that she would be receiving her 3D model on April 18.[23]
Discography
Singles
NENENENENENENENE! DAIBAKUSOU
   
Release Date
3 March 2021

Track List

"NENENENENENENENE! DAIBAKUSOU" (ねねねねねねねね!大爆走)
"NENENENENENENENE! DAIBAKUSOU" (Instrumental)

External links
Digital Release
Nene Productions (NenePro)
During the first gameplay stream of Good Job, she revealed that she wanted to create an idol (demolition) company with her being its CEO and sole talent.[24] As a result, fans calls her CEO, or Pres. Nene (ねね社著). She treats her fans as employees and she them promised high (?) salary. The conditions of being an employee include:
Four trillion yen daily wage (equivalent to 300 yen)
No paid vacation
Demolition business but employees are free to change nature of their job
Resignation is prohibited (company building has no exit)
Nene is the eternal CEO of the company
They serve dog food to employees
Fans
Trivia
External Links
Media
Further readings
References
Community content is available under
CC-BY-SA
unless otherwise noted.