Mononobe Alice (物述有栖 Mononobe Arisu) is a female English-Japanese Virtual YouTuber and a member of the Nijisanji group.
Introduction Video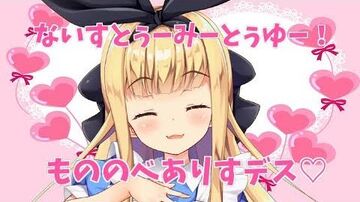 Alice's introduction.

Personality
Despite her child-like appearance, Alice is a first year high school student. Though she is a transfer student, she is not a returnee. While her mother is British and her father is half Japanese, she was born and raised in Japan. Since she was born with such an eye-catching appearance, she decided to take advantage of this by acting like a foreigner.
Trivia
Alice's design and appearance is based on the Lewis Caroll's Alice's Adventures in Wonderland and Through the Looking-Glass character of the same name.
On 13 October 2018, Alice debuted her 3D form in a livestream [1]
She's part of the cast of the AbemaTV's exclusive variety show Nijisanji ni Kujijuuji (にじさんじのくじじゅうじ)
Alice is fluent in English and she occasionally speaks to her fans in that language.
On 23 February 2019, Alice did a collaboration livestream with Nitroplus' Super Sonico on the platform REALITY with a simulcast on Sonico's YouTube Channel.[2]
External Links