Associated pages
Murasaki Shion (紫咲シオン) is a female Japanese Virtual YouTuber associated with hololive, as part of its second generation of VTubers alongside Minato Aqua, Nakiri Ayame, Yuzuki Choco, and Oozora Subaru.
Introduction Video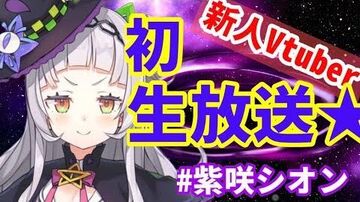 Shion's introduction.

Personality
Shion is a smug, cheeky brat ("kusogaki") who speaks bluntly without the usual politeness/consideration associated with the Japanese language, and flirts shamelessly with other hololive members. She wants to be seen as an adult, but thanks to her childish appearance and mannerisms, all attempts by Shion to appear adult-like end up looking very silly. She has a friendly rivalry with Minato Aqua, and the two can often be seen playing petty and mostly harmless pranks on each other.
One of her most iconic cries is her guttural scream of "NEEEEEEE". This was most famously uttered by Shion after Natsuiro Matsuri revealed that Shion's wet sneezing sounds were heard by Matsuri's listeners in one of her livestreams.
Profile
"Hellshio! Murasaki Shion here!"
A random self-proclaimed child (though she is probably an adult) who appears around the Demonic-Realm Academy. She calls herself a highborne black magician (probably).
She can barely say her greeting, "Hellshio".[4]
History
Background
Her Twitter account was opened on 1 August 2018 while her YouTube channel was created on 3 August although her YouTube activities did not start until her first stream that was live on 17 August.[5]
2019
On 7 May, she announced in a stream that she would debut her 3D model.[6] The 3D model was later revealed on 12 May.[7]
On 1 August, she debuted her second 2D costume.[8]
On 26 August, she revealed her 3D model swimsuit on a stream.[9]
2020
On 2 January, she announced on her Twitter account that she would get her third 2D costume,[10] this was revealed to be a kimono celebrating the new year later the same day during a stream on YouTube.[11]
On 24 January along with the other hololive girls up to the third generation, she debuted her 3D idol outfit at hololive's 1st fes. Nonstop Story.[12][13]
On 28 July, she announced on her Twitter account that her original 2D model would be get an update. She debuted her updated model during a stream later the same day, featuring more facial expressions, her hair bangs have more movement, in her hat the tip and the "eyelashes" of the eye were added a bit of movement, along with general movement improvements in line with the model capabilities of hololive members from the GAMERS unit onwards.[14][15]
On 16 October, hololive's Twitter account announced that Shion, Houshou Marine, Shirogane Noel and Yuzuki Choco would get new 2D costumes.[16]
On 15 November, she debuted her fourth 2D costume during a stream, in this costume Shion wears a black gothic dress with cat ears and tail, the dress is decorated with various ribbons with the appearance of chains, including one tied to her neck, the eye that decorated her hat in her original outfit is now in the chest area of her dress, similar to her second 2D costume her hair is styled with ponytails but unlike that costume, in this one she doesn't have buns, finally the tradicional green and yellow triangles that all of her costumes have, are now only referenced as she wears triangle earrings.[17]
On 23 November, she reached 500,000 YouTube subscribers, making her the 22nd hololive member to reach this milestone. Coincidentally, Takanashi Kiara reached that same threshold later that day.[18]
2021
On 15 January, she reached 600,000 YouTube subscribers.
Events
On 27 November 2019, she made an appearance in hololive's collaboration with Azur Lane as one of the characters, alongside Shirakami Fubuki, Nakiri Ayame, Ookami Mio, Natsuiro Matsuri, Minato Aqua and Tokino Sora, she was available from 27 November to 17 December[19].
On 17 February 2021, Rakugaki Kingdom's Twitter account announced that Shion alongside Fubuki, Marine, Okayu and Korone would appear in the mobile RPG game by mid March.[20]
Fans
Her fanbase is officially called "Shiokko" (塩っ子).
Trivia
On 24 November 2018, she slept through a live-stream that was supposed to start at 2PM, while Natsuiro Matsuri and others frantically messaged her. Shion posted an apology before starting her video. As a result there was much adorable fan art of her sleeping.
She gets along with fellow 2nd generation member Minato Aqua, and often have collab streams.
External Links
Media
Further readings
References
Community content is available under
CC-BY-SA
unless otherwise noted.