Associated pages
Mysta Rias (ミスタ・リアス) is a male English Virtual YouTuber affiliated with NIJISANJI EN's fourth wave "Luxiem," alongside Luca Kaneshiro, Shu Yamino, Ike Eveland, and Vox Akuma.
Introduction Video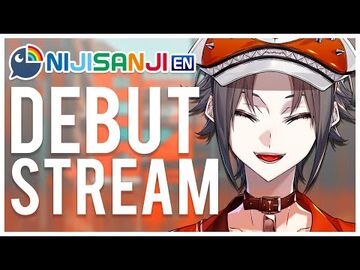 Profile
A Detective from the past known for his eccentric nature.
As a natural-born genius, he solved countless mysteries with his keen deduction skills.[3]
Personality
As described in his profile, Mysta is known for his eccentric nature, characterized by his loud and outspoken way of speaking, humorous and bizarre personality, and proneness to swearing. What his profile doesn't accurately testify is the fact that he is a "natural-born genius", as noticed by his peers and fans, he doesn't have knowledge on certain common knowledge, such as what e coli is,[4] the fact that chickens can't fly,[5] cooking knowledge (see the cooking and food-related incidents section), etc.
Despite that, Mysta also has a sense of maturity, being able to straightforwardly discuss serious topics and addresses them when needed.
History
Background
On 18 June 2021, NIJISANJI EN opened two sets of auditions, one of which was for an all-male wave Livers.[6] The all-male auditions lasted until 1 August.
On 17 December 2021, NIJISANJI EN announced the upcoming debut of its fourth wave "Luxiem", accompanied by a teaser featuring the new Livers' designs and voices.[7] It was also announced that an original song sang by Luxiem, "Hope in the dark", would be released on the same day of their debut. The song was written and produced by ChibiNyan, who also wrote and produced Ethyria's debut song "God sees all".[8]
Mysta's YouTube channel was created on 1 December 2021, and his Twitter account also created in the same month. His first tweet was made on 17 December 2021.
Debut
Luxiem made their debuts on 20 December 2021 (JST) as part of a special debut program hosted on the NIJISANJI EN channel, with commentary provided by Elira Pendora and Oliver Evans. Mysta was the fourth member to debut.
2021
On 31 December, his Youtube channel reached 100,000 subscribers.[9]
Discography
Fans
Mysta's fans are called "Mystakes", a portmanteau of "Mysta" and "mistakes".
Quotes
"Ruff ruff bark arf arf bark bark arf" - Debut Stream
"who tf washes rice??? LMAOOOOOOOOO" - Mysta's tweet
"Hey... are you a... are you... a... lightbulb...? Because... when you're turned on... you're hot?"[10]
Trivia
Identity
Color:

#C3552B

[2]
Occupation: Detective
Mysta helped out with motion graphic and sound effects on Luca's debut stream.[12]

Before he became a detective, Mysta studied video editing in college. He later stopped because he found it was really depressing and due to the unexpected amount of work.[13]

Mysta is bi-curious.[15]
He is lactose intolerant.[16]
Preferences
Likes: Magnum (the ice cream, not the condom), sleeping, mysteries, rhythm games, rom-com anime/manga, katsu curry (mild), and getting stepped on[17]

Anime/Manga: "Ijiranaide, Nagatoro-san", Jahy-sama wa Kujikenai!, Servant x Service, Recovery of an MMO Junkie, Bokutachi wa Benkyou ga Dekinai!, Nisekoi, Kaichou wa Maid-sama!, Hunter x Hunter, Toradora!, Working!, Love is War, Re:Life, Ao Haru Ride, The Quintessential Quintuplets, Tsurezure Children, Karakai Jouzu no Takagi-san.[18]
Games: Osu!, Taiko no Tatsujin, League of Legends, Apex Legends, VALORANT, Undertale, Animal Crossing.[19]
Music: Fox Stevenson[19]

Dislikes: moving around, cleaning, exercising, social meetings, when internet goes down, horror, and the dark.[20]
Mysta doesn't like Sushi[21]
Likes lilac scents
Doesn't like Vanilla, Matcha, Chocolate mint, Bubble Tea, Sparking water
Prefers red grapes
Favourite colour: Black[22]
Favourite animal: Red Panda
Favourite cake: Chocolate
Pours cereal before milk
He thinks pineapple on pizza is good, but he would never buy it.[23]
Favourite junk food. Salami and Slush Ice.
Likes cocktails and ciders. Don't like beers.
Doesn't drink Tea or Coffee
Favourite Pokémon: Sylveon[24]
Mysta is notorious for his unusual and questionable experiences and decisions in cooking and food in general.
The earliest case is when he shared that he had expired milk in his fridge, which became yellow.[25]
The most infamous is when he tweeted, "who tf washes rice??? LMAOOOOOOOOO", which resulted in an uproar from his audience and NIJISANJI members from various branches.

He later learned that not washing his rice was very unrecommended and unpreferable, and now washes his rice.[26]

He thought that to make fried rice, you have to literally fry the rice in a frying pan. This resulted in the rice going crunchy and hard.[27]
Mysta's stories were noticed by comedian Nigel Ng, better known by his online persona Uncle Roger.
One time he made rice, but forgot about it for two months. When he decided to make rice again, he found thousands of maggots in his rice cooker.[29]
He mistakenly ate mold on his desk thinking it was hardened chocolate.[30]
When he made mashed potatoes he didn't wash the potatoes because he thought it wasn't neccessary since he boiled them in water.[31]
He didn't clean his drink bottle properly, with the dishwashing liquid still being in the bottle. His juice tasted like soap, and thinking that the soapy taste would go away if he kept drinking it, he drank half of his drink.[32]
Miscellaneous
Mysta shares his character designer with Shu Yamino of NIJISANJI EN and Aragami Oga of holostars.
He has a single earring in his left ear.
He owns a Tenga egg. He has a story where when he was living with his mother, he put it in the bathtub, and when he went looking for it, he found the Tenga egg placed on the side table, meaning that his mother saw the egg and put it there.[33]
Has two cats named Tom and Jerry, as well as a dog which is currently staying at his mom's.
His female version is called Mysty
If stranded on an island he would bring Vox because he can cook and Shu to get things done.
In a game of who would you kiss, date and marry. He would kiss Luca, Date Ike and Marry Vox, Shu is his brother (same mama) so he gets a hug.[34]
Would pick Shu as his sidekick for detective cases.
He is a dog person.
He is left-handed.[35]
External Links
Media
Further readings
References