This is a Japanese name; the family name is Nakiri.
Associated pages
Nakiri Ayame (百鬼あやめ) is a female Japanese Virtual YouTuber associated with hololive, as part of its second generation of VTubers alongside Minato Aqua, Murasaki Shion, Yuzuki Choco, and Oozora Subaru.
Introduction Video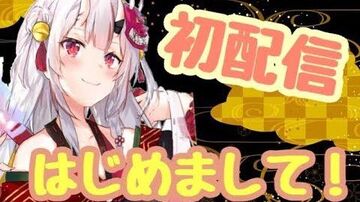 Ayame's introduction.

Personality
Profile
"Greetings, humans! Nakiri Ayame has arrived!"
A kimono-clad Oni girl from the Demonic-Realm Academy. As she loves to prank people, she always uses will-o'-the-wisp on them just to have fun. Many may not realize it, but she is actually the president of the student council.[2]
History
Background
Her Twitter account was opened on 1 August 2018 while her YouTube channel was created on 12 August although she did not start her activities on her channel until her introduction stream which was live on 3 September.[3]
2019
On 14 May, she announced she will be getting a 3D model.[4] She debuted her 3D model on 17 May.[5]
On 9 August, she debuted her 3D swimsuit costume.[6]
On 20 November she announced on her Twitter account a new 2D costume[7] which debuted during a stream on 23 November.[8]
2020
On 1 January, she published in Twitter, that she would get her new year costume,[9] which was later revealed during a stream the same day.[10]
On 24 January along with the other hololive girls up to the third generation, she debuted her 3D idol outfit at hololive's 1st fes. Nonstop Story.[11]
On 28 July, she announced on her Twitter account that her original 2D model would be updated to the 2.0 version, later on 31 July she debuted her updated model during a stream. Her updated model features more facial expression, her mouth for example has much more movement while talking and smiling, her hair bangs now have natural movement and she can turn freely in more directions, in line with the model capabilities of hololive members from the GAMERS unit onwards.[12][13]
On 21 December, she reached 600,000 YouTube subscribers.
Events
On 12 September 2019, she made an appearance in hololive's collaboration with Dawn of the Breakers as one of the characters alongisde Akai Haato, Natsuiro Matsuri, Shirakami Fubuki, Oozora Subaru, Sakura Miko, and Ookami Mio.[14]
On 27 November 2019, she made an appearance in hololive's collaboration with Azur Lane as one of the characters, alongside Shirakami Fubuki, Ookami Mio, Natsuiro Matsuri, Murasaki Shion, Minato Aqua and Tokino Sora, she was available from 27 November to 10 December.[15]
Fans
Her fanbase is officially called "Nakiri-gumi" (百鬼組).
Trivia
She greets her fans by saying "Konnakiri!"
She has a bad sense of direction, often going the wrong way.
Before becoming a VTuber, she revealed she used to be a loner and had trouble interacting with others. Since joining hololive, she was progressively able to make bonds with the other members, open up and rely on them, and gain self-confidence.
She's a fan of FPS games and frequently plays them on stream.
She's bad at horror games and is easily scared.
She shares her character designer Kagura Nana with Spade Echo of hololive China.
Yukihana Lamy is a big fan of Ayame.
She owns a pet cat named Jirusuke.
External Links
References
Community content is available under
CC-BY-SA
unless otherwise noted.