Associated pages
Nanami (七海) is a female Chinese Virtual Youtuber who is a member of Nijisanji's second generation of their Chinese Branch, VirtuaReal.
Nanami is an ordinary highschool girl who has a mild case of the Chuunibyou syndrome that often talks about how she will "conquer the seven seas". She likes to sing and play games at home with her shark hoodie on, and spends almost all of her money and savings on her personal hobby to make her house look like a super high-tech aquarium.
Although her friends around her will make fun of her dreams and ambitions, she would always respond with powerful and decisive answers that will amaze them everytime.[1]
Introduction Video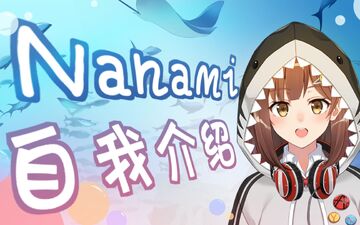 Nanami's introduction.

Personality
History
Background
On 11 June 2019, Nanami, Ichigo, and Kouichi were announced to be the second generation of Livers from VirtuaReal.
On 19 April 2021, it was announced that Nanami would be holding her first solo 3D concert on 5 June 2021 at 19:00. Hanser, Ruki, Roi, Aza, Lize Helesta, and Makaino Ririmu will appear as guests.
Events
Trivia
Nanami's favourite Nijisanji Liver is Makaino Ririmu.
Nanami is the second VirtuaReal member to be visited by police after Karu, in her case being mistaken for a Kris Wu fan.
External Links
Media
Further readings
References
VirtuaReal (V T E)
1st Generation
Eine (🗝🎩)

 · 

Ruki
2nd Generation
Nanami (🦈)

 · 

Kouichi
Retired

Ichigo

(🍓)
3rd Generation

Muri

(🌙)
Retired

Hanon

(🕊️)
4th Generation

Plus

(🍭)

 · 

Nyatsuki

(💦)

 · 

Waku

(🐉)
5th Generation

Miki

(🐋)

 · 

Hoshimi

(⛱)

 · 

Mahiru

(👿)
6th Generation
Aza (🐱)

 · 

Yagi

 · 

Tabibito

 · 

Roi

(💎✨)
7th Generation

Seiya

 · 

Saya

(💫)

 · 

Yukie

8th Generation

Karu

(👒)
Retired

Shiki

 · 

Samael

 · 

Mimoi

 · 

Pax

9th Generation

Chiharu

 · 

Chaos

 · 

Kiyora

10th Generation

Reve

 · 

Sirius

 · 

Yua

 · 

Shaun

(🦷)
11th Generation
Tanoshiba

 · 

Mari

 · 

Chiyuu

 · 

Imi

12th Generation

Mayumi

 · 

Kendou

(🦴)

 · 

Tsukumo

 · 

Remi

(⚓)
13th Generation

Tocci

 · 

Kiti

 · 

Qilou

VirtuaReal Star

Ling Yuan Yousa

 · 

Sakura Haruka

 · 

Nanako

 · 

Zuya Naxi

 · 

Hanser

VirtuaReal Link

Andou Inari

(🦊)

 · 

Mitsusa

(🥕)

 · 

Lynn

 · 

Eli

 · 

Muse

 · 

Seven

 · 

Sumire Hina

(🥟)

 · 

Karon (🥐)

 · 

Isabella

 · 

Azusa

 · 

Kero

 · 

Jinxy

 · 

Ruruna

 · 

Mori

 · 

Miyazono Rin

 · 

Syo

 · 

Susam

 · 

Noi

 · 

Nox

(⭐)

 · 

Joi

(🍊)
Retired

Suzukaze Suzuka

(🍩)

 · 

Mama Mara

 · 

KINGSK

 · 

Prime Star