Natsuiro Matsuri (夏色まつり) is a female Japanese Virtual YouTuber associated with hololive, as part of its first generation of VTubers alongside Yozora Mel, Aki Rosenthal, Shirakami Fubuki, and Akai Haato.
Introduction Video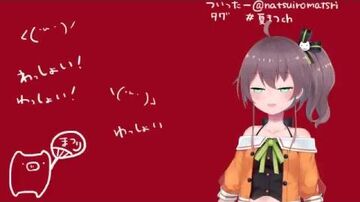 Matsuri's introduction.

Personality
Matsuri is an energetic, expressive, and chaotic individual who seems to enjoy doing outrageous (and usually lewd) things simply because she can. Some examples include pressuring Minato Aqua into sleeping next to her in a Minecraft stream, posting a suggestive video on Shirakami Fubuki's Twitter of her moaning Fubuki's name,[3] screaming at Hoshikawa Sara to let her drink her pee,[4] and groping other members off-camera (including Hoshimachi Suisei, Shirogane Noel, and Murasaki Shion, among others).[5]
However, underneath her naughty and tomboyish exterior, Matsuri is actually a sensitive, emotionally intelligent young girl who can speak frankly and maturely about a variety of topics. She will sometimes host audio only streams right before she goes to sleep or while in the bath and simply talk to her viewers about her life and her inner thoughts.
History
Background
Her Twitter account opened on 16 May 2018 while her YouTube channel was created on 25 May although she did not start her activities on YouTube until her first stream on 2 June.
2018
On 1 November, she debuted her second 2D costume.[6]
2019
On 1 April, she announced that she would get her 3D model in the middle of April.[7]
On 3 April commemorating this, she built a model of her in 3D in Minecraft.[8] She later announced the debut date to be on 15 April.[9] She debuted her 3D model during a stream on this date.[10]
On 6 August, Matsuri showcased her 3D model swimsuit.[11]
2020
On 1 January, she announced in Twitter that she would get her third 2D costume to celebrate the new year,[12] this costume was later revealed the same day.[13]
On 23 January, her YouTube channel became demonetized.[14] A few minutes later, she said on her Twitter account that it was due to one of the songs she sung,[15] claiming it was a mistake on Youtube's side, so she would reapply for monetization the next month.[16]
On 24 January along with the other hololive girls up to the third generation, she debuted her 3D idol outfit at hololive's 1st fest Nonstop Story.[17]
On 30 January, she announced on her Twitter account the remonetization of her channel.[18][19]
On 1 March, she teased on Twitter a new 2D model for her next stream. On 2 March, she revealed this 2D model, unlike her normal model, in this one Matsuri is a 6 year old girl and acts for the most part like one.[20]
On 28 July, she announced on her Twitter account that her original 2D model would be get an update. She debuted her updated model during a stream later the same day, featuring more facial expressions, her hair including her ponytail and ahoge has improved movement and the previously still ribbon on her blouse now has movement, along with general movement improvements in line with the model capabilities of hololive members from the GAMERS unit onwards.[21][22]
Events
On 23 May 2019, she made an appearance in hololive's collaboration with Dawn of the Breakers as one of the characters alongisde Roboco, Aki Rosenthal, Shirakami Fubuki, Minato Aqua, Yuzuki Choco, Oozora Subaru, and Ookami Mio.[23]
On 27 November 2019, she made an appearance in hololive's collaboration with Azur Lane as one of the characters, alongside Shirakami Fubuki, Nakiri Ayame, Ookami Mio, Murasaki Shion, Minato Aqua and Tokino Sora, she was available from 27 November to 10 December.[24]
Mascot and Fans
She has a mascot called Ebi Frion, part-lion part-fried shrimp. This is a pun on the words "Ebifurai" (fried shrimp) and "lion".
Her fanbase is officially called "Matsurisu" (まつりす). They are represented by a small brown squirrel with chubby cheeks.
Trivia 
She has openly admitted to being a lolicon.
Her mother, known as 'Mamatsuri', has been on streams with her when they do Q&As.
She has a younger brother who has appeared on some of her streams before.[25]
External Links
References
↑ tou_ilie (2020, July 28) ホロライブ1期生、夏色まつりさん(@ natsuiromatsuri)の新Live2dのモデリングを担当させて頂きました! (イラストレーター:皆村春樹先生(@ halllki) 色んな表情が出来るようになったまつりさんを、いっぱい見ていただけると嬉しいです! https://youtu.be/g2InKgUPAA4

夏色新2D [Tweet] Retrieved from https://twitter.com/tou_ilie/status/1288123475119321089
Community content is available under
CC-BY-SA
unless otherwise noted.