This is a Japanese name; the family name is Natsuiro.
Associated pages
Natsuiro Matsuri (夏色まつり) is a female Japanese Virtual YouTuber associated with hololive, debuting as part of its first generation of VTubers alongside Yozora Mel, Aki Rosenthal, Shirakami Fubuki and Akai Haato.
Introduction Video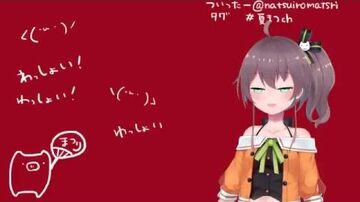 Profile
"Festival night! Natsuiro Matsuri is here!"
A rookie on the Cheerleading Team. Cheerful and affectionate, her pleasant attitude means she gets along with everyone. She has a lot of friends, and loves festivals and events.[1]
Personality
Matsuri is an energetic, expressive, and sometimes chaotic cheerleader girl who is bubbly as a festival. She is known for certain viral moments like wearing band-aids to school instead of bras,[6] posting her own take of a popular internet copypasta video on Shirakami Fubuki's Twitter,[7] and groping other members off-camera (including Hoshimachi Suisei, Shirogane Noel, Murasaki Shion and Yukihana Lamy, among others).[8] Her cheerful attitude makes her popular among her peers and is looked up upon by her juniors. She has high girl-power, making her a good wife material noted by other hololive members.
However, underneath her rowdy and tomboyish exterior, Matsuri is actually an emotionally intelligent, sensitive, sweet, yet serious, and hardworking young girl. Who can speak frankly and maturely about a variety of topics. She will sometimes host audio only streams right before she goes to sleep or while in the bath and simply talk to her viewers about her life and her inner thoughts.
History
Background
On 2 May, auditions opened for what would become known as hololive 1st generation. Natsuiro Matsuri was one of five characters revealed in the initial audition announcement, along with Aki Rosenthal, Hitomi Chris, Shirakami Fubuki, Akai Haato. Auditions closed at midnight on 13 May, with selections beginning between May 9 and May 18.[9] Matsuri's Twitter account opened on 16 May 2018, and her YouTube channel was created on 25 May.
Matsuri made her debut stream on 1 June.[10]
An introduction video was uploaded on 9 June.
2018
On 1 November, she debuted her second 2D costume.[11]
2019
On 1 April, she announced that she would receive her 3D model in the middle of April.[12]
On 3 April commemorating this, she built a model of her in 3D in Minecraft.[13] She later announced the debut date to be on 15 April.[14] She debuted her 3D model during a stream on this date.[15]
On 6 August, Matsuri showcased her 3D model swimsuit.[16]
2020
On 1 January, she announced in Twitter that she would get her third 2D costume to celebrate the new year,[17] this costume was later revealed the same day.[18]
On 23 January, her YouTube channel became demonetized.[19] A few minutes later, she said on her Twitter account that it was due to one of the songs she sung,[20] claiming it was a mistake on Youtube's side, so she would reapply for monetization the next month.[21]
On 24 January along with the other hololive girls up to the third generation, she debuted her 3D idol outfit at hololive's 1st fes. Nonstop Story.[22]
On 30 January, she announced on her Twitter account the remonetization of her channel.[23][24]
On 1 March, she teased on Twitter a new 2D model for her next stream. On 2 March, she revealed this 2D model, unlike her normal model, in this one Matsuri is a 6 year old girl and acts for the most part like one.[25]
On 28 July, she announced on her Twitter account that her original 2D model would be get an update. She debuted her updated model during a stream later the same day, featuring more facial expressions, her hair including her ponytail and ahoge has improved movement and the previously still ribbon on her blouse now has movement, along with general movement improvements in line with the model capabilities of hololive members from the GAMERS unit onwards.[26][27]
On 25 October, hololive's official Twitter account announced that she and Haato would get new 2D costumes.[28] Matsuri debuted her fourth 2D costume on 28 October, a new set of casual clothes with a white jacket, she can use rabbit ears, cat ears, a black hat as well as glasses, she can now carry a sad sailor bunny plushie, additionally she got two new hairstyles both twintails.[29]
On 14 December, she reached 700,000 subscribers, the third member of hololive's 1st generation and 15th member of hololive to do so.
2021
On 25 January, she reached 800,000 YouTube subscribers.
On 1 June, during her the third anniversary since her debut Matsuri reached 1,000,000 YouTube subscribers during a singing endurance stream, making her the 17th hololive member to reach that milestone and the 12th member of the Japanese branch to do so.[30]
On 7 July, Matsuri's Twitter account was verified.[31]
On 23 July, her birthday, Matsuri released her second original song "Hi Hi High Tension!".
Discography
Main article: Natsuiro Matsuri/Discography
Hi Hi High Tension!
1st Single    
Release Date
23 July 2021

Track List

"Hi Hi High Tension!" (HiHiハイテンション!
"Hi Hi High Tension!" (instrumental)

External links
Digital Release • Music Video
SHIJOSHUGI ADTRUCK
as hololive IDOL PROJECT    
Release Date
6 January 2021

Track List

"SHIJOSHUGI ADTRUCK" (至上主義アドトラック, Ad Truck of Supremacy)
"SHIJOSHUGI ADTRUCK"" (instrumental)

External links
Digital Release • Music Video
Events
On 23 May 2019, she made an appearance in hololive's collaboration with Dawn of the Breakers as one of the characters alongside Roboco, Aki Rosenthal, Shirakami Fubuki, Minato Aqua, Yuzuki Choco, Oozora Subaru and Ookami Mio.[32]
On 27 November 2019, she made an appearance in hololive's collaboration with Azur Lane as one of the characters, alongside Shirakami Fubuki, Nakiri Ayame, Ookami Mio, Murasaki Shion, Minato Aqua and Tokino Sora, she was available from 27 November to 10 December.[33]
Mascot and Fans
She has a mascot called Ebifrion, part-lion part-fried shrimp. This is a pun on the words "Ebifurai" (fried shrimp) and "lion".
Her fanbase is officially called "Matsurisu" (まつりす). This is a portmanteau of the word "Matsuri" and "Listeners" (リスナー, Risunā. Japanese term for viewers). The word "risu" also means Squirrel in Japanese. Thus, they are represented by a small brown squirrel with chubby cheeks.
Trivia 
She has openly admitted to being a lolicon, referencing various mangaka's works in Comic LO as well as gushing and melting when Tokino Sora acted like a stereotypical loli on stream perfectly.
Her mother, known as 'Mamatsuri', has been on streams with her when they do Q&As.
She has a younger brother who has appeared on some of her streams before.[34]
Her dream is to be a voice actress.
She is terrible with horror games.
She likes dogs. Ironically, she is allergic to them.
Her family has a pet dog named "Kuu-chan". Short for "Cream".
She is also allergic to citrus fruits.
She is a licensed electrician.
She is the thirteenth hololive member to join the official Hololive Subreddit as a moderator.
Her favorite foods include : Doughnuts, sea urchin, and sweets in general.
She likes Hoshikawa Sara a lot and considers her favorite VTuber.[35][36]
She is a big fan of Nijisanji but says that even if she wasn't already in hololive, she wouldn't want to join Nijisanji because she prefers to enjoy them as a fan.[36]
She has a great relationship with Himemori Luna that is often speculated by viewers to be more then friendship.
External Links
Media
Further readings
References
↑ 1.0 1.1 [Profile on hololive tv] Retrieved from https://en.hololive.tv/portfolio/items/433575
↑ [hololive ホロライブ - VTuber Group] (2021, May 14) 【オリジナルMV】Plasmagic Seasons!【ホロライブ1期生】 #from1st [Video File] Retrieved from https://youtu.be/VCJTJX1kXe4?t=166
↑ tou_ilie (2020, July 28) ホロライブ1期生、夏色まつりさん(@ natsuiromatsuri)の新Live2dのモデリングを担当させて頂きました! (イラストレーター:皆村春樹先生(@ halllki) 色んな表情が出来るようになったまつりさんを、いっぱい見ていただけると嬉しいです! https://youtu.be/g2InKgUPAA4 #夏色新2D [Tweet] Retrieved from https://twitter.com/tou_ilie/status/1288123475119321089
↑ Shin_umiushi_O (2020, October 28) この度ホロライブの夏色まつりさんの新衣装のモデリングを担当させていただきました!! 新衣装めっっっっちゃ可愛かったですね……!! ω口めっちゃ可愛くてお気に入りです! お披露目配信お疲れさまでした! イラスト:皆村春樹 先生( @halllki) #夏色まつり新衣装 [Tweet] Retrieved from https://twitter.com/Shin_umiushi_O/status/1321447305627590656
↑ Height chart (as of 31 May 2019)
↑ [lyger Vtuber Translation](2019, November 11) Natsuiro Matsuri – All You Need Are Band-aids [Video File] Retrieved from https://youtu.be/aqHs4VTb2FU
↑ natsuiromatsuri (2018, October 7) フブキへ。ルイズコピペです。 #すこん部 [Tweet] Retrieved from https://twitter.com/natsuiromatsuri/status/1048810611981701121
↑ [lyger VTuber translations] (2019, November 25) Hoshimachi Suisei – Lost, Found, and Felt Up [Video File] Retrieved from https://youtu.be/UCMtQLdrVug
↑ オーディション - ホロライブ(hololive) - バーチャルYouTuber配信サービス. Archived 3 May 2018.
↑ Natsuiro, M. [Matsuri Channel 夏色まつり] (2018, June 1) Matsuri Channel 夏色まつり の初配信 [Video File] Retrieved from https://youtu.be/dJ-8EGi5zCs
↑ Natsuiro, M. [Matsuri Channel 夏色まつり] (2018, November 1) 【VTuber】夏色まつりの新衣装発表だって!!見なきゃ!!!【5か月記念】【夏色まつり/ホロライブ】[Video File] Retrieved from https://youtu.be/DQE2J9SqTrc?t=232
↑ natsuiromatsuri. (2019, April 1). イベントでお知らせしましたがTwitterで改めて!!!
夏色まつり3D化決定!!!!
本当にありがとう。ここまでこれました。
ここからがスタートライン!!!!!!
#ばーちゃるぱーく [Tweet]. Retrieved from https://twitter.com/status/1112677576483303425
↑ Natsuiro, M. [Matsuri Channel 夏色まつり]. (2019, April 3) 【Minecraft】3D化するから自分作ってみる!!! [Video File]. Retrieved from https://youtu.be/QzeSRv7Y8NE/
↑ Cover Corporation. (2019, April 12). ホロライブ所属VTuber「夏色まつり」「赤井はあと」3Dお披露目配信実施のお知らせ [Press release]. Retrieved from https://prtimes.jp/main/html/rd/p/000000054.000030268.html
↑ Natsuiro, M. [Matsuri Channel 夏色まつり]. (2019, April 15) 【#夏色まつり3D】ついに動く身体を手に入れた!!!【3D生放送】 [Video File]. Retrieved from https://youtu.be/qGn0dVLJwSc/
↑ Natsuiro, M. [Matsuri Channel 夏色まつり] (2019, August 6) 【3D放送】JKの水着姿見たくないですか? [Video File]. Retrieved from https://youtu.be/tbUIYEQyNlI/
↑ natsuiromatsuri (2020, January 1) 【新衣装お披露目】新衣装チキンレースwwこれくらいなら見せてもセーフやろwww【ホロライブ/夏色まつり】 1月1日18:30~ お年玉はない・・・すか・・・ 待機場所↓ https://youtube.com/watch?v=DHMUymmD-eE… サムネは配信後変えます('ω')期待してて #夏まつch [Tweet] Retrieved from https://twitter.com/natsuiromatsuri/status/1212119378142978048
↑ Natsuiro, M. [Matsuri Channel 夏色まつり] (2020, January 1) 【新衣装お披露目】新衣装チキンレースwwこれくらいなら見せてもセーフやろwww【ホロライブ/夏色まつり】[Video File] Retrieved from https://www.youtube.com/watch?v=DHMUymmD-eE
↑ natsuiromatsuri (2020, January 23) まって……収益化さん……????????[Tweet] Retrieved from https://twitter.com/natsuiromatsuri/status/1220527846889644033
↑ natsuiromatsuri (2020, January 23) 歌ってみたらしい [Tweet] Retrieved from https://twitter.com/natsuiromatsuri/status/1220528690561351680
↑ natsuiromatsui (2020, January 23) 調べたらAIの誤認説が濃厚らしいので一ヶ月後にもう1回申請してみます!!!!!!!!!!!!!!!!!!!!!!!!!!!!!!!!!!!!!!!!!!!!!!!!!!!!!!!!!!!!!!!!!!!!!!!!!!!!!!!!!!!!!!!!!!!!!!!!!!!!!!!!!!! [Tweet] Retrieved from https://twitter.com/natsuiromatsuri/status/1220532443767169024
↑ hololive_En (2020, January 24) [Songs Performed!] Dream☆Story (Sora, Roboco, Miko, AZKi, Suisei) Yumemiru Sora e (1st Gen) Go-toubun no Kimochi (2nd Gen) #とまらないホロライブ Photo By Ayo Kajino [Tweet] Retrieved from https://twitter.com/hololive_En/status/1220676990061010946/photo/3
↑ natsuiromatsuri (2020, January 30) 収益化戻った!!?!??!?!?!?!?!? [Tweet] Retrieved from https://twitter.com/natsuiromatsuri/status/1222994607081811968
↑ hololive_En (2020, January 30) [Amazing News]Our favorite princess, Natsuiro Matsuri (@natsuiromatsuri) has managed to get her monetization back. We're proud of you! Noel (@shiroganenoel) will re-apply tomorrow. Here's hoping our other girls manage to get sorted out too. [Tweet] Retrieved from https://twitter.com/hololive_En/status/1223076667200917504
↑ Natsuiro, M. [Matsuri Channel 夏色まつり] (2020, March 2) 【マシュマロ雑談】おさなくなりました。まつり(6)です。【ホロライブ/夏色まつり】[Video File] Retrieved from https://youtu.be/xVoHUoReydM
↑ natsuiromatsuri (2020, July 28)🏮配信告知🏮新live2Dお披露目会】生まれ変わったまつりを見て!!【ホロライブ/夏色まつり】 配信時間:7月28日23:00 揺れるもん!!!!!!!! 待機場所 https://youtube.com/watch?v=g2InKgUPAA4 かわいいよ!!みて!!! #夏まつch[Tweet] Retrieved from https://twitter.com/natsuiromatsuri/status/1288036534919127046
↑ Natsuiro, M. [Matsuri Channel 夏色まつり] (2020, July 28) 【新live2Dお披露目会】生まれ変わったまつりを見て!!【ホロライブ/夏色まつり】[Video File] Retrieved from https://www.youtube.com/watch?v=g2InKgUPAA4
↑ hololivetv (2020, October 25) 【🎉お知らせ🎉】2週連続‼ #ホロライブ」所属VTuber「#赤井はあと」「#夏色まつり」の新衣装お披露目が決定いたしました✨ 🔽詳細はこちら🔽 [Tweet] Retrieved from https://twitter.com/hololivetv/status/1320561913550364673
↑ Natsuiro, M. [Matsuri Channel 夏色まつり] (2020, October 28) 【新衣装お披露目】本気の新衣装!ラフ案まで全部見せますッ!【ホロライブ/夏色まつり】[Video File] Retrieved from https://youtu.be/a79OC870YZY?t=1422
↑ Natsuiro, M. [Matsuri Channel 夏色まつり] (2021, June 1) 【100万人耐久】歌って歌って歌い続けろ!【ホロライブ/夏色まつり】 [Video File] Retrieved from https://www.youtube.com/watch?v=SPyhmWLg9xM
↑ Natsuiro, M. [natsuiromatsuri]. (2021, July 7). ん????? んんんん???? 公式マークキタ━(゚∀゚)━( ゚∀)━( ゚)━( )━!!!!! [Tweet]. Twitter.
↑ AzurLane_EN (2019 November 26) Event Period [Tweet] Retrieved from https://twitter.com/AzurLane_EN/status/1199372247120498688/photo/2
↑ [lyger VTuber translations] (2020, January 6) Natsuiro Matsuri – Oh, Brother! [Video File] Retrieved from https://youtu.be/3Kqi5ma8_q0
↑ [Hisyu/ヒスユ] (2020, May 11) [Eng Sub]Hoshikawa & Matsuri's Lovey Dovey Duet [Video File] Retrieved from https://youtu.be/Z2gjgPCHIDI
↑ 36.0 36.1 [Iroha Translation] (2021, June 23) Matsuri talks the reason why she joined to Hololive even though she loves Nijisanji [Video File] Retrieved from https://youtu.be/PekpumDKLR4