This is a Japanese name; the family name is Nekomata.
Associated pages
Nekomata Okayu (猫又おかゆ) is a female Japanese Virtual YouTuber associated with hololive, as part of a group of VTubers inside called as hololive Gamers (ホロライブゲーマーズ) alongside Shirakami Fubuki, Ookami Mio, and Inugami Korone.
Introduction Video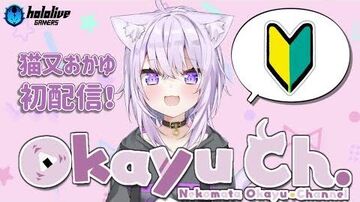 Okayu's introduction.

Personality
Okayu is typically very relaxed, free-spirited, and also somewhat of a playboy. She sometimes flirts openly with other hololive members just to see their reactions and is also known for impulsively swiping food. She never denies her wrongdoings and was handed a guilty verdict in several "Okayu Court" cases, after which she obediently served her sentence.
Despite her laid-back personality, Okayu can get very emotional when playing games to the point that she can break down into tears during emotional moments in the story. This happened most notably when she finished: The Legend of Zelda: Link's Awakening, where she cried on stream after beating the game for a few minutes and needed a moment to compose herself.
She greets her viewers with "Mogu! Mogu!"
History
Background
She was first announced on 22 March 2019 in Shirakami Fubuki's 3D model reveal. Fubuki announced that she alongside Inugami Korone would join hololive Gamers in April.[4] This was followed up by an announcement on hololive's Twitter account on 25 March.[5] She was officially introduced on 1 April.[6]
Her Twitter account was opened on 24 March 2019 while her YouTube channel was created on 25 March although she first started her activity there with an introductory stream on 6 April.[7]
2019
On 29 September, she announced on her Twitter account that she would get her 3D model.[8]
On 4 October, she debuted her 3D model during a stream.[9]
2020
On 1 January, she announced on Twitter that she would get her second 2D costume, a maid inspired kimono to celebrate the new year, this costume was later revealed during a stream the next day on 2 January.[10][11]
On 24 January along with the other hololive girls up to the third generation, she debuted her 3D idol outfit at hololive's 1st fes. Nonstop Story.[12]
On 11 June, hololive's Twitter account announced that Okayu would get a new 2D costume.[13]
On 12 June, she debuted her third 2D costume, a sailor fuku inspired design during a stream.[14]
Fans
Her fanbase is officially called "Onigiryaa" (おにぎりゃー).
Trivia
Okayu is very close to Korone, having been good friends with Korone before joining hololive.
"Okayu" translates to "rice porridge", a common dish in Japan It is also known simply as "kayu".
Okayu's last name "Nekomata" is the name of a type of cat yaoguai/yōkai that appears in both Chinese and Japanese folklore.
Okayu owns a cat; a small female American Shorthair named Temari (the name coming from the Temari Balls of traditional Japanese handcraft culture). The novel oddity of a cat-girl owning a pet cat is not lost on Okayu's fans.
Okayu has demonstrated on stream that she is able to move her cat-ears at will. In several episodes of holo no graffiti they're also seen to sometimes wiggle involuntarily.

In one of her streams with Korone, it is revealed that the ears are tied to her eyebrow movement; this can technically work with other VTubers of the same type of animal-ear model, as Korone in the same stream has also managed to do so with her own eyebrow movement. Though model-movements may vary from model to model as shown with others.

She is a big fan of Dragon Ball and of Broly. During a stream, she mentioned that she watched the new Broly movie from Dragon Ball Super numerous times and really loved his character.

Her three most favorite characters are Broly, Bardock, and Raditz.

Sometimes her grandmother can be heard snoring in the background during her streams.
When her grandmother's health deteriorated she spent some time living with Korone and her family.
One of her fondest memories with Korone is when she treated Okayu like a little sister.
External Links
Media
Further readings
References
Community content is available under
CC-BY-SA
unless otherwise noted.