We're Getting Mutants in the MCU - The Loop
Play Sound
This is a Japanese name; the family name is Nekomata.
Associated pages
Nekomata Okayu (猫又おかゆ) is a female Japanese Virtual YouTuber associated with hololive, debuting as part of the group "hololive Gamers" (ホロライブゲーマーズ) alongside Shirakami Fubuki, Ookami Mio and Inugami Korone.
Introduction Video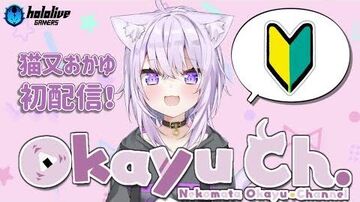 Profile
hololive.hololivepro.com
"Om, nom, Okayu!"

A cat being raised by an old woman that runs an onigiri store. She streams from the computer in her grandma's room.[6]
hololive.tv
Om, nom, nom! Okayu time!

A cat raised by a old woman from the onigiri store. She streams just because there is a PC in the old woman's room.[7]
Personality
Okayu is typically very relaxed, free-spirited, and also somewhat of a playboy or prankster. She sometimes flirts openly with other hololive members just to see their reactions and is also known for impulsively swiping food. She never denies her wrongdoings and was handed a guilty verdict in several "Okayu Court" cases, after which she obediently served her sentence. Okayu typically likes to talk a lot and through many streams likes to talk about daily activities and old stories.
Despite her laid-back personality, Okayu can get very emotional when playing games to the point that she can break down into tears during emotional moments in the story. This happened most notably when she finished: The Legend of Zelda: Link's Awakening, where she cried on stream after beating the game for a few minutes and needed a moment to compose herself.[8]
She greets her viewers with "Mogu! Mogu!", the Japanese sound of chewing.
History
Background
She was first announced on 22 March 2019 in Shirakami Fubuki's 3D model reveal. Fubuki announced that she alongside Inugami Korone would join hololive Gamers in April.[9] This was followed up by an announcement on hololive's Twitter account on 25 March.[10] She was officially introduced on 1 April.[11]
Her Twitter account was opened on 24 March 2019 while her YouTube channel was created on 25 March although she first started her activity there with an introductory stream on 6 April.[12]
2019
On 29 September, she announced on her Twitter account that she would get her 3D model.[13]
On 4 October, she debuted her 3D model during a stream.[14]
2020
On 1 January, she announced on Twitter that she would get her second 2D costume, a maid inspired kimono to celebrate the new year, this costume was later revealed during a stream the next day on 2 January.[15][16]
On 24 January along with the other hololive girls up to the third generation, she debuted her 3D idol outfit at hololive's 1st fes. Nonstop Story.[17]
On 11 June, hololive's Twitter account announced that Okayu would get a new 2D costume.[18]
On 12 June, she debuted her third 2D costume, a sailor fuku inspired design during a stream.[19]
On 10 September, she reached 500,000 YouTube subscribers, making her the 11th hololive member to reach that milestone.[20]
On 27 October, she reached 600,000 YouTube subscribers.
On 5 December, she reached 700,000 YouTube subscribers, being the 13th hololive member to do so. On the same day, Shirogane Noel reached that same threshold.
2021
On 13 January, she reached 800,000 YouTube subscribers.
On 22 February, she released her first original song, "Mogu Mogu YUMMY!," during her 3D birthday stream.[21]
On 23 February, she reached 900,000 subscribers on YouTube.
On 3 March, "Mogu Mogu YUMMY!" reached 1,000,000 views.
On 30 March, "Mogu Mogu YUMMY!" reached 2,000,000 views.
On 17 April, she reached 1,000,000 subscribers on YouTube during an endurance stream, making her the 13th member of hololive to reach this milestone and the 10th member of hololive JP to do so. She is also the third member of hololive GAMERS to reach that milestone.
On 9 July, Okayu announced on her Twitter account that she would get her fourth 2D costume.[22]
On 14 July, she debuted a new costume along with Korone. The new outfit featured a new hairstyle, a black buttoned sweater, a white shirt, a purple ribbon, a pair of purple glasses and a pair of slippers with Korone's symbol. Okayu described the new outfit has the spirit of uniform, nurse and boyfriend's shirt.[23]
On 9 September, Okayu's Twitter account was verified.[24]
On 11 September, Okayu's Live2D model was updated to the 2.0 version.[25]
On 29 December, Okayu's 3D model gained new accessories, including pixelated sunglasses, aviator sunglasses, and a black hololive mask.
2022
On 9 January, Okayu debuted a new 3D costume, in which she revealed in the hololive ERROR stream in her channel. This outfit is the school uniform of 20XX Aogami Highschool, which is the same as Shirakami Fubuki, Natsuiro Matsuri, Aki Rosenthal, Yukihana Lamy, and Momosuzu Nene. However, Okayu's version has a black blazer over a light brown vest on top of the base school uniform.[26] Her character is later revealed to be Nekomiya Yuka of the Winter 20XX Aogami Highschool.
On 18 July, the members of hololive GAMERS debuted a new accessory to celebrate their third anniversary, a headband with hearts on top of it. Okayu's headband is purple.[27]
On 31 July, Okayu debuted a new 3D costume, also revealed in the hololive ERROR stream in her channel. This outfit is the same 19XX Aogami Highschool uniform as Tokino Sora, Hoshimachi Suisei, Sakura Miko, Shirogane Noel, Shishiro Botan, and Omaru Polka. The brown "vest" on her 20XX Aogami uniform is actually a cardigan when the black blazer is removed, the cardigan can also be removed to reveal a full white uniform top akin to the summer dress code.[28]
On 11 August, as part of the "hololive Summer 2022" event, Okayu debuted her 3D swimsuit. Unlike the original swimsuits from 2019 that had individual designs, these swimsuits are meant to be matching outfits similar to the 3D idol costumes. The swimsuits come in two types one with thin straps for the top and a diagonal cut mini skirt and the other one has ruffled straps in the top and an even mini skirt. Both version are white with varios patterns including hololive's and Holoearth's logos, hearts and sparks. The swimsuits are personalized by including different colors to match each talent. Additionally they have the option to wear a hoodie.[29]
Discography
Main page: Nekomata Okayu/Discography
Poisonya Syndrome

1st album

6 September 2022

   

"Mogu Mogu YUMMY!" (もぐもぐYUMMY!)
"Grrr Grrr Tummy"
"Akkanbe" (あっかんべ)
"PABO" (パボ)
"adieu, Salauds" (アデュー、サロー)
"Doku no Oujisama" (毒の王子さま)
"KAMISAMA・NEKOSAMA" (カミサマ・ネコサマ)
"Swallow the venom" (毒杯スワロウ, Doku-hai Suwarō)
"kohakutou" (琥珀糖)
"DETABARECAT" (デタバレネコ, Detabareneko)
"Lazyroop"
"ORANGE PARADE"
feat. Inugami Korone

External links
Digital Release
Events
On 17 February 2021, Rakugaki Kingdom's Twitter account announced that Okayu alongside Fubuki, Shion, Marine and Korone would appear in the mobile RPG game by mid March.[30]
Fans
Her fanbase is officially called "Onigiryaa" (おにぎりゃー). The mascot representing Onigiryaa appears to be a prisoner with its head being a rice ball.
At the start of her stream fan would say "​待機🍙" (standby) The riceball was later replace with a white cat (勝ち猫 winning cat.) Emoji for members.
At the end of her stream fan would say "ゴチゴチ!" (gochi gochi!) as in Gochisousama from thank you for the meal. Which also largely replace by member only emoji.
Trivia
"Okayu" translates to "rice porridge," a common dish in Japan; It is also known simply as "kayu."

Okayu's last name "Nekomata" is the name of a type of cat yaoguai/yōkai that appears in both Chinese and Japanese folklore.

Okayu accidently revealed that she grew up in Aomori when she started talking about a childhood favorite dish her grandma use to make, Tamago-Miso on rice which is a regional dish of the prefecture. True to her carefree nature, she didn't try to hide it when the cat was out of the bag as she kept talking for minutes on end about it.[31]
Okayu uses rather masculine personal pronoun "boku," this trait is shared with Roboco-san and Amane Kanata.
Okayu is very close to Korone, having been good friends with Korone before joining hololive.[12]
Okayu owns a cat; a small female American Shorthair named Temari (the name coming from the Temari Balls of traditional Japanese handcraft culture). The novel oddity of a cat-girl owning a pet cat is not lost on Okayu's fans.
Many fans refer to Okayu as a "harem protagonist" as she gets along with many members.
Okayu has demonstrated on stream that she is able to move her cat-ears at will. In several episodes of holo no graffiti they're also seen to sometimes wiggle involuntarily.

In one of her streams with Korone, it is revealed that the ears are tied to her eyebrow movement; this can technically work with other VTubers of the same type of animal-ear model, as Korone in the same stream has also managed to do so with her own eyebrow movement. Though model-movements may vary from model to model as shown with others.

She claims that if one were to touch and pull on her tail, it would pop off, initiating a self destruct sequence inside her. It's unknown if this is a joke or serious.
She is a big fan of Dragon Ball and her favorite character is Broly. During a stream, she mentioned that she watched the new Broly movie from Dragon Ball Super numerous times and really loved his character.

Her three most favorite characters are Broly, Bardock and Raditz.

Sometimes her grandmother can be heard snoring in the background during her streams.
When her grandmother's health deteriorated she spent some time living with Korone and her family.
One of her fondest memories with Korone is when she treated Okayu like a little sister.
She shares the same illustrator with Shiina Yuika from Nijisanji.
On 7 January 2022, Okayu won the 3rd hololive Mario Kart 8 Deluxe Tournament with 69 points.[32]
External Links
Media
Further readings
References