Not to be confused with Noraneko, a Virtual YouTuber from Nijisanji.
Nora Cat (のらきゃっと, lit. Wild Cat) is a Female Japanese Virtual Youtuber who first debuted on 15 April 2017 on Nicovideo and later debuted on 23 December 2017 on YouTube.
Introduction Video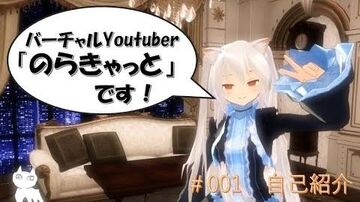 Personality
Nora Cat called herself as Virtual Sidome Bishojo Youtuber. She has a black gothic lolita fashion dress, silver hair, red soulless eyes and cat ears.
Nora Cat usually broadcasts on Youtube Live that uses Kinect for motion capture, Wii Remote for face motion and video controls, Voiceroid for creating voice and real time auto subtitles.

The auto subtitles sometimes will cause some transition errors which make her talk some weird words.
Trivia
Nora Cat was produced by Noraneko (ノラネコ).
She uses Voiceroid for speaking. Her voice is created by Tohoku Zunko in the past. Now she uses Kizuna Akari's voice.
A technical error happened during one of Nora Cat's stream that revealed the person working behind Nora Cat is actually a male. This does not affect Nora Cat's actual gender, however.[1]
External Links
Further Readings
References