Oda Nobuhime(織田信姫) was a female Japanese Virtual YouTuber partially based on the famous 16th century feudal lord Oda Nobunaga (織田信長).
Introduction Video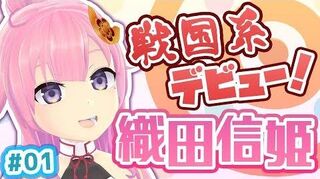 Nobuhime's introduction.

Personality
History
Background
Her YouTube channel was created on 8 March 2018 while her Twitter account was created in April. Her first video was uploaded on 13 April as a small teaser,[1] she officially debuted on 15 April 2018.[2]
2018
On 29 June, she announced on her YouTube channel that she would join the agency upd8.[3]
On 14 December, she made a small video showing her new 3D model, which was officially presented the next day on 15 December.[4][5]
2020
On 21 January, she announced on her Twitter account the demonetization of her channel.[6]
Retirement
On 17 March, Nobuhime announced on her Twitter account the conclusion of her activities as a VTuber.[7] On 30 April of the same year she retired after a farewell stream.[8]
Trivia
External Links
織田信姫 - YouTube channel
@oda_nobuhime - Oda Nobuhime's official Twitter account
織田信姫 - Oda Nobuhime's Pixiv Fanbox
References
Community content is available under
CC-BY-SA
unless otherwise noted.