This is a Japanese name; the family name is Omaru.
Associated pages
Omaru Polka (尾丸ポルカ) is a female Japanese Virtual YouTuber associated with hololive, as part of its fifth generation of VTubers alongside Yukihana Lamy, Momosuzu Nene, Shishiro Botan and Mano Aloe.
Introduction Video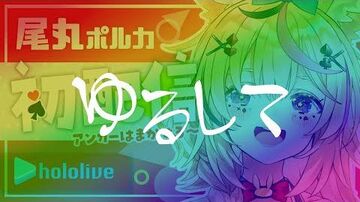 Polka's introduction.

Personality
Polka is known for her silliness and spunk. As a natural-born joker, the only thing to be expected during her streams is unpredictability. True to her nature as a circus performer, she is very energetic and outgoing. As seen on various of her streams and 3D performances, she has a distinctive laugh that can be compared to Pekora's. She also has an array of various instruments at her disposal (which include but are not limited to: bells, rotary phone, glockenspiel, vibraslap, and rubber chickens).
Despite these traits, she is often at the receiving end of pranks and teasing from fellow hololive members and her chat.
She prefers her audience to shout "Poruka Oruka?" (Where's Polka) on her loading screens so she may greet her audience with "Poruka oru yo!" (Polka's here!).
Profile
A circus performer who joined hololive in hopes of becoming the ringmaster of the VTuber world. She enjoys wowing audiences with acrobatics, and lives by the words, "When the going gets tough, the tough get going." If you ask her, her occasional mess ups are also part of her charm.[5]
History
Background
She was introduced on hololive's YouTube channel in a small introductory video along with the rest of the fifth gen on 6 August 2020.[6] Her Twitter account was created in June 2020, she made her first tweet on 6 August.[7] Her YouTube channel was created on 5 June, but she didn't debut until 16 August 2020. On the day of her debut stream, she already reached 100,000 subscribers on her YouTube channel. Also on this day, she debuted her original song HOLOGRAM CIRCUS (short ver.).[8]
2020
On 25 December, Polka debuted the full version of HOLOGRAM CIRCUS on an end of the year VTuber Stream[9]
On 26 December, Polka uploaded the full version of her song HOLOGRAM CIRCUS.[10]
On 29 December, hololive's Twitter accounts announced that eight of their members would get "New year" costumes, Polka being one of them.[11]
2021
On 1 January, she debuted her second 2D costume, a new year kimono during a stream, to compensate for the lack of her hat, Polka uses red and blue lights in her hair in addition to the classic black and pink.[12]
On 4 January, hololive's official Twitter account teased a future announcement regarding three of the four members of hololive fifth generation.[13]
On 6 January, Polka announced that she would get her 3D model during a stream.[14]
On 9 January, she reached 500,000 YouTube subscribers during a Minecraft stream, making her the 27th hololive member to reach this milestone.[15]
On 10 January, she debuted her 3D model during a stream, being the first of her generation to do so.[16]
On 6 March, Polka reached 600,000 subscribers on her YouTube channel during a singing endurance stream.[17]
Discography
Singles
Events
On 25 Febuary 2021, Polka was made playable in Disgaea 6 in Japan as a Circus Mage named Pol-Pol along with Rushia, Flare, Watame and Fubuki.
Fans
Her fanbase is officially called "Omaruza" 「おまる座 」.[18]
Trivia
She likes garlic, and hates gravity and humidity.
Her favorite anime and manga include: Aikatsu, Pretty Rhythm: Rainbow Live, The Melancholy of Haruhi Suzumiya, Re:Zero, Blue Period and HUNTERxHUNTER.
She is not very good at video games, but likes free-short games, TRPGs, and horror games. She also wants to try playing retro games.
She is noted for her stamina, hosting 3-hour long karaoke streams with hardly any breaks.
She has multiple shapes inside her pupils, hearts and stars appear when she is happy, clovers when she is sad and spades when angry. All these shapes are suits in playing cards, with the exception of having stars instead of diamonds.
She often complained about her outdated desktop, which leads to western fans calling her desktop a "Poltato PC" (portmanteau for Polka & Potato). She later bought a more powerful PC, which she referred to as her "Beef PC".
Despite being a circus performer, she is not good at juggling or walking on thin beam/wire as shown in her 3D debut and one episode of holo no graffiti. Instead, she is known for demonstrating various voices in her videos, streams and singing, even using seven voices in one video.

If anything, Polka's "performances" resemble something out of Rakugo, a minimalist traditional style of comical storytelling, granted in a more internet style. This is further expressed by how she makes the most out of the smallest things, such as changing her voice to echo when she enters a cave in a game, having small props (such as rotor phones) at arms reach to sell her jokes or having a convincing conversation with herself on stream.

She occasionally displays poor sense of direction when playing games, such as getting lost in Phasmophobia despite being guided by other players, or frequently strayed in Minecraft collaborations whenever she lost sight of her companion.
External Links
Media
References
Community content is available under
CC-BY-SA
unless otherwise noted.