This is a Japanese name; the family name is Omaru.

Associated pages
Omaru Polka (尾丸ポルカ) is a female Japanese Virtual YouTuber associated with hololive, debuting as part of its fifth generation of VTubers alongside Yukihana Lamy, Momosuzu Nene, Shishiro Botan and Mano Aloe.
Introduction Video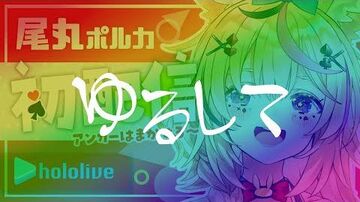 Profile
hololive.hololivepro.com
A circus performer who joined hololive in hopes of becoming the ringmaster of the VTuber world.

She enjoys wowing audiences with acrobatics, and she lives by the words, "When you've decided you're gonna do something, follow through!"

Her natural charm glosses over her occasional mess-ups.[10]
hololive.tv
A circus performer who joined hololive in hopes of becoming the ringmaster of the VTuber world. She enjoys wowing audiences with acrobatics, and lives by the words, "When the going gets tough, the tough get going." If you ask her, her occasional mess ups are also part of her charm.[11]
Personality
Polka is known for her silliness and spunk. As a natural-born joker, the only thing to be expected during her streams is unpredictability. In short, rather than simply being referred to as a clown, like she truly is, she's more often called the entire circus by her fans. True to her nature as a circus performer, she is very energetic and outgoing. As seen on various of her streams and 3D performances, she has a distinctive laugh that can be compared to Pekora's. She also has an array of various instruments at her disposal (which include but are not limited to: bells, rotary phone, glockenspiel, vibraslap, and rubber chickens).
Despite these traits, she is often at the receiving end of pranks and teasing from fellow hololive members and her chat.
She prefers her audience to shout "Poruka Oruka?" (Where's Polka) on her loading screens so she may greet her audience with "Poruka oru yo!" (Polka's here!).
History
Background
She was introduced on hololive's YouTube channel in a small introductory video along with the rest of the fifth gen on 6 August 2020.[12] Her Twitter account was created in June 2020, she made her first tweet on 6 August.[13] Her YouTube channel was created on 5 June, but she didn't debut until 16 August 2020. On the day of her debut stream, she already reached 100,000 subscribers on her YouTube channel. Also on this day, she debuted her original song HOLOGRAM CIRCUS (short ver.).[14]
2020
On 25 December, Polka debuted the full version of HOLOGRAM CIRCUS on an end of the year VTuber Stream.[15]
On 26 December, Polka uploaded the full version of her song HOLOGRAM CIRCUS.[16]
On 29 December, hololive's Twitter accounts announced that eight of their members would get "New year" costumes, Polka being one of them.[17]
2021
On 1 January, she debuted her second 2D costume, a new year kimono during a stream, to compensate for the lack of her hat, Polka uses red and blue lights in her hair in addition to the classic black and pink.[18]
On 4 January, hololive's official Twitter account teased a future announcement regarding three of the four members of hololive fifth generation.[19]
On 6 January, Polka announced that she would get her 3D model during a stream.[20]
On 9 January, she reached 500,000 YouTube subscribers during a Minecraft stream, making her the 27th hololive member to reach this milestone and the second member of her generation.[21]
On 10 January, she debuted her 3D model during a stream, being the first of her generation to do so.[22]
On 6 March, Polka reached 600,000 subscribers on her YouTube channel during a singing endurance stream.[23]
On 22 April, Polka became the host of her own variety show called "Legend of Polka" 「ポルカの伝説」, aired on her YouTube channel every Thursday.
On 30 May, Polka reached 700,000 subscribers one her YouTube channel.
On 13 June, Polka's original 2D model was updated to the 2.0 version, Polka's general movement were vastly improved as she can turn to the sides and up and down a lot, her hair, fennec fox ears, hat, the various ribbons of her outfit her skirt and her tail have much more movement.[24]
On 24 August, Polka announced on her Twitter account that she would receive her third 2D costume, Polka also announced that she would debut a new original song.[25]
On 26 August, Polka debuted her third 2D costume, unlike her previous costumes which show the fact that she is a circus performer this costume can be considered her casual clothes, a lot of her make up and accesories are missing however she retains her characteristic hair shines. On her right fennec ear Polka has two ribbons tied in white and light blue color, she wear a loose white shirt with transparencies around the neck and sleeves and a long skirt of matching colors. Polka also has the option to wear a light brown hat and a jacket. On this date Polka also debuted her new original song "EverBlue."[26][27]
On 28 August, Polka reached 800,000 subscribers on her YouTube channel during a singing endurance stream.[28]
On 25 September, in celebration of the fifth generation first anniversary, Polka got a new hairstyle similar to her original althought with much less accesories and a longer braid, on her right ear she has a big, loose green and white ribbon, her braid is also decorated with various ribbons with the colors, light blue, blue, fuchsia, white and yellow, the ribbons are additionally decorated with flower shaped decorations.[29]
On 26 October, Polka debuted her fourth original song "Pastel Teatime."[30] Polka also got some new accessories for her main and casual costumes. For her main costume Polka can wear a red clown nose with a small mustache, her model can cross her arms to hold Zain her mascot, for her third costume she can use a masquerade mask similar to those used in carnivals.[31][32]
On 22 December, Polka debuted new accessories for her third 2D costume, a Santa hat and beard.[33]
2022
On 2 January, Polka reached 900,000 YouTube subscribers.
On 7 February, she debuted a new accessory for her third 2D costume. A white hedgehog themed mini hoodie with pink shades, the hat serves as the hedgehog's head and has light brown buttons as eyes, the hoodie has light brown straps with big pink pom poms at the tips and the edge is also of this color.[34]
On 7 March, hololive's Twitter account announced that the members of the fifth gen would get their 3D idol costumes.[35]
On 13 March, Polka debuted her 3D idol costume.[36]
On 14 March, she debuted a new 2D accessory apparently inspired by a Fall Guys character. This is considered an accessory as it is used over her standard model, this is evident when Polka removes the head of this costume and she is seen inside of it rather than switching models.[37]
Polka no Densetsu
Polka no Densetsu 「ポルカの伝説」(Legend of Polka) is a series of videos that aired every Thursday from 29 April 2021. According to the hololive English official Twitter feed, the show starred Polka and rookie staff member Izutsu-san as they "descend into studio recording hell."
The show starts with Polka in an empty room, when Izutsu-san brings something for Polka to do or react and respond to, such as manga Polka made in her childhood, or kids asking Polka for advice in various topics. Throughout the show, Polka interacts mostly with Izutsu-san or any guest she might have brought.
The show ended on 30 September 2021 after 24 episodes, but was renewed for a second season.
Discography
Main page: Omaru Polka/Discography
Pastel Tea Time

3rd single

31 January 2022

   

"Pastel Tea Time" (エヴァーブルー)
"PERSONA" (ペルソナ)
"Pastel Tea Time" (instrumental)
"PERSONA" (instrumental)

External links
Digital Release • Music Video • YouTube
Events
On 25 Febuary 2021, Polka was made playable in Disgaea 6 in Japan as a Circus Mage named Pol-Pol along with Rushia, Flare, Watame and Fubuki.
On 26 June 2021, Village Vanguard Twitter account announced that the members of hololive 5th Gen, would appear in limited edition goods with "Kemonomimi Cafe" as the theme.[38]
On 1 October 2021, Pupuya Games announced that Polka would be voicing the boss character Tania in their upcoming game Little Witch Nobeta, cast alongside Fubuki and Noel.[39]
Fans
Her fanbase is officially called "Omaruza" 「おまる座 」.[40]
Trivia
Polka's surname Omaru「尾丸」can be divided as such,

The first kanji「尾」can be read as "O/Po/Bi" which means "tail."
The second kanji「丸」can be read as "Maru" which means "round/circle."
So her surname can be translated as "Rounded Tail."

She likes garlic, and hates gravity and humidity.
Her favorite anime and manga include: Aikatsu, Pretty Rhythm: Rainbow Live, The Melancholy of Haruhi Suzumiya, Revue Starlight, Re:Zero, Blue Period and HUNTERxHUNTER.
She is not very good at video games, but likes free-short games, TRPGs, and horror games. She also wants to try playing retro games.
She is noted for her stamina, hosting 3-hour long karaoke streams with hardly any breaks.
She has multiple shapes inside her pupils, hearts and stars appear when she is happy, clovers when she is sad and spades when angry. All these shapes are suits in playing cards, with the exception of having stars instead of diamonds.
She often complained about her outdated desktop, which leads to western fans calling her desktop a "Poltato PC" (portmanteau for Polka & Potato). She later bought a more powerful PC, which she referred to as her "Beef PC."
Despite being a circus performer, she is not good at juggling or walking on thin beam/wire as shown in her 3D debut and one episode of holo no graffiti. Instead, she is known for demonstrating various voices in her videos, streams and singing, even using seven voices in one video.

If anything, Polka's "performances" resemble something out of Rakugo, a minimalist traditional style of comical storytelling, granted in a more internet style. This is further expressed by how she makes the most out of the smallest things, such as changing her voice to echo when she enters a cave in a game, having small props (such as rotor phones) at arms reach to sell her jokes or having a convincing conversation with herself on stream.

She occasionally displays poor sense of direction when playing games, such as getting lost in Phasmophobia despite being guided by other players, or frequently strayed in Minecraft collaborations whenever she lost sight of her companion.
Despite calling the Cover CEO Tanigo as Yagoo and making fun of him just like others, she is the only one to consider him as friend, and vice versa.
As revealed in the first episode of the "Polka no Densetsu" series, she drew her own manga "Magical☆Toki" when attending 5th Grade in primary school, which was revisited by herself in the episode. Polka has even created a theme song for it and used the song as the ending theme of that episode.
External Links
Media
Further readings
References