This is a Japanese name; the family name is Oozora.

Associated pages
Oozora Subaru (大空スバル) is a female Japanese Virtual YouTuber associated with hololive, debuting as part of its second generation of VTubers alongside Minato Aqua, Murasaki Shion, Nakiri Ayame and Yuzuki Choco.
Introduction Video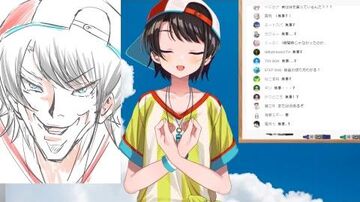 Profile
hololive.hololivepro.com
"'Sup! I'm Oozora Subaru from hololive 2nd Generation!"

The manager of an MMA team and an e-sports club. A bright and cheerful girl full of spirit, she can interact with anyone and everyone without hesitation. She's currently working hard on her own pro-gamer skills.

Another day of giving everything I've got as a manager!!!!!!!!!!![5]
hololive.tv
"Sup? I'm Oozora Subaru!"

The manager of an MMA club and an E-sports club. A supremely spirited, cheerful, lively girl who can talk to anyone without breaking a sweat. She's currently practicing her pro-gamer skills.[6]
Personality
Subaru is extroverted and tomboyish in nature. She is confident, hardworking, and always optimistic, even in situations that would discourage most people. This is in part because she is likely the one holoIdol who has gone through the most trouble in her life as she was born with a hole in her heart (Ventricular Septal Defect i.e VSD, which mean the wall that separated the left and right side of the heart didn't close correctly and created a hole) that threatened to kill her by the time she was 14, got ran over by car and even had her house burned down, which was the final straw that pushed her desperately into joining hololive, going so far to pretend to be an otaku to get accepted, which was successful yet ineffective due to its fakeness.
Because of her overwhelming life experience, she usually acts like a tsukkomi (straight man), pointing out the ridiculousness of whatever other members are saying or doing, and in doing so makes her the butt of many jokes. But that doesn't mean she is incapable of smiling, as she always finds a way to smile and joke herself.
She has a silly habit of saying "shuba shuba shuba" to express excitement or contentment.
Appearance
Subaru has a stereotypical tomboyish appearance, accentuated by her short hair, and her baseball fan attires, with a red with white cap turned backwards, a white and yellow-striped jersey, accompanied by a blue pea whistle, white and red shorts, a pair of thigh high socks, one white and the other red, and a pair of white tennis shoes with yellow laces. she has tied to her left hip a yellow hollow plastic megaphone (used in chants during baseball games) with a yellow piece of fabric.
History
Background
Her Twitter account was opened on 10 August 2018 while her YouTube channel was created on 22 August although she did not start her activities on her channel until her introduction stream which was live on 17 September.[7]
2019
At the end of a stream on 1 May, she announced that she would be getting a 3D model.[8] She debuted her 3D model on 5 May.[9]
On 30 July, she debuted her second 2D costume.[10]
On 6 September, she announced on Twitter, that she would get her 3D costume swimsuit, the costume was revealed on 17 September during a stream in YouTube.[11][12]
2020
On 1 January, she published on her Twitter account, that she would get a third 2D costume, a kimono to celebrate the new year,[13] the costume was later revealed the same day, during a stream.[14]
On 24 January along with the other hololive girls up to the third generation, she debuted her 3D idol outfit at hololive's 1st fes. Nonstop Story.[15][16]
On 5 November, she announced on her Twitter account that her 2D model would be updated to the 2.0 version.[17] Next day on 6 November, she debuted her updated model during a stream, Subaru has more expressions, her face can turn in more directions, her hair especially her longer bang has movement added, also her previously still whistle and stopwatch now move as she turns around.[18]
On 15 December, she reached 600,000 YouTube subscribers.
2021
On 26 January, she reached 700,000 YouTube subscribers during a Minecraft stream.[19]
On 21 March, she reached 800,000 YouTube subscribers.[20]
On 20 May, she reached 900,000 YouTube subscribers.[21]
On 26 May, hololive's official Twitter account announced that Subaru would get her fourth 2D costume.[22] Later that day Subaru debuted her new costume during a stream, according to concept illustration by her illustrator, this costume comes in two main variants, "Short Style" where Subaru retains her short hairstyle and "Long Style" where Subaru has three different variants of hairstyle two loose hairstyles and one consisting of twintails. Regardless of the variants Subaru can wear a blue beret decorated with two stars, a long sleeve white blouse decorated with a red ribbon and a bellow the chest blue plaid skirt, she can also wear a pink sweater. At the peak of her stream, she had an audience of 126.000 viewers.[23]
On 2 July, her birthday, Subaru reached 1,000,000 YouTube subscribers, making her the 19th hololive member, as well as the 14th member of hololive JP, to reach this milestone. She is also the second member of the 2nd generation to reach it.[24] As a part of the celebration, she announced the debut of her own original song, "Taiyou Shoujyo."
On 3 July, Subaru's first single, "Taiyou Shoujyo," was released on various digital platforms.[25]
On 7 October, during her third anniversary celebration, Subaru announced the release of her first EP "Pleiades!"[26]
Discography
Main page: Oozora Subaru/Discography
Pleiades!

1st EP

7 October 2021

   

"Pleiades!" (ぷ・れ・あ・で・す!)
"Taiyou Shoujyo" (太陽少女)
"Fansa" (ファンサ)
"Kanade" (奏 (かなで))

External links
Digital Release
Taiyou Shoujyo

1st single

3 July 2021

   

"Taiyou Shoujyo" (太陽少女)
"Taiyou Shoujyo" (instrumental)

External links
Digital Release • YouTube
Events
Relationships
Fans
Her fanbase is officially called "Suba-tomo"「スバ友」, which mean "Subaru's friend."

More hardcore fans are nicknamed "Ahijo"「アヒージョ」; fellow hololive member Shirogane Noel is often said to be one.
Trivia
Her kanji readings for her familial name "Oozora" literally means "Big Sky" or "Great Heavens."

Although without kanji it may be unclear as to what her personal name means, the official kanji for Subaru「昴」 can be used to mean "to unify" or "gather together." "Subaru" is also the Japanese name of Pleiades star cluster.

Her character designer is Shigure Ui who is also a VTuber. She originally did not make video contents herself and only appeared in other (mostly hololive) VTubers' videos before officially debuting on 18 May 2019.
One of her most infamous in-jokes is her impersonations of Donald Duck during her ASMR streams stream. The joke was even taken further away during her collaboration live-stream with Roboco on 31 January 2019. The stream was intended to be the debut of her 3D model, but instead Subaru appeared as a 3D render of a little white duck wearing her signature baseball cap
Subaru is responsible for giving the nickname "YAGOO" to Motoaki Tanigo (the CEO of COVER Corporation) as a result of accidentally misreading his name.
Subaru is quite open to her viewers about unfortunate events that happened to her in the past, one of the examples is on Subaru's collaboration stream with Ookami Mio, Subaru stated that one of her reasons for joining hololive is because her house burned down and she needed money for a new place to live, she also used to take multiple part time jobs before becoming a full time virtual youtuber.
She is likely the worst in hololive at horror games, screaming at even the tiniest things.
In her early days Subaru invited Maimoto Keisuke from Nijisanji to do a collaboration stream, which was later revealed to be the turning point for Maimoto who almost quit his VTuber career and sparked his joy to keep striving as a VTuber, and also firmly set up the friendly rivalry between hololive and Nijisanji, with talents from both companies beginning to collaborate more often.
Like Usada Pekora and Minato Aqua, Subaru established her own construction company in the Minecraft hololive JP server named Oozora Kensetsu, her notable building is Shubangelion, a towering muscular duck building wearing Subaru's famous hat holding Sakura Miko's pixelated head on its right hand and Usada Pekora's pixelated head on its left. However, Subaru stated that Oozora Kensetsu is no longer a company, it's more like a group where anyone can join and leave anytime.[35]
Subaru came up with an original wrestling move (though she thought it already existed) called the "Oozora Subaru-style neck & back breaker" in holo Grafiti, also known as "Oozora Subaru-style Sheepcide" due to her using it on Tsunomaki Watame. The move has since been adopted a real pro wrestler, Great-Oh-Khan.
She's known to be very fond of western movies, particularly action-adventure movies as seen from her referencing them a lot during her streams and even doing short movie reviews for them. Some movies she's mentioned being a big fan of is the Mission: Impossible series and the Avengers movies.
External Links
Media
Further readings
References