Oozora Subaru (大空スバル) is a female Japanese Virtual YouTuber associated with hololive, as part of its second generation of VTubers alongside Minato Aqua, Murasaki Shion, Nakiri Ayame, and Yuzuki Choco.
Introduction Video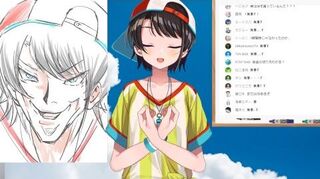 Subaru's introduction.

Personality
Subaru is extroverted and boyish in nature. She is confident, hardworking, and always optimistic, even in situations that would discourage most people. She usually acts as the tsukkomi (straight man) during collaborations, by pointing out the ridiculousness of whatever other members are saying or doing.
She has a silly habit of saying "shuba shuba shuba" to express excitement or contentment.
Appearance
Subaru has a stereotypical tomboyish appearance, accentuated by her short hair, and her baseball fan attires, with a red with white cap turned backwards, a white and yellow-striped jersey, acompanied by a blue pea whistle, white and red shorts, a pair of thigh high socks, one white and the other red, and a pair of white tennis shoes with yellow laces. she has tied to her left hip a yellow hollow plastic bat (used in chants during baseball games) with a yellow piece of fabric.
History
Background
Her Twitter account was opened on 10 August 2018 while her YouTube channel was created on 22 August although she did not start her activities on her channel until her introduction stream which was live on 17 September.[3]
2019
At the end of a stream on 1 May, she announced that she would be getting a 3D model.[4] She debuted her 3D model on 5 May.[5]
On 30 July, she debuted her second 2D costume.[6]
On 6 September, she announced on Twitter, that she would get her 3D costume swimsuit, the costume was revealed on 17 September during a stream in YouTube.[7][8]
2020
On 1 January, she published on her Twitter account, that she would get a third 2D costume, a kimono to celebrate the new year,[9] the costume was later revealed the same day, during a stream.[10]
On 24 January along with the other hololive girls up to the third generation, she debuted her 3D idol outfit at hololive's 1st fes. Nonstop Story.[11][12]
Events
Fans
Her fanbase is officially called "Suba-tomo" (スバ友).
Trivia
Her character designer is Shigure Ui who is also a VTuber. She originally did not make video contents herself and only appeared in other (mostly hololive) VTubers' videos before officially debuting on 18 May 2019. Other illustrators turned VTubers include Note Takehana, the illustrator for Shizuka Rin and Ienaga Mugi, and Kagura Nana, the illustrator for Nakiri Ayame.
One of her most infamous in-jokes is her impersonations of Donald the Duck during her ASMR streams[1]. The joke was even taken further away during her collaboration live-stream with Roboco on 31 January 2019 [2]. The stream was intended to be the debut of her 3D model, but instead Subaru appeared as a 3D render of a little white duck wearing her signature baseball cap[3]
Subaru is responsible for giving the nickname "YAGOO" to Motoaki Tanigo (the CEO of COVER Corporation) as a result of accidentally misreading his name.
External Links
References
↑ yatsurugi_mmd (2019, May 5) Vtuber大空スバルちゃん(@oozorasubaru)の3Dモデル制作を担当しました!!ということで、お祝い動画を作ってみました。 そして今、YouTubeで3Dお披露目生放送中です!!http://youtu.be/8XNaetZpUtU ぜひ観に行ってください!

大空スバル #大空スバル3D #ホロライブ [Tweet] Retrieved from https://twitter.com/yatsurugi_mmd/status/1124998631432474624
Community content is available under
CC-BY-SA
unless otherwise noted.