This is a Japanese name; the family name is Osanai.
Osanai Mei (小山内めい) is a female Japanese Virtual YouTuber and a published manga artist. She is a member of upd8.
Introduction Video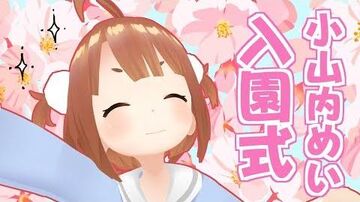 Physical Appearance
Mei is portrayed as a little girl in Kindergarten or the first year of elementary school. She has green eyes and short brown hair styled on twin tails with two white fluffy hair ties, she also has a big ahoge (アホ毛) on the top of her head.
She wears a blue sailor styled blouse with long sleeves, a big pink ribbon and white garments. Mei wears a gray tartan skirt, a pink fluffy underskirt shorts, long white socks and a pair of black Mary Jane shoes with pink soles.
Her name tag is sewn in a red tulip shaped patch on her blue blouse and it's written in Hiragana.
Personality
Trivia
Mei has an older sister called Ichika, who like her, is also an artist (an illustrator) and helps her with the affairs related to the channel in order to allow Mei to focus on her mangaka career.
External Links
Media