This name is officially written using the Japanese name format, the family name is Pavolia.
Associated pages
Pavolia Reine is a female Indonesian Virtual YouTuber associated with hololive, as part of its Indonesian (ID) branch second generation of VTubers alongside Kureiji Ollie and Anya Melfissa.
Introduction Video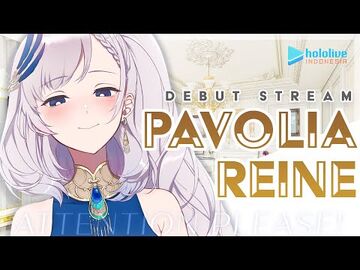 Reine's introduction.

Personality
Reine appears as a composed, mature and elegant person, Despite her being the Lady of the Peafowl, she doesn't hold back to show her more gentle and down-to-earth side. She also actively tries to be more sociable with her senpais and (sooner or later) kouhais as time goes on. Reine has a strong chemistry with her gen-mates, Anya and Ollie.
While Reine is mostly calm and composed, she sometimes just clowns around the stream, trying to press and interact with anything and everything interactable rapidly, as such, she often gets herself surprised by the smaller things, panicking her for a while, before she calms down and laughs it off, as shown in her Plug & Play and Superliminal streams.[3]
Additionally, Reine refuses to being called "bottom left" and insists that she's "Seiso" and "Top Right" idol, while the only bottom left people in her streams are her fans, to the point where she moved the chat's box from top right of the screen to the bottom left, at one occasion.[4]
Profile
Lady of the Peafowl. While studying at a magic academy, she was involved in an incident and transferred to the human world. Since then, she has been unable to use much of her magic.
Although appearing elegant and calm, she can become very emotional when angered.[5]
History
Background
Reine was announced as part of hololive's ID branch second generation on hololive's Indonesia Twitter account with the other second generation members on 1 December 2020 JST.[6] Her Twitter account was created on November 2020 and she made her first tweet on 1 December.[7] Her YouTube channel was created on 1 September. Reine debuted on 6 December, releasing her first original song, Gate Open: START! (short ver.)[8], during the stream and reaching 100,000 on the same day.
2020
On 30 December, she reached 200,000 YouTube subscribers.
2021
On 9 January, Reine held her first collaboration with a non-genmate, playing PHOGS! with Takanashi Kiara.[9]
On 26 January, Reine premiered her first cover song, a remix of KING made along with REDSHiFT. The song hit 250,000 views, as well as Reine hitting the 250,000 YouTube subscriber milestone the same night.
On 27 February, she reached 300,000 subscribers on YouTube.[10]
On 5 March, she opened her channel's membership feature.
Discography
Singles
id:entity voices
as hololive Indonesia    
Release Date
6 April 2021

Track List

"id:entity voices"
"id:entity voices" (Japanese ver.)
"id:entity voices" (Instrumental)

External links
Digital Release • Music Video
Fans
Her fanbase is officially called "MERAKyats". It's a pun of "Merak" and "Rakyat" which means "Peacock" and "People", respectively. The word "Merakyat" itself has the meaning of "being humble" in Indonesian.
Members are officially called "The Royaltea". A pun of "Royalty" and "Tea".
Trivia
Reine likes sweets, sparky things and stuffed toys, while her hobbies include: singing, drawing, reading and tea time.
She speaks Indonesian and English while she is still learning Japanese, however she can't speak the peafowl language of this world as it is different from hers.
Her favorite anime are: When They Cry, Hell Girl, Another, Great Teacher Onizuka and Great Pretender.
While her favorite games include: Corpse Party, Danganronpa, RPGmaker games, party games, platform games, puzzle games and multimedia franchises such as BanG Dream! but she likes a lot of games and she is not bound to a particular genre.
Reine's goals include: reach 1 million subscribers, have a good relationship with her peers and seniors, release original songs, perform a song for an anime or game, become 3D and do a live performance, design her own goods/merchandize, create something amazing with hololive and "have somebody who supports me for how I am."[11]
She dislikes extremely spicy food and cleaning, Reine claims this is not because she is lazy but instead that she was able previously clean using magic.[12]
At 172 cm, Reine is the second tallest female hololive Virtual YouTuber, behind Kiryu Coco at 180cm but above Mori Calliope at 167cm.
Reine owns a pen display that she uses on stream.[13]
Her nickname "Kanjeng" is a form of address or reference for a high-ranking nobility used in certain parts around Indonesia.
As a peafowl she is the third "bird themed" vtuber to join hololive after Oozora Subaru and Takanashi Kiara.
The name "Pavolia" comes from the Latin "pavo," meaning "peacock". Pavo is also the genus that peafowl fall under.
External Links
Media
Further readings
Solo Debutants
(hololive 0th Gen)
First Generation
Second Generation
hololive GAMERS
Third Generation
(hololive Fantasy)
Fourth Generation
Fifth Generation
(NePoLaBo)
INoNaKa MUSIC
Retired
References
Community content is available under
CC-BY-SA
unless otherwise noted.