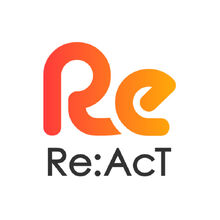 Re:AcT, formerly known as KAGAYAKI STARS (KAGASTA, カガスタ for short), is an agency of Virtual YouTubers created by mikai inc..
For the list of original songs released by Re:AcT members, refer to the following Wiki page: List of Re:AcT Songs.
History
2018
On 2 May, auditions for KAGAYAKI STARS were announced. Auditions ended on 20 May.[1]
On 5 June, it was announced that the first few members of KAGAYAKI STARS would be debuting during late June to mid July.[2] Early designs and sketches of the VTubers were then shown throughout the month, including Inuki Matoi,[3] Mizugame Mia,[4] Kirahoshi Uta,[5], Eleki Antares,[6] Kurama Tsumugi,[7] and Koto Miyuri.[8] In addition, a couple days later after the group announced the debuts of the members, on 7 June, it was announced that two male members would be debuting as well.[9]
KAGAYAKI STARS' first members to introduce themselves were Inuki Matoi,[10] Kirahoshi Uta,[11] and Miyuri Koto,[12] who all posted their first tweet on 29 June.
On 6 July, three more members, Eleki Antares[13], Usami Yuno,[14] and Kurama Tsumugi[15] made their introductions on Twitter. Additionally, Inuki Matoi,[16] Kirahoshi Uta,[17] and Koto Miyuri[18] have uploaded self-introduction videos on their YouTube channels.
Poemu Saotome most likely introduced herself on Twitter around 8 July.[19] 8 July was also when the first generation of KAGAYAKI STARS was established.[19]
Based on unofficial fanmade wiki entries and posts from fans, KAGAYAKI STARS' first male unit, SuiSay, established itself on 10 July,[20] and its first three members were Orio Koya, Mikage Lux, and Hoshikuzu Len,[21] who made their introduction videos on 12 July.[21][22]
On 13 July, Kurama Tsumugi[23] and Saotome Poemu[24] uploaded their self introduction videos on YouTube.
On 20 July, Eleki Antares uploaded her self introduction onto her YouTube channel.[25] With that, every member of KAGAYAKI STARS' first generation has debuted on YouTube. Additionally, a second audition for KAGAYAKI STARS has been held, with the deadline being 31 July.[26]
On 31 August, KAGAYAKI STARS announced ten new numbers, nine of them (Tadase Ciel, Ushio Tia, Futari Mai, Hanabasami Kyo, Shishigami Leona, Tenbin Hakari, Yagiri Mei, Mizugame Mia, and Yumekawa Kanau) being the group's second generation, and one of them (Minato Minami) being an additional member of SuiSay. They were announced to be debuting on 14 September.[27]
On 3 September, the first ever original song was released under KAGAYAKI STARS, "Honjitsu wa Seiten nari" (本日は星天なり), composed by TOKOTOKO. The song had two versions, one sung by Kirahoshi Uta and other sung by Hoshikuzu Len.[28]
On 8 September, the short version of the song "KAGAYAKI STARS!!", sung by the first generation of the group's members, had been released.[29] It is also considered KAGAYAKI STARS first original song,[30] despite Honjitsu wa Seiten nari technically being the first.
On 14 September, on the same day aforementioned new members had debuted on YouTube, a new member, Uni Unico, had debuted as a "KAGAYAKI STARS trainee".[31]
On 28 September, the full version of the song "KAGAYAKI STARS!!" had been released.[30] The song is no longer available on YouTube, but it can still be listened to on an archive of the old KAGAYAKI STARS website.
On 15 October, a new male unit, METEO, had been announced. Its members consisted of Kogami Yukari[32] and Yuiga Kohaku.[33] The unit officially debuted on YouTube on 19 October.[34]
On 31 October, KAGAYAKI STARS' second original song, "Haunted Party Night" (ホーンテッド・パーティナイト), sung by the group's second generation, was released.[35]
On 3 December, it was announced that KAGAYAKI STARS would be changing its name to "Re:AcT" due to a change in its management policy. Before, KAGAYAKI STARS was a virtual talent agency that specialized in idols, but has been changed to Re:AcT, a comprehensive virtual talent agency. It has also been stated that ""KAGAYAKI STARS" will continue as a project, but the talents belonging to the project will be divided into different divisions and will work as individuals in principle. Due to the different characteristics of each talent, we intend to change the way we market each talent, and after discussions with each talent, we will assign them to different divisions.". Furthermore, it has been stated in the announcement that five talents would graduate; Kurama Tsumugi and and Saotome Poemu on 3 December, and Orio Koya, Hoshikuzu Len, and Mikage Lux on 31 December, meaning that SuiSay would be disbanding on that date as well.[36] From then on, on the Re:AcT website, it has shown that the members have been split into different divisions/categories- Kirahoshi Uta, Shishigami Leona, Tadase Ciel, Futari Mai, and Hanabasami Kyo in "music", Inuki Matoi and Tenbin Hakari in "idol", Asami Yuno, Ushio Tia, Koto Miyuri, Mizugame Mia, and Yumekawa Kanau in "multitalent", Yagiri Mei in "game", Kogami Yukari, Minato Minami, and Yuiga Kohaku in "mens", and Uni Unico in "trainee".[37]
Members
1st Gen
2nd Gen
Star!Bear
Monokuro Ainos
Maruchiizu
Solo 2020 Debuts
Solo 2021 Debuts
Former Members
Sugar Stella
Sugar Stella were transferred from Re:AcT to another office under mikai inc., STeLLa, on 30 September, 2020.[38][39] See the page Sugar Stella for more information on the group.
External links
Official channels
Official Twitter accounts
(V T E)
1st Generation

Inuki Matoi

(💘)

 · 

Koto Miyuri (💻)

 · 

Usami Yuno

(🎀)
Former
Kurama Tsumugi (🍵)

 · 

Saotome Poemu

(🐹)

 · 

Eleki Antares (⚡️)

 · 

Kirahoshi Uta

(🌟)
2nd Generation
Hanabasami Kyo (✂️)

 · 

Shishigami Leona (🐾)

 · 

Mizugame Mia (🐢)

 · 

Yumekawa Kanau (🐟)
Former
Ushio Tia (🥢)

 · 

Futari Mai

(🦄)

 · 

Tadase Ciel

(💄)

 · 

Tenbin Hakari

(⚖)

 · 

Yagiri Mei

(🐐)
Star!Bear
Amakawa Hano (⭐️)

 · 

Himekuma Ribon (🧸)
Monokuro Ainos

Shirane Yuki

(🍜🤍)
Former

Kurone Yomi

(🍙🖤)
Maruchiizu

Inumoti Tirol

(🐕🍫)

 · 

Marumochi Tsukimi

(🍡)
Former

Izumo Meguru

(🩹)
Solo 2020 Debutants
Qualia Qu (❄️🧚‍♀️)

 · 

Kazami Mikan

(🍊)

 · 

Hekina Ail

(👾📶)
Former

Takigami Rito

(👻💔)
Solo 2021 Debutants

Tsukushi Aria

(🦇☪️)

 · 

Nekono Yukino (🌨️)
SuiSay (Defunct)

Orio Koya

(🍣)

 · 

Hoshikuzu Len

(🌠)

 · 

Mikage Lux

(🎸✨)
Trainee (Defunct)

Uni Unico

(👑)
Sugar Stella (Defunct)

Minato Minami

(💖💤)

 · 

Kogami Yukari

(🐺💜)

 · 

Yuiga Kohaku (🐶🧡)

 · 

Kiba Iori

(🏍⚡)

 · 

Kisumi Karen

(🌹✨)

 · 

Nekomi Sena

(🐱🌊)
References