Rikka (律可) is a male Japanese Virtual YouTuber endorsed by hololive's branch Holostars. He is a member of its first generation, alongside Hanasaki Miyabi, Kagami Kira, Kanade Izuru and Arurandeisu.
Introduction Video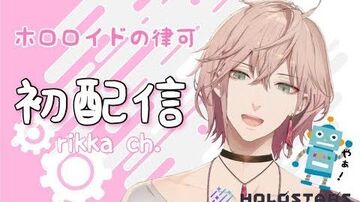 Rikka's introduction.

Personality
Rikka is a Holoroid, an android created for Holostars. As he loves to learn new things, he absorbs all sorts of information from databases and the Internet. He is also interested in human beings, which is why he started streaming, even though sometimes he suddenly bugs out and becomes awkward.[1] He says that he is equipped with high-performance AI, but despite that, he has 2GB of memory, making him prone to forgetfulness, and even has been described as an airhead by fans and fellow Holostars members.
History
Background
His Twitter account was created in 18 September 18 2019; his YouTube channel was created on the same day, and his debut stream was performed on 20 October.
2020
On 18 June, it was announced on Rikka's stream that he will get his 3D model.[2] His 3D stream was performed on 21 June.[3] During the 3D stream, he performed his first original song, Re:Hello World. Its music video was premiered on 28 June. The song then became available on iTunes on 5 September and became available on other various streaming services on 8 September.[4]
On 3 September, he opened his membership feature.[5]
Fans
His fanbase is officially called "Tuner" (調りつ師).
Trivia
Units and groups he is part of are:
He shares the same illustrator as Kagami Hayato from Nijisanji.
He is the first Holostars member to get a 3D model.
External Links
References
Community content is available under
CC-BY-SA
unless otherwise noted.