Associated pages
Rikka (律可) is a male Japanese Virtual YouTuber endorsed by hololive's branch Holostars as part of its first generation along with Hanasaki Miyabi, Kagami Kira, Kanade Izuru, Arurandeisu and Yakushiji Suzaku.
Introduction Video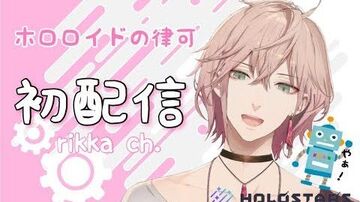 Profile
A robot (holoroid) created FOR Holostars. As he loves to learn new things, he absorbs all sorts of information from databases and the Internet. He is also interested in human beings, which is why he started steaming, even though sometimes he suddenly bugs out and becomes awkward.[1]
Personality
Rikka says that he is equipped with high-performance AI, but despite that, he has 2GB of memory, making him prone to forgetfulness, and even has been described as an airhead by fans and fellow Holostars members. Despite Rikka's young age, he is a mature individual, reassuring fans[2] on the day Kira was announced to graduate and is considered a reliable figure by Holostars members.[3] He doesn't think he's good with words and prefers to express himself with his music instead.[4]
History
Background
Rikka's presence was first teased along with the additions of Arurandeisu and Yakushiji Suzaku through a press release on 2 September 2019.[5] He was later officially announced as a sixth member of holostars' first generation on 17 October.[6] His Twitter account was created in 18 September; his YouTube channel was created on the same day, and his debut stream was performed on 20 October.
2019
On 21 October, Rikka released his first cover song, Dakara Boku wa Ongaku o Yameta (That's Why I Gave Up on Music) by Yorushika.[7]
2020
On 15 March, he revealed his White Day costume.[8]
On 5 May, he reached 20,000 subscribers.[9]
On 3 June, he reached 30,000 subscribers.[10]
On 18 June, it was announced on Rikka's stream that he will get his 3D model.[11] His 3D stream was performed on 21 June.[12] During the 3D stream, he performed his first original song, "Re:Hello world" Its music video was premiered on 28 June. The song then became available on iTunes on 5 September and became available on other various streaming services on 8 September.[13]
On 7 July, he reached 40,000 subscribers.[14]
On 9 July, he hosted the first episode of his new series called "RiTunes Labo", where he invites guests, such as fellow VTubers and voice actors, to sing with him online, accompanied with Rikka's guitar playing. He uses a software called SYNCROOM enabling him and the guest to be in sync with each other with little delay when singing together. The playlist of the series can be found here. His first guest was his fellow VTuber Amenosei.[15]
On 4 August, he revealed his summer costume.[16]
On 13 August, he reached 50,000 subscribers.[17]
On 3 September, he opened his membership feature.[18]
On 20 September, he reached 60,000 subscribers.[19]
On 25 October, he reached 70,00 subscribers.[20]
On 28 November, he reached 80,000 subscribers.[21]
On 25 December, it was announced that all the Holostars members would receive new costumes on 3 January, 2021, commemorating New Year's.[22] On the same day, he reached 90,000 subscribers.[23]
2021
On 3 January, he revealed his new year's costume,[24] which was modelled by vivi.[25]
On 17 January, Rikka reached 100.000 subscribers during an endurance singing stream, being the second Holostars to reach this milestone.[26]
On 25 March, in his concert "Over the silver dawn" commemorating his milestone of 100,000 subscribers, he sang two new original songs, a duet with Mori Calliope called "spiral tones" and a solo called "Archive". Later in his fifteenth edition of RiTunes Labo featuring Calli, they announced that a MV for "spiral tones" was in the making.[27]
On 10 May, the MV for "spiral tones" was released, and he and Calli announced an open-for-everyone spiral tones fan works event, for people to send remixes, vocal covers, or dances to the hashtag #morikka_st, with 30 winners to receive an autographed postcard from both of them.[28]
On 22 May, the MV for "Archive", Rikka's second original solo was released, a song dedicated to all of the graduated Holostars.[29]
On 13 July, hololive's Japanese Twitter account announced that every Holostars member would get 2.0 version of their 2D model.[30]
On 23 August, he announced the 2.0 update to his Live2D model with singing relay along with Kanade Izuru]] and Astel Leda who also got their model updated.[31]
On 6 September, Rikka announced on his Twitter account that he would receive his fifth 2D costume.[32]
On 10 September, Rikka debuted his fifth 2D costume.[33]
Discography
Main page: Rikka/Discography
Events
2020
On 2 August, Rikka entered Shibuya Hal's Apex Legends VTuber Most Cooperatitive Tournament along with Hanasaki Miyabi and Kageyama Shien under their group name "Star☆Sweeper". They placed 20th in overall ranking.[34]
On 9 October, Rikka was a part of Waku Waku! VTuber Hiroba Online Vol. 2 (わくわく!VTuberひろば おんらいん Vol.2) along with Nanase Taku, Akiyama Rentarou from Himashokudo and Hanagasa Ilya.[35] Fellow Holostars members Kageyama Shien and Aragami Oga, as well as Syukusei Batumaru and Boyacky from Yatterman Channel were also part of the event.
On 15 October, it was announced that Rikka would be part of the event V Men Sai! 2020 (Vメン祭!2020), held on 15 November, 2020, along with MonsterZ MATE, Tenkai Tukasa, Nanase Taku, Syukusei Batumaru and Himashokudo.[36]
On 26 October, it was announced that Holostars goods would be sold at Animate Girls Festival Aozora Marche, held on November 7-8, 2020,[37] and on 28 October, 2020, it was announced that Holostars would be participating in the event as guests.[38] Rikka is part of the "Virtual Clerk" (バーチャル店員), the "Virtual Kabedon" (バーチャル壁ドン) and "Chatting Fes" (おしゃべりフェス) exhibitions in the event.[39]
2021
On 23 January, it was announced he will appear in TUBEOUT vol.5 on 27 February, 2021 along with fellow hololive Production member AZKi.[40]
On 28 January, it was announced that "Net Talking Festival", an Holostars exclusive event, will be held on 14 February where fans can have a one-on-one chat with any of the Holostars members for 3 minutes, talking about their daily feelings of gratitude to an important person.[41]
From 25 until 27 June, all Holostars members participated in their 2nd anniversary event "Our Rally 2021", the event featured 3 Holostars in each day of the event, Rikka participated in the 1st day.[42] On the final day of the event, an original song Just Follow Stars was released on the official Holostars channel featuring all members singing.
On 3 July, Rikka participated in the Apex Legends tournament Reignite Cup as team "Utanaide Kudasai" along with Naruse Naru and Arurandeisu.[43] The team placed 19th in overall ranking.
On 16 July, Rikka participated in YouTube Music Weekend along with hololive Production members Roboco-san, AZKi, Mori Calliope and Tokino Sora.[44]
On 24 July, Rikka participated in the Apex Legends tournament Cypher Cup Festival as team "Otogirisou" along with Nishizono Chigusa and Otogi (Team UNITE). The team placed 5th in overall ranking and advanced to the main tournament's Grand Final.
On 25 July, Rikka participated in the Apex Legends tournament Cypher Cup Grand Final as team "Otogirisou" along with Nishizono Chigusa and Otogi. The team placed 14th in overall ranking.
On 31 July, hololive's Japanese Twitter account announced that Rikka along with Tokino Sora would participate in "TUBEOUT!FES -2021 SUMMER-".[45]
On 22 August, Rikka participated in Apex Legends VTuber Most Cooperatitive Tournament Season 3 as team "ReTIcle" along with fellow Holostars members Kanade Izuru and Kishido Temma. The team placed 17th in overall ranking.[46]
On 15 October, holostars' Twitter account announced that holostars would participate in "Animate Girls Festival 2021."[47]
Mascot and Fans
His fanbase is officially called "Tuner" (調りつ師).
Rikka's mascot is a pink bear named "Spanner" (スパナ).
When Rikka ends the stream, fans say farewell by saying "otsurikka" (おつりっか).
Relationships
Units and groups he is part of are:

"RIZnote", along with Kanade Izuru.
"MatsuRikka" (まつりっか), along with Natsuiro Matsuri.
"Re:NoiSe", along with Natsuiro Matsuri, Yukoku Roberu and Shirakami Fubuki.
"Natsumatsurikkai" (ナツまつりっかい), along with Natsuiro Matsuri, Kuroki Natsume and Mayuzumi Kai.
"Star☆Sweeper" (スター☆スウィーパー), along with Hanasaki Miyabi and Kageyama Shien.
"Shadowgear" (シャドウギア), along with Kageyama Shien.
"AsteRoid", along with Astel Leda.
"ARoHaRi" (アロハリ), along with Hanasaki Miyabi, Arurandeisu and Yukoku Roberu.
"AruRitsu" (アル律), along with Arurandeisu.
"TsukiKageRiTem" (月影律天), along with Tsukishita Kaoru, Kageyama Shien and Kishido Temma.
"MoRikka", along with Mori Calliope. And their fanbase together is called "DeadTuners".
"Utanaide Kudasai" (撃たないでください), along with Naruse Naru and Arurandeisu for the tournament Reignite Cup.
Trivia
He shares the same illustrator as Kagami Hayato from Nijisanji.
He is the first Holostars member to get a 3D model.
His guitar was given to him by YAGOO and only one of them exists in the world.[48]
He is left handed.[49]
His favourite food is almond chocolate. On the other hand, he avoids eating chili and wasabi. Rather than dislike, he'll break if he eats them. In general, he's not very good with spicy food.[50]
In Kageyama Shien's random talk livestream, Rikka imitated Mr. Children's Sakurai-san's voice and how it gradually changes to Shimura Ken-san's voice. Rikka had claimed to have done this three times and no one had ever backed him up, he mentioned that ever since he became a Holostars member and started streaming, it was the first time one of his jokes had not gotten through in which he found as inconceivable.[51]
During an Outlast stream, an objective was to search for a priest in the asylum. Priest in Japanese is 神父 which is read shinpu his created a hilarious situation as Rikka repetitively called out, "Where is shinpu?" in which the viewers misheard as simp.[52]
While playing Visage, Rikka experienced a few 2GB moments. He went looking for lighter which was unavailable due to plot prevention for a full hour. Referred to a ghost as honey throughout the game. And lastly, while walking down a hallway filled with paranormal activity, he entered a room that clearly had a ghost in it. Instead of leaving, he walked straight to the ghost causing his death.[53][54]
During a talk stream on Kanade Izuru's channel, it was known that Rikka had the highest tolerance for alcohol among all holostars members, being capable of downing a bottle of sake on his own.[55]
While playing Cooking Simulator, he proceeded to place a gas tank in the dining room, buy a cooking torch, and set the whole place on fire, singing: "We Wish You A Merry Christmas". Sent the room ablaze once more after water sprinklers doused the room. Afterwards, he attempted to burn a seated customer, soaking them on the pretense they were on fire as well, shattering a bottle in the process.[56]
At the start of his musical streams, Rikka calls out the names of the viewers who left a comment in the waiting room of the stream.
Rikka likes to create songs on the go during his singing streams, often parodying already existing songs.
Rikka talked to his viewers regarding the popping up of topics of a 4th generation. To be clear, he is not against a 4th generation but noted that the current balance of the Holostars members is nice and that there's no reason to rush things yet. In his own opinion, if there was to be new members, it could be a different group name instead of Holostars. Even though everyone may have a different opinion, he stated that's how he felt about it since he feels that there's still more growth and opportunities for the current Holostars to do. [57]
External Links
Media
Further readings
References