Associated pages
Rikka (律可) is a male Japanese Virtual YouTuber endorsed by hololive's branch Holostars. He is a member of its first generation, alongside Hanasaki Miyabi, (formerly) Kagami Kira, Kanade Izuru, Arurandeisu, and (formerly) Yakushiji Suzaku.
Introduction Video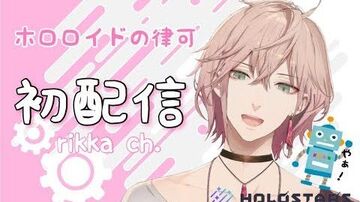 Rikka's introduction.

Personality
Rikka says that he is equipped with high-performance AI, but despite that, he has 2GB of memory, making him prone to forgetfulness, and even has been described as an airhead by fans and fellow Holostars members.
Profile
A robot (holoroid) created FOR Holostars. As he loves to learn new things, he absorbs all sorts of information from databases and the Internet. He is also interested in human beings, which is why he started steaming, even though sometimes he suddenly bugs out and becomes awkward.[1]
History
Background
His Twitter account was created in 18 September 18 2019; his YouTube channel was created on the same day, and his debut stream was performed on 20 October.
2019
On 21 October, Rikka released his first cover song, Dakara Boku wa Ongaku o Yameta (That's Why I Gave Up on Music) by Yorushika.[2]
2020
On 15 March, he revealed his White Day costume.[3]
On 5 May, he reached 20,000 subscribers.[4]
On 3 June, he reached 30,000 subscribers.[5]
On 18 June, it was announced on Rikka's stream that he will get his 3D model.[6] His 3D stream was performed on 21 June.[7] During the 3D stream, he performed his first original song, "Re:Hello World" Its music video was premiered on 28 June. The song then became available on iTunes on 5 September and became available on other various streaming services on 8 September.[8]
On 7 July, he reached 40,000 subscribers.[9]
On 9 July, he hosted the first episode of his new series called "RiTunes Labo", where he invites guests, such as fellow VTubers and voice actors, to sing with him online, accompanied with Rikka's guitar playing. He uses a software called SYNCROOM enabling him and the guest to be in sync with each other with little delay when singing together. The playlist of the series can be found here. His first guest was his fellow VTuber Amenosei.[10]
On 4 August, he revealed his summer costume.[11]
On 13 August, he reached 50,000 subscribers.[12]
On 3 September, he opened his membership feature.[13]
On 20 September, he reached 60,000 subscribers.[14]
On 25 October, he reached 70,00 subscribers.[15]
On 28 November, he reached 80,000 subscribers.[16]
On 25 December, it was announced that all the Holostars members would receive new costumes on 3 January, 2021, commemorating New Year's.[17] On the same day, he reached 90,000 subscribers.[18]
2021
On January 3, he revealed his new year's costume,[19] which was modelled by vivi.[20]
On January 17, Rikka reached 100.000 subscribers during an endurance singing stream, being the second Holostars to reach this milestone.[21]
On 25 March, in his concert "Over the silver dawn" commemorating his milestone of 100,000 subscribers, he sang two new original songs, a duet with Mori Calliope called "Spiral Tones" and a solo called "Archive". Later in his fifteenth edition of RiTunes Labo featuring Calli, they announced that a MV for "Spiral Tones" is in the making.[22]
Discography
Main page: Rikka/Discography
Re:Hello World
   
Release Date
8 September 2020

Track List

"Re:Hello World"
"Re:Hello World" (instrumental)

External links
Digital Release • Music Video
Events
On 9 October, 2020, Rikka was a part of Waku Waku! VTuber Hiroba Online Vol. 2 (わくわく!VTuberひろば おんらいん Vol.2) along with Nanase Taku, Akiyama Rentarou from Himashokudo and Hanagasa Ilya.[23] Fellow Holostars members Kageyama Shien and Aragami Oga, as well as Syukusei Batumaru and Boyacky from Yatterman Channel were also part of the event.
On 15 October, 2020, it was announced that Rikka would be part of the event V Men Sai! 2020 (Vメン祭!2020), held on 15 November, 2020, along with MonsterZ MATE, Tenkai Tukasa, Nanase Taku, Syukusei Batumaru and Himashokudo.[24]
On 26 October, 2020, it was announced that Holostars goods would be sold at Animate Girls Festival Aozora Marche, held on November 7-8, 2020,[25] and on 29 October, 2020, it was announced that Holostars would be participating in the event as guests.[26] Rikka is part of the "Virtual Clerk" (バーチャル店員), the "Virtual Kabedon" (バーチャル壁ドン) and "Chatting Fes" (おしゃべりフェス) exhibitions in the event.[27]
On 23 January, 2021, it was announced he will appear in TUBEOUT vol.5 on 27 February, 2021 alongside fellow hololive Production member AZKi.[28]
On 28 January, 2021, it was announced that "Net Talking Festival", an Holostars exclusive event, will be held on 14 February where fans can have a one-on-one chat with any of the Holostars members for 3 minutes, talking about their daily feelings of gratitude to an important person.[29]
Fans
His fanbase is officially called "Tuner" (調りつ師).
Rikka ends the stream, fans say farewell by saying "otsurikka" (おつりっか).
Relationships
Units and groups he is part of are:

"RIZnote", along with Kanade Izuru.
"MatsuRikka" (まつりっか), along with Natsuiro Matsuri.
"Re:NoiSe", along with Natsuiro Matsuri, Yukoku Roberu and Shirakami Fubuki.
"Natsumatsurikkai" (ナツまつりっかい), along with Natsuiro Matsuri, Kuroki Natsume and Mayuzumi Kai.
"Star☆Sweeper" (スター☆スウィーパー), along with Hanasaki Miyabi and Kageyama Shien.
"Shadowgear" (シャドウギア), along with Kageyama Shien.
"AsteRoid", along with Astel Leda.
"ARoHaRi" (アロハリ), along with Hanasaki Miyabi, Arurandeisu, Yukoku Roberu.
"AruRik" (アル律), along with Arurandeisu.
"TsukiKageRiTem" (月影律天), along with Tsukishita Kaoru, Kageyama Shien and Kishido Temma.
"MoRikka", along with Mori Calliope.
Trivia
He shares the same illustrator as Kagami Hayato from Nijisanji.
He is the first Holostars member to get a 3D model.
His guitar was given to him by YAGOO and only one of them exists in the world.[30]
He is left handed.[31]
External Links
Media
Further readings
Solo Debutants
(hololive 0th Gen)
First Generation
Second Generation
hololive GAMERS
Third Generation
(hololive Fantasy)
Fourth Generation
Fifth Generation
(NePoLaBo)
INoNaKa MUSIC
Retired
References
Community content is available under
CC-BY-SA
unless otherwise noted.