Associated pages
Rin Asobi '(アソビリン) is a female English-speaking virtual YouTuber who debuted on November 2, 2018. She is from Los Angeles, CA. Her second language is Japanese.
Introduction Video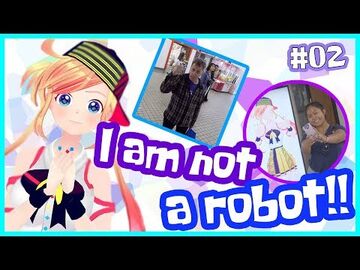 Rin interacting in public.

Personality
Rin Asobi is a cheerful and energetic airhead, a bit clumsy and kind of careless, shy and a bit unpredictable, but she has no shortage of friends who love her. She loves singing and learning to play the guitar and shamisen. She is bilingual, having picked up Japanese as a second language, and is very interested in Japanese culture and bridging that with her Japanese-American experience.
History
Rin debuted on YouTube on 19 November 2018 as a 3D Virtual YouTuber, though her earliest videos are now private. She created her Twitter account on 6 January 2019. Though her family name is Asobi, she always introduces herself with her given name first.
2020
During the COVID-19 pandemic, several of her videos included a brief message urging her viewers to stay home when they could and wash their hands.[3] During this period she announced Operation Tomodachi, her own hand sanitizers, with profits going towards COVID-19 relief.[4][5]
Rin began appearing as a weather anchor on digital panels in several Tokyo metro stations on 21 October, continuing through the end of the year. At the same time, she announced the opening of her official website.[6]
Lore
She was created as a result of the modern technologies that make peoples' lives easier. The energy flew around the Earth, eventually gathering in one place and taking a human shape. This virtual being was Rin Asobi. One day, she discovered a sphere that projected humans from the real world. She wanted to talk to them, but was too shy. The more she played games, sang, and watched videos by herself, the more she wanted to be like humans. Thus, she became a Virtual YouTuber.[7] Rin exists in a virtual space, so even when she's not on camera she's still behind the screen.[8]
Trivia
Rin can play the guitar and sometimes takes it out during her streams.
Because she is clumsy, she has bandages on her hands and legs.
External Links
Other
References
Community content is available under
CC-BY-SA
unless otherwise noted.