Associated pages
Virtual Robot Roboco-san (ロボ子さん, Robo-ko san, lit. Miss Robogirl) is a female Japanese virtual YouTuber and the second member ever of hololive. While she debuted alone way before generations were established, she is currently part of hololive Generation 0 alongside fellow solo debutants: Tokino Sora, Sakura Miko, Hoshimachi Suisei and AZKi.
Introduction Video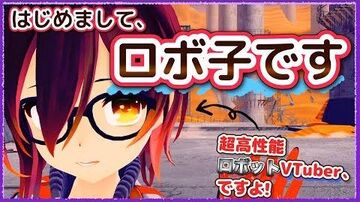 Profile
hololive.hololivepro.com
"Hellobo! Roboco here!"

A lonely, clunky robot from a faraway wasteland.

Now that she's a Virtual YouTuber, she wants to interact with

lots of people and live each day to the fullest.[1]
hololive.tv
"Hello-robo! Roboco here!"

A lonely, wimpy robot from a random wasteland.

She is now hoping to contact and live with lots of people as a Virtual Liver.[2]
Personality
Roboco is a robot girl who loves to pose. She has a killer instinct inside her. She is great at shooting except in video games, but likes to run over people in them. She hates when games try to surprise her. Her voice is spoken very calmly, almost a whisper.
Appearance
Roboco wears a biker jacket with red stripes. She also wears black rimmed glasses. Her lower body consists of a pair of inverted chaps that only cover her crotch.
Her hairstyle is often "modified" between short brown-hair or long-hair, sometimes with cat ears or wearing glasses. It is revealed that, in the Holo no Graffiti shorts, she ties her hair in a ponytail.
History
Background
Her channel was created on 7 February 2018, her Twitter account was also created on February, her first video was uploaded on 4 March.[3]
2018
On 30 March, she debuted her pink hoodie during a stream.[4]
2019
On 7 May, she reached 100,000 YouTube subscribers.
On 24 August, she debuted her 3D swimsuit outfit.
2020
On 1 January, she announced on her Twitter account that she would get a new 3D costume, a kimono in celebration of the new year.[5] This costume was later debuted on the same day.[6]
On 24 January along with the other hololive girls up to the third generation, she debuted her 3D idol outfit at hololive's 1st fes. Nonstop Story.[7]
On 16 April, she reached 200,000 YouTube subscribers.
On 4 August, she reached 300,000 YouTube subscribers.
On 7 November, she reached 400,000 YouTube subscribers.
2021
On 16 January, she reached 500,000 YouTube subscribers during an endurance singing stream, making her the 28th hololive member to reach this milestone.[8]
On 24 April, Roboco reached 600,000 subscribers on her YouTube channel during an endurance singing stream.[9]
On 28 May, Roboco announced on her Twitter account that she would get a new costume.[10]
On 4 June, she debuted her new 3D costume, in this costume Roboco wears a black bride dress, with a lot of red motifs to combine with her arms and legs, the dress also have a lot of big roses with various tones of purple, these roses are also present in the tiara that she can optionally wear, unlike other outfits in this one Roboco wears shoes. She also has a black object coming out the right side of her forehead that is not present in other costumes.[11]
On 16 July, she reached 700,000 YouTube subscribers during a Dead by Daylight stream.[12]
On 24 September, Roboco debuted her third original song "kotonoha."
Discography
Main page: Roboco-san/Discography
Virtual Kaika Saizenzen!/Fragment
with Sakura Miko and Tokino Sora
28 April 2019    

"Virtual Kaika Saizenzen!" (バーチャル開花最前線
"Fragment"
"Virtual Kaika Saizenzen! (you Remix)"
"Fragment (Capchii Remix)"

External links
Official Site
Events
She debuted as a DJ at Re:Animation 13 on 12 January 2019.
On 4 April 2019, she made an appearance in hololive's collaboration with Dawn of the Breakers,she was the central character, and the first ever hololive VTuber to appear in the game. Despite appearing alongside Shirakami Fubuki, Oozora Subaru, Minato Aqua and Yuzuki Choco the first two events were called "The Roboco san x Dawn of the Breakers Crossover."[13]
On 28 January 2020, it was announced on Dengekionline that she would make an appearance in the game Neptunia Virtual Stars as one of the VTuber guest characters alongside Tokino Sora, Shirakami Fubuki, Sakura Miko, Minato Aqua, Yuzuki Choco, Inugami Korone, Shirogane Noel and Houshou Marine.[14]
Fans
Her fanbase is officially called "Robosa" 「ろぼさー」.
Trivia
Roboco uses rather masculine personal pronoun "boku;" this trait is shared with Nekomata Okayu and Amane Kanata.
Roboco has a Persian cat named Koromo and another cat called Hapi.

She also used to own a pet rabbit called Mikan, but it died in summer 2020.

She's good at FPS games and greatly enjoys playing them. She contacted Tokoyami Towa soon after her debut due to their shared interest and became quick friends after playing together. She then repeated the process with Nakiri Ayame.
She loves cute things and even lines them up on her desk.
She is the fifth member of hololive after Artia, Kiryu Coco, Amane Kanata and Aki Rosenthal to join the official hololive Subreddit as a moderator.
External Links
Media
Further Readings
References