Associated pages
Rosalyn (罗莎琳) was a female Chinese VTuber associated with hololive, debuting as part of its Chinese (CN) branch second generation of VUP (Virtual UP, since content creators in Bilibili are normally nicknamed "UP" or "UP Master") alongside Doris and Artia.
Introduction video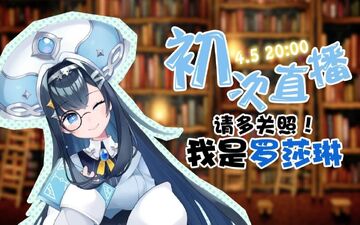 Profile
A librarian from a different dimension. Loves to travel the world to broaden her horizons. During one of her travels, she became obsessed with trading card games (TCG) and decided to remain in our world. Dreams to participate in a global TCG competition.
 Personality
Appearance
 History
Background
She was announced as part of hololive CN on hololive's official Twitter account on 6 March 2020.[1] Her Twitter account was created on March 2020, with her first tweet being made on 6 March.[2]
On 27 March, she uploaded her video on her bilibili channel a remix of the song "This Game."[3]
On 7 April, she made her official debut on bilibili with a stream although the miniature wrongfully claims it is 5 April.[4]
2020
Rosalyn received some attention from non-Chinese viewers after she participated in Worldwide hololive, an international collab stream held on 13 June over Oozora Subaru's channel, which also featured Ookami Mio as the host and Kiryu Coco and Airani Iofifteen as additional guests.
Retirement
On 12 November, hololive's official English Twitter account announcement the graduation date of 5 out of the 6 members of hololive China, Rosalyn's retirement is scheduled for 27 December.[5]
On 27 December, she retired from her activities on bilibili, and with her retirement as the last member of the hololive CN branch, the branch officially ended its activities.
 Trivia
External Links
References