This is a Japanese name; the family name is Sakamata.
Associated pages
Sakamata Chloe (沙花叉クロヱ) is a female Japanese Virtual YouTuber associated with hololive, debuting as part of its sixth generation under the name of "Secret Society holoX" alongside La+ Darknesss, Takane Lui, Hakui Koyori and Kazama Iroha.
Introduction Video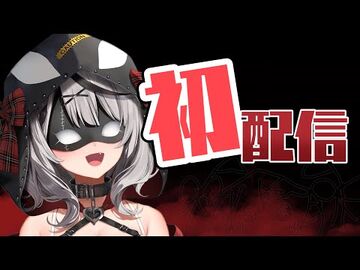 Profile
An intern who acts as a fixer and cleaner for Secret Society holoX.
Calm and composed at all times, she carries out her orders without so much as batting an eyelid.
She loves music and can be found listening to it every chance she gets. And while she denies it vehemently, she apparently tends to come across as guarded and not very upfront with her thoughts, only letting people get very occasional glimpses into how she really feels.
Personality
Contrary to what her pre-debut artwork might suggested as a "cool and mature" person similar to Mori Calliope and Ouro Kronii, Chloe has a sweet and kind, but somewhat taunt-loving personality, akin to Shirogane Noel, Momosuzu Nene and Tsunomaki Watame. During her debut stream she revealed that she sleeps a lot, often sleeping 12 hours per a day. She is also prone to making mistakes and accidents on-stream.
She has a childish and very soft talking voice that can be described as a mix of those of NIJISANJI members Hoshikawa Sara and Matsukai Mao, but can also produce a mature voice when singing, much like Shirakami Fubuki with her "Kurokami" voice.
History
Background
Sakamata Chloe's YouTube channel was created on 12 September 2021. Her Twitter account was also created in September 2021. She was first revealed as part of holoX, the sixth generation of the Japanese branch of hololive, in an introductory video[2] posted on 26 November 2021 at noon JST. She made her first tweet over five hours later, apologising for oversleeping and asking not to be scolded.[3]
She debuted on 29 November 2021 at 9pm JST, the fourth -holoX- member to debut. During her debut, she took off her eye mask and showed her red eyes to the audience. After her debut, her YouTube and Twitter profile pictures were updated to no longer feature the eye mask. A new version of the holoX PV was released on the official hololive channel after her debut to reflect the mask change.
2021
On 3 December, not even one week after her debut, Chloe reached 500,000 subscribers on YouTube, making her the fastest member of hololive to achieve this milestone, surpassing IRyS's record of one week. She is the 44th hololive member to reach this milestone, as well as the first member of holoX to achieve it.
On 10 December, Chloe reached 600,000 subscribers on YouTube. She also gained the superchat feature on the same day.[4]
On 28 December, hololive's Twitter account announced that Nene and the sixth gen members would get "new year" costumes.[5]
2022
On 1 January, Chloe debuted her second 2D costume, a kimono to celebrate the new year. In this costume she got a new hairstyle, the side locks in the front of her head are more curly, she has a bun on the left side, her bicolor braided hair is now to the left instead of the right, her hair is decorated with flower ornaments in black, red and pink colors and a black ribbon. On her neck she wears a small chocker, her furisode is white and black, the sleeves and the buttom have a crashing waves pattern, to the right it has an opening that allows to see the inner cloth which is black, her kimono is decorated with a big obi tied in the front as a ribbon and black and red ornaments like the ones in her hair. As Chloe wears her furisode falling from her shoulders, her cleavage is visible showing that she wears a sarashi, however her clothes also include a black fluffy piece of clothes to better cover herself.[6]
She also opened her YouTube's membership on this date.
On 6 January, Chloe reached 700,000 subscribers on YouTube.[7][8]
On 13 January, during a stream, Chloe announced she would be taking a short hiatus due to family reasons.[9]
Mascot and fans
Her fans are known as "shiikuin"「飼育員」, meaning "zookeepers" or "aquarium caretakers."
Trivia
Her surname, Sakamata, is written 「沙花叉」, the kanji for "sa" meaning "sand," "ka" meaning "flower," and "mata" meaning a fork (such as a fork in a road). It is homophonous with the Japanese word for orca, "sakamata" 「逆叉」, with which it also shares its last kanji.
Her given name is written 「クロヱ」, "kurowe," pronounced "kuroe." It is written using katakana, commonly used to write foreign names. "Kuro" is also the Japanese for the color "black," while "we" is unusually written with an archaic katakana which is no longer commonly used in modern Japanese, although it is still used for stylistic effect (such as in the Japanese title of Rebuild of Evangelion), and in the Ainu language.
Sakamata Chloe shares her designer with the "animal-eared gothic lolita maiden" design announced for audition back in 20 March 2020, that ultimately went unused.[10][11]
Chloe is an orca. She wears an orca-themed hood and an orca-themed eye mask, which she usually leaves off after her debut. Strangely enough, she can also blink with her eye mask on. Her overall design is mostly black, white and red themed.

Orcas are known to prey on sharks and seals, so fans sometimes joke that Chloe would eat Gawr Gura, a shark, and Momosuzu Nene, who is jokingly referred to as a seal.
Chloe doesn't seem to have a proper orca tail, leading to funny teasing by Gawr Gura for not having one.

Chloe's appearance and mannerisms bear similarities to Shirogane Noel's, to the point that some joked that Chloe is secretly Noel's little sister.
Her favorite singer is Sia, an Australian pop artist known for her solo work and songwriting for other popular Western artists.
She also enjoys other popular Western pop musicians like Bruno Mars, Taylor Swift, and Billie Eilish. Japanese musicians she likes include Utada Hikaru and the rock groups Yorushika & Zutomayo. A common thread with the Western and Japanese musicians Chloe likes is "secrecy;" Sia is known for outfits intended to obscure her body and for not being the main focus on stage during her own shows, while Yorushika and Zutomayo keep members' identities private.
She dislikes horror and bugs.
At her debut, she suggested the Twitter hashtag #orcart, a portmanteau of "orca" and "art." However, fans soon discovered it was already full of art of Orcs.
She learned a bit of English for three months before her debut. Making her able to have a basic conversation. But Chloe still struggles with pronunciation and grammar.
Chloe wears her mask when she sings, using her deep voice.
Chloe can sleep a lot up to half a day.
External Links
Media
Further reading
References