This is a Japanese name; the family name is Sakura.
Associated pages
Sakura Miko (さくらみこ, Kanji: 桜巫女, Hanzi:樱巫女) is a female Japanese Virtual YouTuber and a member of hololive. While debuting alone outside of a generation and working directly under Cover Corp. before being transfered to hololive, she is currently part of "hololive 0th gen" alongside fellow solo debutants: Tokino Sora, Roboco, Hoshimachi Suisei and AZKi.
Introduction Video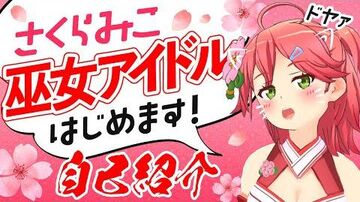 Miko's introduction.

Personality
Miko is a self-proclaimed "elite" gamer who is somewhat melodramatic and tends to become emotionally attached to NPCs and inanimate objects. Fans tend to use the term "elite" ironically to highlight Miko's questionable decision-making skills, as well as her tendency to speak garbled nonsense punctuated by the occasional F-bomb. Though Miko specializes in role-playing games, much of the humor on her channel stems from the fact that even while playing graphic and violent games like Grand Theft Auto, she rarely takes her role seriously. Her love for erotic games often finds its way into other games that she plays, especially those featuring freely adjustable camera angles and skirt-wearing female characters.
She greets her viewers with "Nyahello".
Appearance
Prior to her debut, her appearance is akin to a Shrine Maiden (not traditional-like) with a short pink-hair with an ahoge and a cherry blossom hair ornament in her left as well as pink thigh-highs.
In her new outfit, she wears a much more traditional Shrine Maiden outfit along with long detached sleeves, and her stockings are asymmetrical and white instead of pink. The cherry blossom hair ornament is replaced with a bell ribbon, and her hair is longer.
Profile
"Nya-hello! It's Sakura Miko!"
She has been working on religious services really hard as a miko in the computer world. With the revelation of the gods, she is now visiting Japan. While performing her errand, she has now decided to become and work hard as a virtual miko idol.[6]
History
Background
Her Twitter account was opened on 31 March 2018 while her YouTube channel was created on 25 April, but she debuted with a video on 1 August.[7]
2018
Originally working directly under Cover Corp on 25 December, it was announced that she would join hololive as the main cast in Miko no Tsutome! (みこのつとめっ!), a series of short animations under the holo Anime (ホロアニメ) brand.[8][9]
2019
On 1 August, she celebrated her 1st year anniversary in this stream she also announced a her 3D model swimsuit, this announcement was later confirmed on her Twitter account.[10][11]
On 3 August, she revealed her 3D model swimsuit.[12]
On 5 December, she announced in her Twitter account the introduction of her new 3D model which debuted on 8 December.[13][14]
2020
On 24 January along with the other hololive girls up to the third generation, she debuted her 3D idol outfit at hololive's 1st fes. Nonstop Story.[15][16]
On 11 July, she announced on her Twitter account that she wasn't feeling well and that she couldn't stream.[17] Later on 13 July, she specified that her condition has nothing to do with the COVID-19 pandemic.[18]
For the following days, she didn't stream so she could rest in preparation to perform with Hoshimachi Suisei at VILLS Virtual UNIT Fest on 19 July.[19][20] After performing in said event she also announced on her Twitter account that she would return to her streaming activities on 26 July.[21] However on that day, she announced that her return scheduled for this day would be postponed because of talks with the management team.[22]
On 31 July just a day away from her debut anniversary, Cover Corp's Twitter account announced that Miko would continue on a one or two months hiatus due to her illness to take treatment and to recover. She confirmed this shortly after on her Twitter account.[23][24] Sadly, it went into an almost three months hiatus, but her Twitter account was still active, with Miko posting in her normal basis, and even created a daily-like posts section, where she wrote about her daily life, with some small drawings she made.
On 17 October, she announced on her Twitter account, that she would return to her activities on 21 October.[25] On this date, she returned to her activities with a live 3D concert stream celebrating her second year anniversary on YouTube.[26] The stream was seen by an average of 128,426 live viewers, and peaked at 145,305 live viewers at the 48 minute mark.
On 2 December, Miko debuted on Twitch, her Twitch channel would be used for movies "watch along."[27]
On 8 December, she reached 700,000 subscribers in a "singing until 700K subscribers" stream being 14th member of hololive to do so.[28][29]
On 17 December, Miko announced on her Twitter account that her current 3D model would be updated to the 2.0 version.[30]
On 21 December, Miko participated on stage 1 of "hololive 2nd fes. Beyond the Stage."[31]
On 23 December, she revealed her new 3D model, one of the most notorius changes is that now her eyes match the redesign Miko received in artworks in 2019 by her new designer Ordan, like other's underwear censorships to prevent potential YouTube bans, her model was updated to wear pink short under her skirt. Her original appearance model also received a face update.[32]
On this date Miko also debuted her third original song: "Sakura Colors High Tenshion!" 「さくら色ハイテンション!」[33] and also announced her own visual novel "Sakura Color Dreamer" 「さくら色Dreamer」.[34]
2021
On 15 January, Miko reached 800,000 subscribers on her YouTube channel during an endurance singing stream.[35]
On 16 February, she announced on her Twitter account that her channel got wrongfully terminated by YouTube.[36] However her channel was quickly restored about an hour later.[37]
On 28 February, Miko reached 900,000 subscribers on her YouTube channel.[38]
On 4 March, she announced on her Twitter account that she would get a new casual costume.[39]
On 6 March, she debuted her fourth costume, a casual outfit to go with her recent model updates. In this costume, she styles her hair with twintails decorated with a sakura flower clip. Her clothes consist of a pleated schoolgirl outfit with an underbust overall corset also decorated with a sakura flower, shoulder cutouts, black tights and shoes. This costume also features the option to wear additional accessories such as a pair of red glasses, a dark brown Nekomimi beret decorated with Mikopi's face, a red plaid scarf also feauring Mikopi, and a light brown sweater with cat's head shaped buttons. Like in her current main outfit, Miko still wears a cat's head shaped bell but instead of using it on her ponytail she uses it as a decoration on the red ribbon she uses with her blouse.[40]
Events
Since 12 April 2019, she hosts a monthly variety show in the REALITY app called God Summit (神々さみっと Kamigami Samitto) which is a collaboration with her co-hosts Kazamiya Matsuri, Sister Cleaire, and Tenjin Kotone. There are currently five episodes in total, with some of the episodes archived in their respective YouTube channels, with one episode archived in REALITY Studio channel.
On 12 September 2019, she made an appearance in hololive's collaboration with Dawn of the Breakers as one of the characters alongside Akai Haato, Natsuiro Matsuri, Shirakami Fubuki, Nakiri Ayame, Oozora Subaru, and Ookami Mio.[41]

Kintoki also appears alongside her as an obtainable equipment, while 35P appears as an obtainable item in the game.

On 22 November 2019, she announced that she would be voicing Kiriko, a playable character in 100% Orange Juice!. [42]
On 28 January 2020, it was announced on Dengekionline that she would make an appearance in the game Neptunia Virtual Stars as one of the VTuber guest characters alongside Tokino Sora, Roboco, Shirakami Fubuki, Minato Aqua, Yuzuki Choco, Inugami Korone, Shirogane Noel and Houshou Marine.[43]
On 13 November 2020, Vanguard Zero's Japanese Twitter account announced that Miko would appear in the Japanese version of the game as a special unit, she was available from 17 November to 26 November.[44]
Mascot and Fans

She has a talking pink cat by the name of "Kintoki" (金時) as her pet shikigami.
She officially calls her fans "35P" (みこぴー Mikopi) who also serve as mascots in her channel. They are usually depicted as white cats in her videos. Her name "Miko" (みこ) can be harmonized into the numbers "3" and "5" in Japanese, which also corresponds to her birthday (5 March), hence the origin of the fan name. Fans often Super Chat her streams in amounts of "3,535" as a reference to her name.
Trivia
The character designer for her original design is Tanaka Yuuichi, who is known as the character designer for A Certain Magical Index and My Teen Romantic Comedy SNAFU TOO!, among others.[45] Her hairstyle bears some similarity to the main characters of both shows, Misaka Mikoto and Hikigaya Hachiman respectively.
During a collaboration stream with Suou Patra of HoneyStrap, Miko confirms that her "NyaHello" greeting is a reference to Yuigahama Yui from Oregairu, who is also designed by Tanaka Yuuichi. In the series, Yui greets characters with "Yahallo".[46]

Miko also sang a cover of the song Yukitoki, which was the opening song in the first season of the anime.

She has varying official height measurements.

On 5 March 2019, she agreed with an artist that deduced her height to be about 156 to 157 cm.[47]
On 28 March 2019, she tweeted an image stating her height to be at 153 cm.[48]

She started to work as a VTuber to fulfill her dreams of becoming an idol.
She likes playing Eroge and has a playlist of her Eroge streams in her channel.

She has, in many occasions, accidentally opened an Eroge in the middle of playing another game in her stream.
She once told during one of her streams that Saga Planets is her favorite Eroge Studio. Among the games from this studio she has played and streamed are Hatsuyuki Sakura, Kin'iro Loveriche, and Natsuyume Nagisa.
She collaborated on a stream with Maimoto Keisuke of Nijisanji about Eroge Opening music.
One of her most "eroge lover" moments, was during a Minecraft stream (privated, with avaiable translate), when she asked to be insulted, to try to annoy her. The first two people didn't do anything to her, but just a few seconds later, one guy said "Eroges are boring", and she went totally annoyed.

Miko is well known for her frequent interactions and friendship with Usada Pekora on and off screens, forming the pair "PekoMiko". As the pair is famous hololive released the song "PekoMiko Daisensō" as one of the song for collaboration with the rhythm game WACCA themed after the duo's interactions and their unofficial collabs that are known as "wars".
She has adopted the meme "Press F to Pay Respects", and has it as one of her Live Chat emotes.
She used the n-word during a Grand Theft Auto stream, most likely not knowing the meaning of the word. This is arguably the clip that first skyrocketed hololive's poularity, before Fubuki's "I'm Scatman".

Almost 2 years later, in her "I'm back GTA" stream, the chat went crazy when this happened, possibly being the most awaited moment of the whole stream, but in the end she didn't use the word.

Miko has become a fan of the game ARK: Survival Evolved like the rest of her fellow Hololive vtubers, to the point of doing streams playing the game almost all night, every night, and concluding them at dawn after she watches the premiere of Tsunomaki Watame's Watame no Uta. She usually participates in the Tsunomaki janken section of the show and it is a meme the fact that she loses almost all the times against Watame.

She finally defeated Watame on 4 March 2020, a day before her birthday.

Miko is not only an avid fan of Watame no Uta but also she is a fan of Kiryu Coco's Asa Coco Live News, to the point of making a version of both shows (and calling her version of Asa Coco Live News, Asa Miko News 朝みこNEWS) during her ARK streams on weekends. Asa Miko News is also called "FAQ News", making an intro mostly based in Coco's one, but saying "FAQ News! F*CK YOU!", instead of saying "Good morning Motherf*ckers!".
She is the twelveth hololive member to join the official Hololive Subreddit as a moderator.
External Links
Media
Further Readings
References
Community content is available under
CC-BY-SA
unless otherwise noted.