Sakura Miko (さくらみこ, Kanji: 桜巫女, Hanzi:樱巫女) is a female Japanese Virtual YouTuber.
Introduction Video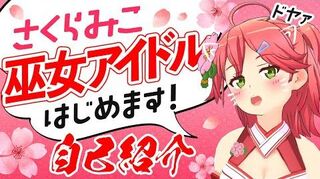 Miko's introduction.

Personality
Miko is a self-proclaimed "elite" gamer who enjoys comedic drama, and tends to become emotionally attached to NPCs and inanimate objects. Fans tend to use the term "elite" ironically to highlight Miko's questionable decision-making skills. Though she specializes in role-playing games, much of the humor on her channel stems from the fact that even while playing graphic and violent games like Grand Theft Auto, she rarely takes her role seriously. If Miko sees an opportunity to adjust the camera angle to look up a female character's skirt, she will take it.
She greets her viewers with "Nyahello".
Appearance
Prior to her debut, her appearance is akin to a Shrine Maiden (not traditional-like) with a short pink-hair with an ahoge and a cherry blossom hair ornament in her left as well as pink thigh-highs.
In her new outfit, she wears a much more traditional Shrine Maiden outfit along with long detached sleeves, and her stockings are asymmetrical and white instead of pink. The cherry blossom hair ornament is replaced with a bell ribbon, and her hair is longer.
History
Background
Her Twitter account was opened on 31 March 2018 while her YouTube channel was created on 25 April her first video was uploaded on 1 August.[5]
2018
On 25 December, it was announced that she would join hololive as the main cast in Miko no Tsutome! (みこのつとめっ!), a series of short animations under the holo Anime (ホロアニメ) brand.[6][7]
2019
On 1 August, she celebrated her 1st year anniversary in this stream she also announced a her 3D model swimsuit, this announcement was later confirmed on her Twitter account.[8][9]
On 3 August, she revealed her 3D model swimsuit.[10]
On 5 December, she announced in her Twitter account[11] the introduction of her new 3D model which debuted on 8 December.[12]
2020
On 24 January along with the other hololive girls up to the third generation, she debuted her 3D idol outfit at hololive's 1st fest Nonstop Story.[13][14]
On 31 July, just one day before her 2nd anniversary, she announced that she would be taking a hiatus due to an illness.
Events
Since 12 April 2019, she hosts a monthly variety show in the REALITY app called God Summit (神々さみっと Kamigami Samitto) which is a collaboration with her co-hosts Kazamiya Matsuri, Sister Cleaire, and Tenjin Kotone. There are currently five episodes in total, with some of the episodes archived in their respective YouTube channels, with one episode archived in REALITY Studio channel.
On 12 September 2019, she made an appearance in hololive's collaboration with Dawn of the Breakers as one of the characters alongside Akai Haato, Natsuiro Matsuri, Shirakami Fubuki, Nakiri Ayame, Oozora Subaru, and Ookami Mio.[15]

Kintoki also appears alongside her as an obtainable equipment, while 35P appears as an obtainable item in the game.

On 22 November 2019, she announced that she would be voicing Kiriko, a playable character in 100% Orange Juice!. [16]
On 28 January 2020, it was announced on Dengekionline that she would make an appearance in the game Neptunia Virtual Stars as one of the VTuber guest characters alongside Tokino Sora, Roboco, Shirakami Fubuki, Minato Aqua, Yuzuki Choco, Inugami Korone, Shirogane Noel and Houshou Marine.[17]
Mascot and Fans

She has a talking pink cat by the name of "Kintoki" (金時) as her pet shikigami.
She officially calls her fans "35P" (みこぴー Mikopi) who also serve as mascots in her channel. They are usually depicted as white cats in her videos. Her name "Miko" (みこ) can be harmonized into the numbers "3" and "5" in Japanese, which also corresponds to her birthday (5 March), hence the origin of the fan name. Fans often Super Chat her streams in amounts of "3,535" as a reference to her name.
Trivia
The character designer for her original design is Tanaka Yuuichi, who is known as the character designer for A Certain Magical Index and My Teen Romantic Comedy SNAFU TOO!, among others.[18] Her hairstyle bears some similarity to the main characters of both shows, Misaka Mikoto and Hikigaya Hachiman respectively.
During a collaboration stream with Suou Patra of HoneyStrap, Miko confirms that her "NyaHello" greeting is a reference to Yui Yuigahama from Oregairu, who is also designed by Tanaka Yuuichi. In the series, Yui greets characters with "Yahallo".[19]

Miko also sang a cover of the song Yukitoki, which was the opening song in the first season of the anime.

She has varying official height measurements.

On 5 March 2019, she agreed with an artist that deduced her height to be about 156 to 157 cm.[20]
On 28 March 2019, she tweeted an image stating her height to be at 153 cm.[21]

She started to work as a VTuber to fulfill her dreams of becoming an idol.
She likes playing Eroge and has a playlist of her Eroge streams in her channel.
She has adopted the meme "Press F to Pay Respects", and has it as one of her Live Chat emotes.
She used the n-word during a Grand Theft Auto stream, most likely not knowing the meaning of the word.
Miko has become a fan of the game ARK: Survival Evolved like the rest of her fellow Hololive vtubers, to the point of doing streams playing the game almost all night, every night, and concluding them at dawn after she watches the premiere of Tsunomaki Watame's Watame no Uta. She usually participates in the Tsunomaki janken section of the show and it is a meme the fact that she loses almost all the times against Watame.

She finally defeated Watame on 4 March 2020, a day before her birthday.

Miko is not only an avid fan of Watame no Uta but also she is a fan of Kiryu Coco's Asa Coco Live News, to the point of making a version of both shows (and calling her version of Asa Coco Live News, Asa Miko News 朝みこNEWS) during her ARK streams on weekends.
External Links
References
Community content is available under
CC-BY-SA
unless otherwise noted.