This is a Japanese name; the family name is Shigure.

Associated pages
Shigure Ui (しぐれうい) is a female Japanese Virtual YouTuber and illustrator. She also did the character designs for the light novel series OsaMake and anime series WIXOSS DIVA(A)LIVE.
Introduction Video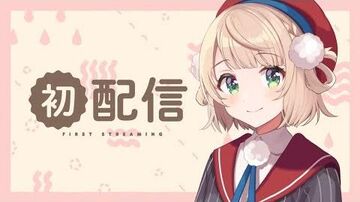 Personality
Ui's streams are regarded by fans as being extremely quiet, laid-back and mellow, owing to Ui's gentle and comparatively mature personality. Her art streams have also been noted as being very informative for aspiring digital artists.
In spite of this generally wholesome streaming persona, Ui has now and again let it slip that she really enjoys using crass or vulgar humor, and that she's an avid fan of a few "less than wholesome" professional artists associated with the Ecchi genre. She's also not above brutally teasing or making fun of her fans, especially when answering Q&A's. She is also accused of being a neglectful or abusive mother of her brainchildren, as seen with when she's around Oozora Subaru or even her own "Andou Rainbow JJ".
Appearance
Ui is an 16-year-old high school student, with a conservative school uniform with a skirt and a beret and little fluff balls in her braids and collar.
History
Background
Her Twitter account was created on 28 August 2009.
2018
Her YouTube channel was created on 16 September. She started as a VTuber in collaborations with other VTubers.
2019
She officially debuted on her channel on 18 May with a stream.[4]
2020
On 23 March, she debuted her second 2D costume, an alternate summer school uniform, now featuring low small pigtails, reminiscent of her younger illustration. She can combine her new and old assets.[5] She also received an update in her modeling.
From 2 October to 28 October, she hosted her first solo art exhibition at Tokyo's pixiv WAEN GALLERY.[6]
2021
On 26 May, Ui announced on her Twitter account that she would get her third 2D costume.[7]
On 27 May, she debuted her third 2D costume, this costume was clearly designed to match Oozora Subaru's fouth 2D costume, probably intented as "mother-daughter" matching outfits. The costume comes in two variants, "Short Style" where Ui retains her original hairstyle and "Long Style" where she uses long hair, this style also comes with two additional hairstyles, both different types of twintails, in this costume Ui retains her traditional beret, white and blue instead of red, she uses a white blouse decorated with a blue ribbon and a below the chest green plaid skirt, Ui can also optionally wear a yellow sweather and remove her beret.[8]
On 30 May, Ui announced on her Twitter account that she would get her 3D model.[9]
On 9 July, she reached 500,000 YouTube subscribers during a stream.
2022
On 16 January, Ui debuted her 3D model.[10]
On 7 April, she announced on a stream her first solo album, "The Rain Hasn't Stopped Yet" and a solo concert titled "Ui-on-Stage -After the Rain Cultural Festival-"[11][12]
Trivia
She is the character designer of Oozora Subaru from hololive.[13] The first time she joined a Subaru's stream. Then, she became a Virtual YouTuber as Subaru requested her to do so.[14]
She makes loud sounds while typing and types at a very high speed.
In a Project Winter streaming with other members from hololive, Ui scared off Minato Aqua and chased Aqua while talking in a yandere tone. In that round of game Ui is a survivor and Aqua is one of two traitors (who wins by killing all survivors).
She is very familiar with Inuyama Tamaki; they have collaborated several times and Ui has met Tamaki's mother Norio Tsukudani offline.
Likes female high school students. Especially those in 17. But Ui said "I like all girls" in "Strongest Shigure Ui Decisive Battle" streaming when Subaru asked "what kind of girl is your cup of tea".
She sometimes streams using just an illustration of her 7 year old self, which is called loli-haishin in Japanese. She streamed in her 7 year old status for three times. All three times streaming are punishment for losing in games (However Ui never admitted that she is not good at games but conclude the losing to other reasons) while there are two punishment streaming is results of losing the Tetris game to Kenmochi Toya.

In three loli-haishin, the first one is a result of challenging Kenmochi Toya in her game streaming by chance. Ui lost and read marshmallow(an anonymous message service used mainly in Japan) from audiences in loli form.
The second loli-haishin is the result of a pre-scheduled collaboration streaming where she played Tetris with Kenmochi Toya. The loser must sing for 1 hour in 60/40 scale of origin status and spcified status. Ui lost and became 7-year-old Ui again and sang for 1 hour in streaming.
From then Ui seems to hate turning into a loli. She even muttered "kuso" (a profanity regularly translated to Sh*t in Japanese) in front of Subaru in Strongest Shigure Ui Decisive Battle for being requested to say something in loli form.
The third one is an illustration order, which must be finished in loli form, from Kusunoki Sio as Ui lost in the collaboration game streaming.

She called Kenmochi Toya as her "natural enemy" in her birthday streaming. While Toya makes her become 7-year-old status several times, she drawed "Toko", femalized Toya, in high school student form as well as in child form and published these illust to Twitter.[15][16]
Ui barely wins in almost all action or sports games including Fall Guys. But she is somehow strong in luck games requiring no physical movements such as hanafuda, yacht and mahjong. Ui-mama Nami(ういママ並み, means as strong as Ui mother) have become an adjective describes someone that is not good at playing games.
She is not good at English. In a streaming where she can not use Japanese or the stream must be stopped, she lasted 11 minutes in total ending with a muttering Japanese "who". Moreover she hardly started any conversation with audiences speaking English in the 11-minute streaming.
Ui's voice, as well as distinct mannerisms such as her laugh, have been noted by fans and even other VTubers as being extremely similar to those of hololive member Tsunomaki Watame. Oozora Subaru even claimed that when she watched Watame's debut stream she became confused and thought that it was actually Ui streaming under a new identity. The little fluff-balls in Ui's design are notably reminiscent of the texture of Watame's wool. The idea of a conspiracy where Ui and Watame are secretly the same person has become a minor running joke among both fan-bases.
Ui drew the comic "Kankitsu Punch" on Manga Time Kirara Miracle in 2015. She recently works as the illustralator for light novel "Osananajimi ga Zettai ni Makenai Love Comedy". She is also the original character designer of it's anime adaptation by Doga Kobo.
Ui beam is an inside joke which she's usually play along with chat. The joke started during a game of tetris99 with Kenmochi Toya where she spotted a player with a name "ファンサ うたって" (please sing fansa) referring to a popular honeywork song. On another stream she recalled that player and decided to sang fansa where she playfully change the lyric "愛のこもったmonaビームで" (mona beam of love) to her name ,"ui beam of love". Thus her chat and her streamer friends usually joke around asking for "ui beam" where she playfully respond.[17]
External Links
Media
Further Readings
References