This is a Japanese name; the family name is Shirakami.

Associated pages
Shirakami Fubuki (白上フブキ) is a female Japanese Virtual Youtuber associated with hololive, debuting as part of its first generation of VTubers alongside Yozora Mel, Aki Rosenthal, Natsuiro Matsuri and Akai Haato. She is also part of a unit inside hololive called hololive Gamers (ホロライブゲーマーズ) alongside Ookami Mio, Nekomata Okayu and Inugami Korone.
Introduction Video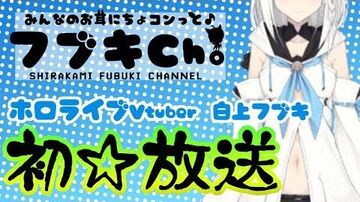 Profile
hololive.hololivepro.com
"Good foxy day! I'm Shirakami Fubuki!"

White-haired animal-eared otaku fox. She loves talking with people and will be happy if you give her the time of day. 

She aims to become a top otaku idol while enjoying each and every day.[7]
hololive.tv
"Foxy day to you! I'm Shirakami Fubuki!"

A white haired kemomimi (animal-eared) highschool student. Although she is shy and mostly calm, she likes to talk to people. She would be very happy if you pay attention to her.[8]
Personality
Fubuki is usually always cheerful and excited, singing little songs and making many in-jokes. She is shy when confronted with new circumstances, and when embarrassed she "hides" at the bottom of the screen with only her fox ears peeking up. She becomes enthralled in games and has cute conversations with scripted game characters, or voice acts as characters while making effects.
However, she has a cunning, ruthless and twisted side to her, shown most often when playing "Project Winter" with other VTubers. She has described herself as a 'hunter' and has displayed both extreme skill, to the point of nearly winning a 1 v 4 battle all on her own, as well as a methodical thought process.
For example, during a "Project Winter" stream, Fubuki collaborated with fellow in-game traitors to purposely line up her shots at a wolf with Matsuri in an attempt to kill her early and make it look like an accident.[9] And when playing Undertale, she started the G-route first and was rather sarcastic/apathetic towards Flowey begging for his life, something most players usually feel bad about the G-route. She also stole "Human" meat in Minecraft and crafted them into "Friend" meat with a wide smile on her face.
Fubuki is one to fearlessly march to the beat of her own drum, sometimes to a career risking degree. For example, she has once said that if hololive forced her to say something she didn't want to on stream, she would rather quit her job. And in another instance, she decided to call Roberu on his stream without care, which is a huge risk to any idol, real or virtual, due to followers potentially attacking her for "tainting her purity" by talking to a boy (among other "noble fan" nonsense).
She greets her viewers with "Kon Kon Kitsune!", which official subs seem to interpret as "Foxy day to you!"
History
Background
Her Twitter account was opened on 19 May 2018 while her YouTube channel was created on 23 May, although she did not start her activity on YouTube until a live-stream on 1 June.[10]
2018
On 17 October, she debuted her first 3D model becoming the fourth hololive member to do so after Tokino Sora, Roboco, and Sakura Miko.[11]
2019
On 22 March, she did a live-stream where she debuted her second 3D model. In the same stream, she also announced that other members of hololive will also be getting their own and that there would be two new members of hololive Gamers starting from April.[12] Her first stream after the debut to feature her new 3D model was broadcast two days later on the 24th.[13]
On 28 August, she debuted her 3D swimsuit outfit.[14]
On 19 December, hololive's Twitter account published that both Fubuki and Mio would get new 2D costumes.[15] She debuted hers in a stream on 22 December, with Mio also appearing in her new costume.[16][17]
2020
On 1 January, she announced on her Twitter account the reveal of her third 2D costume, a kimono, to celebrate the new year.[18] This was revealed later that day on a stream.[19]
On 24 January, along with the other hololive girls up to the third generation, she debuted her 3D idol outfit at hololive's 1st fest Nonstop Story.[20]Similar to the other members, the costume featured a gold-trimmed white dress but with her signature light-blue color on her bow-tie and dress peplum. On her head sits a small crown to the left of her ahoge.[21]
On 19 April, Fubuki reached 500,000 subscribers on her YouTube channel. This makes her the 1st ever hololive member to reach this milestone.
On 15 July, she reached 700,000 subscribers, being the first hololive member to do so, surpassing Siro. Nine days later on 24 July, she also surpassed Mirai Akari, becoming the third most subscribed VTuber on YouTube (fourth if counting A.I. Games). These milestones are relevant as both of them had held those positions for nearly the entire time since their debuts in the second half of 2017.[22][23]
On 28 July, she announced on her Twitter account that her original 2D model would be updated to the 2.0 version. She debuted her updated model during a stream later the same day, featuring more facial expressions, movement added to her fox ears and her ahoge and general movement improvements.[24][25] She also announced on this day that she would get a new costume.[26]
On 1 August, in celebration of getting one million subscribers on her bilibili channel, she debuted her fouth 2D costume in a stream on YouTube, with all the improvements made to her 2D model, the new outfit features a big white jacket with blue and orange motifs. Identification tags bearing the hololive and GAMERS logos line her jacket and blouse, which are reminiscent of her original outfit but given a modern/techwear redo. She also received a new hair pin, a choker, and two new hairstyles: one with hair fully loose and one with twintails. Fubuki has described this costume as having a cyberpunk style with her fans joking that it came out of Arknights, a popular mobile game she plays.[27][28]
On 5 October, as part of her birthday celebration Fubuki debuted her fifth 2D costume, a blue dress with a bow with a small golden fox badge, a small blue hat and a dark blue suit.[29][30] Near the end of the stream, she also announced that she would get a Nendoroid figure.[31][32]
On 5 November, Fubuki became the third hololive member to reach 1 million subscribers on YouTube and the second member of the Japanese branch to do so. She is also the first member of hololive JP's 1st Gen, as well as the second member of hololive GAMERS, to reach it.
2021
On 1 June, during Fubuki's debut 3rd anniversary, she got the option to wear three different pairs of glasses for her fifth 2D costume.[33]
On 2 July, Fubuki reached 1,500,000 YouTube subscribers during a Minecraft RTA stream against the Ender Dragon. This makes her the 5th member of hololive to achieve this milestone, as well as the 3rd member of hololive JP. She is also the first member of the 1st generation and second member of hololive Gamers to achieve it.[34]
On 23 December, Fubuki's Twitter account was verified. Fubuki had applied for the verification badge multiple times since July, but all previous attempts were rejected, which has became an in-joke within Fubuki's fanbase.[35]
Discography
Main page: Shirakami Fubuki/Discography
Events
On 4 April 2019, she made an appearance in hololive's collaboration with Dawn of the Breakers as one of the characters alongside Roboco, Aki Rosenthal, Natsuiro Matsuri, Minato Aqua, Yuzuki Choco, Oozora Subaru and Ookami Mio.[36]
On 27 November 2019, she made an appearance in hololive's collaboration with Azur Lane as one of the characters, alongside Nakiri Ayame, Ookami Mio, Natsuiro Matsuri, Murasaki Shion, Minato Aqua and Tokino Sora, she was available from 27 November to 10 December.[37]
On 28 January 2020, it was announced on Dengekionline that she would made an appearance in the game Neptunia Virtual Stars as one of the VTuber guest characters alongside Tokino Sora, Roboco, Sakura Miko, Minato Aqua, Yuzuki Choco, Inugami Korone, Shirogane Noel and Houshou Marine.[38]
On 10 June 2020, hololive's Twitter account announced that she and Houshou Marine would appear as commanders in World of Warships, she was available from 11 June to 30 June.[39]
On 12 June 2020, she made an appearance in a collaboration with Muse Dash to celebrate the second anniversary of the game including a special illustration featuring Fubuki and her original song "Say! Fanfare!"[40][41]
In July 2020, it was announced that she would have her own full scale PVC figure from Goodsmile, the makers behind the Nendoroid and figma PVC character lines.
On 17 February 2021, Rakugaki Kingdom's Twitter account announced that Fubuki alongside Shion, Marine, Okayu and Korone would appear in the mobile RPG game by mid March.[42]
On 25 Febuary 2021, Fubuki was made playable in Disgaea 6 in Japan as a Fox Prinny class along with Rushia, Flare, Watame and Polka.
On 13 August 2021, hololive's Twitter account announced that 12 members including Fubuki (representing the Saitama Seibu Lions) would participate in a collaboration with the six professional Japanese baseball teams from the Pacific League, each team represented by two hololive members. The collaboration include promotional merchandise that could be brought, including hats, posters, keychains, among others, also a promotional match between ORIX Buffaloes vs SoftBank HAWKS scheduled for 3 October 2021 at the Kyocera Dome Osaka stadium called "hololive day."[43]
On 1 October 2021, Pupuya Games announced that Fubuki would be voicing the boss character Monica in their upcoming game Little Witch Nobeta, cast alongside Polka and Noel.[44]
On 14 October 2021, she made an appearance in hololive's collaboration with Bang Dream! alongside Minato Aqua and Tokino Sora.[45]
On 31 March 2022, she held an interview with Jared Leto, star of the film Morbius.[46]
Fans
Her fanbase is officially called "Sukon-bu" 「すこん部」.
In English, Fubuki fans are also informally referred to as Friends, as Fubuki refuses to be considered the wife or "waifu" of her viewers, at the same time viewers started to refer to her as their friend.
Quotes
"Hamburger please!"
"Yabe!" (Oh no!)
"Doko mitendayo?! Mmmm... Doko mitenda?" (Where are you looking at?! Hmmm... Where are you looking?)
"Akai naa." (It's red.)
"Glasses are really versatile. First, you can have glasses-wearing girls take them off and suddenly become beautiful, or have girls wearing glasses flashing those cute grins, or have girls stealing the protagonist's glasses and putting them on like, "Haha, got your glasses!' That's just way too cute! Also, boys with glasses! I really like when their glasses have that suspicious looking gleam, and it's amazing how it can look really cool or just be a joke. I really like how it can fulfill all those abstract needs. Being able to switch up the styles and colors of glasses based on your mood is a lot of fun too! It's actually so much fun! You have those half rim glasses, or the thick frame glasses, everything! It's like you're enjoying all these kinds of glasses at a buffet. I really want Luna to try some on or Marine to try some on to replace her eyepatch. We really need glasses to become a thing in hololive and start selling them for HoloComi. Don't. You. Think. We. Really. Need. To. Officially. Give. Everyone. Glasses?" (眼鏡っていうのは本当にめちゃめちゃ多様性があるんですよね。まず、眼鏡をかけている女の子が眼鏡を外して美少女だったりとか、逆に眼鏡をかけてニコニコしてみたり、主人公の眼鏡を奪って着けてる女子や「うばっちゃったぞ☆」みたいにかけて。それも凄いかわいいんですよね。あとは、眼鏡男子もねあの眼鏡があやしく光ったり、逆光してる姿もいいですしかっこいいもかわいいも、そしてギャグまで使い回せるってのはめちゃめちゃいいんですよね。シチュエーションでも対応してできるところもめちゃめちゃいいんですよ。多種多様な形とか、色とか、もそのキャラに合った眼鏡を着せ替えて楽しむのも本当に楽しいです。アンダーリムとかねちょっと淵が太いやつとかね。本当にヴァイキングのようにめちゃめちゃ楽しめるんです。ルーナちゃんにかけてみたりマリンちゃんも眼帯外してかけてみたりとか、もうホロライブメガネはマジで流行ってほしいしホロコミに出すべきだし。是非!公式から!みんなに!眼鏡を!付与して!ほしいと!思わない!かなぁ!)
Trivia
Identity
Fubuki is a fox-girl; specifically an arctic fox. Prior to joining hololive, she lived as a mountain fox, and spent a lot of time sleeping. Japanese foxes are capable of assuming alternate forms, and Fubuki took hololive as an opportunity to spend time living as a human.[47]
"Fubuki" is Japanese for "blizzard." She writes it in katakana.
Shirakami is a Japanese surname written with the kanji 「白上」, which individually mean "white" and "above." Written with different kanji, shirakami can also mean "white hair" or "blank paper."
Fubuki is currently the only hololive member to considered be part of multiple generations. She debuted as part of hololive 1st generation, but was also listed as part of hololive Gamers. In hololive's Fukkireta Chorus video Fubuki uniquely appears twice, both with the members of hololive's 1st generation and with the members of hololive Gamers.
Fubuki has a dark side companion, Kurokami-san.[47] Kurokami got a 3D model on the 2019 Birthday celebration[50]
The key on her waist is to her grandfather's treasure chest. She received the key long ago, but doesn't know where the treasure chest is.[51]
In-jokes and nicknames
The nickname "Scatman" comes from a video titled Im. Scatman, uploaded on 24 October 2019, which features her attempt to sings an a capella cover of Scatman John's 1994 pop hit Scatman (Ski-Ba-Bop-Ba-Dop-Bop). It was her most viewed video until her original song Say! Fanfare, and received numerous fan remixes, including Fubuki's own 3D remake.
The nickname "hamburger" came from her use of the hamburger outfit in Fall Guys.[47] Her nickname in that game is, Fox Burger King, which spells FBK, an abbreviation for Fubuki. Since then, she is usually depicted on her streams loading screens as a pixel sprite carefreely eating a burger while wearing a crown.
The English-speaking audience sometimes refer to Fubuki as Friend, and her fans as Friends. This relates to a video where an English-speaking user asked Fubuki to be their wife, to which she responded by saying she would instead be their friend.[52]
Corn sometimes appears in Fubuki's content. This a pun on "kon," the Japanese onomatopoeia for the sound made by a fox.
Fubuki and her fans occasionally express laughter with "茶葉 (chaba, tea leaf)", in a similar vein to the more common "草 (kusa, grass)." This comes from Fubuki's fondness for various kinds of tea.
Other
Fubuki pays close attention to her kouhai's streams. She often watches hololive streams as a way to relax.[47]
Fubuki is a workaholic, and almost never takes breaks. In 2020, she took a one-week holiday at management's insistence, her first holiday since her debut.[47]
She is not good with the English language. Her introductory video had the English version of her name misspelled as "Fhunbuki."
Just like her fellow hololive VTuber Hoshimachi Suisei, Fubuki has shown a fond liking towards shotas. This has culminated in her writing multiple poems about watching shotas in the rain, watching shotas at the pool, and watching shotas at the ice cream shop, all on Mio's competitive Haiku stream,[53] much to Suisei's chagrin.
She is the fourteenth hololive member to join the official Hololive Subreddit as a moderator.
Fubuki introduced many non-Japanese viewers to hololive, including Takanashi Kiara. Kiara once sang Fubuki's song on stream, Fubuki promised to return the favor by performing Kiara's song once she reaches 1 million subscribers.[47]
She shares the same designer with Shirahari Uni and Lee Siu from Nijisanji KR.
Since the release of Pokémon Brilliant Diamond, Fubuki has made a challenge of catching only shiny Pokémon; one of the most notorious and memetic challenges she experienced was shiny Magikarp, which she tried for almost a month before she finally caught one on 23 December 2021. A feat which took 119 hours and 25 minutes over 27 days of streaming, plus an estimated 100 hours off-stream, encountering a total of 6,698 Magikarps on-screen with an estimated total of 11,500 to 13,500 Magikarps.[54]
External Links
Media
Further readings
References