Shirakami Fubuki (白上フブキ) is a female Japanese Virtual Youtuber associated with hololive, as part of its first generation of VTubers alongside Yozora Mel, Aki Rosenthal, Natsuiro Matsuri, and Akai Haato. She is also part of a unit inside hololive called hololive Gamers (ホロライブゲーマーズ) alongside Ookami Mio, Nekomata Okayu, and Inugami Korone.
Introduction Video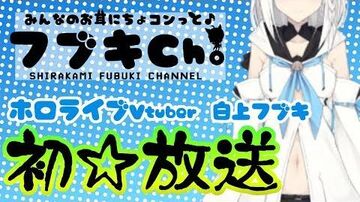 Fubuki's introduction.

Personality
Fubuki is usually always cheerful and excited, singing little songs and making many in-jokes. She is shy when confronted with new circumstances, and when embarrassed she "hides" at the bottom of the screen with only her fox ears peeking up. She becomes enthralled in games and has cute conversations with scripted game characters, or voice acts as characters while making effects.
However, she has a cunning side, shown most often when playing "Project Winter" with other VTubers. She has described herself as a 'hunter' and has displayed both extreme skill, to the point of nearly winning a 1 v 4 battle all on her own, as well as a methodical thought process. For example, during a "Project Winter" stream, Fubuki collaborated with fellow in-game traitors to purposely line up her shots at a wolf with Matsuri in an attempt to kill her early and make it look like an accident.[6]
History
Background
Her Twitter account was opened on 19 May 2018 while her YouTube channel was created on 23 May. although she did not start her activity on YouTube until a live-stream on 1 June.[7]
2018
On 17 October, she debuted her first 3D model becoming the fourth hololive member to do so after Tokino Sora, Roboco, and Sakura Miko.[8]
2019
On 22 March, she did a live-stream where she debuted her second 3D model. In the same stream, she also announced that other members of hololive will also be getting their own and that there would be two new members of hololive Gamers starting from April.[9] Her first stream after the debut to feature her new 3D model was broadcast two days later on the 24th.[10]
On 28 August, she debuted her 3D swimsuit outfit.[11]
On 19 December, hololive's Twitter account published that both Fubuki and Mio would get new 2D costumes.[12] She unveiled hers in a stream on 22 December, with Mio also appearing in her new costume[13][14].
2020
On 1 January, she announced on her Twitter account the reveal of her third 2D costume, a kimono, to celebrate the new year.[15] This was revealed later that day on a stream.[16]
On 24 January, along with the other hololive girls up to the third generation, she debuted her 3D idol outfit at hololive's 1st fest Nonstop Story.[17] Similar to the other members, the costume featured a gold-trimmed white dress but with her signature light-blue color on her bow-tie and dress peplum. On her head sits a small crown to the left of her ahoge. [18]
On 15 July, she reached 700,000 subscribers, being the first hololive member to do so, surpassing Siro. Nine days later on 24 July, she also surpassed Mirai Akari, becoming the third most subscribed VTuber on YouTube (fourth if counting A.I. Games). These milestones are relevant as both of them had held those positions for nearly the entire time since their debuts in the second half of 2017.[19][20]
On 28 July, she announced on her Twitter account that her original 2D model would be updated to the 2.0 version. She debuted her updated model during a stream later the same day, featuring more facial expressions, movement added to her fox ears and her ahoge and general movement improvements, more in line with the model capabilities of the other members of hololive GAMERS onwards.[21][22][23] She also announced on this day that she would get a new costume.[24]
On 1 August, in celebration of getting one million subscribers on her bilibili channel, she debuted her fouth 2D costume in a stream on YouTube, with all the improvements made to her 2D model, the new outfit features a big white jacket with blue and orange motifs. Identification tags bearing the hololive and GAMERS logos line her jacket and blouse, which are reminiscent of her original outfit but given a modern/techwear redo. She also received a new hair pin, a choker, and two new hairstyles: one with hair fully loose and one with twintails. Fubuki has described this costume as having a cyberpunk style with her fans joking that it came out of Arknights, a popular mobile game she plays.[25][26]
Invitations and Appearances
Events
Fans
Her fanbase is officially called "Sukon-bu" (すこん部).
Trivia
Fubuki is a fox-girl (specifically an Arctic Fox), but is often labeled by viewers as other animals, either accidentally (by newbies) or sometimes intentionally to provoke a cute reaction. She is most commonly misidentified as a cat girl; a joke which Fubuki routinely plays along with.
"Fubuki" directly translates from Japanese to English as "blizzard", while "Shirakami" roughly translates to "whiteout"; appropriate given her identity as an Arctic Fox.
The Japanese onomatopoeia for foxes is "kon", therefore that sound - and the vegetable "corn", which sounds similar - is one of her in-jokes, often seen or heard in her channel and Twitter.
Fubuki's placement within the structure of hololive is somewhat unique (and semi-confusing to newcomers) as she is part of and debuted with hololive's "1st generation" of VTubers, whilst also being simultaneously listed as a member of hololive Gamers. This makes Fubuki the only hololive member to officially simultaneously be a part of two separate "generations". Even in hololive's Fukkireta Chorus video Fubuki uniquely appears twice, both with the members of hololive's 1st generation and with the members of hololive Gamers.
Fubuki's channel, and potentially even hololive itself, received an increase in general exposure after Fubuki uploaded a video titled "Im. Scatman" to her YouTube channel on 24 October 2019. The 56-second video features Fubuki attempting to cover a verse of the 1995 song Scatman, devoid of any background track. The video went somewhat viral, and became the most viewed video on Fubuki's channel. Fubuki would later release a 3D remake of the video, receiving numerous remixes from hololive fans.
Referring to Fubuki by the pseudonym of "The Scatman" has become a meme among English speaking fans. Many fans claim to have discovered hololive, and VTubers in general, thanks to these videos.
She is not good with the English language - her intro video had the English version of her name misspelled ("Fhunbuki").
Just like her fellow hololive VTuber Hoshimachi Suisei, Fubuki has shown a fond liking towards young boys. This has culminated in her writing multiple poems about watching Shotas in the rain, watching Shotas at the pool, and watching Shotas at the ice cream shop, all on Ookami Mio's competitive Haiku stream,[33] much to Suisei's chagrin.
External Links
References
Community content is available under
CC-BY-SA
unless otherwise noted.